Koshari, Egypt's national dish, welcomes food enthusiasts to a flavorful journey through its tempting world. Prepare to embark on a truly remarkable culinary journey with the delightful creation known as Koshari. 
This beloved dish harmoniously combines a medley of rice, lentils, pasta, and a flavorful tomato sauce, all topped with irresistibly crispy onion. Prepare to be captivated by the irresistible combination of textures and flavors that will undoubtedly leave you yearning for another bite.
It's no wonder that Koshari has won over the taste buds and affections of both natives and global adventurers alike. Whether you consider yourself a seasoned food enthusiast or a curious beginner, Koshari will tantalize your taste buds and enchant you with every delicious bite.
What Is Koshari?
Koshari, known as "ko-sha-ree," is a beloved dish representing Egypt's rich culinary heritage. As the country's national dish, Koshari holds a special place in the hearts of Egyptians, symbolizing their diverse culture. 
Essentially, Koshari is a harmonious fusion of affordable ingredients that bursts with flavors, transporting you to the vibrant streets of Egypt.
This vegetarian delicacy features a delightful blend of brown rice, lentils, and pasta, lavishly coated in an irresistible tomato sauce infused with aromatic spices.
Adding crispy fried onions on the top introduces irresistible crispiness, elevating the dish to unparalleled levels of deliciousness. Each bite of Koshari offers a delightful combination of textures and flavors, creating an unforgettable culinary experience.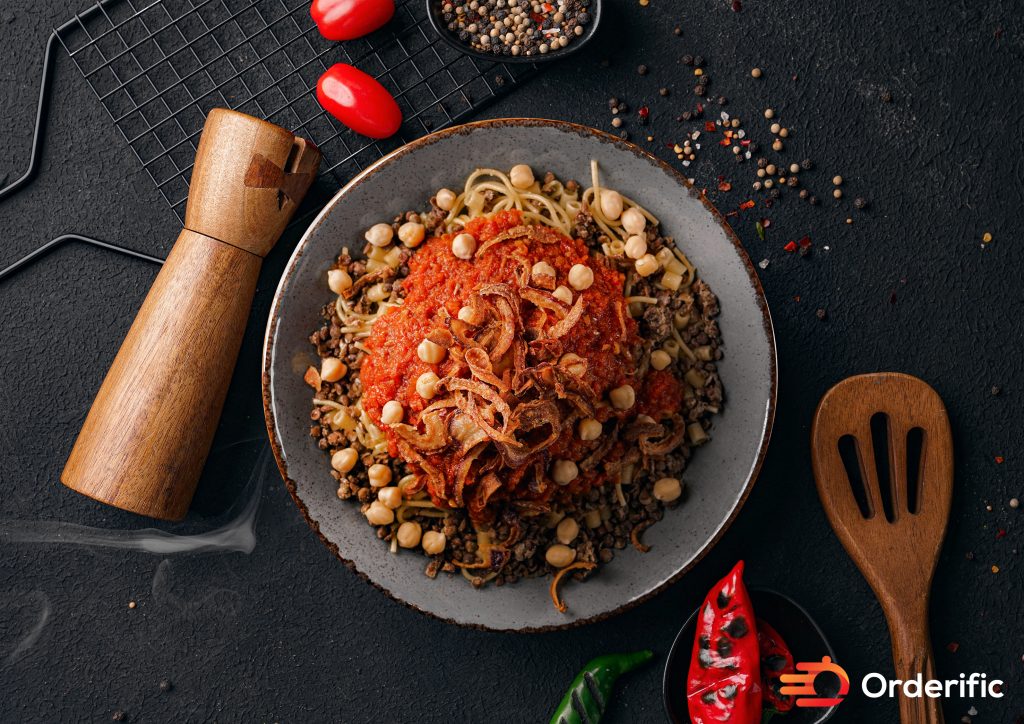 How to Make Koshari
Crafting the ultimate Koshari might appear to be a challenging endeavor, but fret not! With a dash of direction and the perfect elements, you can effortlessly replicate this iconic delicacy in the cozy confines of your kitchen. In this blog, you will find the most delicious recipe for Koshari!
The secret to a delectable Koshari lies in the precise attention given to each element, combining harmonious flavors that culminate in an unforgettable culinary journey.
Whether serving your loved ones, hosting a gathering of friends, or simply indulging in a delightful feast, preparing Koshari at home promises a gratifying and pleasurable experience.
Tips for Making Koshari
Achieving Koshari perfection is well within your reach! Unearth a treasure trove of indispensable advice to become a maestro in concocting delectable dishes that will captivate your taste buds and impress your company.
Strive for culinary excellence in each ingredient.
Rice: Aim for a light and fluffy texture.
Lentils: Ensure they are tender but not overly mushy.
Pasta: Cook to a delightful al dente consistency.
Spend dedicated time on the vibrant tomato sauce; it's the essence of Koshari.
Focus on achieving the ideal balance of spices and flavors in the cumin sauce to elevate the dish's taste.
What to Serve With It
Koshari is a dish that stands out on its own, but it takes the dining experience to new heights when paired with delightful sides. What's fantastic about Koshari is its ability to harmonize with various accompaniments, making it a versatile and thrilling choice for any occasion.
A revitalizing side salad, like a tomato and cucumber medley with a hint of zesty lemon dressing, brings a refreshing contrast to the hearty Koshari.
Moreover, a cooling cucumber yogurt sauce or a dollop of velvety hummus enhances the flavors, introducing a creamy element to every mouthful. The endless pairing possibilities allow you to unleash your culinary creativity as you explore various side dish combinations for your Koshari feast.
Koshari Recipe
Without any more delay, let's explore the bountiful array of flavors found in the beloved Koshari recipe! This comprehensive guide will take you through each step of creating a delectable dish of this Egyptian staple in your kitchen.
Prepare to tap into your culinary skills and indulge in the captivating world of Koshari—a true gem in the gastronomic legacy of Egypt.
Ingredients
Crispy Onions:
Two large onions, thinly sliced
Sunflower oil for frying
Salt to taste
Tomato Sauce:
Two tablespoons of olive oil
Three garlic cloves minced
1 can (14 oz) crushed tomatoes
Two tablespoons of tomato paste
1 teaspoon cumin
One teaspoon of red pepper flakes (optional)
Salt and pepper to your taste
Rice Mix:
1 cup basmati rice
1 cup brown lentils
1 cup elbow macaroni
1 tablespoon white vinegar
Salt to taste
Instructions
The Crispy Onions:
In a pan, heat sunflower oil over medium heat.
Add the thinly sliced onions and fry until they become rich golden brown, and crispy.
Remove the crispy fried onions from the pan and place them on a paper towel to drain any excess oil. Sprinkle it with salt to taste.
The Spicy Tomato Sauce:
In a separate pan, heat olive oil over medium heat.
Add the minced garlic and sauté until fragrant.
Stir in the crushed tomatoes, tomato paste, cumin, and red pepper flakes (if using).
Season with salt and pepper to taste.
Let the sauce simmer on low heat for about 10 minutes, allowing the flavors to meld and the sauce to thicken.
The Rice Mix:
In a pot, cook the basmati rice, brown lentils, and elbow macaroni separately, following each package's instructions.
Once each component is cooked to perfection, drain any excess water and set them aside.
Assembling The Koshari:
Combine the cooked rice, lentils, and elbow macaroni in a large mixing bowl.
Drizzle the white vinegar over the mixture and toss gently to infuse the flavors.
Season the rice mix with salt to taste.
Serving Koshari:
To serve, spoon a generous portion of the rice mixture onto a plate or into a bowl.
Top the rice mix with the spiced tomato sauce, ensuring each bite is generously coated.
Sprinkle the delightful crispy fried onions on top of the tomato sauce, adding a lovely crunch to each mouthful.
Garnish with fresh coriander to add color and freshness to the dish.
Nutrition Facts
Koshari isn't just a treat for the taste buds; it's also packed with essential nutrients. This Egyptian staple brings together a symphony of flavors while ensuring a healthful plate.
Here's what you should know:
Essential Nutrients: Koshari is a well-rounded meal that boasts:
Carbohydrates: Offering the energy you need to keep going.
Proteins: Building and repairing tissues, an essential macronutrient.
Fiber: Aiding digestion and keeping you full longer.
Elevate the Experience: Sprinkling crispy fried onions not only elevates the dish's taste but also adds a textural element that's a delight for the palate.
Balance in Diet: Although Koshari offers a burst of flavors and is nutritionally dense, it's always wise to enjoy it as part of a balanced diet. Moderation is the key, to ensuring you reap the benefits without overindulgence.
Conclusion
Congratulations! You've successfully unlocked the secrets of Egypt's national dish – Koshari! Armed with vital expertise and a detailed recipe, you're now ready to begin an extraordinary culinary adventure. Whether sharing Koshari with loved ones or relishing it in solitude, this dish will leave a lasting impression.
So gather your ingredients, roll up your sleeves, and get ready to indulge in the exquisite flavors of Koshari. This beloved Egyptian dish has captivated the taste buds of countless individuals, both near and far.
In case you want more content like this, visit Orderific right now!
FAQs
Q: Is Koshari the national dish of Egypt?
A: Yes, indeed! Koshari is special in Egyptian culture and is widely recognized as the country's national dish.
Q: What ingredients are found in the beloved dish known as Koshari?
A: Koshari presents a delightful medley of rice, lentils, and pasta, accompanied by a zesty tomato sauce and garnished with crispy onion. 
Q: How long has Koshari been a culinary tradition?
A: Koshari has a rich history dating back to the late 1800s, making it a cherished culinary tradition handed down through the generations.