Within Turkish cuisine, a particular delightful indulgence effortlessly distinguishes itself – kunefe. This exquisite dessert has captivated individuals from all walks of life with its remarkable flavor profile.
Originating from Palestinian roots, künefe has emerged as an emblem of hospitality and warmth in Middle Eastern traditions. So, what is this delightful dessert that has gained immense popularity not just in Turkey but around the globe?
What is Kunefe?
Kunefe is a traditional Middle Eastern dessert significant in Turkish culture and culinary history. It consists of two main components:
The stretchy, stringy cheese filling and
The shredded phyllo dough, known as "kadayıf."
The mixture is baked to perfection, then soaked in sweet sugar-based syrup. This infuses each bite with flavor.
The word "kunefe" is thought to come from the Arabic word "kunefeh", which means "string" or "thread." This is because the shredded wheat pastry used to make künefe is made from long, thin strands of dough.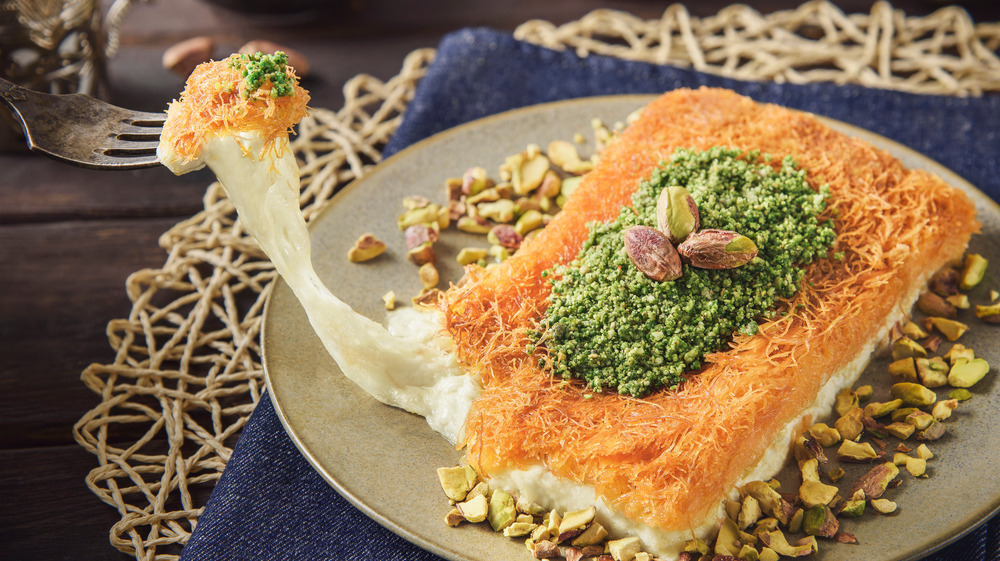 Kunefe is a very versatile dessert, and there are many different variations of it. Some popular variations include:
Kunefe with pistachios:

 This is the most common variation of künefe. The pistachios are usually sprinkled on top of the dessert or can be mixed in with the cheese.
Kunefe with kaymak:

 Kaymak is a type of clotted cream that is made from milk. It is often used as a topping for künefe, giving the dessert a rich and creamy flavor.
Kunefe with ice cream:

 Ice cream is a popular topping for künefe in summer. It helps to cool down the dessert and gives it a refreshing flavor.
Some facts about Kunefe in Turkey
Kunefe has captured the hearts of local food enthusiasts and emerged as a symbolic icon of Turkish cuisine on a global scale. Those who journey to Turkey eagerly seek this delightful dessert, savoring its exquisite fusion of sweet and savory flavors.
While it remains a quintessential Turkish treat, its popularity transcends borders, finding its roots in the rich culinary heritage of countries like Palestine in the Middle East.
Künefe is a traditional Turkish dessert that consists of shredded wheat pastry (tel kadayıf), a filling of melted cheese, and a syrup made with sugar and rose water.
Künefe originates from the city of Hatay, Turkey, which is located in the Hatay Province, in the southeastern part of the country.
Künefe is often served with pistachios or other nuts, and can be topped with ice cream or kaymak (clotted cream).
Künefe is a popular dessert during the month of Ramadan, when Muslims fast from sunrise to sunset.
Künefe is also a popular dessert during the winter months, when it is served hot.
How to make Kunefe at home?
Suppose you want to experience the magic of kunefe in the comfort of your own home; fear not! Making this exquisite dessert is an attainable feat. Even though it may appear intimidating initially, all you need are a handful of essential components and a pinch of resilience.
To start, gather the following key components:
Shredded Phyllo Dough (Kadayıf)
This can often be found in Middle Eastern specialty stores or well-stocked supermarkets.
Cheese
Opt for a traditional unsalted variety, or get creative with alternatives such as smooth mozzarella or creamy cream cheese to satisfy your palate.
Sweet Syrup
The secret behind künefe's triumph lies in its sugar syrup concoction, crafted by simmering a mixture of sugar, water, and a hint of tangy lemon juice on medium heat until it transforms into a luscious amber elixir.
Butter or Ghee
To achieve that delectable golden crust, use melted clarified butter or ghee to brush on the dough.
Crushed Pistachios
The pistachio add a delightful crunch and vibrant green color to the finished künefe.
Now that you've gathered all your ingredients, it's time to start the preparation process.
Recipe: Kunefe
First up, let's whip up the cheese filling. Pop the cheese into a food processor and whirl until it reaches a silky, luscious consistency.
Then, combine the shredded phyllo dough with melted butter or ghee, ensuring every strand gets a nice, even coat. Press firmly to create the bottom layer of the baking dish using half of the dough mixture.
Slather the first layer of dough with the creamy cheese mixture to create a delicious filling. Top it off with the remaining dough mixture, giving it a gentle press down.
Bake the künefe in a preheated oven until it turns a beautiful golden-brown color, filling the air with an irresistible aroma that will leave you eager to indulge.
Once perfectly baked, remove your künefe from the oven and immediately pour the sweet syrup over the top. Notably, this baked delicacy should be piping hot to let the syrup quickly get absored, infusing the entire dish with sweetness.
For an exquisite finishing touch, generously sprinkle crushed pistachios over the top.
Experience a delightful medley of textures and flavors as you savor the combination of soft, stretchy cheese, crispy phyllo dough, and the subtle nutty essence of pistachios.
One of the greatest joys of preparing künefe in the comfort of your kitchen is the ability to customize it to suit your preferences.
Whether you desire more cheese, a heartier crust, or a touch of extra sweetness from the syrup, don't hesitate to adapt the recipe and related make it uniquely yours.
Winding Up!
In conclusion, künefe is an exquisite Turkish food with rich historical roots in Palestinian culture. Combining cheese, shredded phyllo dough, and sweet syrup results in a dessert that tantalizes taste buds and leaves a lasting impression.
Making künefe at home is a rewarding experience that allows you to savor the delectable flavors and share this culinary masterpiece with family and friends. So, why not embark on a künefe adventure and indulge in the magic of this beloved Middle Eastern delight?
For more such interesting, around the globe food and recipe reveals, follow Orderific.
FAQs
Q: What is Künefe made of?
A: Künefe has two main components: a stretchy, stringy cheese filling and shredded phyllo dough, known as "kadayıf."
Q: What is special about Künefe?
A: Künefe's uniqueness lies in its perfect balance of sweet and savory. Combining cheese, shredded phyllo dough, and sweet syrup creates a delightful explosion of textures.
Q: Are Künefe healthy?
A: Künefe is rich in calories and fat and is not a good choice for people watching their weight or health. However, if you are looking for a delicious treat, künefe is worth trying.