Managing your liquor inventory can be a challenging endeavor. Imagine the hustle and bustle of a lively bar on a Friday night. Amid the clinking glasses, laughter, and the enticing aroma of mixed cocktails, the backbone of the operation often goes unnoticed. Yet, its significance is paramount. Modern advancements in liquor tracking and monitoring have revolutionized this once-tenious task. Bar owners can effortlessly keep tabs on their liquor inventory, enabling optimal bar operations. These innovative systems monitor the inventory level of each liquor bottle and streamline inventory control and management. Bar patrol becomes a breeze with a few clicks, and inventory usage is impeccably tracked. So, whether you run a quaint neighborhood liquor store or a bustling city bar, these state-of-the-art solutions are your key to simplified and efficient operations.
Bar Inventory
Envision this: a bustling bar on a weekend night. Lights shimmer, glasses clink, and laughter fills the air. Amid this lively scene, a crucial process unfolds, often overlooked – the bar inventory management. It's not just counting bottles and cans but understanding the intricate dance of inventory control. With the help of modern advancements, this task is now manageable.
These liquor inventory solutions, like a trusty bar patrol, monitor the ebb and flow of your supplies. They keep a vigilant eye on every liquor bottle in your establishment, tracking its journey from shelving to serving. With each pour, information is logged, enabling you to understand your inventory usage better.
These tools are an asset to any bar owner, whether in a neighborhood pub or an intelligent city joint. They mitigate the risk of running low, ensuring you always have the right inventory level to satisfy your patrons' tastes. From quaint corner liquor stores to bustling bars, these tools simplify operations.
Imagine owning a system that keeps your bar inventory in check, enabling you to focus on providing the best to your customers. It's not just about running a business; it's about repeatedly offering experiences that draw folks back. With these tools, you can transform your liquor store inventory process into something efficient and effective.
Using a bar inventory app, inventory management becomes a breeze, allowing you to focus on what truly matters: creating memorable experiences for your patrons.
Identify Product Variance
Identifying product variance is one of the most critical aspects of bar inventory management. Picture this: you're a bar owner and just finished a bustling Friday night shift. You unlock your bar inventory app and begin assessing your liquor inventory. Your back office's cool, subdued light illuminates the screen as your gaze runs over your inventory count data rows. 
Your attention gets drawn to a particular figure – your liquor cost. It's higher than you anticipated. Immediately, you understand the need to identify product variance. It's this crucial understanding that helps you maintain inventory control. You know well that each liquor bottle, each pour, matters.
Having identified this discrepancy, you begin to delve deeper. Study the data, compare inventory usage, and analyze your inventory level. You become a detective, scrutinizing the information at your disposal. You know the importance of accuracy in the inventory count: your bar's success hinges on these figures.
Each liquor inventory discrepancy can cost you valuable dollars. Yet, with your trusty bar inventory app, you're armed to combat product variance. The app acts as your silent bar patrol, monitoring each alcoholic beverage that leaves your bar. It's your weapon against unnecessary liquor costs.
As your session concludes, you feel a sense of accomplishment. You've caught a potential issue before it escalated, saving your establishment from unnecessary costs. With the help of advanced tracking and monitoring tools, your bar inventory management has reached new heights of efficiency.
Calculate Pour Cost
Calculating pour cost is an essential part of efficient bar inventory management. As a bar owner, you understand the vitality of striking a balance. Every liquor bottle holds a potential profit, but only with precise control.
Imagine pouring a glass of your finest whiskey. Each drop is more than just an alcoholic beverage; it's an asset. The pour cost is the backbone of your business, tying directly to your profit margin. Sensing the weight of the bottle in your hand, you pour carefully, mindful of wastage.
With the aid of your bar inventory app, the task becomes notably easier. Each pour is meticulously tracked down to the last drop. Every ounce is accounted for, making inventory control manageable and comprehensible. The app instantly updates the inventory level as you pour, displaying your real-time liquor cost.
A simple glance at your device provides a comprehensive overview of your bar's performance. You can evaluate your inventory usage at any point, providing key insights into your operations. This real-time data empowers you to make informed decisions about your liquor inventory.
The scent of the liquor store inventory, the feel of each liquor bottle, and the silent whisper of bar patrol become familiar companions in your journey. By calculating pour cost, you increase your bar's profitability and offer an enriched experience for your patrons.
Thus, advanced liquor inventory solutions become more than just tools. They become integral to your bar's narrative, sculpting its success story one pour at a time.
Setting Par Level Inventory
Setting par-level inventory is a diplomatic dance. It requires foresight, careful planning, and a keen understanding of your bar's rhythm. The hustle and bustle of a bustling city bar, the hum of conversation in a neighborhood pub, or the soft murmur in a quaint liquor store each has its symphony.
As a bar owner, you're the conductor of this symphony. Ensuring the steady flow of alcoholic beverages is your responsibility. The right inventory level is crucial, where par-level inventory emerges as a game-changer.
Imagine the satisfaction of reaching for your desired liquor bottle, knowing it will always be there. Your bar inventory app is your tireless aide in this endeavor, helping you maintain an optimal inventory count. With every pour and every sale, it updates in real-time. It's always ready, like a diligent bar patrol, ensuring you're never caught off guard.
The dance continues, with every liquor cost monitored and every bottle counted. You feel the rhythm, the harmony of efficient inventory control. Your patrons never see an empty shelf. Your inventory usage is optimized. Satisfaction, both yours and your customers, is guaranteed. The scent of success is in the air, as palpable as the aroma of your finest whiskey.
Setting par-level inventory is more than a task. It's a commitment to your craft, a testament to your dedication. It's a crucial step in crafting unforgettable experiences for your patrons. And with the right tools, it's a step you can confidently take.
Cutting Down on Sitting Inventory
Cutting down on sitting inventory is an art steeped in strategy and precision. Picture this: you're a diligent bar owner, counting each liquor bottle in your store. Fluttering under the dim light, you sense an unsettling stillness in the stoic rows of unsold inventory. You feel the cool glass under your fingers, tracing the outline of each bottle. The silence of these unsold alcoholic beverages tells a story. It's a story of capital, tied up and unproductive.
But the story doesn't end here. With the aid of your bar inventory app, you begin to rewrite the narrative. The app, your trusted bar patrol, springs into action. It dives into your inventory usage data depths, surfacing with invaluable insights. Suddenly, the silent aisles of sitting inventory start to make sense. You understand where your inventory count is excessive and where cuts can be made.
Decide to take control of your liquor cost. You move through your liquor store, making calculated decisions. Each liquor bottle was reassessed, and each inventory level was adjusted. It's a dance, both precise and liberating. Your inventory control sharpens, and your bar starts to breathe anew.
As the evening draws to a close, you look around. The sitting inventory has dwindled, replaced by space. Space for new opportunities for optimized operations. You feel a sense of accomplishment. With the help of modern inventory management tools, you've taken a significant step towards efficient bar inventory control. The art of cutting down on sitting inventory has become a part of your bar's continuing success story.
How to Do Bar Inventory
Doing bar inventory is a harmonious symphony of sights, sounds, and tactile sensations. As a bar owner, your hands glide over pristinely stacked liquor bottles, the cool glass a reminder of the precious assets within. There's a rhythm to it, a cadence that reverberates through the hushed corners of your establishment. Each bottle is a silent participant in this dance, their labels a testament to their journey from production to the polished wood of your bar.
Your bar inventory app hums quietly in the background, a silent sentinel tracking each movement. It weaves a tale of your inventory usage, an indispensable record of your bar's ebbs and flows. Every pour, every sale, every inventory count is a poignant note in this symphony.
Yet, each note is nuanced, carrying the weight of your dreams and aspirations. Each liquor bottle is a beacon guiding you toward delivering unforgettable experiences. You're more than just a bar owner. You are the maestro, orchestrating a symphony of flavors, experiences, and memories.
Suddenly, the once daunting inventory management task transforms into a discovery journey. Each inventory count becomes a moment of introspection, a chance to optimize, streamline, and create. You find solace in the silent figures, assurance in the predictability of patterns, and gratification in the seamless flow of operations.
The process of doing bar inventory, thus, unfolds as a beautiful dance of precision and passion. It's a dance that connects you to the heartbeat of your establishment, making you an indispensable part of its narrative.
Count Everything
In bar inventory management, counting everything is a vital melody in the symphony of smooth operations. Picture this: a bar owner, bathed in the soft glow of ambient light, surveying an array of glistening bottles. Each liquor bottle stands as a testament to your business endeavor, silently contributing to the atmosphere of your establishment.
As you begin to count, a sense of tranquility washes over you. Fingers tracing the cool contours of each bottle, you record the numbers. You're meticulous in documenting every product, assuring nothing escapes your keen eye. This practice, seemingly mundane, indeed forms the backbone of your business.
Your trusted bar inventory app becomes a companion in this journey. It captures the rhythm of your routine, swiftly logging each count. In real-time, your inventory level updates. Like a diligent bar patrol, the app provides instantaneous insights into your liquor store inventory.
Counting everything isn't merely a task. Instead, it's a quiet contemplation amidst the lively bar operations. Each liquor bottle counted, each product logged, resonates with your dedication to the craft. The process unveils a narrative, silently echoing the bottles' clinks and the app's hum.
Ultimately, counting everything reinforces your control over your bar's inventory usage and cost. This seemingly simple practice marks a significant stride towards optimizing your operations. Thus, with every count, you are one step closer to delivering an enriching, memorable experience for your patrons.
Calculate Inventory Usage
Calculating inventory usage transforms from a mundane task into an immersive experience. Envisage a bar owner, immersed in the quiet hum of his establishment, ready to embark on this insightful journey. The bar inventory app, his trusted companion, waits patiently, ready to serve. A soft glow emanates from the screen, silently inviting him to delve deeper.
With a swift click, he dives into a sea of data. Each digit, each decimal, is a story, whispering tales of his bar's performance. The inventory usage figures, previously inanimate, come alive, dancing with the rhythm of his operations.
Suddenly, the silence breaks as the app springs into action. Each pours and sale is meticulously recorded, painting a vivid tableau of his inventory usage. He watches, entranced as the figures fluctuate, mirroring his bar's heartbeat.
There's a certain rhythm, a pulse that beats in the heart of his operation. He senses it in the soft hum of the app, in the gentle clink of the liquor bottles. Each calculation is more than a number – a testament to his dedication and passion.
The inventory usage data, once daunting, now holds a comforting familiarity. Each calculation provides a window into his patrons' preferences, guiding his bar's profitability. A sense of satisfaction washes over him. He's not merely calculating inventory usage. He's charting the course of his bar's future, one calculation at a time.
As he concludes the session, the warm glow of accomplishment fills him. His bar, his dream, is on the path to success. And it's all thanks to the power of calculating inventory usage.
Mastering the Art of Bar Inventory Management
Mastering the Art of Bar Inventory Management is akin to conducting a grand symphony, each movement impeccably synchronized. Under your establishment's soft, ambient light, you navigate the nuanced realms of inventory tracking, the cool touch of each liquor bottle whispering tales of meticulously monitored consumption.
Be Consistent: Consistency forms the backbone of effective inventory management, much like the steady beat of a metronome. A rhythm resounds through your operations, bringing assurance and predictability.
Train Your Staff: Every team member is an instrumentalist in your orchestra. Through comprehensive training, they fine-tune their skills, contributing to the harmonious performance of your bar's operations.
Experiment with Your Process: There is room for improvisation in this symphony. Experimenting with your process opens doors to innovative methods, breathing new life into your performance.
Wine Inventory: Each wine bottle is like a delicate solo, its unique notes contributing to the rich melody of your inventory. Managing it demands a keen ear and a discerning palate.
Beer Inventory: The beer inventory, on the other hand, is the robust chorus. Its management requires balancing variety and quantity, ensuring the chorus never misses a beat.
Thus, mastering the Art of Bar Inventory Management becomes an enriching, immersive experience. Each aspect, from training to experimenting, from managing wine to beer inventory, contributes to this grand composition. As the conductor of this symphony, you chart the path of your establishment's success story, one note at a time.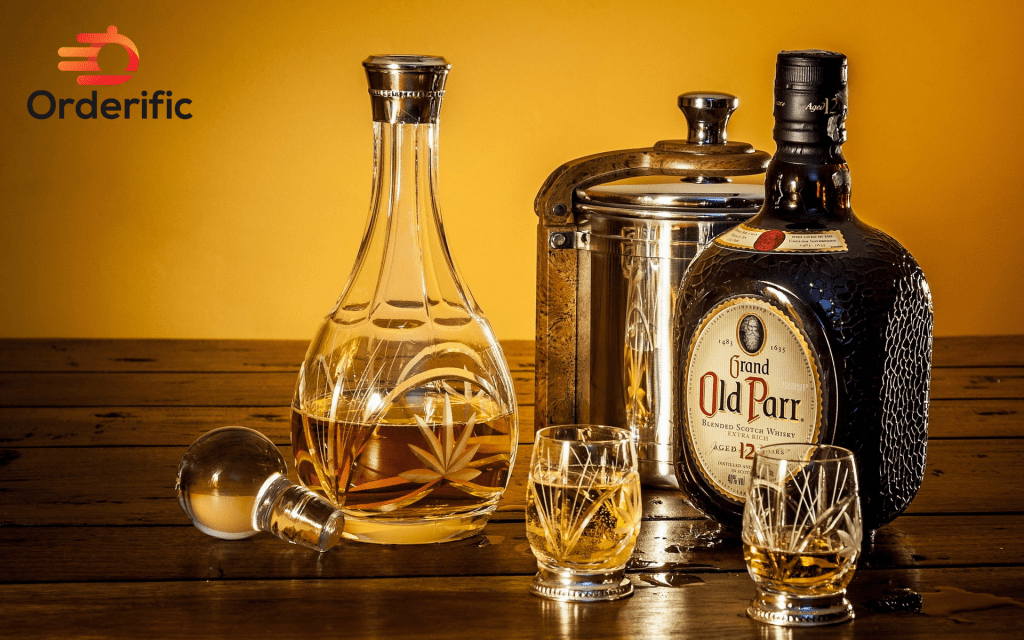 How Bar Inventory Software Can Help
In the bustling symphony of bar management, bar inventory software emerges as a virtuoso. Imagine a capable assistant that never tires, its keen digital eye constantly vigilant. Always on hand to lend support, it simplifies the intricate dance of liquor tracking.
Each pours sale or purchase hums to life, instantly updating your inventory. It's a reassurance, like a comforting pat on the back. You're no longer alone in your journey. This tireless aide is with you, shouldering your operational burdens.
Its value truly shines through in inventory analysis. Diving deep into the collected data, it surfaces with pearls of wisdom: Behold a clear view of your liquor inventory usage, revealing patterns and trends. The software whispers insights, guiding your decisions toward increased profitability.
Furthermore, it equips you to master the art of par-level inventory. No longer do you dread running out of beverages. Your digital companion assures an optimal stock level, guaranteeing a steady flow of your patrons' favorites.
On the other hand, it aids you in taming the beast of sitting inventory. With surgical precision, it identifies areas of excess, liberating your capital. Consequently, it paves the way for optimized bar operations.
Ultimately, bar inventory software isn't just a tool. It's your partner, your confidant. It stands beside you, sharing your dream of delivering an unforgettable bar experience. Embrace it, and let it infuse your operations with efficiency. With this skilled virtuoso by your side, the sweet scent of success is inevitable.
What Bar Inventory Software Does
Bar inventory software, your tireless aide in running smooth operations, performs myriad tasks with astounding precision. Picture this: a diligent steward, always on duty, constantly vigilant. It ceaselessly records every pour and every sale, transforming raw data into a symphony of insights. It assists in identifying patterns and predicting trends, guiding every decision you make.
Moreover, it's your trusted companion in maintaining the perfect balance in your inventory, ensuring your patrons' favorites are always in stock. Simultaneously, it cuts down the chains of sitting inventory, freeing your precious capital. It's like a beacon in the dark, illuminating the path to operational efficiency.
Lastly, it safeguards your dream of creating unforgettable experiences for your patrons. In essence, bar inventory software isn't just a tool; it's a partner sharing your aspirations. With it by your side, success isn't just possible; it's inevitable.
The Benefits of Using Bar Inventory Software
The benefits of using bar inventory software unfold like a symphony, each note resonating with the promise of success. Imagine, if you will, a brilliant assistant – a tireless sentinel in bar operations. It is more than just a tool; it holds a mirror to your operations, reflecting invaluable insights.
Optimized Operations: The software whispers tales of efficiency, its gentle hum echoing through the hustle and bustle of your establishment. It seamlessly integrates with your rhythm, meticulously tracking every pour, every sale. As the figures dance on the screen, your operations are streamlined, each note perfectly fine-tuned.
Reduced Sitting Inventory: Like a conductor, it guides the flow of your inventory. It identifies areas of excess, transforming them into opportunities for saving. The haunting tune of sitting inventory fades, replaced with the harmonious melody of optimized storage.
Enhanced Decision Making: Each digit it presents is a piece of a puzzle. Slowly, it constructs a tableau of your operations, revealing patterns and predicting trends. It's your guide, leading you through the maze of decision-making with ease and grace.
Inventory Analysis: It dives headfirst into the sea of data, resurfacing with pearls of wisdom. Each analysis is a beacon, guiding you towards increased profitability. The once daunting task of inventory analysis now holds a comforting familiarity.
Par Level Maintenance: With the software, the fear of running out of beverages dissipates. It assures an optimal stock level, guaranteeing a steady flow of your patrons' favorites. Thus, the once tremulous notes of inventory shortages are replaced with the steady rhythm of par-level maintenance.
What About a Liquor Inventory or Bar Inventory App?
A liquor or bar inventory app is a trusted ally in your bar operations. Picture this: a virtual assistant, always at your fingertips, tirelessly managing your inventory. With each interaction, you dive into a sea of data, expertly transformed into understandable insights.
Every pour, every sale, meticulously recorded, breathes life into the app. As you navigate through, a warm glow of assurance washes over you. Instantly, you see patterns emerging, paving the way for intelligent decision-making.
Imagine the tranquility of knowing your inventory is in control. No more fear of running out of your patrons' favorites or being burdened with excess inventory. The app, like a seasoned guide, ensures perfect balance.
The promise of efficiency it brings to your operations is palpable. As the figures dance on the screen, your processes streamline, and your profitability surges. It's akin to a virtuoso seamlessly blending into your operational symphony.
Embrace it. Let it infuse your operations with efficiency. With this app by your side, success isn't just a distant dream; it's the inevitable climax of your bar management symphony.
Conclusion
Liquor tracking and monitoring advancements take center stage in the grand symphony of bar operations. Imagine the magic of technology transforming your liquor inventory management into an immersive experience, illustrated by the rhythm of Orderific's capabilities. Each pours, and the sale becomes a note in this harmonious composition, revealing patterns that guide your path to success. As you navigate this symphony with Orderific, you're not merely managing your liquor inventory but orchestrating a beautiful performance that resonates with increased revenue, decreased operational costs, and a customized customer experience. Imbue your operations with the power of Orderific, and watch as your bar management symphony reaches its crescendo. For more information on Orderific, schedule a FREE DEMO today.
FAQs
Why is efficient liquor inventory management crucial for bars and restaurants?
Efficient liquor inventory management is crucial for controlling costs, preventing waste, optimizing storage, and maximizing profitability in bars and restaurants.
What tools and strategies are commonly used for tracking and controlling liquor inventory?
Commonly used tools include bar inventory software, mobile applications, and strategies like regular audits and par-level maintenance.
How can businesses minimize losses and waste related to liquor inventory?
Businesses can minimize losses and waste by optimizing inventory levels, regular auditing, and employing inventory tracking software.
What role does accurate liquor inventory play in pricing, profitability, and customer satisfaction?
Accurate liquor inventory ensures appropriate pricing, maximizes profitability and maintains consistent availability of customer-favorite beverages.