In the ever-competitive realm of alcoholic beverages, distinguishing oneself is no small feat. With a plethora of choices available, liquor store sales are a complex interplay of ever-evolving consumer preferences, shifting market trends, and the ability of brands to carve their unique niches. Amidst this, store owners grapple with the challenge of consistently attracting customers and driving sales.
How does one adeptly juggle these variables, ensuring not just survival but thriving success in such a market? This comprehensive guide is designed to shed light on these nuances, offering insights and strategies tailored for those keen to master the art of liquor sales.
5 Surefire Methods to Increase Liquor Store Sales
Navigating the competitive landscape of the liquor industry requires a blend of innovative strategies and traditional methods. As the market continually shifts based on consumer demands, emerging trends, and local regulations, liquor store owners must stay agile and adaptive.
Enhancing sales is more than just stocking popular brands; it's about creating an experience and building lasting relationships with patrons. In this guide, we'll explore five proven methods that have helped many in the industry not only stay afloat but flourish.
1. Ramp Up Your Customer Loyalty Program
Loyalty programs are a tried-and-true method of retaining customers and increasing repeat purchases. For liquor stores, this can translate into offering points for every purchase, which customers can later redeem for discounts or free products. Exclusive member sales or early access to new stock can also create a sense of exclusivity.
By integrating technology, stores can offer mobile apps or digital cards, making it easier for customers to track their points and rewards. Such programs not only incentivize repeat business but also provide valuable data on purchasing trends and preferences.
Personalized Recommendations: Utilize data analytics to suggest products based on a customer's past purchases. If they're consistently buying a particular brand of wine, perhaps they'd appreciate a recommendation on a new wine from a similar region.
Exclusive Events: Host members-only events where loyalty members can enjoy first dibs on new arrivals, tasting sessions, or even meet-and-greet events with renowned brewers or winemakers.
Rewards Beyond Purchases: Consider a system where customers earn points not just for purchasing, but for social media shares, referrals, or reviewing products. It promotes engagement and provides you with valuable customer feedback.
2. Offer Special Promotions
Special promotions, be it discounts, bundled offers, or buy-one-get-one-free deals, can attract both regulars and potential new customers. Seasonal offers, especially during holidays or local festivals, can drive significant footfall. Another strategy is to offer tasting events where customers can sample different wines, beers, or spirits. Such events not only promote sales but also enhance customer engagement, making them more likely to explore and purchase products they've never tried before.
Themed Nights: From 'Whiskey Wednesdays' to 'Tequila Tuesdays', having a day dedicated to discounts on specific products can create anticipation among customers.
Flash Sales: Announced only a day or hours in advance, flash sales can drive immediate traffic, especially if marketed right through social media or email alerts.
Bulk Buying Discounts: Offer discounts on bulk purchases, particularly for party planners, events, or corporate buyers. This not only ensures more sales but can introduce new customers to the store.
3. Partner with Local Businesses or Sponsor Local Events
Collaboration is the key to expanding reach. By partnering with local businesses, like restaurants or event venues, liquor stores can get exclusive rights to supply beverages for events or promotions. Sponsoring local events, such as music festivals or community fairs, can boost brand visibility and position the store as a community-centric establishment. Collaborative events, like wine and dine evenings with local eateries, can also be a hit.
Cross-Promotions: Collaborate with local eateries where they recommend your store for liquor purchases in return for you suggesting them for dining options.
Pop-Up Events: Set up temporary stalls at local events, festivals, or farmers' markets. It's a great way to directly engage with the community and introduce them to selected products.
Special Discounts: Offer special promotions or discounts for event attendees or tie-up with local businesses to give their employees a discount.
4. Find Your Niche
With countless liquor stores vying for attention, carving out a unique niche can set one apart. Whether it's specializing in craft beers, organic wines, or spirits from a specific region, having a specialty can attract a dedicated customer base. Hosting events or classes around the niche, like wine appreciation sessions or craft beer brewing workshops, can further solidify the store's reputation as an expert in that domain.
Host Classes: Organize classes or workshops, such as "Understanding the Nuances of Red Wine" or "Craft Beer 101".
Product Narratives: Share stories about the products. For instance, the history behind a particular brand of whiskey or the family-run vineyard where a wine originates can intrigue customers and make them more inclined to purchase.
Dedicated Sections: Have dedicated shelves or sections of the store exclusively for the niche products, making it easier for customers to explore.
5. Expand Your Inventory
Diversifying the inventory caters to a broader customer base. While it's essential to stock popular and fast-moving brands, introducing new, unique, or trending products can pique customer interest. Seasonal additions, limited-edition releases, or even non-alcoholic beverages can appeal to diverse clientele. It's crucial, however, to ensure that the inventory management system is robust, preventing overstocking or stock-outs, and ensuring optimal sales and profitability.
Trending Additions: Whether it's a newly popularized spirit or an organic wine brand gaining traction, keep an eye on trends and introduce them in your inventory.
Sampling Stations: Dedicate a section of the store for customers to sample new additions. It minimizes the risk they feel in buying something they haven't tried before.
Interactive Displays: Use tech such as digital screens to provide information or trivia about new products. Augmented Reality (AR) can offer an interactive experience, like showing how a particular whiskey is distilled when a customer points their phone at it.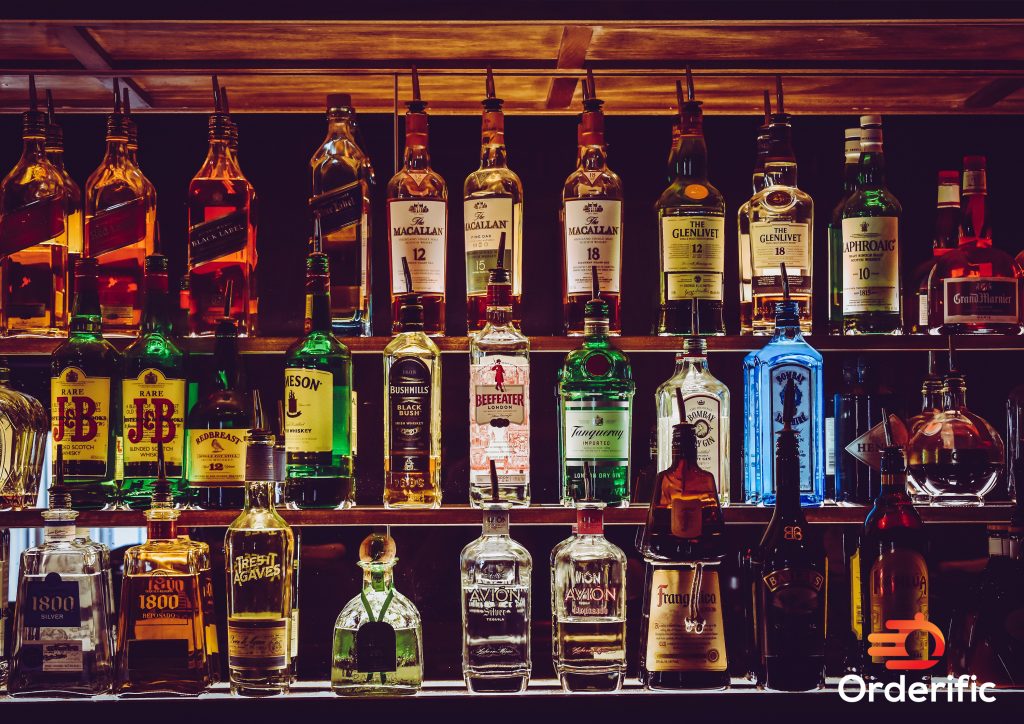 Conclusion
Navigating the competitive landscape of the liquor industry requires a blend of strategy and adaptability. Increasing liquor store sales isn't just about having a diverse stock but mastering the intricate art of understanding market dynamics, foreseeing shifts in consumer preferences, and constantly embracing innovation.
By embracing and executing these five pivotal strategies, store owners can not only drive increased foot traffic but also foster heightened customer loyalty. This dual approach not only ensures immediate revenue boosts but also lays down a robust foundation for long-term sustainable growth, solidifying the store's position in the market.
In case you want more content like this, visit Orderific right now!
FAQs
8 Ways to Build Your Liquor Store's Online Presence?
From engaging social media posts to SEO-optimized websites, the digital arena offers a plethora of opportunities for liquor stores.
Effective Marketing Plan for a Liquor Store?
Dive into marketing strategies that resonate with your target audience, leverage partnerships, and optimize in-store experiences.
How to Increase Liquor Store Sales in 5 Steps?
A blend of loyal customer programs, special promotions, local partnerships, niche targeting, and inventory expansion can catapult sales.
How to Promote a Liquor Store?
Beyond traditional advertising, think out-of-the-box: tasting events, workshops, and leveraging influencers can create buzz.