Food trucks: mobile culinary havens sparking joy at every local event. Their sizzling grills and enticing aromas draw eager attendees from all walks of life. Imagine the vibrant scene – lively chatter, children's laughter, and the rhythmic hum of a community engaging in unison. Through a shared love for delicious street food, residents, visitors, and local businesses weave a tight-knit community fabric. Festivals, brimming with live performances and engaging activities, become more than just events. They transform into spaces of unity and celebration. The city becomes a canvas painted with warm smiles and the sweet taste of togetherness. Step into a world where food trucks serve as the delicious connection, fostering community engagement, one local event at a time.
How Food Trucks are Bringing Maximus Communities Together
Food trucks have become a delightful epicenter of unity in the heart of Maximus communities. The tantalizing aroma of sizzling delicacies permeates the air, instantly drawing in residents and visitors alike. You can hear the symphony of lively chatter mixed with the sizzle of grills.
Community Engagement: These mobile culinary wonders are not just serving food – they are serving engagement. The lines in front of them are buzzing hives of interaction, fostering connections between community members.
Festivals and Special Events: Food trucks are a staple at local festivals and special events. Their presence adds a dash of joy to the festive ambiance, enhancing the overall experience for attendees.
Supporting Local Businesses: Food trucks bolstered the local economy by sourcing ingredients from local vendors. They are becoming a vital link in the chain of local businesses.
Cultural Exchange: Offering a variety of food, from traditional dishes to fusion delights, these trucks are a platform for cultural exchange. Attendees get a taste of the world right in their historic downtown.
Every interaction, every transaction, and every bite taken at a food truck contributes to a stronger, more connected community. This is the delicious reality of Maximus communities – a testament to the power of food trucks in community engagement.
Ways of Food Truck Business Help Its Community
You'll find food trucks in the hustle-bustle of the local community, nestled comfortably between festive stalls and vibrant city streets. These mobile gastronomic wonders are more than purveyors of delectable fare—they are vital threads in the fabric of their community, offering more than just a quick bite.
Volunteerism: Food trucks often extend a helping hand to local charities and community organizations. They offer food donations, provide meals for public events, and even organize food drives, creating a sense of unity and participation.
Event Organizing: Many food trucks pour their energy into organizing local events, such as festivals or special events. Creating spaces for residents to enjoy and engage fosters community-building and enriches the local events calendar.
Local Sourcing: Sourcing ingredients locally from food trucks bolsters the local economy. They support local farmers and vendors, promoting sustainability and contributing to a thriving local community.
Sponsorships: Whether it's sponsoring a local artist's live performance, backing a neighborhood association's initiative, or providing support for community sporting events, food truck businesses are often active sponsors within their communities.
Every sizzling grill, every shared meal, and every community event speak of a narrative where food trucks are not only vendors but significant contributors to community engagement. They are the heart of the local community, serving up a delightful mix of flavors and experiences that foster a sense of togetherness. Just as their tantalizing aromas fill the air at local events, their commitment to the community serves the hearts of residents and visitors alike. With each interaction, they strengthen the delicious connection that binds the community.
The Future of Food Trucks and Local Communities Relationship
As we venture into the future, the relationship between food trucks and local communities will flourish. Imagine this. It's a sunny afternoon, you're at a local event, and the captivating scent of sizzling cuisine wafts through the air. You follow the tantalizing aroma, leading you to a bustling queue of eager attendees in front of a vibrant food truck.
Local artists are performing live, their music melding harmoniously with the rhythmic sizzle from the truck's grill. You feel the heartbeat of the festival intensifies, the atmosphere electric with anticipation. Be it a national event or a small-scale community gathering, the sight of these culinary havens sparks a sense of shared excitement.
Food trucks are evolving, not just as vendors but as active participants in community building. Supporting local businesses sponsoring upcoming events, their engagement in community activities is increasing. Indeed, they're becoming a symbol of unity, fostering connections among residents, visitors, and community members. 
Moreover, food trucks are contributing to the cultural richness of communities. Offering a wide variety of cuisines, they're introducing residents to flavors from across the globe in their historic downtown. The future holds a vision of food trucks playing a pivotal role in enhancing community experiences.
In essence, food trucks and communities are journeying hand in hand, weaving a tapestry of shared experiences and engagement. As we look to the future, we can expect food trucks to continue serving not just food but a sense of togetherness, strengthening the delicious connection between communities and their members.
Next Step: Bring Your Food Truck to Be Active in Your Local Community
Dive into a world of culinary adventures by bringing your food truck into the heart of your local community. Imagine the scene: your vibrant truck, nestled comfortably within a bustling town fair or local festival, offering an array of enticing flavors. Each sizzling grill and each shared smile create a sense of community engagement, painting a vivid picture of unity and togetherness.
Community members, old and new, gather around, their senses delighted by the mouth-watering aroma wafting from your truck. From the vibrant chatter of excited attendees to the rhythmic hum of the bustling community, these are more than just events. They are experiences.
And you, the food truck owner, are not just a vendor but a valuable thread in the vibrant tapestry of your community. You bolster the local economy by sourcing ingredients from local vendors fostering connections with local businesses. Participate enthusiastically in local events, offering more than just food. Foster cultural exchange, introduce new flavors, and contribute to your historic downtown's rich tapestry of experiences.
You are not just serving delicious food with each interaction and shared meal. You're serving community engagement. You're strengthening the delicious connection that binds the community, making it a more vibrant, inclusive space. So, step into this engaging role, bring your food truck to your local community, and taste the sense of togetherness you can create. Remember, you are not just bringing your food truck; you are bringing a delicious connection to the community.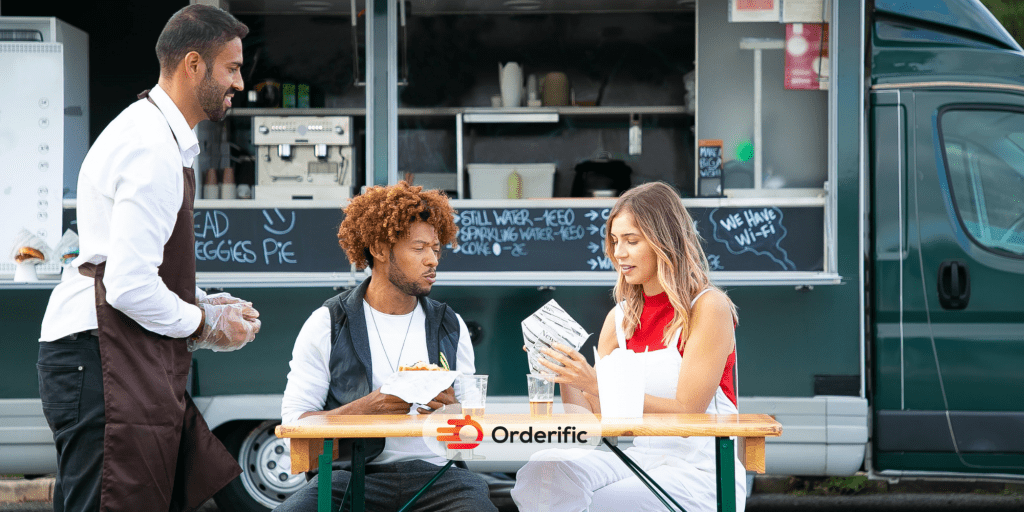 Enrich Your Food Truck's Journey: Tips to Engage More with Your Community
Stepping into the world of food trucks is enchanting, alive with tantalizing aromas, vibrant chatter, and the warm hum of community engagement. As a food truck owner, you hold the unique power to weave threads of unity within your community. This section offers the roadmap to enrich that journey, sprinkling it with warmth, enthusiasm, and a generous dollop of community spirit.
Be a Part of Local Events: Feel your presence at local events and festivals. Your food truck won't merely be a gastronomic delight but a bustling hub of community interaction.
Support Local Businesses: Source your ingredients from local vendors. Each transaction enhances the local economy, and each bite your customers take is a testament to your support for other local businesses.
Engage with Community Members: Be more than a vendor. Engage with attendees, share stories, and forge bonds that make your food truck a beloved part of the community fabric.
Host Special Events: Host events like food tasting sessions or cooking demonstrations. This attracts community members and adds excitement to the local events calendar.
Sponsor Local Initiatives: Sponsor local artists or community initiatives. Your support goes far beyond the boundaries of your food truck, contributing to a vibrant, thriving community.
In essence, your food truck journey isn't merely about serving delicious food—it's about serving community engagement. With each sizzle of the grill, each shared laugh, and each local event you participate in, you're not merely a vendor but a cornerstone of the local community. So, embark on this journey to engage more with your community and savor the taste of togetherness that your food truck brings.
Conclusion
In conclusion, food trucks are no longer just mobile eateries but vibrant hubs fostering community engagement in local events and festivals. They serve as delicious intersections of cultural exchange, local business support, and community building. The bustling atmosphere around these culinary havens, the tantalizing aromas, and the shared experiences – all paint a vivid tapestry of unity, enhancing our sense of togetherness. They churn the wheels of the local economy, sponsor events, and contribute to a thriving community. Harnessing the power of food trucks, Orderific can streamline your operations, allowing you to focus on enhancing customer experience. For restaurant owners eager to weave into this vibrant community fabric, Orderific is the perfect partner. To learn more about the myriad benefits of Orderific, schedule a FREE DEMO today. This is the era of food trucks, bringing communities closer one delicious bite at a time.
FAQs
In what ways does the food truck industry help local communities?
Food trucks boost local economies, foster community engagement at events, support local businesses, and facilitate cultural exchange.
What value does the food truck business bring to the communities it serves?
Food trucks contribute to community engagement, support local economies, and promote cultural diversity through culinary experiences.
How do you attract people to your food truck?
Attracting people to your food truck involves offering unique, quality food, marketing effectively, and participating actively in local events.
Who is the target audience for food trucks?
The target audience for food trucks is diverse, ranging from millennials to families, food enthusiasts, and event attendees.
What is the future of food trucks and local communities relationship?
The future of food trucks and local communities entails increased collaboration, local economic support, and cultural exchange through diverse cuisines.