Experience the romance and charm of a true Southern food experience at Main Street Bistro in Monroe, North Carolina. From locally sourced ingredients to traditional recipes carried down through generations, this delightful eatery brings together the best of both worlds. Thus joining contemporary tastes with classic country cooking. Through an inviting atmosphere and unparalleled hospitality, Main Street Bistro crafts each dish with care that enticingly combines fresh flavors with time-honored favorites for a truly memorable dining experience. Whether you want to take a trip down memory lane or explore something new on your plate—Main Street Bistro is sure to offer something appealing for all taste buds!
Introducing Main Street Bistro Monroe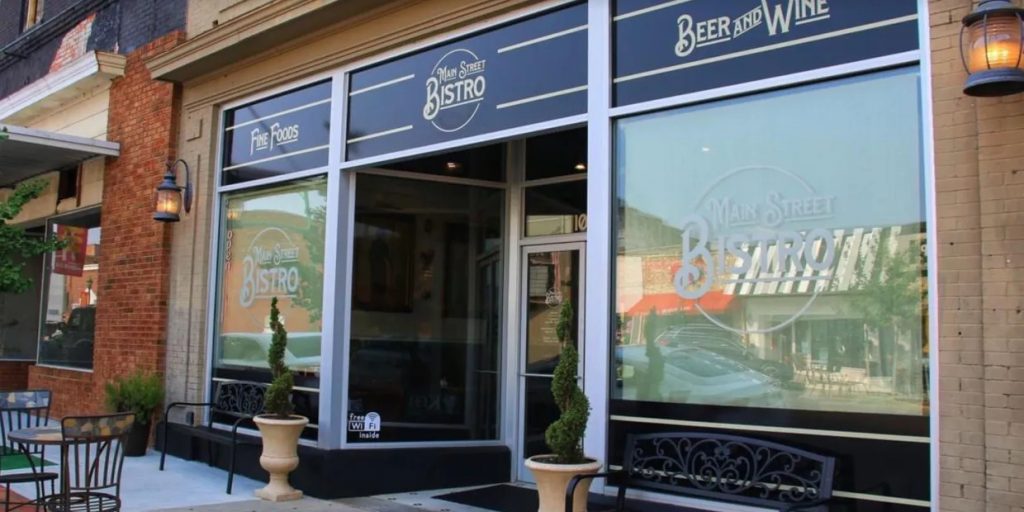 Step into a bygone era and experience a dining adventure unlike any other at Main Street Bistro. With a rich history spanning years, this iconic destination has become a haven for those in search of timeless gastronomy. A cozy and inviting ambiance embraces you the moment you cross the threshold, transporting you to a different time.
The menu itself is a delightful voyage, seamlessly fusing classic recipes with contemporary flair. This guarantees that your culinary experience matches the extraordinary surroundings. Be it an intimate evening for two or a lively gathering with friends and family. Main Street Bistro promises an immersion into the flavors of yesteryears, offering a remarkable taste of nostalgia.
A Tour of Main Street Bistro's Menu: Classic Dishes with a Modern Twist
Main Street Bistro boasts a menu that captures the essence of classic dishes but adds a modern twist that takes your taste buds on a culinary adventure.
Indulge in the finest flavors at Main Street Bistro, situated in the heart of Monroe, North Carolina. This culinary haven boasts a menu that tantalizes taste buds with a mix of beloved classics and innovative creations. Here's a glimpse of their standout offerings:
Blackened Chicken Alfredo Pasta: A celebrated favorite, this dish harmoniously combines the richness of Alfredo pasta with the bold flavors of blackened chicken. Thus crafting a symphony of taste that customers adore.
Fried Ravioli: Delight in a delightful twist on traditional ravioli by savoring these golden-brown fried gems. Served with a side of marinara sauce, they're a crispy and flavorful treat.
Fresh and Local Italian Delights: At Main Street Bistro, Italian cuisine takes center stage. Thus boasting dishes crafted from locally sourced ingredients. Whether it's lunch or dinner, expect the finest flavors that pay homage to both tradition and quality.
Elevated Baked Side Dishes: Elevating your dining experience, Main Street Bistro presents a line of premium baked side dishes. Each bite is a taste of culinary excellence, from the indulgent Baked Macaroni & Cheese to the comforting Baked Scalloped Potatoes.
Eclectic American and Vegetarian Culinary Expertise: While Italian cuisine is the star, Main Street Bistro also showcases a flair for eclectic American and Vegetarian creations. This diversity ensures that every palate finds its match.
In a tapestry of tastes, Main Street Bistro in Monroe, NC, invites you to savor their masterfully crafted dishes. With a dedication to sourcing local ingredients and an array of choices spanning Italian, American, and Vegetarian realms, this culinary gem promises an unforgettable dining journey.
Main Street Bistro's Commitment to Locally-Sourced, Seasonal Ingredients
Dedicating themselves to excellence, Main Street Bistro places paramount importance on delivering exceptional culinary experiences to their patrons. This commitment shines through their unwavering dedication to employing locally-sourced, seasonal ingredients in every dish. By intertwining the current season's bounty with the region's flavors, Main Street Bistro ensures that each bite exudes unparalleled freshness and taste.
This culinary philosophy extends beyond the plate; it's a pledge to foster community relationships. Thus Main Street Bistro nurtures the bonds with local farmers and enterprises, fortifying the essence of their locality.
The Ambiance of Main Street Bistro: A Cozy and Inviting Atmosphere
Upon entering Main Street Bistro, a sense of comfort and warmth envelops you instantaneously. The atmosphere exudes an invitation that's as genuine as it is inviting. Soft, ambient lighting weaves a tapestry of coziness, complementing the embrace of plush seating and thoughtfully curated decor. It's a haven where one can savor a leisurely meal or engage in hearty conversations with friends.
The gracious staff amplifies this atmosphere of hospitality, extending a welcome that feels like a cherished reunion. Their genuine demeanor ensures you're not just a guest but a cherished part of the experience.
Be it an intimate rendezvous or a relaxed luncheon, Main Street Bistro's ambiance is a key ingredient in crafting memories that linger. As you dine within this haven of comfort, the inviting surroundings elevate your culinary journey. Thus turning it into an indelible moment of enchantment.
Main Street Bistro's Catering Services: Perfect for Any Occasion
Elevating any event from ordinary to extraordinary hinges on the pivotal role of food. Main Street Bistro's Catering Services step onto this stage, ready to weave culinary magic that transcends expectations. Be it a corporate symposium or an intimate family affair. Their catering prowess brings a touch of perfection to every occasion.
The allure lies in their extensive repertoire of mouthwatering dishes and their unwavering commitment to excellence in service. Each guest's contentment becomes an art form, carefully orchestrated by their adept team.
Guided by a seasoned ensemble of professionals, Main Street Bistro's Catering Services is more than a culinary provider. They are a collaborator in crafting an unforgettable experience. With a bespoke approach, they curate menus that dance in harmony with your guests' preferences and dietary needs.
From cozy gatherings to grand galas, relinquish the burden of culinary orchestration and entrust it to Main Street Bistro's Catering Services. Allow yourself to recline in the assurance that every detail is impeccably managed, granting you the freedom to relish the event alongside your guests.
Main Street Bistro's Bar: A Selection of Fine Wines and Craft Cocktails
Discover a world of wine wonders through Main Street Bistro's exclusive Wine Vault Membership. Embark on a monthly oenophile journey for just $60, granting you access to an exquisite array of new and intriguing wines sourced globally. Delight in the artistry of their Sommelier's selections as you receive two bottles each month, thoughtfully curated to encompass diverse regions and flavors.
Uncover the stories behind the labels with accompanying spec sheets, suggested pairings, and tasting notes. As a member, relish in the privilege of exclusive discounts on premium, elusive wines from their EYES ONLY WINE VAULT LIST, complete with the opportunity for personalized consultations with their Sommelier upon request.
To add the final touch, burlap wine bags are available at a discounted price, making individual gifting effortless. The membership is entirely flexible, enabling you to cancel at any time with convenient month-to-month billing. Unveil a world of wine wonders for yourself or as a cherished gift as you step into the Main Street Bistro's Wine Vault experience.
Specials and Promotions: How to Get the Best Deals
For those seeking a delectable feast without the hefty price tag, Main Street Bistro stands as a haven of irresistible deals. Abundant specials and promotions await, promising both culinary delight and savvy savings.
To unlock the finest offers, a savvy move is to frequent their website, an ever-updated hub of discounts and delights.
Mark your calendar for off-peak hours – whether it's the weekday lunch bustle or the early dinner hush – as these windows often reveal hidden treasures of value.
Stay attuned to the rhythm of the seasons, for fleeting gems in the form of seasonal promotions and exclusive time-limited offers await discovery.
In whichever way you choose to seize a slice of affordability, your journey through Main Street Bistro's culinary universe is certain to culminate in a satiating experience that doesn't dent the wallet.
Conclusion
A culinary gem that beckons to all aficionados of timeless cuisine, Main Street Bistro presents an unrivaled experience that should grace every palate at least once. Its distinctive charm lies in an exquisite fusion of classic dishes reimagined with contemporary flair. Nestled in Monroe's historic heart, this establishment crafts locally sourced delicacies, delivering culinary excellence within a warm and inviting ambiance, ideal for intimate dinners, casual luncheons, or festive gatherings.
From their catering finesse to an array of fine wines and artisanal cocktails, Main Street Bistro proves itself a versatile haven for any occasion. Keep an eye on their website for enticing specials and promotions. And for further insightful content, explore Orderific blogs.
FAQs
Q. What is Main Street Bistro?
Ans. Main Street Bistro is a culinary haven in Monroe, offering a warm ambiance and a menu of classic dishes reimagined with a contemporary flair.
Q. Where is Main Street Bistro located?
Ans. Main Street Bistro is nestled in the historic heart of Monroe, providing a perfect blend of culinary excellence and inviting hospitality.
Q. What type of cuisine does Main Street Bistro serve?
Ans. They serve an assortment of timeless cuisine crafted from locally-sourced ingredients and imbued with a distinctive contemporary touch.
Q. Does Main Street Bistro have vegetarian or vegan options?
Ans. They accommodate various dietary needs and boasts a versatile menu, including vegetarian and vegan options.