A sea change is imminent in the vibrant heart of Maryland's economy. As the calendar flips to 2023, the drumbeat of "md minimum wage 2023" grows louder. It's more than just numbers; it's a promise of a fair wage act materializing, echoing in the halls of the general assembly. For workers tirelessly counting the hours, hope is on the horizon. For employers, both large and small, it's a clarion call for adaptability. This article takes you on a journey through the nuances of the upcoming minimum wage increase. From the whispering corridors of the economic policy institute to the hardworking tipped employees, we'll explore the implications of this significant shift. Maryland's minimum wage law is about to write a new chapter, and we're here to guide you through it every step of the way.
The Maryland Minimum Wage Increase Timeline
January 1, 2023. In Maryland's bustling economic hub, the words' MD minimum wage 2023′ take on newfound significance. For businesses with 15 or more employees, the minimum wage jumps to $13.25, a welcome increase for the weary workers. Smaller employers operating with less than 15 staff members are included; their new rate settles at a solid $12.80. This isn't a fleeting change – the momentum continues.
The anticipation builds again as the calendar marches towards January 1, 2024. The state minimum wage will rapidly leap to an unequivocal $15, regardless of employer size. It's a fair labor standards act promise being fulfilled. The days of differentiated wage rates depending on employer size are over, bringing a sense of unity to the Maryland workers.
But Maryland's story continues further. Let's shift our gaze to Montgomery County. From July 1, 2023, their wage dynamics take on a slightly different hue. For businesses with 51 or more employees, the rate hits the $16.70 mark. Those within the 11-50 employee range are pretty close behind at $15. The smallest of businesses, with 10 or less, close the gap at $14.50. These rates will continue to rise in accordance with the CPI-W, a testament to the general assembly's commitment to a living wage.
Finally, we arrived in Howard County. True to form, they kick off 2023 with a $15 minimum wage for businesses with 15 or more employees. Smaller employers follow suit with $13.25. However, Howard County's future wage rate timeline promises an exciting climb to $16 by July 2026, even for the smallest employers.
This timeline paints a picture of a state deeply committed to ensuring a fair wage for all its workers. It's a journey of the Maryland minimum wage law that promises a brighter economic horizon for both employers and employees alike.
Exemptions to the Maryland Minimum Wage Increase
In the grand tapestry of the Maryland minimum wage law, not all threads are identical. Specific exclusions delicately weave their way into the wage rate narrative. These exemptions, while fewer in number, hold significant implications for specific categories of workers and employers.
Tipped employees: A sigh of relief for establishments with tipped workers ripples through the air. The tipped minimum wage remains at a steady $3.63 an hour. This means employers can count tips toward meeting the state minimum wage rate, provided the combined tip and wage amount meet the state minimum wage.
Young employees: A different tune is played for workers under 20 years of age. During their first 90 days of employment, these individuals may receive a wage of 85% of the state minimum wage. It's a melody of adaptability – a harmonious balance between economic necessity and the reality of entry-level positions.
Small employers: Then, there's the symphony of the small employer. Those with an annual gross income of $400,000 or less find themselves exempt from the Maryland minimum wage increase. An echo of understanding resonates as Maryland acknowledges the distinct challenges small businesses face.
Beneath the umbrella of the 'MD minimum wage 2023' narrative, these exemptions represent a complex harmony. A composition that respects the diversity and uniqueness of the Maryland economic landscape. Each note, each rhythm, contributes to the melody of economic progression. It's a testament to the General Assembly's discerning ear and the intricate balance it seeks to maintain. It's a song of economic growth, a melody that captures the multi-faceted nature of the Maryland minimum wage law.
Tipped Employees in Maryland: Minimum Wage and Tips
Life as a tipped employee in Maryland unfolds like a rhythmic dance, where the melody of minimum wage harmonizes flawlessly with the tempo of tips. Picture this: the bustling restaurant scene, vibrant and effervescent, filled with employees who earn more than $30 per month in tips. They move gracefully, their eyes sparkling with an understanding of the Maryland minimum wage law – a law that assures them the State Minimum Wage Rate per hour.
The beat changes subtly, and we find employers stepping in, paying at least $3.63 per hour. This wage, combined with the spontaneous sprinkling of tips, forms a financial symphony that equates to the State Minimum Wage Rate. The composition is a testament to Maryland's Fair Wage Act, a melody that resonates with the promise of economic fairness.
In the restaurant sector, the rhythm deepens. Employers employing a tip credit find themselves strumming a new chord. They must present employees with a wage statement each pay period, either written or electronic. This statement highlights the effective hourly rate of pay, a harmonious blend of employer-paid cash wages and tips.
Yet, the melody doesn't stop there. Amusement and recreational establishments join the dance, ensuring their employees receive the required Minimum Wage Rate. And for the youngest dancers, those under 18, a gentle rhythm persists. They earn at least 85% of the State Minimum Wage Rate, a beat that syncs with their nascent employment journey.
The 'md minimum wage 2023' story is a symphony, and every tipped employee is a crucial note. Their dance is the pulse of Maryland's economy, a vibrant rhythm that echoes the promise of a fair, just wage system.
Impact of the Maryland Minimum Wage Increase on Employers
As we navigate the intricate labyrinth of the 'md minimum wage 2023' narrative, the Maryland Minimum Wage Increase casts a dappled light on the landscape of employers. It's a glow that beckons both challenges and opportunities, painting a unique tableau of economic evolution.
Heightened costs: The first brush stroke lands on the canvas of heightened costs. Larger paychecks equate to heftier expenses for Maryland employers. Yet, this isn't a winter of discontent. It's the dawn of a new economic reality, a testament to the Fair Labor Standards Act.
Workforce optimization: The narrative then meanders into the realm of workforce optimization. Higher wages lead to a tighter staff roster. The solution isn't a reduction of the workforce but a reimagining. A potential shift towards efficiency, productivity, and optimal labor utilization.
Price adjustments: Next, the lens focuses on price adjustments. With increased labor costs, employers might need to adjust their pricing structures. It's not a bitter pill but a sweet opportunity for innovation and growth.
Boosted morale: The story takes an uplifting turn with increased confidence. Higher wages signal employer commitment and respect, fostering a positive work environment. This isn't just about the Federal Minimum Wage; it's about the spirit of the Maryland workforce.
Increased competitiveness: Lastly, we glimpse increased competitiveness. Higher wages attract more workers, enabling employers to build strong, skilled teams. It's the echo of the State Minimum Wage law, reverberating in the corridors of Maryland's economic future.
This narrative of the 'md minimum wage 2023' impact on employers is a harmonious orchestration. Every note, every rhythm, contributes to the symphony of Maryland's economic progression. It's not a tale of impending doom but a story of resilience, adaptability, and forward-thinking. It's a melody that captures the essence of Maryland's economic landscape, promising an intriguing future as we journey together into 2023.
Impact of the Maryland Minimum Wage Increase on Employees
Employees find themselves bathed in a new dawn. This isn't merely an increase in digits. It's a transformative shift, a wave of change that washes over the economic landscape, heralding new possibilities.
Empowerment: The surge in Maryland's minimum wage brings with it a ripple of charge. Every hour worked now holds a richer reward, a tangible affirmation of the value placed on labor. It's a heartening boost, a nod of acknowledgment towards the workers that form the backbone of Maryland's economy.
Economic independence: Economic independence looms on the horizon. Higher wages equate to greater purchasing power, enabling employees to navigate their financial worlds with a renewed sense of confidence. The cost of living becomes less of a menacing giant and more of a manageable reality.
Job Satisfaction: The scent of job satisfaction permeates the air. With a higher wage echoing their worth, employees find a renewed sense of fulfillment in their roles. It's a sweet aroma, a testament to the importance of fair wage acts and labor law posters in the workplace.
Quality of life: The narrative takes a moving turn as quality of life begins to blossom. Higher earnings mean better access to essential services, improved living conditions, and a gentler, more balanced approach to life's demands.
Workforce longevity: An upward tick in the minimum wage has the potential to sow seeds of workforce longevity. With their effort fairly compensated, employees might view their roles as long-term commitments rather than fleeting engagements.
This chapter of the 'md minimum wage 2023' tale is a bright one. It's the echo of the state minimum wage law, reverberating through the lives of Maryland workers. It's not just about a larger paycheck but a renewed sense of worth, independence, satisfaction, and hope. And as 2023 rolls in, Maryland's workforce hums to the melody of a better tomorrow.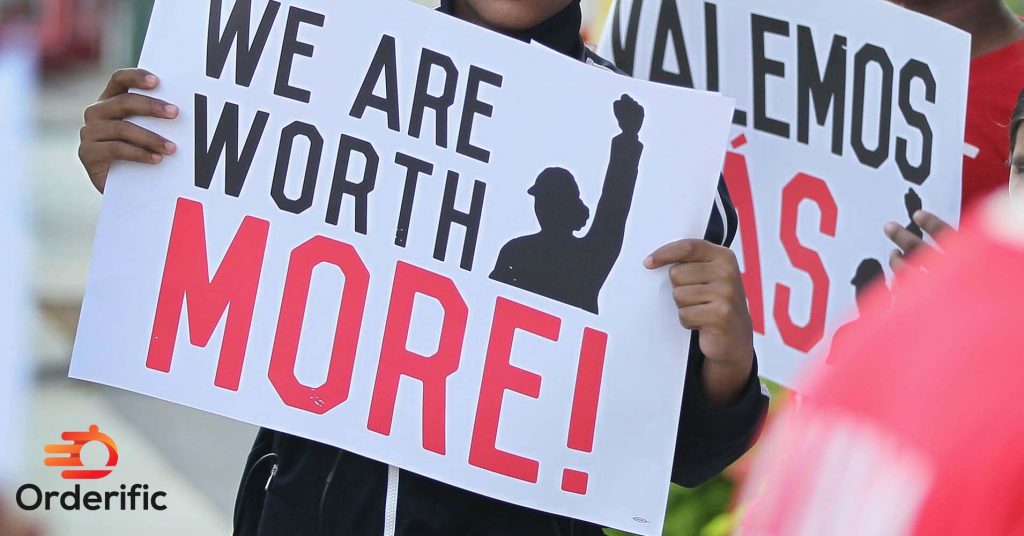 The Complexities of the Maryland Minimum Wage Increase
Life in the wake of the Maryland minimum wage increase is a thrilling kaleidoscope of change. It breeds a world of complexities, as vibrant as it is intricate.
Employment Strategy: The first complexity lies in employment strategy. Employers must recalibrate, molding their approach to suit this new financial landscape. This transition, both challenging and stimulating, breathes life into the realm of strategic planning.
Budgetary Concerns: Next, we journey into the sphere of fiscal concerns. Higher wages necessitate a reimagining of budget structure, a dance between income and expenditure that requires grace and precision.
Economic Balance: As we traverse this intricate landscape, we encounter the delicate balancing act of economic equilibrium. The minimum wage increase prompts an evaluation of pricing structures as businesses seek to maintain profitability.
Sector Differences: The wage increase also shines a light on sector differences. Businesses across various sectors must adapt differently, resulting in a complex mosaic of strategic change.
Standards of Living: Lastly, we arrive at the standards of living. The increase promises an improved quality of life. Yet, it also brings the challenge of managing increased financial responsibilities.
As the Maryland minimum wage law unfolds, the rhythm of change resonates. The complexities of the Maryland minimum wage increase are a testament to the dynamism of economic landscapes. This intricate dance, while complex, signifies progress. It's a symphony of economic evolution, a blend of challenge and opportunity that echoes a brighter tomorrow for Maryland.
The Impact of the Minimum Wage Increase on Maryland's Economy
The dawn of 2023 brings with it a stirring crescendo in Maryland's economic symphony – the Minimum Wage increase. This isn't just a number game; it's a transformative sonnet echoing in the corridors of Maryland's economy.
Economic Boost: The first note to ring out is that of an economic boost. Increased earnings lead to higher consumer spending, a refreshing melody that fuels the engine of local businesses.
Competitive Advantage: The narrative then sways towards a competitive edge. Higher wages attract top-tier talent, painting a vibrant landscape of innovation and productivity.
Social Equity: A softer note resonates with social equity. Enhanced wages mitigate income disparities, weaving a harmonious tapestry of inclusivity and fairness.
Business Growth: The sonnet takes a hopeful turn as business growth blossoms. Powered by a motivated workforce, businesses flourish, humming a tune of resilience and prosperity.
Government Revenue: Lastly, the melody reaches a climactic peak with increased government revenue. More earnings mean higher tax contributions, an uplifting chorus that funds vital public services.
This narrative of the 'md minimum wage 2023' impact on the economy is a sonata of change, a testament to the power of progression. It's a symphony that captures the essence of Maryland's economic landscape, painting a vivid picture of tomorrow as we journey into 2023.
Looking Forward: The Future of Minimum Wage in Maryland
With the dawn of 2023, Maryland sails into uncharted economic waters. This new chapter, painted by the brush strokes of the minimum wage increase, holds much promise. As we turn the page, let's envision the future of minimum wage in Maryland.
Across the state, the rhythm of change pulsates. Employers, employees, and lawmakers all dance to the tune of progress. Each day brings a fresh note to the symphony, shaping the grand composition that is Maryland's economy.
Imagine employers stepping up to the increased wage plate. They shoulder the new financial mandate with grace, fostering a resilient business environment. The future whispers of a robust workforce enriched by fair compensation.
Anticipate the joy of Maryland's workers, their eyes shining with every paycheck. They pack each hour with hard work, knowing their efforts are well rewarded. Higher wages not only fill their wallets but also their spirits.
Expect to see Maryland's economy thriving under the glow of the wage increase. It flourishes with renewed vigor, propelled by higher consumer spending and increased government revenue. The state beautifully harmonizes the melody of progress with the rhythm of fairness.
Furthermore, note the societal implications of this wage hike. It can bridge income disparities, weaving a tapestry of inclusivity. The new wage law sings a song of social equity, echoing far and wide across Maryland.
Lastly, the minimum wage increase promises a tapestry of opportunities. It's a catalyst for innovation, propelling businesses and workers toward a brighter horizon. Thus, it's an upbeat rhythm that fosters a prosperous dance floor for Maryland's economy.
In essence, the future of minimum wage in Maryland is a vibrant symphony. It's a melody that holds the promise of a better tomorrow. And as we tune our instruments for 2023, we eagerly anticipate the music that awaits.
Winding Up
In the grand symphony of "Maryland Minimum Wage Increase: What You Need to Know for 2023," the 'md minimum wage 2023' serves as the harmonious crescendo. It captures the promise of a prosperous and just future, underscoring the significance of economic progress, fair compensation, and social equity. Like the melodic rhythm of this change, Orderific orchestrates a seamless transition for restaurant owners and customers, optimizing operations and enhancing user experiences. Automating manual tasks empowers businesses to focus on crafting an enriched customer journey, akin to Maryland's stride toward a brighter financial horizon. With Orderific, the melody of increased revenue, decreased operational costs, and improved control plays in harmony with the vibrant symphony that is Maryland's minimum wage increase. Schedule a FREE DEMO today for more information on how Orderific can decidedly enhance your business operations.
FAQs
When will the Maryland minimum wage increase to $15 per hour?
The Maryland minimum wage will increase to $15 per hour on July 1, 2025.
Who is exempt from the Maryland minimum wage increase?
Certain employees, including tipped workers, agricultural workers, and those under 20 years in their first 90 days, are exempted.
How does the Maryland minimum wage increase affect tipped employees?
The wage increase does not directly affect tipped employees as their minimum wage is lower and calculated differently.
What is the impact of the Maryland minimum wage increase on employers?
The wage increase may impact employers' labor costs, pricing strategies, worker morale, competitiveness, and overall business strategy.
What is the impact of the Maryland minimum wage increase on employees?
The wage increase leads to employee empowerment, economic independence, job satisfaction, improved quality of life, and workforce longevity.