Greetings, fellow food fans, as we embark on an enthralling exploration into the captivating realm of authentic Korean gastronomy! Our delightful journey today delves into the intricate craft of crafting Meju (메주) from scratch. 
Meju, the indispensable cornerstone of Korea's cherished flavor profiles, is vital in producing soy sauce and soybean paste. This transformative journey involves a painstaking fermentation process, wherein humble soybeans metamorphose into a lusciously flavorful and nourishing base for an array of delectable Korean delicacies and condiments.
What Is Meju?
Meju, or "Mejukut," is a crucial component in traditional Korean fermentation. It is a solid brick or block made from boiled soybeans that undergo fermentation and drying.
Crafting it is an intricate practice that hinges on the precise harmony of time, temperature, and environment, culminating in creating the desired taste and texture. When fully fermented, it lays the groundwork for essential Korean condiments like soy sauce and soybean paste, pivotal in many Korean culinary delights.
Meju: Preparation and Initial Drying
To begin making Meju from scratch, one must start with the most fundamental ingredient: soybeans. Meju, the soul of our craft, owes its existence to these unassuming legumes.
Packed with protein and essential nutrients, they undergo the initial boiling stage until cooked to perfection.
Once cooked, the soybeans are carefully placed in rice or barley straw and bundled into tight blocks. Using straw plays a significant role in fermentation, as it introduces essential bacteria and molds that aid in transforming soybeans into it.
During bundling, soybeans naturally assimilate the microorganisms present in the straw, propelling the fermentation process. By tightly bundling the soybeans, an environment is formed that promotes the growth of advantageous organisms responsible for breaking down proteins and carbohydrates.
This enchanting transformation of soybeans into Meju hinges on the seamless interplay of nature and scientific principles, yielding a versatile and delectable ingredient that elevates Korean cuisine to unprecedented levels.
Meju: Long Drying Process
After the initial fermentation, the blocks are set out to dry for an extended period, typically several weeks to a few months. This long drying process is essential in developing the distinct taste and aroma of Meju.
As the blocks dry, they transform into solid, dense bricks from their original soft texture. The drying process also concentrates the flavors, enriching the Meju's taste and deepening its color.
Throughout the drying period, Meju undergoes further fermentation as it continues interacting with the beneficial microorganisms in the environment. The combination of fermentation and drying imparts a complex umami flavor profile to Meju, making it a prized ingredient in Korean cooking.
The Versatility of Meju
Meju's versatility lies in its ability to transform into various essential Korean cuisine components. For instance, when combined with soy sauce, Meju gives rise to traditional
Korean soy sauce, adding depth and complexity to a wide range of dishes. Similarly, when further processed,
Meju becomes the base for iconic Korean condiments like soybean paste or "Doenjang." These essential flavorings play a pivotal role in numerous Korean culinary creations, such as hearty stews, comforting soups, and delightful side dishes, bringing forth the distinctive taste of Korean cuisine.
How to Make Meju at Home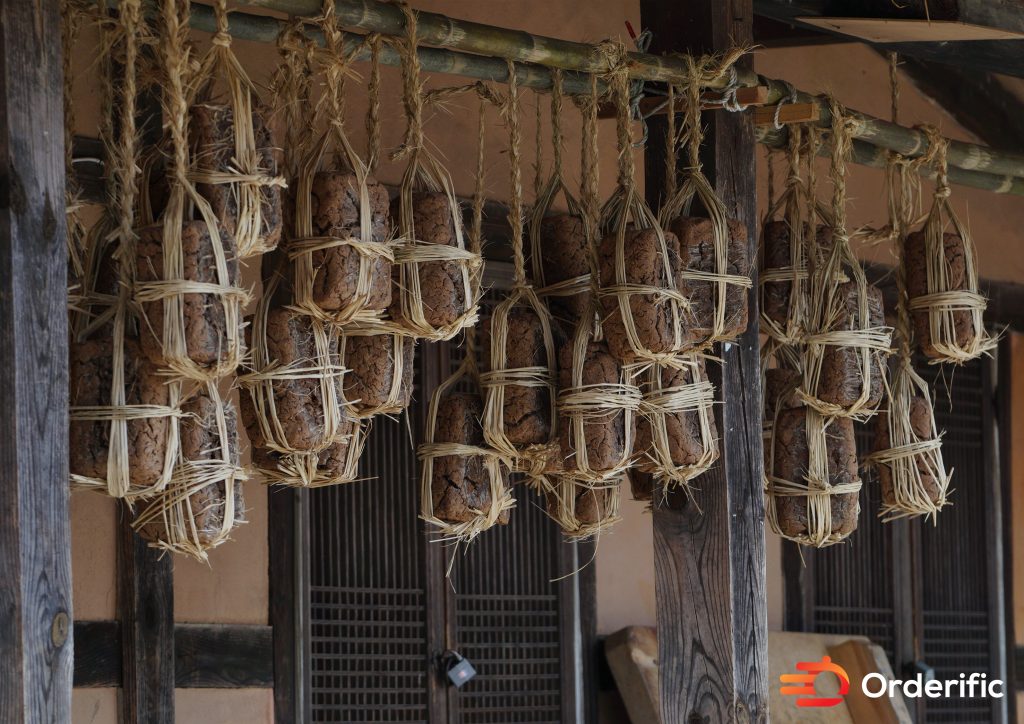 While making Meju from scratch may seem intimidating, it is possible to recreate this traditional Korean staple in the comfort of your kitchen. Here's our little guide to making your own Meju:
Selecting Quality Soybeans:
Start with soybeans free from impurities and contaminants. The quality of the soybeans will directly impact the final taste and texture of your Meju.
Boiling The Soybeans:
Rinse the soybeans thoroughly to remove any dirt or debris.
Immerse them in water overnight for a few hours to guarantee uniform cooking.
After soaking, remove the water and boil the soybeans until they are thoroughly cooked and tender.
Preparing the Rice Straw or Barley Straw:
While the soybeans boil in water, prepare the rice straw. Cut the straw into pieces and bundle the boiled soybeans tightly in the straw. This bundling process introduces essential microorganisms that initiate the fermentation process.
Fermentation and Drying:
Place the bundled soybeans in a warm and cozy spot where they can ferment for several days. During this time, the beneficial microorganisms will work their magic, breaking down the soybeans' proteins and carbohydrates, transforming them into Meju.
Drying Process:
After the initial fermentation, it's time for the lengthy drying process. Set the Meju blocks out to dry for several weeks to a few months. The Meju will transform into solid, dense bricks with a concentrated umami flavor during this time.
Storing Meju:
After the Meju has wholly dried, find a cool and dry spot to store it. This way, you can keep it for an extended period, up to a year or even longer. It'll be all set and ready to be used in a wide range of mouthwatering Korean dishes.
Conclusion
Congratulations on your journey into the fascinating world of Meju! You've now mastered making this traditional Korean ingredient from scratch. The art of turning humble soybeans into a delicious and wholesome base for Korean cuisine is a cherished tradition handed down through the ages.
Armed with this valuable insight, you can effortlessly incorporate the genuine essence of this versatile element into your culinary creations and savor the vibrant cultural legacy of Korean gastronomy.
In case you want more content like this, visit Orderific right now!
FAQs
Q: Does Meju affect testosterone?
A: Meju, a fermented soy product, has been found in studies to potentially lower the levels of certain compounds that can disrupt hormone balance.
Q: How long does the Meju last?
A: When Meju is thoroughly dried, it can maintain its quality for an extended period, typically up to a year or more, if stored in a cool and dry location.
Q: Is Meju different from Tofu?
A: Meju and Tofu are distinct products with different textures and flavors. Tofu is a malleable, coagulated curd crafted from soy milk.