The tapestry of Japanese cuisine is a complex weave of history, tradition, and a culinary finesse that's second to none. Against this rich backdrop, Menya Ultra emerges in the vibrant heart of San Diego as a beacon of genuine ramen craftsmanship. This establishment doesn't merely serve bowls of noodles; it presents an immersive experience.
Every slurp encapsulates centuries of tradition, every flavor transports you to the streets of Tokyo, and every visit educates you about a culture that values detail, authenticity, and passion. It's a harmonious symphony of taste, tradition, and technique that resonates with many, from casual eaters to ardent ramen enthusiasts.
Menya Ultra: A Journey to the Heart of Japanese Cuisine
Menya Ultra stands as a testament to the deep-rooted history and culinary artistry of Japan. Situated in the vibrant neighborhoods of Mira Mesa and Kearny Mesa, it transcends the boundaries of a regular eatery, embodying the soul of Tokyo's legendary ramen lanes. The tale behind this establishment is rich with threads of dedication and the undying spirit of a true ramen artisan.
So, what transformed this humble spot into a veritable Mecca for ramen enthusiasts?
The answer is multifaceted: A commitment to uphold and champion the teachings and intricacies passed down by seasoned ramen maestros, a discerning eye for only the freshest and highest quality ingredients, and a fervor for culinary perfection that's palpable in every simmering pot and steaming bowl. It's not just a dining destination; it's a cultural expedition.
From Tonkotsu to Shoyu: A Guide to Menya Ultra's Ramen Bowls
When you step into Menya Ultra, you're not just entering a restaurant; you're embarking on a flavorful journey across the diverse landscapes of Japan, right in the heart of San Diego. Ramen isn't merely a dish; it's an art form, a timeless tradition, a story told through every strand of noodle and each drop of broth.
The variety at Menya Ultra isn't just a testament to the vastness of ramen culture but also a curated experience of Japan's best, crafted meticulously with passion and precision. So, what awaits the hungry traveler in this Japanese culinary oasis?
Tonkotsu Ramen:
Tonkotsu Ramen offers more than just sustenance; it delivers an emotional experience. Each bowl contains hours of dedication, with pork bones simmered till they release their creamy essence. This rich broth, when combined with supple noodles and garnished with succulent pork slices, becomes a culinary ballet, a performance where each ingredient dances harmoniously. Menya Ultra brings this classic from Japan's bustling streets, ensuring that each bite transports you to a nostalgic corner in Tokyo.
Shoyu Ramen:
Shoyu Ramen at Menya Ultra isn't just another noodle bowl; it's an embodiment of simplicity meeting flavor. The soy sauce-based broth offers a unique umami-rich depth, exquisitely balancing savory undertones with a hint of sweetness. When paired with verdant green onions and melt-in-mouth pork chashu, the experience becomes ethereal. Each serving is a testament to the age-old traditions of Japanese cuisine, merging authenticity with innovation to cater to both the purist and the explorer.
Miso Ramen:
The Miso Ramen at Menya Ultra is a hearty embrace in a bowl. The distinct, bold miso flavors, rich in history and taste, meld seamlessly with the delicate broth. Fresh ingredients serve as more than just toppings; they accentuate the dish, elevating its overall profile. The perfectly cooked noodles absorb this robustness, ensuring that each mouthful is a burst of flavors, textures, and memories of Japan's culinary tapestry.
Tsukemen:
Tsukemen offers a delightful twist on the conventional way of devouring ramen. Instead of a unified bowl, diners are given the privilege of immersion, dipping lusciously thick noodles into an intense, flavor-packed broth. This interactive experience, popular in many Tokyo ramen joints, ensures each bite is customized to the diner's preference. It's not just about savoring a dish; it's about being part of its creation, one delicious dip at a time.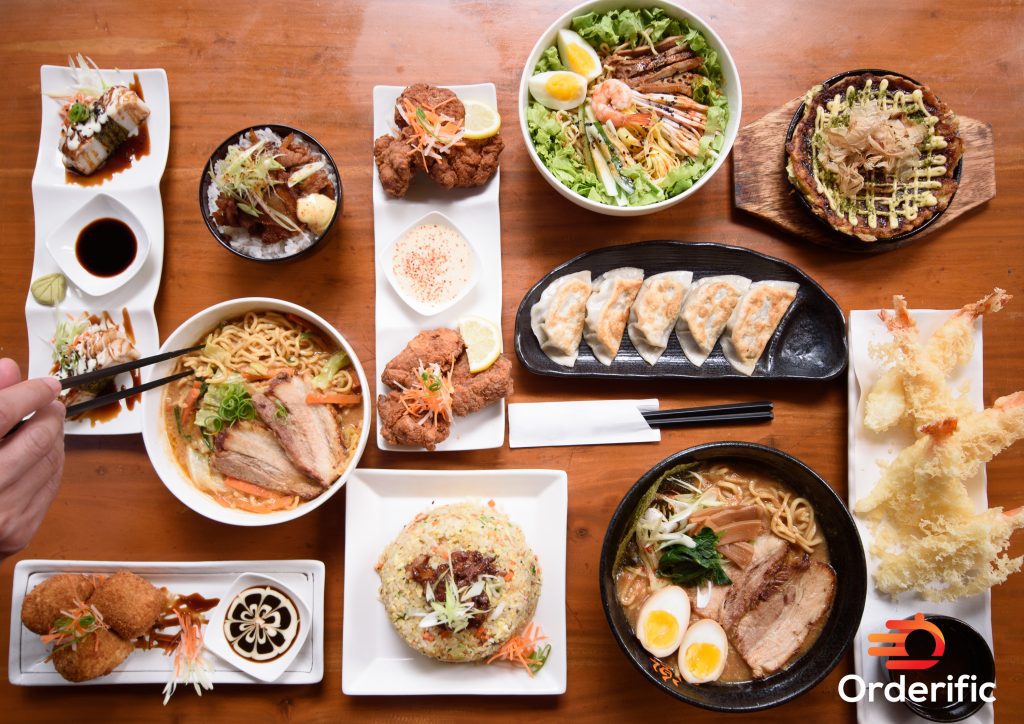 Beyond Ramen: Exploring Menya Ultra's Other Japanese Delights
While ramen bowls might be the star of Menya Ultra, the supporting cast is equally enchanting. Japanese cuisine is vast, with every dish encapsulating a story, a tradition, and an emotion. And Menya Ultra ensures that visitors get a full spectrum of these narratives.
From mouthwatering appetizers to soulful desserts, each offering complements the core ramen experience, ensuring that diners get a wholesome Japanese culinary immersion. So, what other delicacies await exploration?
Gyoza:
Gyoza, the quintessential Japanese dumpling, is an art of balance. Its golden, crispy skin contrasts beautifully with the soft, flavorful fillings inside. Each gyoza bite tells tales of ancient Japanese kitchens where they were meticulously handcrafted, signifying family gatherings and festivities. At Menya Ultra, these little pockets of joy come served with a side of history, tradition, and an unparalleled love for authentic Japanese flavors.
Karaage:
The Karaage at Menya Ultra offers more than just fried chicken. It's a dance of flavors and textures. The golden crust, seasoned and crisped to perfection, envelopes meat that's tender, juicy, and marinated with traditional Japanese ingredients. It's a dish that resonates with memories of bustling Tokyo streets, where vendors serve these delightful morsels to hungry passersby, leaving behind a trail of aromatic allure.
Donburi:
Beyond the soupy noodles lies the comforting embrace of Donburi. A flavorful rice bowl, adorned with a variety of toppings, each spoonful promises a burst of flavors and textures. Whether you opt for tender meats or fresh veggies, Menya Ultra ensures that the essence of Japan is captured in every bite. It's a dish that speaks of home, warmth, and the simplicity of Japanese everyday meals.
Takoyaki:
Takoyaki, a ball-shaped snack filled with minced octopus, is more than just a dish; it's a celebration. At Menya Ultra, these balls are crafted with precision, ensuring the outside is crispy while the inside remains delightfully soft. With every bite, you're transported to Osaka's lively streets, where the aroma of freshly cooked Takoyaki wafts through the air, drawing locals and tourists alike.
Matcha:
Matcha is not just a flavor; it's a cultural experience. The rich, earthy tones, paired with a subtle sweetness, culminate in a palate experience that's unmatched. At Menya Ultra, this iconic Japanese tea is celebrated in its full glory, providing diners with a serene and calming end to their flavorful journey, echoing the tranquillity of traditional Japanese tea ceremonies.
The Ultimate Dining Experience: What Sets Menya Ultra Apart from Other Ramen Restaurants
In an era teeming with ramen joints at every corner, Menya Ultra rises like a beacon of authenticity and dedication. It's not just about serving bowls of noodles and broth; it's about curating an experience that remains etched in memory. Their unwavering commitment to using fresh ingredients, like the guarantee of a fresh noodle in every bowl, showcases their dedication to quality.
By steering clear of preservatives, they pledge allegiance to the ancient traditions of Japanese ramen-making. Moreover, their emphasis on genuine, traditional flavors ensures that each slurp is a mouthful of authenticity. At Menya Ultra, it's not just about filling the stomach; it's about warming the soul, making every visit not just a meal but a rendezvous with genuine Japanese culinary artistry.
Conclusion
Japanese cuisine, often viewed through the lens of its sushi, tempura, and sashimi, finds its soul in ramen, and establishments like Menya Ultra uphold this tradition with respect and finesse. Through the tantalizing dishes they serve, they aren't just feeding the hungry; they're narrating tales from the Land of the Rising Sun, tales that resonate with the beats of Tokyo's heart, its history, and its culture.
At Menya Ultra, every ingredient, from the fresh noodles to the meticulously crafted broths, echoes a commitment to authenticity. This dedication to tradition, paired with a modern flair, makes this establishment more than just a restaurant; it's a bridge connecting San Diego to Tokyo, one bowl of ramen at a time.
In case you want more content like this, visit Orderific right now!
FAQs
Is Menya Ultra a chain restaurant or is it independently owned?
While Menya Ultra has garnered a reputation that rivals big chains, it's an independent entity, pouring love and authenticity into every dish.
Can I make a reservation at Menya Ultra or is it first-come, first-served?
Menya Ultra believes in serving every eager palate, but due to its popularity, it might be wise to check ahead.
Does Menya Ultra offer vegetarian or vegan options on their menu?
Absolutely! Menya Ultra caters to all, ensuring that their menu has options even for those preferring plant-based delights.
How spicy are the ramen dishes at Menya Ultra? Is there a range of spice levels to choose from?
While traditional ramen isn't typically very spicy, Menya Ultra provides a variety to cater to every spice threshold.
Does Menya Ultra offer any special promotions or discounts for frequent diners or large groups?
Who doesn't love a good deal? It's always good to inquire directly or check their promotions page to make the most of your visit.