Let's dive into the world of Mini Blue Corn Donuts, shall we? Unlike your regular donuts, these little beauties have an irresistible texture and a distinct, slightly sweet taste thanks to the blue corn. The fun-sized nature of these donuts only amplifies their charm, making them perfect for snacking without going overboard.
When comparing these with your typical donut, they emerge as a clear winner on the uniqueness scale. Where traditional donuts often rely on a heavy dose of sweetness, these Mini Blue Corn Donuts balance their sweetness with a hint of nuttiness from the blue corn. This unusual combination creates an unforgettable flavour profile that is sure to keep you coming back for more.
Fancy Mini Blue Corn Donuts Recipe
Now, we're going to journey into the fun and adventurous process of making these delectable treats at home. With a few simple ingredients and a bit of kitchen magic, you can create your own batch of Fancy Mini Blue Corn Donuts.
Ingredients:
1 cup roasted Blue Cornmeal
1/2 teaspoon Juniper Ash
1/2 cup All-Purpose Flour
1/3 cup Granulated Sugar
1 ½ teaspoons Baking Powder
1/4 teaspoon Salt
1 cup Milk
1 Egg
3 tablespoons Vegetable Oil
Equipments:
Donut pan
Non-stick spray
Whisk
Medium or Large bowl
Directions:
Preheat oven to 350 ° F. Spray donut pan with non-stick spray and set aside.
In a bowl, combine dry ingredients, blue cornmeal, flour, sugar, baking powder, juniper ash, and salt. Whisk them together.
Add milk, egg and oil to the dry ingredients and whisk together. Batter should have the consistency of pancake or cake batter.
Dispense batter into donut pan cavities. Fill 3/4's from the top.
Bake for 8-10 minutes. Check that the donuts are cooked by poking one with a toothpick or knife. Toothpick or knife should come out clean from the donut.
Take the donuts out of the oven and let them cool.
Donut Bling – Icing Options
These donuts pair perfectly with honey. For an extra special treat, use whipped honey. If you don't have any on hand, you can make a simple substitute by combining 1 cup of honey with 1 teaspoon of cornstarch.
To make a simple donut glaze, combine 2 cups of powdered sugar with 1 teaspoon of vanilla extract and 1/4 cup of milk in a saucepan over warm heat. Stir until smooth. Remove from the heat and let cool completely. Dip the donuts into the glaze and enjoy!
Tips:
For a thicker glaze, add more powdered sugar. For a thinner glaze, add more milk.
If you want a flavored glaze, add a few drops of your favorite extract, such as almond, lemon, or orange.
To make your donuts look extra fancy, drizzle them with melted chocolate or caramel.
You can also top your donuts with sprinkles, nuts, or dried fruit.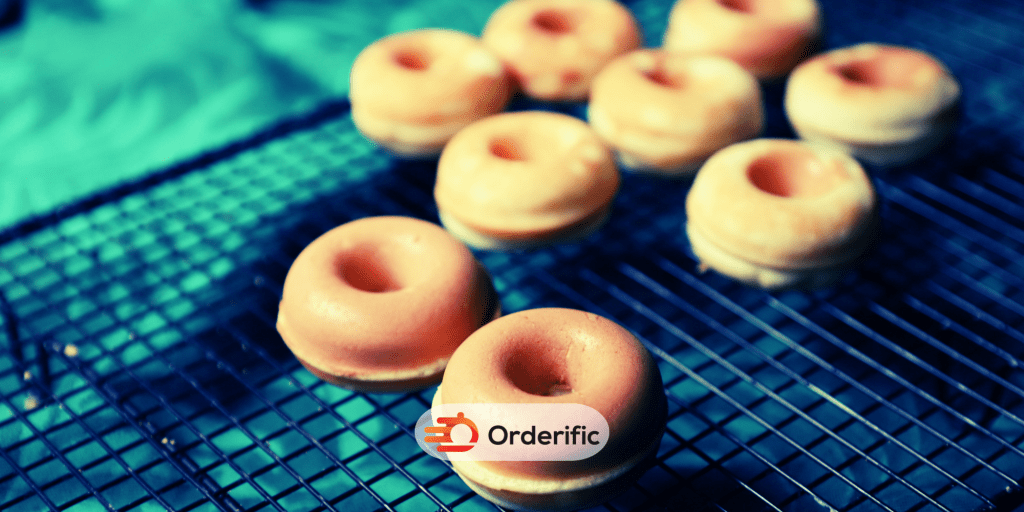 Conclusion
In conclusion, these Mini Blue Corn Donuts are a sweet surprise that you need to try at least once. Whether you're preparing a treat for the kids, looking for a unique dessert to serve at your next gathering, or simply want to indulge your sweet tooth with something different, these donuts are a sure hit. The unique flavor of blue corn, combined with the fun process of making them, results in a delightful experience that goes beyond the ordinary.
So, don your apron, gather your ingredients, and get ready to venture into the wonderful world of Mini Blue Corn Donuts. Their unique taste, coupled with your personal touch of the perfect glaze or topping, will create a dessert that leaves a lasting impression. Here's to exploring new flavors and putting a creative spin on traditional treats. Enjoy your baking journey!
Find more delicious and delightful content with Orderific here. For the many ways Orderific can improve your business, start trying it out here. It's Orderific time now!
FAQs
How are Mini Blue Corn Donuts made, and what makes them unique compared to traditional donuts?
They are a combination of blue cornmeal, all-purpose flour, juniper ash, sugar, baking powder, and salt. They have a slightly sweet flavor and a distinctive texture due to the blue corn.
What are the key ingredients used in Mini Blue Corn Donuts, and how does the blue corn affect the taste and texture?
The key ingredients are blue cornmeal, all-purpose flour, juniper ash, sugar, baking powder, and salt. The blue corn gives the donuts a distinctive texture and slightly sweet flavor.
Are there any recommended toppings or glazes that pair well with Mini Blue Corn Donuts?
Yes, they pair well with honey or a simple glaze made with powdered sugar, vanilla extract, and milk.
Can you provide a recipe or tips for making Mini Blue Corn Donuts at home?
Yes, there is a simple recipe provided in the article. It's important to preheat your oven and spray your donut pan with non-stick spray.
Are Mini Blue Corn Donuts suitable for kids?
Yes, Mini Blue Corn Donuts are perfect for kids as they offer an enjoyable and unique taste experience with their combination of sweetness and nuttiness.