The dawn of the digital age has revolutionized every industry, including bars and pubs. Enter a world where mobile apps intertwine with your beer and bar snacks. Imagine the convenience of ordering your favorite cocktail or craft beer from your table with just a few taps on your phone. Mobile apps are not just changing the game for customers; bar owners, too, are reaping the benefits. From seamless table reservations to efficient loyalty programs, these apps enhance customer engagement and streamline bar management. No longer is the bar industry confined within the four walls of a pub. It's time to adapt to harness the power of mobile apps for a smoother, more satisfying pub experience. Welcome to the mobile age of bar management.
What is a Mobile App (Mobile Application)?
A mobile app, short for mobile application, is software designed to run on your smartphone or tablet. Picture this: A bustling Friday night at your favorite local bar. The aroma of sizzling fast food, the clinking sound of glasses, and the hum of friendly chatter fill the room. Amidst this, your hand reaches for your phone. You tap open a sleek bar app, your trusted companion for the night. In seconds, you navigate the user-friendly interface and place your order. Craft beer? Check. Juicy burger? Check.
No more jostling at the bar, no more waiting in line. This is the power of mobile apps, transforming your bar experience with the touch of a screen. Bar mobile app development has opened up a new world of possibilities, available on both the Apple App Store and Google Play Store. Want to beat the crowd? Use your mobile app for online ordering or table reservations. Looking for deals? Check out the loyalty program on your favorite bar's app.
Mobile apps are wider than just bars and fast food joints. They're taking over the bar industry, from small pubs to significant players like Uber Eats. Mobile ordering apps are becoming the norm and for a good reason. They offer convenience, efficiency, and an enhanced customer experience. So the next time you step into a bar, remember: the power of mobile is right at your fingertips. Welcome to bar management on the go. It's time to go mobile!
How Are Mobile Apps Built?
Building mobile apps is a blend of art, science, and a pinch of magic. This process, known as app development, starts with an idea, much like a seed. It then blossoms into a full-fledged app, sprouting features that cater to customers' needs. Like a skilled chef, app developers carefully select the ingredients – the software, the platform, and the correct coding language. The selection is meticulous, ensuring the app performs seamlessly across platforms like the Apple App Store or Google Play Store.
Next, the design phase takes center stage. Here, the app is given its look and feel. The developers, akin to architects, craft the user interface. They ensure that your journey through the app is smooth, intuitive, and visually pleasing. It's during this phase that the bar mobile app starts to take shape, with the inclusion of features like online ordering and table reservations.
Finally, the testing phase comes into play. This is when the app is put through rigorous tests, much like a car on a test track. It's tweaked, refined, and polished to ensure it's glitch-free. The bar owner is actively involved in this phase, giving improvement feedback.
Post-launch, the app builder continues to monitor and update the app, ensuring its relevance and functionality in the ever-changing mobile landscape. The result? An engaging bar app that revolutionizes the customer experience, propelling the bar industry into the mobile age. In short, mobile app development is a journey, transforming an idea into a digital masterpiece, one code at a time.
How Does a Mobile App Work?
At its core, a mobile app is a nifty tool that simplifies our daily interactions. Picture this: You're nestled comfortably in your favorite bar, the distant echoes of laughter and clinking glasses serving as a comforting backdrop. You pull out your phone, your fingers dancing across the screen as you effortlessly open your preferred bar app.
These apps seamlessly blend functionality with convenience, from online ordering to mobile payment. The menu dazzles you with a tempting array of options – the sizzling aroma of fast food wafting through the screen, the sparkling visuals of exotic cocktails stirring your cravings.
You select, and the process is as smooth as the aged whiskey you've just ordered. The mobile app, your silent, efficient concierge, processes your request and sends it to the bartender's screen. All the while, you remain nestled in your cozy corner; the bar hums a soothing symphony around you.
You're a part of an evolving customer experience, one that mobile apps are shaping with each passing second. These apps are paving the way for an innovative bar industry from the Apple App Store to the Google Play Store. Whether it's a quaint neighborhood pub or a fast-paced delivery app like Uber Eats, mobile app development is stirring a revolution.
So sit back, enjoy your drink, and let the mobile ordering app work magic. After all, in today's digital era, customer engagement is at the tip of your fingers. Welcome to the age of mobile bar management – it's just a tap away.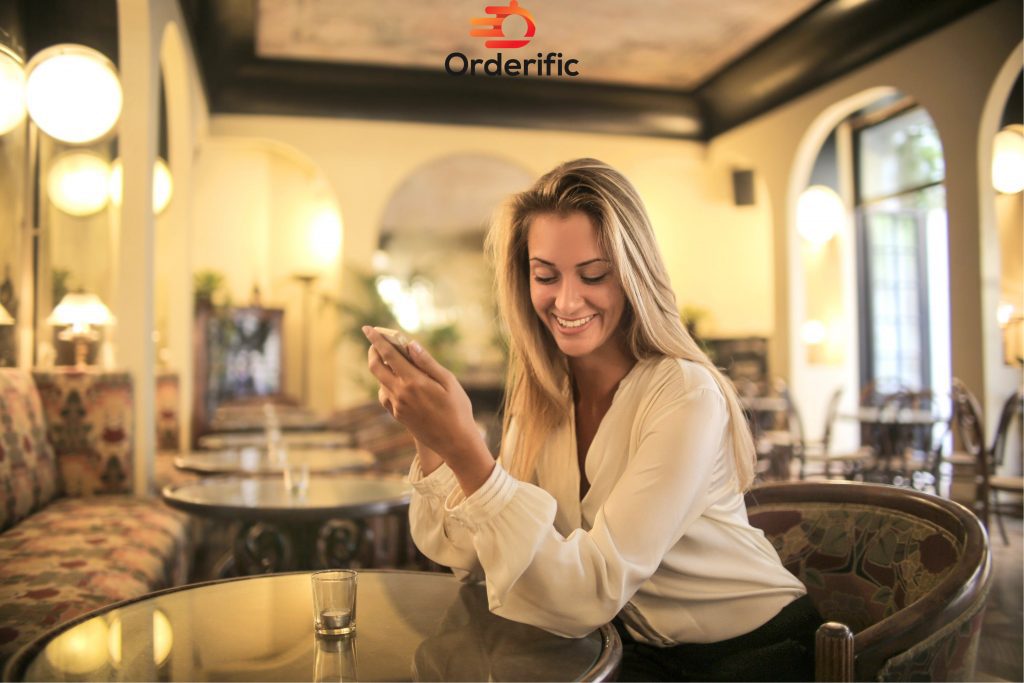 Advantages of Mobile Apps
Picture yourself sitting in a bustling bar. The bar's mobile app serves as your concierge, quickly navigating a sea of possibilities. Here are some key advantages that these magical digital tools bring to your fingertips:
Convenience: Imagine the ease of ordering a pint of your favorite craft beer with just a few taps on your phone. No more waiting in line, no more jostling at the bar. The bar app has made online ordering a breeze.
Efficiency: Remember the last time you scrambled to book a table at your favorite bar during peak hours? With a table reservation feature, these worries are a thing of the past. With a mobile app, you can reserve a table from the comfort of your home.
Loyalty Programs: Who doesn't like a good deal? Most mobile apps offer loyalty programs, allowing customers to earn points or rewards with each order. A free pint of beer on your next visit? Yes, please!
Customer Engagement: Engaging with your preferred bar has always been challenging. From providing feedback to getting updates on the latest events or promotions, these apps ensure seamless two-way communication between the customer and the bar owner.
Mobile Payment: Wave goodbye to the hassle of fumbling with cash or cards. Mobile apps have secure mobile payment options, ensuring a smooth, hassle-free transaction.
Access to a Wide Range of Options: From your local watering hole to a significant player like Uber Eats, mobile apps offer a variety of choices. Be it food, drinks, or the ambiance, your preferred experience is just a tap away.
The world of mobile apps is a game-changer in the bar industry. Next time you're at a bar, remember the power of mobile is at your fingertips. It's time to go mobile and enhance your bar experience!
Disadvantages of Mobile Apps
Despite the plethora of benefits that mobile apps bring, they have their downsides. As with anything, there is always another side of the coin. Here are some of the potential pitfalls that come with using these digital tools:
Privacy Concerns: Customers might unknowingly expose their personal information when using mobile apps. This spills over into the sphere of bar apps, potentially putting user's privacy at risk.
Battery Consumption: Let's face it: mobile apps, especially those with high-end graphics, can drain your phone's battery quickly. Consider this when you're sipping your cocktail and your battery life dwindles.
Data Usage: Similarly, the usage of data is another concern. Ordering your favorite fast food or drink through a bar app can eat into your data allowance, causing potential inconveniences.
Storage Space: The reality is mobile apps occupy precious storage space on your device. Even with the convenience of a mobile ordering app, the associated storage requirements can be challenging.
Complexity: While app developers strive to design intuitive user interfaces, some apps may still need help to navigate for less tech-savvy patrons.
In-app Purchases: Many apps may include in-app purchases or hidden charges. These unexpected expenditures can dampen the user's experience.
Remember, as you navigate through the app store, be it the Apple App Store or Google Play Store, weighing these potential disadvantages against the benefits is essential. The power of mobile apps lies in their ability to enhance your bar experience, but awareness of these downsides is crucial to enjoying the full potential of the mobile age.
Conclusion
In the dynamic landscape of the bar industry, mobile apps have emerged as the new norm, painting a vibrant digital canvas for both business owners and patrons alike. With Orderific, you can enter a world that marries convenience with experience, transforming how you interact with your favorite bars and pubs. Whether savoring your favorite fast food, engaging in the lively chatter at your local bar, or simply basking in the comforts of mobile payment, this is more than just a tool—it's your passport to the mobile age of bar management. So sit back, embrace the ease, and let the magic of mobile apps unfold. For a glimpse into this digital revolution, schedule a FREE DEMO of Orderific today. Here's to making life simpler, one tap at a time!
FAQs
How do mobile apps contribute to enhanced user experiences and customer engagement?
Mobile applications offer convenience, seamless ordering, easy payments, loyalty benefits, and personalized engagement, enhancing user experience.
What steps should businesses take when developing and launching mobile apps?
Businesses should identify their audience, establish clear objectives, design intuitively, test rigorously, and implement effective launch strategies.
How do mobile apps address the unique demands of on-the-go consumers?
Mobile applications offer instant access, efficient service, easy payment options, and personalized experiences to meet on-the-go consumer demands.
What are the security considerations when dealing with mobile app data and transactions?
Mobile applications should employ encryption, secure payment gateways, user authentication, and regular security updates to protect data.