Have you ever daydreamed about orchestrating an event that remains the talk of the town long after it concludes? Perhaps a sophisticated corporate meet-up, an exuberant birthday celebration, or the fanfare of a grand opening? The secret ingredient to elevate these occasions might just be mobile bartending. This dynamic concept extends beyond the mere act of concocting and serving beverages.
It's about weaving an ambience, creating memories, and offering a tailor-made experience that resonates with each guest. With every swirl, shake, and pour, mobile bartenders bring the allure of a bar right to your doorstep, ensuring that the atmosphere is charged with excitement and class.
What is Mobile Bartending?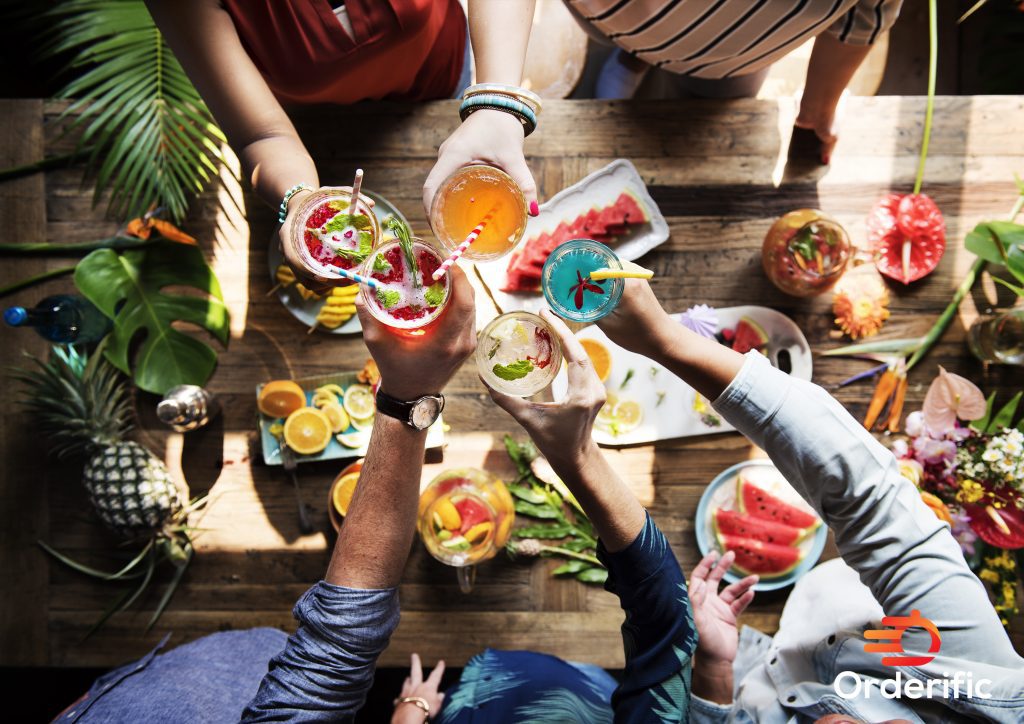 Mobile bartending is an innovative service that brings the complete bar experience directly to your event, regardless of location. It's the art and service of mixing and serving drinks on the go. Rather than guests flocking to a fixed bar or pub, the bar comes to them. Here's a closer look:
Flexibility and Convenience: From backyard parties to beach weddings or corporate events in remote locations, mobile bartending ensures that the drinks keep flowing, no matter where you are.
Tailored Experience: Mobile bartenders often work with clients to craft custom drink menus, ensuring that the beverage offerings align perfectly with the theme and vibe of the event.
Full-Service Setup: Think of it as a bar on wheels. Mobile bartending services typically provide everything required for a full bar setup – from the actual bar structure, glassware, and drinks, to garnishes and even ice.
Professional Expertise: Mobile bartenders are skilled professionals. They not only mix and serve drinks but also entertain guests with their bartending flair, knowledge about various beverages, and cocktail-making prowess.
Cost-Effective: By tailoring drink offerings and quantities to the exact needs of the event, mobile bartending can often be a more budget-friendly option, ensuring that there's no wastage or overspending on unnecessary items.
Enhanced Guest Experience: Guests no longer have to queue up at a single bar. With mobile bartending, the service can be more spread out, ensuring quicker service and a more personalized guest experience.
Creating the Perfect Event Menu
Crafting the ideal drink menu for any occasion is akin to creating a symphony. Each beverage should play a note that complements the theme, tantalizes the palate, and ensures the event remains memorable. Let's embark on this mixological journey together.
Choosing the Right Drinks for Your Event
Event Theme and Vibe: A vintage-themed event might lean towards classic cocktails like Martinis or Old Fashioneds, while a beach party might favor refreshing Mojitos or Pina Coladas.
Demographics: It's vital to understand the guest list. For instance, younger crowds might lean towards trendier cocktails, while an older audience might appreciate more traditional drinks.
Duration and Time: Daytime events might favor lighter, refreshing drinks, whereas evening affairs might be suited for more robust cocktails.
Customizing Your Cocktail Menu
Signature Drinks: Consider creating a unique cocktail that represents the occasion or the guest of honor. It can be a fun addition and a conversation starter.
Cultural Touch: If it's an event celebrating a particular culture or holiday, weave in drinks specific to that theme.
Interactive Elements: Consider including DIY cocktail stations where guests can customize their drinks with various mixers, spirits, and garnishes.
Incorporating Seasonal and Local Ingredients
Fresh and Vibrant: Using ingredients that are in season ensures maximum flavor and freshness. Think berry-infused cocktails in summer or spiced apple mixers in the fall.
Support Local: Source ingredients from local producers or farmers. This not only ensures quality but can also be a talking point for the event.
Sustainability: Consider eco-friendly practices, such as avoiding single-use plastics or using organic ingredients.
Non-Alcoholic and Mocktail Options
Inclusive Offerings: Always ensure there's something for everyone. Just because it's non-alcoholic doesn't mean it has to be boring.
Flavor Profiles: Create mocktails that mimic popular cocktails. For example, a no-jito, mirroring a Mojito, can be just as refreshing and flavorful without the rum.
Herbal and Infused Waters: Consider offering water infused with herbs like rosemary or fruits like strawberries and cucumbers for a simple yet refreshing option.
Professional Bartending Services
Navigating the vibrant world of events can be complex, and ensuring that your guests have a memorable experience is paramount. One crucial aspect that can make or break an event is the bar service. So, what does it take to ensure the drink service is top-notch? It starts with professional bartending services. Let's break down what that entails:
The Role of a Professional Bartender
More Than Mixing: A professional bartender does more than just prepare drinks. They are also part-time entertainers, engaging with guests, ensuring they have a great time, and sometimes even showcasing flair bartending skills.
Safety First: They monitor alcohol consumption, ensuring guests enjoy responsibly. Recognizing when someone has had enough and refusing service diplomatically is a crucial skill.
Knowledge Base: From understanding various types of alcohol, mixers, and the art of creating a balanced cocktail, their knowledge is extensive. They can also make drink recommendations based on guests' preferences.
Setting Up a Mobile Bar
Adaptable Setups: Depending on the event's scale and venue, the setup can vary from simple tables to elaborate counters with back displays.
Location Specifics: Whether indoors, outdoors, on a beach, or in a rustic barn, a mobile bar needs to be versatile and adaptable to different environments.
Branding: For corporate events, there's often the option to brand the bar area with logos or event-specific themes.
Equipment and Supplies
Tools of the Trade: From cocktail shakers, muddlers, and jiggers to specialized glassware for different drinks, ensuring all equipment is at hand is vital.
Stocking Up: Apart from alcohol, this includes mixers, garnishes (like lemons, limes, olives), and essentials like ice and napkins.
Extras: Things like straws (preferably eco-friendly), coasters, and even decorative elements to align with the event's theme.
Bartending Techniques and Skills
Mixology Mastery: The art of making a perfect cocktail, balancing spirits, mixers, and garnishes to create a harmonious drink.
Flair Bartending: A visual treat where bartenders juggle, spin, and toss bottles and shakers to entertain guests.
Custom Creations: On-the-spot creativity to whip up something special for guests based on their preferences.
Knowledge on Pairings: Recommending drinks that complement the food being served, enhancing the overall dining experience.
Mobile Bartending Trends and Ideas
In the ever-evolving landscape of events and entertainment, mobile bartending is proving to be not just a convenience, but also a focal point of innovation and creativity. As people seek unique experiences, bartenders and event planners are upping their game, introducing fresh, exciting trends to dazzle attendees. Let's shake things up and explore some of the hottest trends in mobile bartending:
Interactive Cocktail Stations
DIY Drink Booths: Allow guests to be their mixologists, choosing spirits, mixers, and garnishes to craft their concoction.
Mixology Classes: Offer short sessions where attendees can learn the basics of cocktail-making from a pro. Who wouldn't love to whip up a classic Mojito or a sophisticated Martini?
Taste Trials: Introduce guests to various ingredients and let them decide what goes into their next drink, creating a tailored experience.
Themed Bars and Drinks
Era-specific Bars: Imagine stepping back in time with a 1920s speakeasy or grooving with a 70s disco-themed bar.
Pop Culture Themes: From a "Game of Thrones" inspired 'Winter is Coming' cocktail to a "Harry Potter" Butterbeer station, the possibilities are endless.
Destination Bars: Transport guests to a tropical island, a cozy winter chalet, or an Italian vineyard with drinks that match the vibe.
Signature Cocktails and Drink Menus
Event-specific Concoctions: Craft a drink that epitomizes the event. A "Golden Gala" cocktail for an awards night, perhaps?
Personalized Menus: For more intimate gatherings, like weddings, create drinks that tell a story about the couple or the guest of honor.
Local Flair: Introduce drinks that use local spirits or ingredients, giving guests a taste of the locale.
Food and Drink Pairings
Culinary Cocktails: Design drinks inspired by dishes. Tomato basil gin and tonic, anyone?
Wine and Dine: Curate a wine list that complements the food menu, enhancing the dining experience.
Dessert Drinks: Think along the lines of chocolate martinis paired with a rich chocolate cake or a berry cocktail to go with a tart.
Conclusion
Mobile bartending has transcended being a mere trend to emerge as a pivotal game-changer in the realm of events and hospitality. It artfully combines the essence of personalized service with the dynamism of on-the-go convenience. Gone are the days when guests were confined to fixed bar corners in events.
Now, the bar breathes life into every nook and cranny of the venue, making every spot the place to be. This approach not only amplifies flexibility but also infuses an element of customization that caters to individual preferences and themes.
Moreover, there's an added zest and panache that mobile bartending brings, turning every drink into an experience, every pour into a performance. So, the next time an occasion beckons, why settle for the ordinary?
In case you want more content like this, visit Orderific right now!
FAQs
How is mobile bartending different from traditional bartending?
Mobile bartending brings the bar to you, offering tailored services right at your venue, whereas traditional bartending usually happens at a fixed bar location.
What are the benefits of hiring a mobile bartender?
Flexibility, customization, and the ability to offer a unique experience tailored to the event's needs are just a few advantages.
What kind of events can benefit from mobile bartending?
From private parties, corporate events to festivals and grand openings, almost any gathering can be elevated with mobile bartending.
How do I hire a mobile bartender?
There are several professional bartending services available. Research, read reviews, and get quotes to make an informed decision.
What kind of drinks can a mobile bartender make?
From classic cocktails, craft beverages to signature drinks, a skilled bartender can whip up a wide range of beverages.
Can I customize my cocktail menu for a mobile bartending event?
Absolutely! One of the perks of mobile bartending is the ability to customize the drink menu tailored to the event's theme or guests' preferences.