Ah, the humble Momo – a small bite-sized marvel that has become synonymous with the rich tapestry of Asian cuisine. Hailing from the mountainous terrains of Nepal, these delectable dumplings have transcended borders and won hearts globally. Their widespread appeal lies not just in their modest appearance but in the symphony of flavors they house.
The tender, doughy exterior acts as a prelude to the burst of savory goodness inside, offering a dance of textures with each bite. From the traditional steamed variants to the modern fusion takes, Momos are versatile, catering to a plethora of palates. Journey with us as we delve deeper into the art and allure of crafting these iconic delights, revealing the secrets that make them a gastronomic gem.
Nepal's Most Popular Food!
Venturing into the heart of Nepal, amid its towering peaks and verdant valleys, the culinary landscape has just one undisputed champion: the Momo. As you weave through bustling bazaars and quiet alleyways, the inviting scent of these delectable dumplings fills the air, signaling their omnipresence in Nepalese cuisine. 
From young children excitedly clutching their Momo baskets to elders reminiscing over them with a cup of chai, their appeal is universal. Beyond just a dish, they are a celebration of Nepal's rich cultural tapestry, encapsulating centuries of culinary evolution.
Whether savored with spicy chutney at a roadside stall or relished with a savory broth in a sophisticated eatery, Momos transcend occasions, embodying the spirit of Nepalese hospitality. They're not just a meal; they are an experience, a gastronomic journey that leaves an indelible mark on one's palate.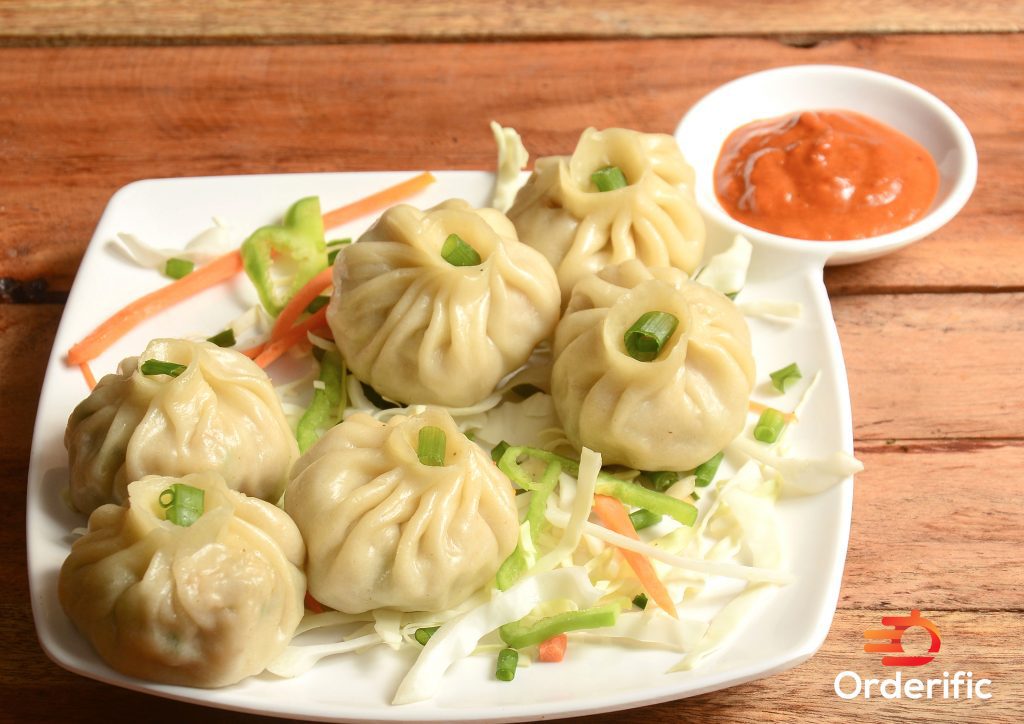 Types of Momos in Orderific Kitchen
Chicken Momo
Often considered a classic choice, the Chicken Momo at Orderific Kitchen stands out for its flavorful stuffing. Minced chicken combined with green onions provides a delectable base, while the infusion of ginger and garlic elevates its aromatic profile. Every bite of this Momo promises a burst of savory goodness, making it a popular choice among patrons.
Lamb Momo
For those with a palate for richer tastes, the Lamb Momo is a must-try. Expertly crafted with premium lamb, each dumpling is a testament to culinary excellence. Ingredients like kaffir lime, lemongrass, and pepper meld beautifully, offering a depth of flavor that is both exotic and comforting. This gourmet treat truly reflects the sophistication of Orderific Kitchen's culinary repertoire.
Vegetable Momos
Vegetarians need not feel left out at Orderific Kitchen. The Vegetable Momos creation process involves sheer precision, using a medley of fresh vegetables like crunchy carrots, crisp cabbage, and succulent onions. What sets these dumplings apart is the creative incorporation of Thai flavors.
With the essence of green curry and the tang of tom yum soup, these are a harmonious blend of traditional Nepalese dumplings and Thai culinary accents, ensuring a delightful experience for both vegetarian and non-vegetarian food enthusiasts alike.
Conclusion
The world of Momos is as diverse as it is delicious. From the flow of its text to the cascade of its flavors, every Momo narrates a story. As each is crafted with passion, peppered with love, and steamed to perfection, it's no wonder they reign supreme in the pantheon of Asian delicacies.
So, whether you opt for a plate of spicy chicken, aromatic lamb, or those bursting with fresh veggies, know that with each bite, you're savoring a piece of culinary art.
In case you want more content like this, visit Orderific right now!
FAQs
What are momos?
Momos are traditional Nepalese dumplings made from dough usually filled with either meat or vegetables.
What are the main ingredients used in momos?
The primary ingredients include flour for the dough and fillings that can range from chicken, lamb, and vegetables.
Are momos vegetarian?
Momos can be both vegetarian and non-vegetarian, depending on the filling inside.
How are momos cooked?
Momos are typically steamed, producing a soft outer layer with a moist filling. However, they can also be fried or pan-fried for a crunchy exterior.