Mr Burger loves hamburgers/burgers and believes there are a lot of people out there who share his culinary passion. As a final year student currently studying for a Business Innovation Masters at Lancaster University, Mr. Burger has spent the past four happy years chomping through tasty bread buns sandwiched around a variety of burgers, topped with heavenly combinations of toppings and fillings … Mr Burger now considers himself fully trained as a burger connoisseur.
Mr Burger aims to share his burger secrets and entice readers to experiment and be creative with their tasty toppings … and feedback on any gourmet suggestions – however wild they may seem – so that we can share and enjoy the Mr Burger experience. So, the best recipes will be featured in Mr Burger's recipe cards for you to collect your favorites. Each recipe will need a fantastic title so that it symbolizes the chosen ingredients and makes it stand out from the crowd. Let's take look at Mr Burger's suggestions as a burger connoisseur.
Vegan Burgers
A vegan burger is a burger patty that is devoid of any animal products. They are made from a variety of plant-based ingredients and can be just as flavorful and satisfying as their meat counterparts. The base of a vegan burger can be made from foods like beans, lentils, quinoa, tofu, or seitan, and they can be seasoned with a myriad of spices and herbs to create an explosion of taste. They're a great source of protein and fiber, and when done right, a vegan burger can be a mouthwatering addition to any menu. Even if you're not vegan, these burgers can offer a delightful change of pace from the usual beef burger.
Vegetarian Burger from The Borough
The Borough's vegetarian burger is a surefire hit. Made with lentils, mushrooms, and kale, this veggie delight is sure to please even the most discerning palate. Topped off with a dollop of mayo and tangy pickles, this is one burger that packs plenty of flavor. It can also be served with vegan cheese for an extra delicious touch. Whether you're a vegetarian or just looking for something new and delicious, this burger is sure to hit the spot.
Mozzarella Vegetarian Hamburger & Chips
This Mozzarella Vegetarian Burger and chips is the perfect combination of flavors. The burger patty is made from mushrooms, lentils, and mozzarella cheese, giving it a nutty flavor with a hint of creaminess. It's topped off with creamy mayonnaise and fresh basil leaves, adding a herby kick to the mix. Paired with hot and crispy chips, this burger is sure to hit the spot. Perfect for vegetarians and meat lovers alike, it's a great way to get your fill of deliciousness without compromising on flavor. "A taste sensation like no other" says Mr Burger as a burger connoisseur!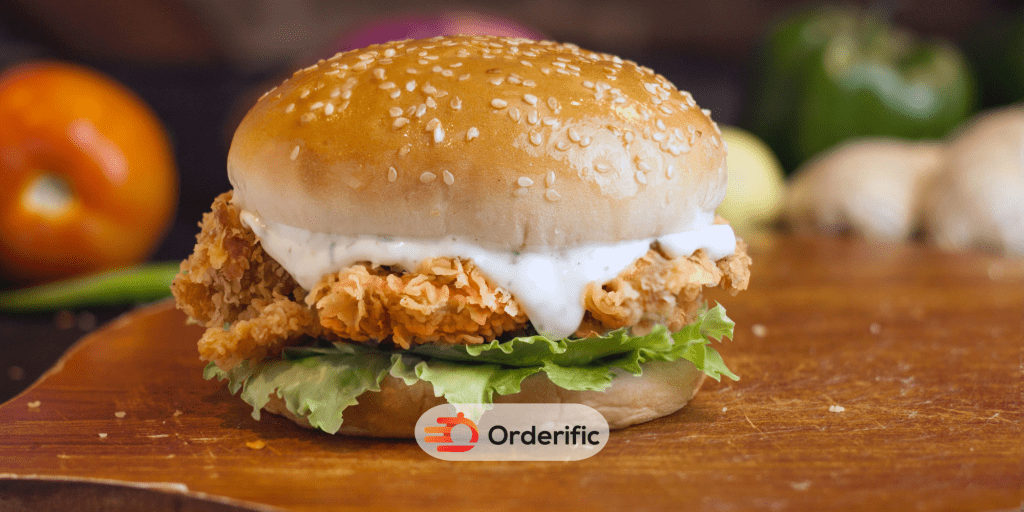 Crispy Sesame Fish Burger with Lime Mayo
Treat your taste buds to this savory sesame fish burger with a zesty lime mayo. The light and flaky fish fillet is coating in a tasty batter made from sesame seeds, garlic, onion powder. Additionally using paprika before it's frying until perfectly crispy. Topped off with fresh lettuce, tomato slices, and an indulgent dollop of zesty lime mayo, this burger is truly a delight. Enjoy it with some oven-fried chips or a side of salad for an enjoyable meal that will tantalize your taste buds!
Towering Triple Threat Burger
If you're looking for an over-the-top burger experience, then the Towering Triple Threat Burger is just what you need. This towering monster of a meal features three juicy burgers topped with crispy bacon, melted cheese, and smoky BBQ sauce. Topped off with fresh salad leaves, tomato slices, and lashings of mayo, this triple threat will leave your taste buds singing. Enjoy it with a side of onion rings or some sweet potato fries and you're sure to be in burger heaven!
Heavenly Halloumi & Portabello Mushroom Burger
If you're after something a bit different, then this Heavenly Halloumi & Portabello Mushroom Burger is worth a try. Succulent portabello mushrooms and salty halloumi cheese make the perfect combination when sandwiched between two buns. Topped off with fresh salad leaves, roasted peppers, and a creamy garlic sauce, this burger packs plenty of flavor. It's sure to tantalize your taste buds and leave you wanting more!
Fish Hamburger
This Fish Burger with Sweet Chilli Sauce is a great way to enjoy the flavor of fish without being overly heavy. The lightly battered and fried fish fillet is topped with sweet chili sauce, lettuce, tomato slices, and a dollop of creamy mayo. So, the result is an explosion of flavors that will leave your taste buds begging for more.
Share a Burger Recipe Card
Whether you're a seasoned griller or a burger-making newbie, you're in for a treat with the curated recipes of Mr. Burger. Known for his culinary creativity and love for all things burgers, he's a veritable fountain of inspiration for those looking to up their burger game. With a keen palate and an adventurous spirit, he's been experimenting with a multitude of combinations of ingredients, introducing new layers of complexity and delight in every bite.
Mr. Burger is a believer in sharing the joy of creating culinary masterpieces, especially when it comes to his favorite dish. He has taken to sharing his innovative burger recipes with his followers, providing them an opportunity to savor the same gastronomical pleasures he indulges in. His recipes range from the traditional to the unconventional, catering to a diverse array of gastronomical preferences.
History of the Burger
The history of the burger is as rich and layered as the dish itself. The concept of a patty sandwiched between two pieces of bread is a culinary invention that dates back centuries, with various cultures globally boasting their unique iterations. However, the modern hamburger, as we know it today, has its roots firmly planted in America. It was during the industrial revolution in the 19th century when the convenience of a handheld, inexpensive, and filling meal became paramount. This need paved the way for the humble hamburger, a simple yet satisfying combination of a ground meat patty placed between two slices of bread.
Despite its humble beginnings, the burger quickly rose to prominence, especially in the United States where it became an icon of fast food culture. The first fast-food hamburger chain, White Castle, was founded in 1921, setting a precedent for the plethora of chains that we know and love today. Over time, the burger has undergone numerous transformations, adapting to changing tastes and dietary needs. From the addition of cheese, lettuce, and tomato to the introduction of vegan and vegetarian alternatives, the evolution of the burger is a testament to its enduring popularity and versatility.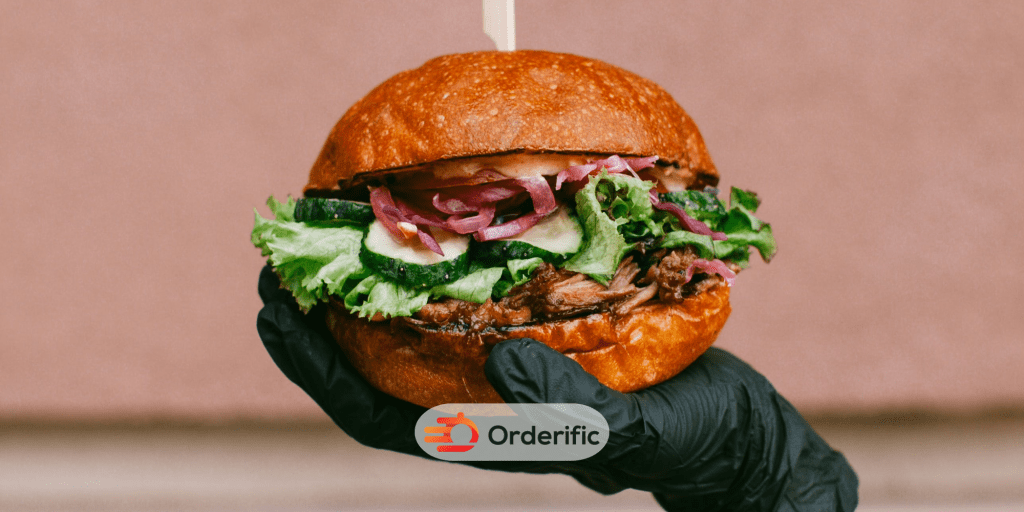 Conclusion
Truly, burgers have come a long way over the years and show no signs of slowing down. Mr Burger believes everyone should be able to enjoy the deliciousness of burgers. Whether it's a classic beef burger or Fish Burger with Sweet Chilli Sauce or Mushroom & Lentil Burgers from The Borough.
So, It's time to get grilling and put your burger-making skills to the test. Take a look at Mr Burger's curated recipes for some tasty inspiration. Also you can come up with something unique of your own. No matter what you choose, it's sure to be a delicious experience! "Bon Appétit" from Mr Burger as a burger connoisseur!!
Find more delicious and delightful content with Orderific here. For the many ways Orderific can improve your business, start trying it out here. It's Orderific time now!
FAQs
How do I find the best burger ever?
It's important to do some research to find out what types of burgers are most popular in your area. Try visiting local restaurants and get an idea of the ingredients and cooking style.
How healthy are chicken burgers?
Chicken burgers are a great option for those looking for a lean and healthy meal. They're low in fat, high in protein, and packed with vitamins and minerals.
What is the best thing to put on your hamburger?
It all depends on your personal preferences, but some popular toppings include lettuce, tomato, onion, pickles, and cheese.
Do you have any tips for cooking the perfect burger?
Yes! For juicy and delicious burgers, make sure to season the patty with a generous pinch of salt and pepper before cooking.
What are some alternative toppings to put on my burger?
There are lots of exciting toppings you can add to your burger. For example; onion rings, avocado slices, grilled pineapple, sautéed mushrooms, jalapenos, and even fried eggs!