Step into the exquisite realm of nail shop perfection, where you can luxuriate in a top-notch pampering experience tailored exclusively for your nails! Whether you're an ardent admirer of nail art or simply seeking exceptional nail care, a nail shop serves as an idyllic sanctuary for all your nail-related desires.
Join us on an immersive journey through the captivating world of nail salons, manicures, pedicures, and everything else. So please sit back, relax, and prepare to unlock the wonders of the nail industry as we divulge the secrets to achieving impeccable and stunning nails.
What is a Pedicure?
First, let's delve into the fundamentals – what constitutes a pedicure? It's not just limited to embellishing your feet aesthetically; it offers a refreshing and therapeutic encounter that rejuvenates and revitalizes your tired feet. 
A proficient nail technician will pamper your feet and toenails throughout this indulgent foot treatment, effortlessly transforming them into exquisite, velvety, and captivating masterpieces. The process typically includes nail trimming, shaping, cuticle care, gentle exfoliation to remove dead skin cells, and a luxurious foot massage to relieve stress and tension.
What Is a Manicure?
Now, let's explore the realm of manicures – the ultimate pampering for your hands and fingernails. A manicure goes beyond a simple nail polish application; it encompasses a comprehensive beauty experience aimed at nurturing, fortifying, and enhancing the allure of your nails and hands. 
A standard manicure session starts with skilled nail shaping, meticulous cuticle care, and a soothing hand massage. Subsequently, your chosen nail polish will be expertly applied or elaborate nail art designs crafted to reflect your flair and charisma.
History of Pedicure & Manicure
The fascinating history of nail care and beautification dates back thousands of years. Egyptian culture utilized henna-painted nails for both genders, symbolizing social status and safeguarding against evil forces. Similarly, nail color was associated with authority and riches in China, with the elite indulging in golden and silver tones for their nails.
The intricate rituals of this timeless practice provide a captivating glimpse into the historical significance of nail adornment. As time progressed, nail care rituals evolved and became an integral part of grooming and beauty practices in various cultures across the globe.
Benefits of Pedicure & Manicure
Discover many benefits of nail care through indulging in pedicures and manicures. These treatments extend beyond mere aesthetics, promoting the well-being and health of your nails, hands, and feet. Regular nail care keeps your nails looking elegant and fashionable. It plays an imperative role in maintaining their overall vitality and wellness.
During a pedicure, exfoliation helps remove dead skin cells and calluses, resulting in smoother and softer feet. During manicures, cuticle care and nail shaping promote healthy nail growth. At the same time, gentle hand massage improves blood circulation and provides relaxation.
What's Included In Pedicure & Manicure?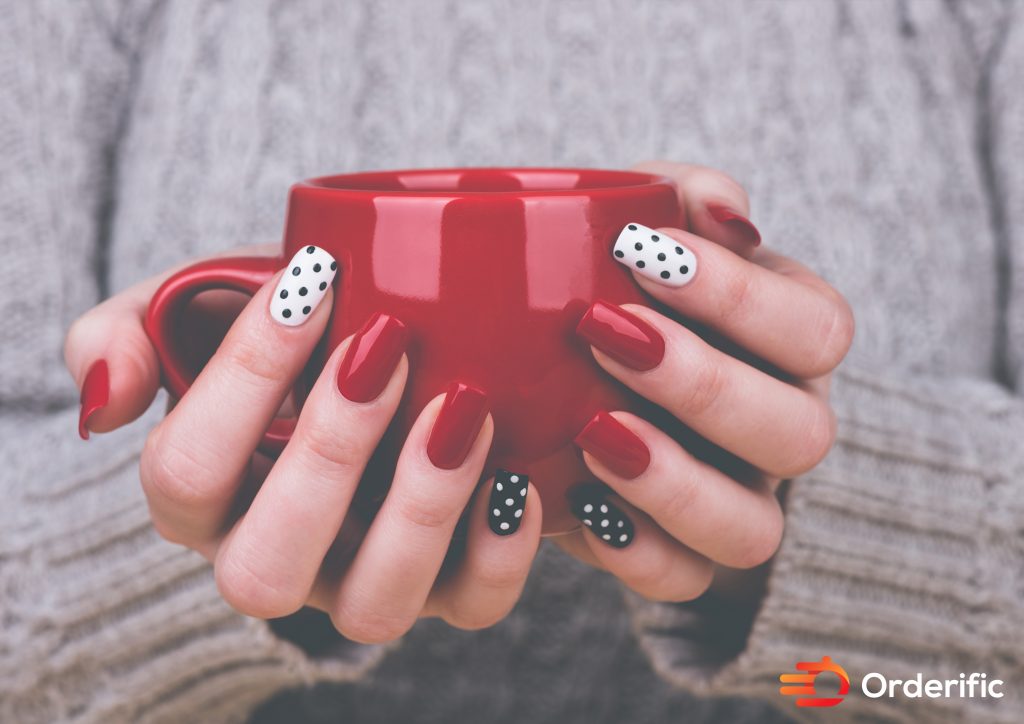 During a pedicure, your nail technician will skillfully trim and shape your toenails, ensuring they are perfectly even and well-groomed. They will then pay special attention to your cuticles, gently pushing them back to maintain the health of your nail bed.
Exfoliation is a crucial step during a pedicure, where your feet will be treated to a delightful scrub to remove dead skin cells and reveal soft, supple skin. The cherry on top of this luxurious experience is the soothing foot massage that relieves tension and stress, leaving you feeling light on your feet and utterly relaxed.
The final flourish is the application of your favorite nail polish, whether you opt for a classic, timeless hue or a vibrant and trendy shade to complement your style.
For manicures, the experience is both enjoyable and rejuvenating. A skilled nail technician will carefully shape your nails to your preferred length and style, ensuring symmetry and a well-groomed appearance.
Attention is given to cuticle care, supporting healthy nail growth, and preserving the integrity of your nails. As a part of the manicure process, your hands will be treated to a blissful massage, where expert techniques are used to alleviate tension and improve blood circulation.
The grand finale is the artistic application of your chosen nail polish color or the creation of intricate nail art designs that elevate your nails to a new level of glamour and sophistication.
Reasons to Get Yourself a Manicure
Manicures are more than just a beauty routine; they encompass a myriad of benefits that touch on both self-care and aesthetics. Here's why a manicure session might be just what you need:
Relaxation and Pampering: A manicure offers a personalized moment to unwind and rejuvenate.
Boosted Self-Assurance: Well-groomed nails elevate your confidence, making a positive impression in social and professional settings.
Promotes Nail Health: Regular manicures contribute to healthier, more resilient nails over time.
Reasons to Get Yourself a Pedicure
Our feet are the unsung heroes of our daily lives, bearing our weight and taking us to our destinations. Investing in pedicures is not just about aesthetics but overall foot health and relaxation. Here's why you should consider booking that pedicure appointment:
Foot Care and Pampering: Our feet deserve care and attention, and a pedicure provides just that.
Treat and Prevent: Regular pedicures can address common issues like calluses, dryness, and cracked skin, ensuring your feet remain in optimal condition.
Relaxation Benefits: The massage element of a pedicure offers a moment of relaxation and can boost blood circulation, contributing to overall well-being.
How to Prepare Yourself for a Pedicure?
Before visiting the nail salon for a pampering pedicure, you can follow several straightforward measures to optimize your experience. First, ensure your feet are neat and unadorned with polish or artificial nails. Before your appointment, kindly ensure you have removed any nail polish.
Doing so will enable your nail technician to give you undivided attention during your visit. Additionally, opting for open-toed shoes instead of closed-toed ones is an excellent choice for your salon experience. This allows your nails to dry properly after the pedicure without any risk of smudging your freshly polished toes.
How to Prepare Yourself for a Manicure?
To achieve a picture-perfect manicure, arriving at the salon with clean, polish-free hands is crucial. Once there, your skilled nail technician will assist you in navigating the range of polish colors and nail art choices, ensuring that you select a style that truly reflects your individuality and taste.
The Right Shape for Your Nails
Choosing the right nail shape is critical to achieving the most flattering and stylish manicure or pedicure. With an abundance of nail shapes to choose from, ranging from classic square to trendy almond and daring stiletto, there's a shape that will suit every individual's preferences and style.
Ways to Strengthen Your Nails
Having nails that can withstand daily wear and tear while looking impeccable is an achievable dream. With the right care and products, you can significantly enhance your nails' strength and resilience. Here are some strategies to consider integrating into your nail care regimen:
Cuticle Care: Regularly applying nourishing cuticle oils can not only moisturize the nail bed but also promote healthier nail growth.
Nail Strengtheners: Invest in quality nail strengtheners or treatments. These products are specifically formulated to fortify and protect nails against breakage.
Avoid Over-Manicuring: Give your nails a breather between manicures. Overdoing can weaken the nail structure.
Dietary Adjustments: Incorporate foods rich in biotin, like eggs and almonds, into your diet. Proper nutrition plays a pivotal role in nail health.
Remember, consistent care and patience are keys to witnessing noticeable improvements in your nails' strength and appearance.
Latest Cool Nail Trends
The world of nail art is ever-evolving, with new and exciting trends surfacing regularly. From minimalist and modern designs to bold and vibrant patterns, the nail industry is a treasure trove of creative inspiration. Experimenting with the latest nail trends allows you to express your personality and style through your fingertips, celebrating your unique individuality every day.
List of Top-Rated Nail Shops
Finding the perfect nail salon to meet your nail care needs is vital in guaranteeing an enjoyable and fulfilling experience. An outstanding nail establishment is defined by its exceptional customer service, a team of talented and knowledgeable nail technicians, and an extensive array of services tailored to suit various preferences.
From timeless manicures and pedicures to breathtaking nail art and durable gel polish, a reputable nail salon surpasses expectations. It leaves you feeling pampered and well taken care of.
Here are some of the best nail shops out there:
Olive & June
Based in Los Angeles, this nail salon gained attention for its chic designs and welcoming environment. They also have a line of nail polishes and treatments.
Paintbox
Located in New York City, Paintbox offers modern and sophisticated nail art designs that are trendy and unique. Their studio in SoHo is a favorite among many.
DryBy London
Situated in the heart of London, DryBy offers both hair and nail services. Their nail art designs are often featured in fashion magazines.
Vanity Projects
This Miami-based nail salon combines high art with nail services, often showcasing video art projects while you get your nails done. They are known for their intricate and unique nail designs.
Jin Soon Hand and Foot Spa
Founded by Jin Soon Choi, a famed editorial manicurist, this New York-based nail spa is known for its clean and sophisticated aesthetic.
WAH Nails
Originating from London, WAH Nails is not only known for its nail services but also as a brand that has collaborated with big names in the fashion industry. They bring forward avant-garde designs and concepts.
Tenoverten
With multiple locations in the US, Tenoverten is dedicated to a more natural approach to nail care. They avoid harmful chemicals and promote a relaxed, non-toxic environment.
Laqué Nail Bar
Based in California, Laqué Nail Bar has become popular for its luxurious services and glamorous nail designs. They also offer various nail treatments and extensions.
Lush Nail Lounge
Found in Toronto, this salon boasts a comfortable environment with skilled technicians. They offer a variety of designs and finishes, from ombre to glitter.
Base Coat Nail Salon
With locations in various US cities, Base Coat promotes non-toxic nail care with a focus on wellness and health. They have a vast range of colors and treatments.
Before visiting any nail salon, it's always advisable to:
Check Online Reviews: Platforms like Yelp, Google, and Facebook often have customer reviews that provide insights into the salon's services.
Look at Their Portfolio: Many nail salons have Instagram accounts showcasing their work. This can give you an idea of their style and expertise.
Ask About Hygiene Protocols: Cleanliness is crucial in nail care to prevent infections.
Remember, the best nail salon for you will cater to your personal preferences, so always prioritize your comfort and desired experience.
Conclusion
Congratulations! You've traversed through the captivating world of nail shop nirvana, and we hope this comprehensive guide has inspired you to embrace the joys of nail care and indulge in fabulous manicures and pedicures. As you embark on your nail journey, remember that the beauty industry offers many choices, and visiting a trusted nail salon can leave you feeling like royalty.
Take the time to pamper yourself, enjoy the process, and savor the beautiful results that will elevate your nail game to new heights of elegance and sophistication.
In case you want more content like this, visit Orderific right now!
FAQs
Is there any potential harm associated with getting a pedicure?
Generally, when an experienced nail technician employs high-quality products in a professional pedicure, it is safe and beneficial for your feet.
Do manicures have any adverse effects?
When performed by a skilled and proficient nail technician, a manicure does not cause nail damage.
How often should I schedule a manicure or pedicure?
For most people, maintaining nail health and beauty entails scheduling a manicure and pedicure every two to four weeks.
Can I get a manicure or pedicure if I have nail extensions or acrylic nails?
Skilled nail technicians are proficient in working with nail extensions and acrylics. They can provide various nail services for artificial nails, including maintenance and design options.
What services are typically offered at a nail shop?
Nail shops usually offer services such as manicures, pedicures, nail extensions, nail art, gel nails, acrylic nails, and nail treatments.
How can I ensure the hygiene and safety of a nail shop?
Look for a nail shop that maintains clean and sanitized tools, uses disposable or properly sanitized footbaths, and follows hygiene protocols to prevent infections.