The world of Japanese sushi nigiris offers an enthralling gastronomic journey that has captivated food enthusiasts globally. The unmistakable scent of vinegared rice, complemented by the freshness of seafood, opens up a realm of flavors. From delicate presentations to the play of textures and flavors, every sushi dish is a testament to the chef's skills.
However, amidst the allure of this cuisine, terms like sushi, nigiri, and sashimi often cause confusion. While they all celebrate the essence of Japanese food culture, each holds its unique identity. Dive deep into this culinary treasure trove and explore the nuanced differences and artistry behind these beloved dishes.
"Sushi" Meaning & The Most Popular Types of Sushi: Exploring Nigiris and More
"Sushi" is a cornerstone of Japanese culinary tradition. Derived from the traditional process of preserving fish by fermenting it in soured rice, modern sushi has evolved to feature vinegared rice adorned with a plethora of ingredients. While many associate sushi directly with raw fish, the name "sushi" actually emphasizes the rice component. It comes with sushi vinegar and other diverse ingredients.
Among the myriad types of sushi that enthusiasts can relish, there are several standouts. Sushi rolls, wrapped in seaweed and often filled with fish, veggies, or even tropical fruits, are a global favorite.
Maki, cylindrical in shape, is typically rolled in nori (seaweed). Then there's sashimi, which strictly speaking isn't sushi, as it consists of thinly sliced fresh fish sans rice. Each variant brings its distinct allure to the table, satisfying both visual and taste sensations.
What is Nigiris?
Nigiri, a delightful gem in the vast treasure trove of Japanese cuisine, stands out with its elegant simplicity. Directly translating to "two fingers," the name references the method of molding the rice, suggesting the size and the amount of pressure applied to shape it.
In its most traditional form, a chef shapes a small bed of seasoned, vinegared sushi rice using the palms, and then delicately places a slice of raw or occasionally cooked fish, seafood, or other toppings on top. Often, the fish is draped over the rice so artfully that it almost envelopes it. Some variations may also include a light brush of soy sauce or a dab of wasabi between the rice and fish, further enhancing the flavor.
The essence of nigiris lies in its celebration of individual ingredients, allowing both the rice and topping to shine in their own right while harmonizing perfectly when consumed.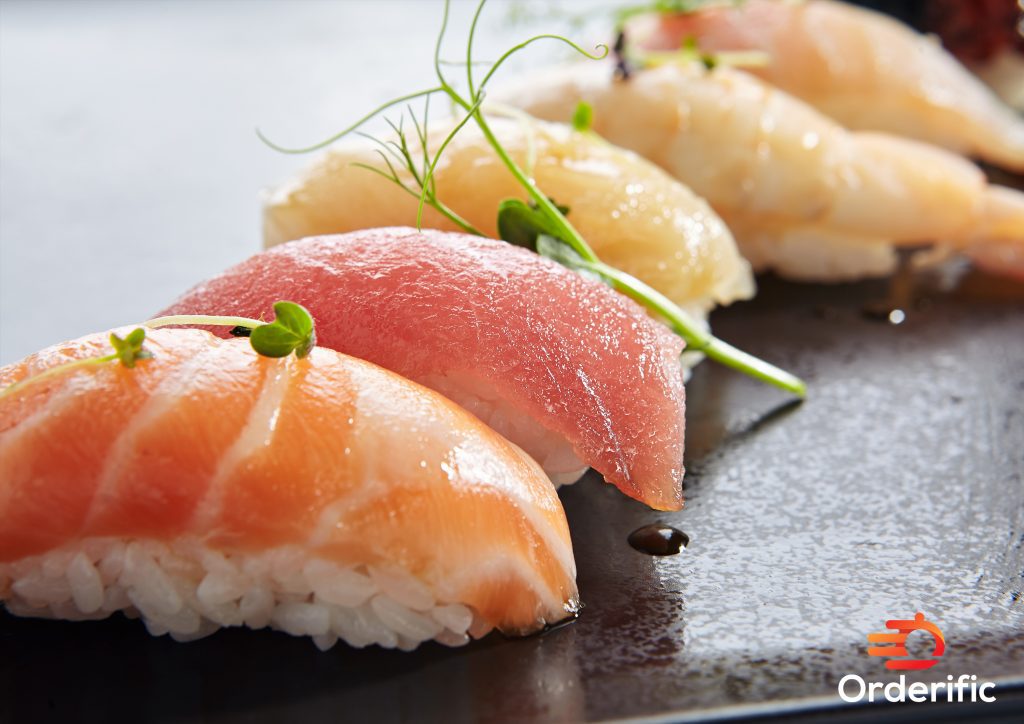 What is Sashimi?
Sashimi is a testament to the art of simplicity and the quality of ingredients in Japanese gastronomy. At its core, sashimi focuses solely on the raw essence of the fish or meat, which comes in delicate, thin pieces. This presentation showcases not only the ingredient's natural flavors but also the chef's knife skills and precision.
Sashimi stands distinctively apart due to the absence of rice with vinegar. It comes on a platter with radish slices and shiso leaves for a burst of color and texture. Feel free to add a dab of wasabi and a splash of soy sauce.
This culinary treat allows diners to truly appreciate the freshness, texture, and subtle nuances of the seafood or meat, making it a favored choice for many seeking an authentic Japanese dining experience.
What is The Difference Between Nigiris and Sashimi?
Nigiris and sashimi, both hallmarks of traditional Japanese cuisine, might seem similar to the untrained eye, but delve a little deeper and their distinctions become clear. Nigiri is characterized by its delicate mound of vinegared sushi rice that acts as a canvas for toppings like fresh fish, seafood, or even certain meats. The pairing of the topping with the seasoned rice provides a harmonious blend of textures and flavors in each bite.
On the other hand, sashimi is a purist's delight. Without the accompaniment of rice, sashimi is all about showcasing the raw, unadulterated essence of the fish or meat. The artistry in sashimi is in the precise, thin slicing of the ingredient, emphasizing its freshness and quality.
Moreover, while both can be enjoyed with soy sauce and wasabi, the experience they offer is distinct: nigiri offers a balanced bite of rice and topping, whereas sashimi immerses the diner in the sheer flavor of the seafood or meat.
Conclusion
Diving deep into the world of sushi unveils a tapestry of traditions, techniques, and tantalizing tastes. Each type, be it maki rolls, nigiris, or sashimi, represents a different facet of this culinary art form. Recognizing the nuances, such as the harmony of vinegared rice and topping in nigiri, or the unadulterated essence of sashimi, adds layers to one's dining journey.
It's not just about satiating hunger; it's about immersing oneself in a rich cultural and gastronomic narrative. So, when you next find yourself seated at a sushi bar, remember, each bite tells a story, and with a little knowledge, you can savor every chapter.
In case you want more content like this, visit Orderific right now!
FAQs
How to make Nigiri Sushi?
Begin with seasoned sushi rice. Take a small mound, press it to form an oblong shape. Place a slice of fish or chosen topping over this rice base.
How exactly do you prepare everything to make Nigiris Sushi?
The preparation involves cooking and seasoning the rice with sushi vinegar. Fish is then sliced. The seasoned rice is shaped, and the fish is placed on top.
Why is sushi called nigiri?
The term 'nigiri' means 'to grasp' in Japanese. It's named for the way the sushi rice is molded by hand.
What does Nigiri mean?
Nigiris translates to 'hand-pressed sushi', referring to how the rice is shaped by hand, and pressed down into a wanted shape.
What is the difference between tamago and nigiri sushi?
While tamago is a type of nigiri sushi featuring sweet, layered omelet atop sushi rice, nigiri, in general, can have various toppings, from raw fish to cooked seafood.
How many calories are in nigiri sushi (with nori)?
The calorie content can vary depending on the topping and size but generally, a piece of nigiri sushi ranges from 40-65 calories.