As a key part of staying safe in the workplace, finding a stylish solution to your non-slip footwear needs is essential. Whether you're looking for classic black work shoes or something more daring, there are plenty of options out there that offer great protection while also looking fashionable. That's why we suggest investing in some stylish and practical non-slip black shoes; they provide excellent traction on slippery surfaces without compromising on style and comfort. From slip-on loafers to laced up sneakers, find out which type is right for you and your workplace!
Why Non-Slip Black Shoes Are a Must-Have
Slipping and experiencing a painful fall on a hard surface is an ordeal nobody wishes to endure. This reality underscores the indispensable nature of non-slip black shoes for individuals prioritizing their safety while on the go.
These shoes boast a specialized sole engineered to deliver exceptional traction on surfaces that are wet or prone to slipperiness, effectively mitigating the peril of accidents and injuries. Here are some reasons why non-slip black shoes are essential:
Workplace Safety: Non-slip black shoes play a vital role in workplaces where employees contend with surfaces prone to wetness, oiliness, or slipperiness. These shoes serve as a proactive measure against mishaps like slips, trips, and falls, all of which hold the potential for grave injuries.
Preventing Injuries: Workplace injuries caused by slips and falls rank prominently, often leading to sprains, fractures, and various forms of harm. Non-slip black shoes are purposefully crafted with specialized outsoles to enhance traction and grip on diverse surfaces, effectively diminishing the likelihood of accidents.
Comfort and Support: Non-slip black shoes are meticulously crafted with an emphasis on providing exceptional comfort and support. These shoes commonly incorporate features such as cushioning, arch support, and ergonomic design, all working harmoniously to ensure sustained comfort, particularly during extended periods of standing or walking.
Hygiene and Cleanliness: In industries such as food service and healthcare, where maintaining high levels of hygiene is paramount, non-slip black shoes are crafted using materials that are easily cleanable and simple to maintain. This ensures that these shoes adhere to the stringent cleanliness standards demanded by such environments.
Versatility: Non-slip black shoes exhibit versatility in style, rendering them appropriate across a spectrum of professional contexts. The neutral black color seamlessly complements diverse uniforms and attire choices.
Choosing the Right Non-Slip Black Shoes
Understanding Non-Slip Technology
In recent years, significant strides have been made in non-slip technology, effectively reducing the occurrence of accidents caused by slippery surfaces. Whether it's the specialized sole of a shoe or the textured finish of a bathtub, a wide array of non-slip solutions are now available, all aimed at enhancing safety.
The fundamental principle behind non-slip technology revolves around the concept of friction. By introducing non-slip surfaces, the level of friction between our shoes, feet, or hands and the surface we're navigating is substantially heightened. This increased friction substantially diminishes the likelihood of slips and falls.
So, the next time you find yourself treading on a wet or precarious surface, take a moment to appreciate the remarkable progress in non-slip technology. These advancements diligently work together to ensure that you maintain your surefootedness and stability, even in challenging conditions.
Factors to Consider When Buying Non-Slip Black Shoes
Purchasing non-slip black shoes requires thoughtful consideration to ensure you select footwear that suits your needs and prioritizes safety. Here are key factors to take into account when buying non-slip black shoes:
Type of Work or Activity: Consider the nature of your work or the activities you'll be engaging in while wearing the shoes. Different industries and tasks have varying demands, so choose shoes that match your specific requirements, whether you're in healthcare, food service, hospitality, or another field.
Non-Slip Outsole: The outsole is a crucial element of non-slip shoes. Look for shoes with rubber or synthetic outsoles designed to provide superior grip on wet, oily, or slippery surfaces. The tread pattern and material play a significant role in enhancing traction.
Comfort and Support: Comfort is paramount, especially if you'll be wearing the shoes for extended periods. Look for features like cushioning, arch support, and ergonomic design. A well-crafted insole can make a substantial difference in comfort.
Fit and Sizing: Proper fit is essential to ensure comfort and prevent foot fatigue. Ensure the shoes provide ample room for your toes and don't pinch or rub against your feet. If possible, try the shoes on before purchasing, or carefully follow sizing guidelines if buying online.
Reviews and Recommendations: Research reviews from others who have purchased the same or similar shoes. Feedback from people who have experienced the shoes in real-life situations can provide valuable insights into their performance and comfort.
By carefully weighing these factors, you'll be better equipped to select non-slip black shoes that align with your needs and prioritize your safety in various environments.
Fashionable and Safe: How to Rock Non-Slip Black Shoes
Dressing Up with Non-Slip Black Shoes
Dressing up with non-slip black shoes doesn't mean sacrificing style for safety. You can create sophisticated and polished looks while still prioritizing comfort and slip-resistant features. Here are some tips on how to dress up with non-slip black shoes: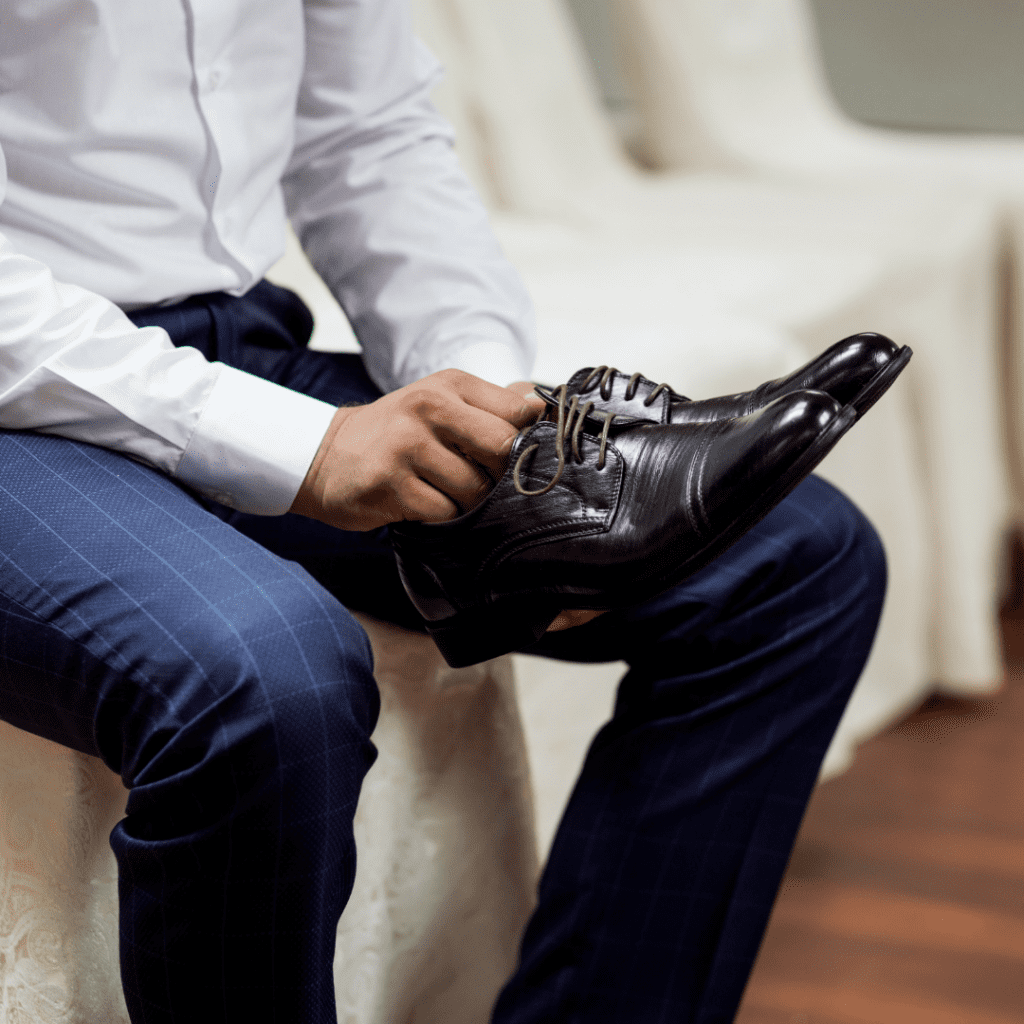 Choose Stylish Designs: Many brands offer non-slip black shoes in sleek and modern designs. Look for shoes with clean lines, subtle details, and classic silhouettes that can complement a variety of outfits.
Pair with Professional Attire: Non-slip black shoes effortlessly complement professional outfits like suits, dress pants, and button-down shirts. A pair of well-groomed non-slip dress shoes can seamlessly blend into both formal and business-casual settings.
Consider Loafers or Oxfords: Loafers and Oxfords are versatile shoe styles that can be dressed up while providing the comfort and safety of non-slip technology. These styles work well with dress pants and even some dresses or skirts.
Accessorize Thoughtfully: To enhance your overall look, pay attention to accessories like belts and watch straps. Choosing black accessories can create a cohesive and polished appearance.
Color Coordination: Black shoes are quite versatile, and they can be paired with a range of colors. Coordinate your outfit's colors to ensure your non-slip black shoes blend harmoniously.
Creating Casual Looks with Non-Slip Black Shoes
Crafting casual ensembles with non-slip black shoes allows for comfortable yet stylish outfits. Here's how you can effortlessly put together relaxed looks while prioritizing safety: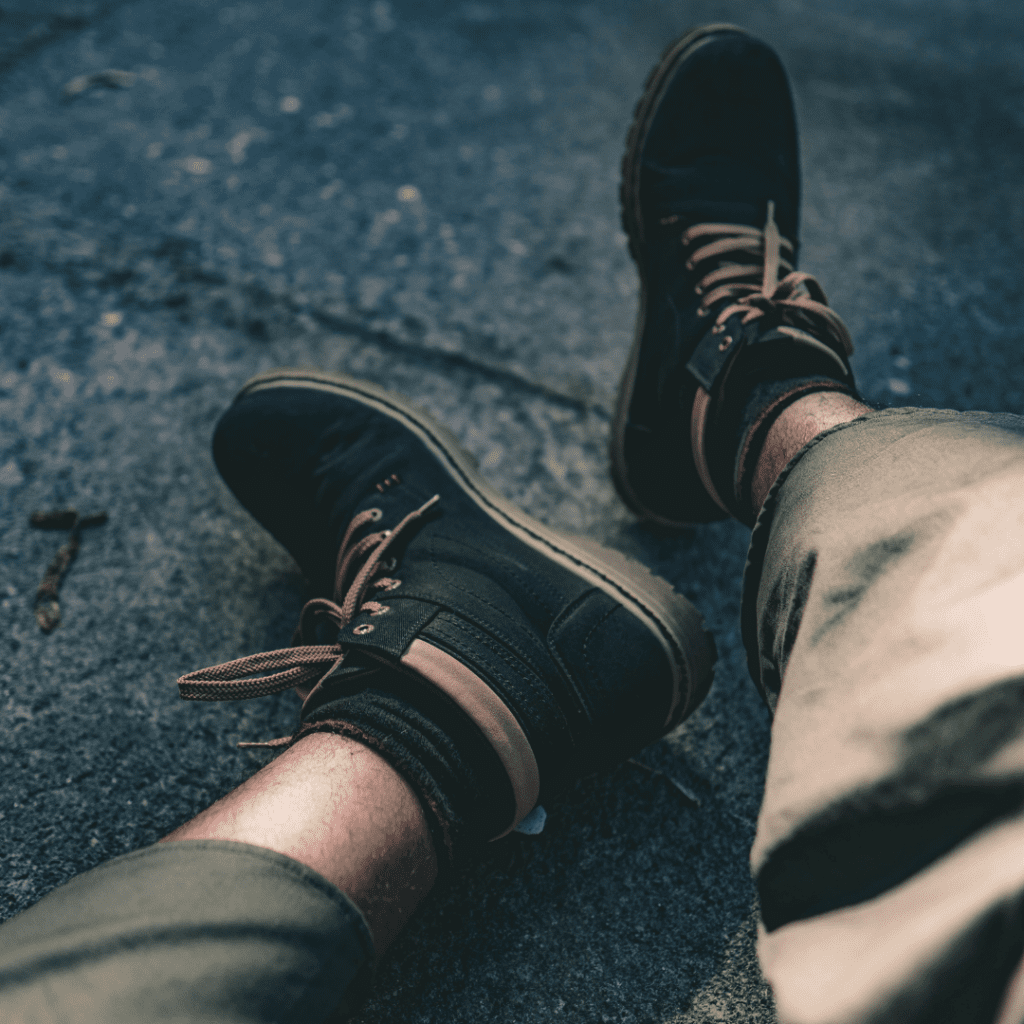 Casual Pants and Denim: Pair your non-slip black shoes with casual pants like chinos, khakis, or even dark denim. The contrast between the black shoes and lighter pants can create a balanced and laid-back appearance.
T-shirts and Polo Shirts: Combine your non-slip black shoes with comfortable t-shirts or polo shirts. This casual combination maintains a relaxed vibe while keeping you steady on your feet.
Button-Up Shirts and Rolled Sleeves: Layer a button-up shirt over a t-shirt and roll up the sleeves for a casually polished look. Non-slip black shoes provide the finishing touch, enhancing both style and practicality.
Cardigans or Lightweight Sweaters: Pair your non-slip black shoes with cardigans or lightweight sweaters for a cozy yet refined outfit. This combination works well for cooler weather or indoor gatherings.
Casual Blazers or Sport Coats: Elevate your casual ensemble by adding a blazer or sport coat. These outer layers complement non-slip black shoes, making them suitable for slightly dressier occasions.
Best Non-Slip Black Shoe Brands to Explore
Embarking on the quest for a reliable pair of non-slip black shoes might seem like a challenging endeavor. However, worry not, for we've compiled a lineup of the finest brands renowned for crafting exceptional slip-resistant footwear.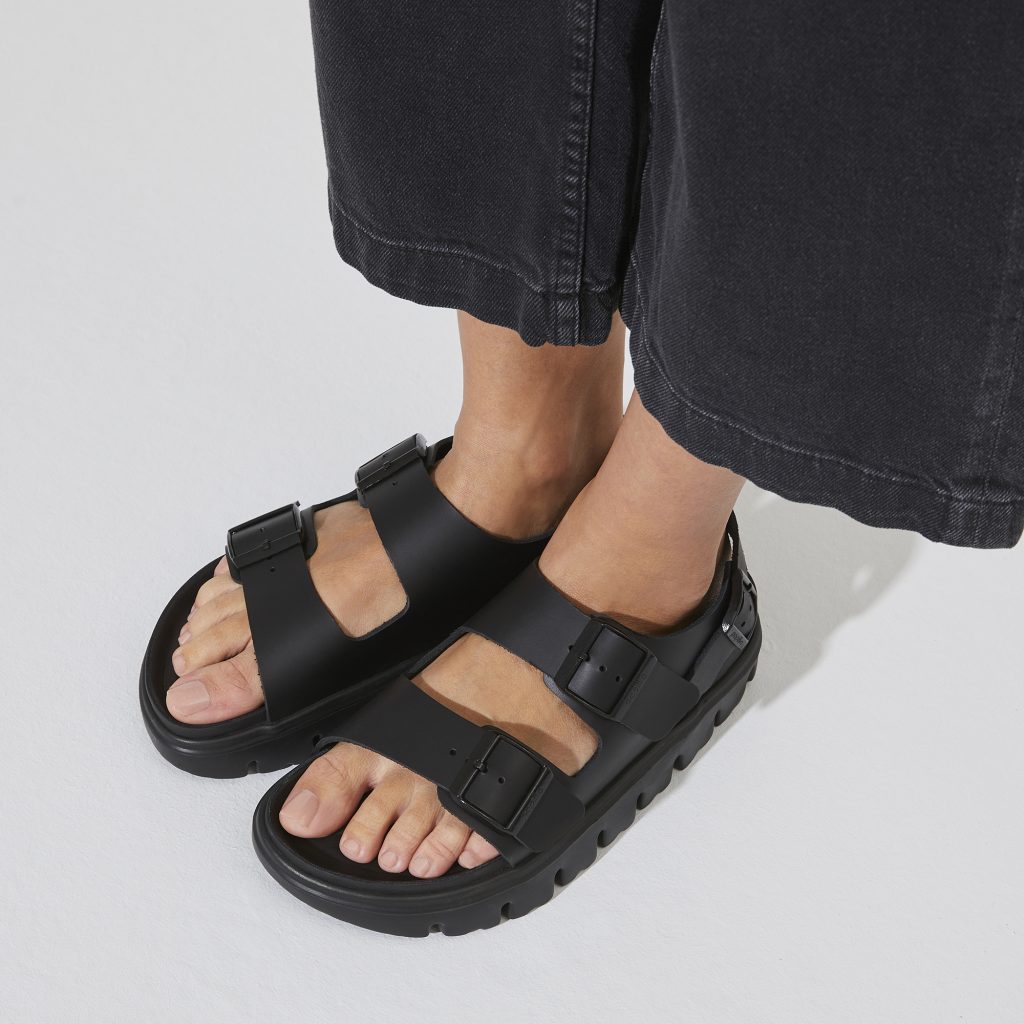 Dansko Clogs: Dansko offers a variety of slip-resistant shoes that have been tested on dry, wet, and oily/wet surfaces to ensure safety. The Dansko XP 2.0 Clogs are a popular choice for professionals who work on their feet all day long.
Birkenstock Clogs: Birkenstock's non-slip shoes feature slip-resistant outsoles and are designed to provide safety and comfort for various industries. They offer dependable non-slip rubber or polyurethane soles.
Sanitas Clogs: Sanita offers certified slip-resistant shoes and clogs. The Sanita Sabel Patent Leather Women's Clog is an example of a slip-resistant, ASTM-certified, and APMA-approved shoe.
Crocs Bistro: The Crocs Bistro Work Clog is designed for on-the-job use, featuring Crocs Lock™ slip-resistant treads and extra protection at the toes. The Crocs Bistro Pro LiteRide Clog is another slip-resistant option from the brand.
Skechers Slip-Resistant: Skechers offers a range of slip-resistant work shoes for various industries, including essential workers, restaurants, and construction. The Skechers Work Sure Track Trickel Slip Resistant Work Shoe is a popular choice for women.
These brands are synonymous with top-notch quality, offering shoes that boast slip-resistant soles—ideal companions for individuals enduring extended periods of standing. Venture forth and delve into the array of non-slip black shoe choices these premier brands present. Your feet, as well as your safety, are certain to express their gratitude!
Caring for Your Non-Slip Black Shoes
Indispensable for those employed in the food and hospitality sectors, black non-slip shoes effortlessly blend professionalism with safety. While exuding a polished appearance, they also serve as a shield against potential slips and tumbles.
To ensure the durability and continued excellence of these shoes, adhering to a proper care routine is paramount. Here's a comprehensive guide to maintaining your essential footwear:
Regular Cleaning: Clean your shoes regularly to prevent dirt and grime from accumulating. Use a soft brush or cloth to gently wipe away debris from the surface. For tougher stains, consider using a mild soap or specialized shoe cleaner.
Drying Properly: After exposure to moisture, allow your shoes to dry naturally in a well-ventilated area. Avoid using direct heat sources like radiators or hairdryers, as these can damage the materials.
Storage: Store your non-slip black shoes in a cool, dry place. Keep them away from direct sunlight, extreme temperatures, and damp environments to prevent deterioration.
Polishing: If your shoes are made of leather, occasional polishing can help maintain their shine and luster. Choose a polish that matches the color of your shoes.
Sole Maintenance: The non-slip sole is a crucial part of your shoes. Regularly check the sole for wear and tear. If you notice any deterioration, consider getting them resoled or replaced.
Avoid Harsh Chemicals: When cleaning your shoes, avoid using harsh chemicals that might damage the materials. Stick to mild soap or specialized shoe cleaners recommended by the manufacturer.
Wrapping Up!
In conclusion, non-slip black shoes are a versatile and essential addition to your wardrobe, blending functional safety with stylish aesthetics. Regardless of whether you're crafting business attire or casual ensembles, these shoes offer countless possibilities for creating polished and cohesive looks.
Furthermore, investing in top-quality brands guarantees durable and reliable footwear that'll serve you well in various settings. With the right care routine, these shoes can provide long-lasting service, keeping you steady and confident on your feet.
Ready for your next stylish and safety-conscious footwear choice? You're now equipped with all the necessary information to make an informed decision. Continue to explore more Orderific blogs for such detailed and informative content. Your next wardrobe inspiration might be just a few clicks away!
FAQs
Q. Are non-slip black shoes only suitable for work environments?
Ans. While popular in work environments, they are versatile and suitable for various settings, including casual outings.
Q. Can I find non-slip black shoes in different styles and designs?
Ans. Absolutely! They come in a plethora of styles and designs to cater to diverse tastes and needs.
Q.Do non-slip black shoes have the same level of comfort as regular shoes?
Ans. Yes, they are designed with comfort in mind, providing support and cushioning similar to regular shoes.
Q. Are non-slip black shoes suitable for outdoor activities and sports?
Ans. While they can be used outdoors, they may not be suitable for intense sports activities that require specialized footwear.
Q. How do non-slip black shoes enhance safety in slippery conditions?
Ans. They enhance safety in slippery conditions by offering excellent traction and grip, reducing the risk of slips and falls.