When it comes to working in a restaurant, your footwear is as vital as your culinary skills. Imagine sliding around on a slick kitchen floor or stumbling in the dining area while carrying a tray full of dishes. Sounds disastrous, right? That's where non-slip shoes enter the picture. They are the unsung heroes of the restaurant industry, providing the necessary traction to keep you safe and steady on your feet.
What if we told you that you could enjoy this security without sacrificing style or comfort? Yes, you read that right! The misconception of non-slip shoes being drab and uncomfortable is far from the truth. Today, we're going to introduce you to the top 5 non-slip shoes that wonderfully marry function with fashion. So, get ready to step into the world of safe, stylish, and comfortable work footwear!
Don't Make These Three Mistakes When Buying Non-Slip Shoes
The first mistake many make when buying non-slip shoes for restaurant work is prioritizing style over safety. While it's natural to want a work shoe that looks good, remember, that its primary function should be to keep you safe from slips and falls. So, before you get swayed by stylish designs, make sure the shoe offers excellent slip resistance. Check out the sole – it should be made of rubber or a similar material known for its superior anti-slip properties.
The second blunder is neglecting comfort. You'll be on your feet most of the day, walking, standing, or even running around at times. A shoe that doesn't fit well or lacks adequate cushioning can lead to foot pain, blisters, or even long-term foot problems. Look for a shoe with good arch support and cushioning. Try it on if possible, and take a little walk to make sure it's comfortable.
Finally, don't overlook durability. In the hustle and bustle of a restaurant, your shoes will endure a lot – from frequent cleanings to the occasional spill. Therefore, investing in a pair that won't degrade quickly under these conditions is crucial. So, don't hesitate to spend a little extra on a pair of non-slip shoes that are built to last. This way, you're investing in your safety, comfort, and savings in the long run.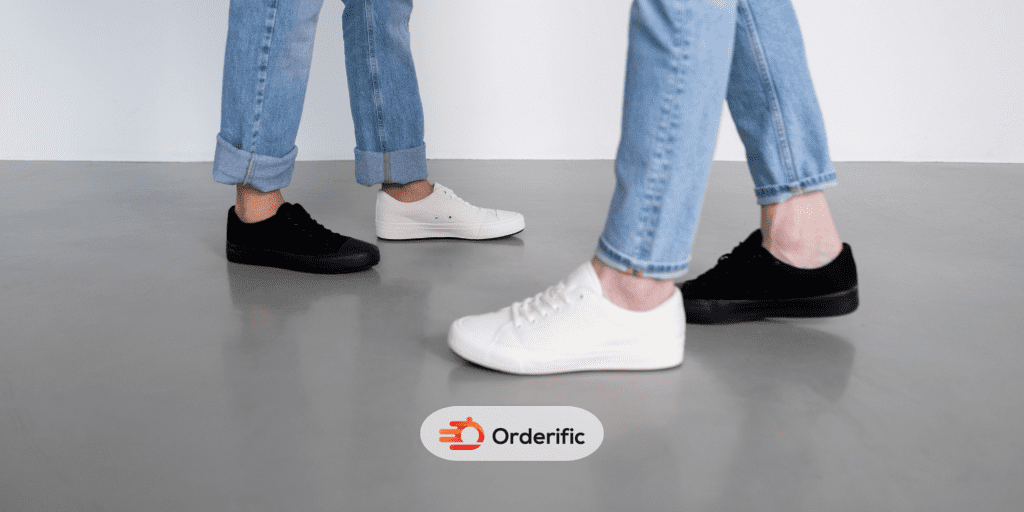 The 5 Best Non-Slip Shoes For Restaurants
Now that we've reviewed the mistakes to avoid, let's dive into our top 5 non-slip shoes for restaurants. All of these options will safeguard you from slips and falls, and also provide superb comfort and style.
1. Dansko: Great Multi-Purpose, Long-Lasting Shoes
Dansko shoes are designed for all-day comfort and support. Their non-slip properties make them a great choice for restaurant work, as they offer excellent traction on slippery surfaces. Plus, with their superior cushioning and arch support, you can move around in confidence without any foot pain or discomfort. The best part? These bad boys are built to last – the quality construction ensures a durable and reliable shoe.
2. Skechers: Lightweight, Soft Shoes
If you're looking for lightweight shoes that offer great traction, Skechers are your best bet! Their slip-resistant outsoles ensure maximum stability on wet and dry surfaces. But that's not all – they also come with memory foam cushioning to keep your feet comfortable throughout the day. Their different colors and designs give you the freedom to choose a style that best reflects your personality.
3. Mozo: Simple, Comfortable, No-Frills Shoes
If you're into minimalism, the Mozo sneakers are perfect for you! These shoes feature a simple and sleek design that goes with almost anything. And when it comes to safety, they have got your back – an oil-resistant outsole that offers superior traction on wet and dry surfaces. Plus, their flexible construction allows for ample movement without compromising comfort.
4. Crocs: Comfortable, Lightweight, Easy-To-Clean Shoes
Forget your preconceived notions about Crocs – they've come a long way from their original foam clog design. Today, they offer stylish and lightweight non-slip shoes that are perfect for restaurant work. The best part? Their quick-drying materials make them incredibly easy to clean and keep looking great all day long. The soft cushioning also adds to the comfort factor.
5. Shoes For Crews: Easy, Cheap, Fits Onto Most Shoes
If you're looking for a cheaper alternative, look no further. Shoes For Crews offers slip-resistant shoe covers that fit onto almost any shoe. They provide excellent traction on slick surfaces and can even be used as overshoes in winter months. Plus, they are incredibly easy to put on and take off – just slide them over your work shoes, and you're ready to go!
What Makes A Shoe Non-Slip?
A non-slip shoe is defined by its ability to provide traction and grip on slippery floors, reducing the risk of slips and falls. This is primarily achieved through the design and material of the shoe's sole. Typically, non-slip shoes feature soles made from soft rubber or similar material that can form a tight grip on slick surfaces. The sole's design often includes patterns or treads that create friction and prevent slipping. The more extensive and intricate these patterns are, the better the shoe's ability to resist slipping on oily or wet surfaces.
Besides the sole's material and design, the construction of the shoe also plays a pivotal role in its non-slip properties. Shoes that provide a good fit and support can enhance stability and balance, further reducing the risk of accidents. This is why many non-slip shoes also come with features like arch support and cushioning. When combined, these elements work together to create a shoe that keeps you sure-footed and safe in potentially slippery situations. It's worth noting that while all non-slip shoes offer some degree of slip resistance, the level of protection can vary depending on the brand and model. Therefore, it's crucial to consider your specific needs and work environment when choosing a pair.
Features That Make The Perfect Non-Slip Shoe
When purchasing non-slip shoes for restaurant work, there are certain features you should look for to ensure maximum protection and comfort. Here's a quick checklist:
Slip resistance (check the sole)
Durability (quality construction is key)
Comfort (arch support and cushioning are important)
Lightweight design (for easy movement)
Stylish look (for a fashionable appeal).
Remember, a good non-slip shoe provides the perfect combination of safety and style. Make sure to take your time when selecting a pair – it could mean the difference between an enjoyable work experience and painful nightmares!
How Important Are Non-Slip Shoes?
The importance of non-slip shoes, particularly in the restaurant industry, cannot be overstated. They are an essential piece of protective gear that safeguards workers from unnecessary injuries and accidents. In a fast-paced environment such as a restaurant, where spills are unavoidable and floors can often be slick from grease or water, non-slip shoes prove to be lifesavers. They provide much-needed traction on slippery floors, reducing the risk of slips and falls, and thereby ensuring the safety of the staff.
Furthermore, they are not only about safety. The right non-slip shoes can also significantly enhance your comfort, which is critical when you're on your feet for long hours. Shoes with good cushioning and arch support can mitigate foot pain and discomfort, improving your overall work experience. Plus, in today's market, non-slip shoes come in a plethora of styles and designs, allowing you to maintain a professional and stylish appearance. So, all in all, non-slip shoes are a crucial investment for anyone in the restaurant industry – offering safety, comfort, and style all in one package.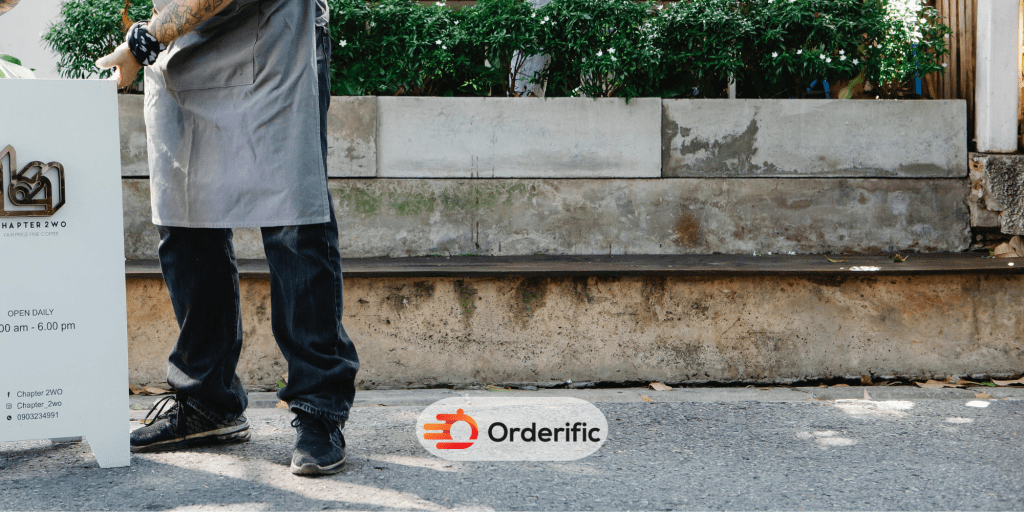 Conclusion
In conclusion, when it comes to working in a restaurant environment, non-slip shoes are an absolute necessity. They are your first line of defense against potential accidents that can occur on slick surfaces, and also a key to enjoying a comfortable and pain-free workday. Therefore, investing in a high-quality pair that meets all your needs – safety, comfort, durability, and style – is worth every penny.
Remember, it's not just about picking the most expensive or stylish pair, but about choosing the right non-slip shoes that offer the best protection, fit, and comfort for your particular needs. Take your time to consider all these aspects and make a well-informed decision. After all, in the hustle and bustle of restaurant work, your shoes can make a world of difference!
You can find more informative content with Orderific here. For the countless benefits Orderific can bring to your business, start trying it out here. Today is Orderific time!
FAQs
What are non-slip shoes and how do they enhance safety?
Non-slip shoes are designed to provide maximum traction and grip on slippery surfaces, reducing the risk of slips and falls.
What industries or professions typically require non-slip shoes?
Non-slip shoes are typically used by professionals working in the healthcare, hospitality, retail, and restaurant industries.
What features should I look for when selecting non-slip shoes?
When selecting non-slip shoes, check for slip resistance, durability, comfort, lightweight design, and stylish look.
Can non-slip shoes be stylish and comfortable while still providing the necessary grip and traction?
Yes! Many non-slip shoes today come in stylish designs while still providing excellent grip and traction on slippery surfaces.
Are there any safety tips I should consider when using non-slip shoes?
Yes! Whenever you are working on a slippery surface, take extra precautions to avoid accidents.