Welcome to your comprehensive guide to obtaining the NYC Food Handlers License! Are you navigating the bustling food scene in New York City? Then, securing this license could be your golden ticket. The process may seem intimidating at first glance. However, armed with the right information, you'll find it akin to perfecting a well-loved recipe. This guide demystifies the steps involved, the requirements to meet, and the courses to complete. As you immerse yourself in this informative journey, imagine the doors this license will unlock for your career. From food safety training to understanding foodborne illness prevention, let's embark on this enlightening path together. After all, there's a dedicated Food Handler with the right certification behind every great food service establishment in New York. Welcome aboard, future Food Handlers of NYC!
Who Needs a NYC Food Handlers License?
If you're an aspiring chef, a barista in a bustling café, or a posh New York eatery server, a NYC Food Handler License is your must-have accessory. The badge of honor represents your commitment to food safety and your dedication to the patrons you serve. Through obtaining this credential, you join an elite cadre of food handlers, well-versed in the nuances of food protection.
Whether kneading dough, flipping burgers, or pouring the perfect latte, this license is a testament to your skills. It assures your customers that their meal is not just delicious but prepared with the utmost care and consideration for their health. This certification is not just another piece of paper. It's a trust seal, a promise to your patrons that their well-being is your priority.
Obtaining a NYC Food Handlers License involves a comprehensive food protection course. This equips you with essential knowledge about foodborne illnesses, their prevention, and the importance of maintaining cleanliness in food establishments. The course content is carefully curated and designed to enhance your understanding of food safety practices.
In summary, the NYC Food Handlers License is not just a requirement; it symbolizes your dedication to the craft. It's a cornerstone for anyone involved in food service, from the high-end restaurants of Manhattan to the trendy food trucks cruising Brooklyn streets. Welcome to the league of extraordinary food handlers!
Free ONLINE NYC Food Protection Course
The free online NYC Food Protection Course is your roadmap to the NYC Food Handlers License. Imagine sitting comfortably in your favorite spot at home, sipping a hot cup of coffee, and diving into a wealth of knowledge. Every module you click, every lesson you absorb, takes you one step closer to your license. 
The course is expertly designed, ensuring a smooth journey from being a food enthusiast to a certified food handler. Lessons are thoughtfully divided, allowing you to grasp complex food safety laws quickly. You'll learn about foodborne illnesses, not just their names, but how they wreak havoc and the ways to stop them.
As you progress, you'll delve into the critical aspects of food handling. You'll learn the art of maintaining a clean, hygienic food establishment and overcoming the challenges NYC's fast-paced food industry often presents. One moment, you're learning about safety measures; the next, you're discovering the essence of food handler training.
Every fact you learn and every quiz you take fortifies your understanding of the food protection realm. With the completion of each module, you'll sense your confidence building. By the time you reach the final test, you'll be a well-versed potential food handler, ready to ace the exam and obtain your NYC Food Handlers License.
The Free ONLINE NYC Food Protection Course is a transformative journey, educationally rich and conveniently accessible. It's your stepping stone to becoming an integral part of the vibrant NYC food service community. A trip worth embarking on.
In-person NYC Food Protection Course
For many, there's a unique charm in attending the In-person NYC Food Protection Course. Imagine the thrill of entering a classroom filled with the enticing aroma of freshly brewed coffee and a buzz of excitement. Each seat in the room is a haven for aspiring food handlers eager to learn and grow.
With hands-on training, you're immersed in practical aspects of food safety. Real-world scenarios spring to life, transforming abstract concepts into tangible lessons. You're no longer a passive observer. You're actively engaging, interacting, and learning in a dynamic environment.
Every interaction with your facilitator and peers offers fresh insights, broadening your perspective on the NYC food scene. The lively exchanges, the shared laughter, the collective brainstorming – all these enrich your learning experience. Transitioning from theory to practice, the classroom becomes a microcosm of the food industry you aspire to conquer.
The lessons on foodborne illnesses give you a new understanding of food handling. It's not just about preparing a meal. It's about protecting your patrons' well-being every step of the way. Each lecture on food safety laws underscores the importance of maintaining high standards in your food establishment.
As the course unfolds, your confidence flourishes. Gradually, you're not just a student in a classroom. You're a budding food handler, ready to make your mark on New York's gastronomic map. With each passing day, the NYC Food Handlers License feels less like a distant dream and more like an achievable goal.
NYC Food Protection Final Exam
The NYC Food Protection Final Exam is the grand finale of your transformative journey. Picture yourself entering a quiet, well-lit room, the hum of anticipation filling the air. This is the moment where every lesson, every quiz, becomes a stepping stone to your coveted NYC Food Handlers License.
As you sit down, a wave of calm washes over you. The mental hygiene you've cultivated throughout the course steadies your nerves. You're not just taking an exam but showcasing your newfound food safety knowledge.
The question paper unfolds, presenting a variety of scenarios. Each question is a chance to apply your understanding of food handling. No longer are you a passive learner; you're actively demonstrating your mastery of the subject.
Every answer you pen down echoes your commitment, from identifying foodborne illnesses to implementing food safety measures. Even as the clock ticks, you remain undaunted. The training you've undergone has prepared you for this moment.
Furthermore, your answers show your understanding of the American National Standards Institute's regulations. You're not just recalling information; you're interpreting it and applying it. This exam is more than a test of memory; it's a testament to your dedication.
A sense of accomplishment radiates as you pen down the last answer and hand over your paper. The NYC Food Handlers License is not just a dream anymore; it's within reach. This exam is your passport to the vibrant world of NYC food service, a springboard to countless possibilities. So, take a deep breath and step into your future. The world of food handling waits for you with open arms.
Getting Your NYC Food Protection Certificate: An Unfolding Journey
Securing your NYC Food Handler license is a thrilling journey. Imagine the satisfaction of holding this prestigious certificate. It's an achievement and testament to your dedication, passion, and prowess.
From the moment you enroll in the food protection course, you're on a path of discovery. The curriculum is an enlightening mix of food safety laws, foodborne illness prevention, and hygiene standards. Each lesson broadens your understanding and sharpens your skills.
Navigating through modules, you dive deep into the world of food handling. You grasp the nuances of food safety training, engaging in interactive sessions. As you master the art of food protection, every lesson feels like a stepping stone to your goal.
The food handlers card would also adorn your wall and enhance your credibility. It embodies your customers' trust in you, bolstered by your acquired knowledge. Whether you're chasing a dream in a bustling NYC food service establishment or a quaint café, this certification is your passport.
When you step into the examination room, it's not anxiety that fills you, but anticipation. Every question challenges your understanding; every answer reflects your proficiency. With the American National Standards Institute's regulations at your fingertips, you're ready to ace the test.
Finally, holding your NYC Food Handler license feels less like an accomplishment and more like the start of an exciting new chapter. Ready to embark on this enriching journey? Let the world of food handling in New York City welcome you with open arms.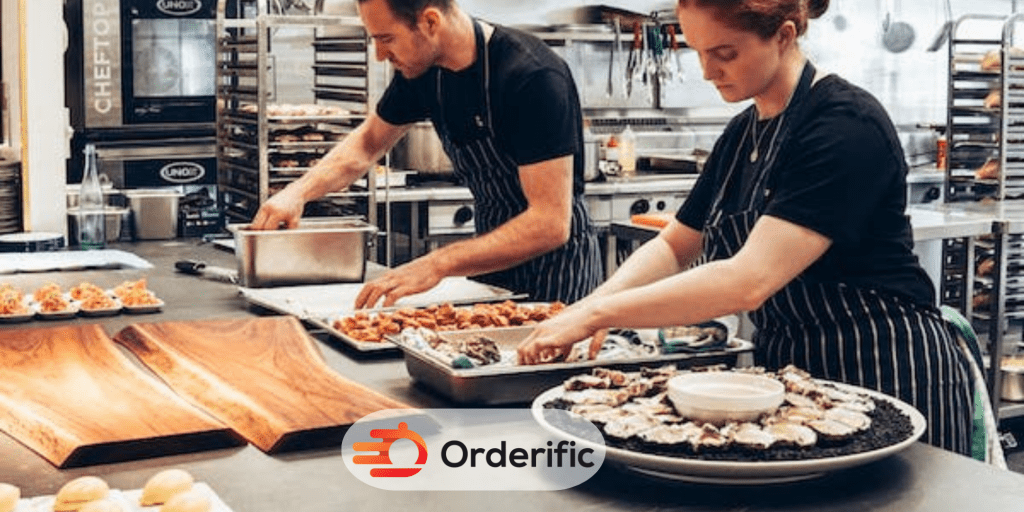 Where is the NYC Food Protection Exam Taken?
Once you've navigated the enriching journey of the food protection course, the next stop on your roadmap to the NYC Food Handlers License is the Food Protection Exam. This exam is usually taken at the NYC Health Academy. Picture yourself stepping into this modern, welcoming facility, the heart of New York City's efforts to ensure food safety.
As you enter, the soft hum of the bustling city fades into the background, replaced by a quiet, focused atmosphere. The room is filled with the subtle aroma of freshly brewed coffee, a comforting reminder of the culinary world you're preparing to conquer. The surroundings are impeccably clean, reflecting the high hygiene standards you've learned about.
Sit at the neatly arranged desks, each spot providing an inviting, calm environment to showcase your knowledge and skills. The room is well-lit, creating an atmosphere conducive to concentration and focus. Out the window, the city's skyline stands tall, a visual metaphor of the heights your food handling career can reach with this certification.
NYC Food Protection Exam Practice & Study Resources
Prepare to ace the NYC Food Protection Exam with invaluable study resources and practice materials. Imagine the sense of ease as you delve into the wealth of knowledge, each resource a stepping stone on your path to success.
Comprehensive Study Guides: Picture yourself flipping through a study guide, each page rich with practical examples and crucial facts. This resource simplifies complex food safety regulations, making them easy to grasp.
Interactive Online Quizzes: Visualize the thrill of tackling an online quiz, each question challenging and honing your understanding. Here, learning becomes a delightful challenge, with instant feedback sparking growth.
Engaging Video Tutorials: Envision the sensation of immersing in a video tutorial where experts demonstrate best practices in food safety. This resource makes learning dynamic and visually appealing.
Sample Exam Questions: Imagine the surge of confidence as you solve sample exam questions, providing a practical glimpse into the final test.
In-depth Webinars: Picture the valuable insights gained from webinars from seasoned food handlers. These resources offer a deeper understanding of the NYC food scene and safety laws.
These practice and study resources are your companions on this enlightening journey. They transform the path to the NYC Food Handlers License into a smoother, more enjoyable ride. You're one step closer to your goal with each resource you explore. The NYC Food Protection Exam doesn't seem daunting anymore; instead, it's a challenge you're ready to embrace.
Conclusion
Embarking on the journey towards obtaining your NYC Food Handlers License is a transformative experience. With every chapter of the Food Handlers License NYC: Food Protection Course, you become more adept at navigating the vibrant landscape of NYC's food industry. From the comforting aroma of coffee during in-person classes to the anticipation of the final exam, each step of this journey is an enriching adventure. The knowledge you gain is invaluable, bolstering your confidence and equipping you to offer an exceptional dining experience. In restaurant management, Orderific provides similar empowerment for restaurant owners. With its cutting-edge solutions automating manual tasks, you can focus on enhancing customer experience and growing your business. To discover more about how Orderific can make your life easier, schedule a FREE DEMO today. Let's celebrate the fusion of food safety and innovative technology!
FAQs
What is the NYC food handlers license, and who needs to obtain it?
The NYC Food Handlers License certifies that a food service professional understands and follows food safety regulations.
How can someone apply for the NYC food handlers license, and what are the requirements?
One can apply online through the NYC Health's website. The primary requirement is completing a Food Protection Course.
Is the NYC food handlers license valid only in New York City, or is it also recognized in other areas?
The NYC Food Handlers License is primarily recognized within New York City, but its principles align with nationwide food safety standards.
How long is the NYC food handlers license valid, and are there any renewal or recertification procedures?
The NYC Food Handlers License is valid for five years, after which a renewal course must be completed.