Welcome to your one-stop guide for acquiring an Ohio business license! Picture yourself flourishing amidst Ohio's thriving entrepreneurial landscape. Feel the excitement as you prepare to launch your venture. But wait, what's that critical step you need to take before you open your doors? Indeed, it's securing your Ohio business license. This essential permit is your ticket to a compliant and successful business journey. Whether you're a sole proprietor with dreams of a small business or a business entity planning a grand entry, navigating the licensing process can be daunting. Fear not, for we have you covered! This guide will illuminate your path from the Ohio Business Gateway procedures to understanding vendor licenses and taxable retail sales. So, buckle up, and let's unlock the door to your Ohio business adventure.
Do You Need a Business License in Ohio?
The whirling question, "Do you need a business license in Ohio?" seems to echo in the minds of many ambitious entrepreneurs. Well, the answer is more complex than you might anticipate. Initially, you may believe that every business requires a state-issued license. Interestingly, this is only sometimes the case.
The state of Ohio only sometimes mandates a business license. However, depending on your business nature, you may need specific permits or licenses. For instance, a vendor's license becomes essential if you're a vendor. If you're operating from a temporary place, a transient vendor license would be necessary.
A common thread among these requirements is to ensure legal compliance and safeguard the interests of both business owners and consumers. The Ohio Department of Commerce provides clear guidelines on the licenses required for various business types. Knowing that not all businesses need a license, you may feel an undercurrent of relief.
However, don't let this lull you into complacency. Ensure you're well-versed with Ohio's business license regulations to avoid potential hiccups. So, keep your entrepreneurial spirit alive, embark on your business journey, and remember – knowledge is power. Navigate the Ohio business license maze confidently; success will be yours.
Steps to Getting Your Ohio Business License
Embarking to obtain an Ohio business license is much like setting out on an exhilarating road trip. The anticipation of new beginnings beckons you, the open road of possibilities stretches ahead, and the vibrant and promising Ohio entrepreneurial landscape unfolds before you.
Step 1. Name and form your company
Choosing the right name for your business is akin to an artist selecting the perfect shade for their masterpiece. It's more than just a name; it's the identity that will resonate with your audience. Picture your business name lighting up the Ohio skyline, casting an illuminating glow that draws in potential customers.
This step also involves deciding on your business structure. Imagine the structural integrity of a building as the metaphor for your business entity, be it a sole proprietorship, partnership, or corporation. Each form has its unique characteristics, much like varying architectural styles. It's all about striking the optimal balance between liability protection, taxation, and operational freedom.
Understanding the differences and selecting the one that best suits your business vision is essential. The Ohio Secretary of State is your resource hub for this process. Their detailed guidelines provide a roadmap, transforming the naming and formation of your business from a daunting task to a manageable journey. Ultimately, this step sets the foundation for your Ohio business license application.
Step 2. Apply for your Ohio vendor license if needed
Brace yourself as the thrill of the next step ensues: applying for your Ohio vendor license, if necessary. Picture yourself stepping onto an uncharted path with anticipation tingling at your fingertips. Your heart might flutter uncontrollably, but remember, each flutter equates to progress.
Interestingly, only some businesses need a vendor license. However, if your venture involves taxable retail sales, you're in for an exciting ride. Visualize yourself diving into the Ohio Business Gateway, your digital assistant for this important endeavor. Like navigating a bustling city, the platform may seem intricate initially, yet it's meticulously organized.
As you input your business details, you'll feel a sense of satisfaction, a step closer to your dream. Remember to cross-check each entry; even the smallest oversight could lead to a detour. This careful attention to detail ensures a smooth journey, avoiding potential roadblocks.
Finally, upon hitting the 'submit' button, feel the rush of accomplishment. You're not just applying for a vendor's license; you're paving your path to becoming a key player in Ohio's vibrant business panorama.
Step 3. Determine which local licenses may be applicable
Venturing onto the next phase, you'll find yourself in the heart of Ohio's business licensing landscape. Imagine stepping into a sprawling garden, where each flower symbolizes a different locality. This garden is a diverse network of local licenses, which vary depending on your business location.
You'll feel a sense of awe as you explore the intricate web of local regulations. Remember, each county or city in Ohio has its unique set of rules, each like a petal on a flower. The county auditor could become your guide, leading you through this complex garden.
As you delve deeper, you'll gain invaluable insights into the licenses your business might require. Whether it's a county vendor's license for retail sales or a permit for a manufactured home business, each discovery brings you closer to your vision.
You'll appreciate the harmony between local and state regulations, ensuring your business operates smoothly. As you seamlessly navigate the Ohio business license system, a sense of accomplishment will wash over you.
Step 4. Apply for any additional statewide license(s) you need
As you embark on the final step, envision yourself reaching the summit of your Ohio business license expedition. No longer a daunting mountain, it's now a reachable peak. Each step echoes the milestones you've conquered: the naming of your enterprise, the vendor license application, and the local license explorations.
It's time to weave the final threads into your Ohio business tapestry. Picture yourself, a diligent weaver, meticulously adding each strand of statewide licenses, ensuring a vibrant and compliant masterpiece. Your canvas? The Ohio Department of Commerce website is a repository of statewide licenses catering to diverse business types.
Perhaps you're planning a bold entrance into the food industry, or the charm of the real estate sector beckons you. With each click, your understanding of Ohio's licensing ecosystem deepens. Feel the excitement as you submit your application, a rush of accomplishment stirring within. Seize this moment; you're one step closer to igniting your Ohio business dream.
Step 5. Apply for federal licenses and tax treatment (as necessary).
Just as dawn heralds a new day, this final step illuminates your path to entrepreneurial success. Picture yourself stepping into a grand library, the Federal licensing and tax treatment sector. Each book represents a unique Federal license, inviting you to explore. As you venture deeper, you'll encounter the enchanting realm of tax identification numbers.
This critical component ensures your business's compliance with Federal regulations, a beacon providing a smooth voyage. Feel the paper beneath your fingers as you fill out the necessary forms. Each pen stroke weaves another thread into your business's burgeoning tapestry. As you submit the forms, a sense of accomplishment envelops you like a warm, comforting blanket.
This is more than just a procedural step; it's the capstone of your Ohio business license journey. So, take a deep breath, savor the moment, and step into your promising future as a proud Ohio entrepreneur.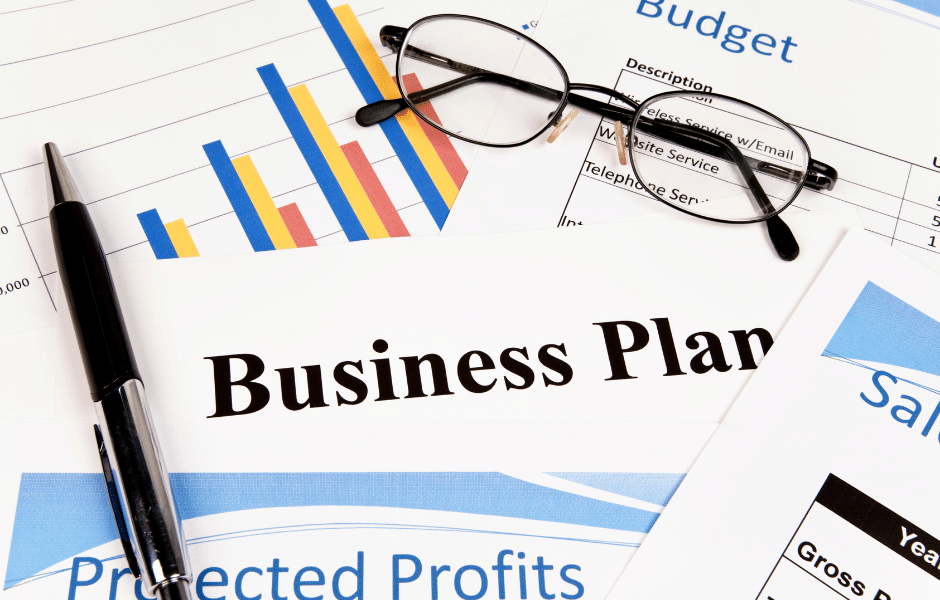 How Much Does a Business License Cost in Ohio?
As you delve into the depths of Ohio's business license expenditures, imagine sifting through a treasure chest filled with glittering coins, each symbolizing a unique cost. The primary jewel in this chest is the vendor license, a gleaming symbol of your entrepreneurial dreams, costing a mere $25. This one-time registration fee is a token paid to the Ohio business realm, a pledge of your commitment to excellence.
Each new site will demand a unique vendor license if your business expands, unfolding across multiple locations. Picture each license as a golden key, unlocking the door to another thriving outpost of your empire.
Venturing further, you'll discover that business license costs vary like precious gems, reflecting the diversity of Ohio's vibrant business landscape. The location and industry of your operation play a role in this intricate equation. Envision an arcade in Cincinnati, where the annual business license fee is a manageable $75. In contrast, an arcade nestled in Toledo requires a heftier $400 per year, plus an additional $15 for each machine exceeding fifteen.
By exploring these costs, you'll appreciate the nuanced tapestry of Ohio business license expenses. As a skilled jeweler crafts a stunning piece, understanding these costs empowers you to carve a successful path in Ohio's entrepreneurial landscape.
Renew a Business License in Ohio
Renewing your Ohio Business License is akin to revisiting an epic tale. You find yourself standing at the familiar gateway, sensing the echo of past accomplishments. The story unfurls, captivating you with the knowledge that your Ohio vendor license is a constant companion, never requiring renewal.
However, the plot thickens. A professional license, your guide in the bustling landscape of state or local municipalities, whispers a different tale. Its rhythm pulses to an annual or biennial beat, prompting renewal. Imagine the renewal schedule as a soft melody, gently nudging you toward compliance.
You seek counsel from the department or agency issuing the license, your sage, for this quest. Each interaction provides invaluable insights, shedding light on the renewal and fee schedules. Each piece of information is a puzzle, clicking seamlessly into your understanding.
Renewing your Ohio business license is a journey through time, bridging your past achievements with future aspirations. Yet, at its heart, it remains a triumphant testament to your entrepreneurial spirit. Come, retrace your steps, rediscover your path, and renew your commitment to your Ohio business dream.
Conclusion
Navigating the vibrant landscape of Ohio's business licensing system is a fulfilling journey, stirring the senses and fueling entrepreneurial dreams. This conclusive chapter in your "How to Get a Business License in Ohio" journey is a testament to your commitment and resilience. The scent of success permeates the air as you hold your Ohio business license, symbolizing your unwavering dedication. It's an exciting road filled with knowledge, anticipation, and accomplishment. Each step and milestone brings you closer to your vision – a thriving venture powered by Orderific. Enhancing customer experience, automating tasks, and elevating your business operations to new heights, Orderific is your trusted partner. Interested in knowing more? Schedule a FREE DEMO today and embrace a future of increased revenue, decreased operational costs, and unparalleled control.
FAQs
What types of businesses in Ohio require a business license?
Most businesses in Ohio require a license, particularly those involved in retail, professional services, or specific regulated industries.
How can entrepreneurs navigate the process of obtaining an Ohio business license?
Entrepreneurs can navigate the process by researching, understanding state and local requirements, and applying through the relevant agencies.
Are there specific regulations or industries that have unique requirements for Ohio business licenses?
Ohio's industries, such as food services, real estate, and manufacturing, have unique licensing requirements.
How does having a valid Ohio business license impact legal compliance and operations?
A valid Ohio business license ensures legal compliance, facilitates operations and builds credibility with customers and stakeholders.