Do you love tasty vegan food? Do you have an affinity for metal music? Then say hello to Onion Maiden – the restaurant serving a unique cuisine of rock-n-roll-themed, sustainable plant-based dishes. Located in Pittsburgh, Pennsylvania – this long-dreamed-of venture brings together food and entertainment that are wholly appreciated by vegans and non-vegans alike. 
Fusing heavy metal with flavorful fare, Onion Maiden transforms how people view veganism and offers diners something truly special – entrées as creative as their names! From "Battle Burrito" to "Metal Up Your Vitamins," prepare yourself for an epic journey combining killer tunes with amazing eats.
Introducing Onion Maiden – a metal-themed vegan restaurant in Pittsburgh
Discover the ultimate culinary fusion at Onion Maiden, Pittsburgh's freshest dining sensation. Uniting the vibrancy of vegan cuisine with the raw energy of heavy metal culture, this restaurant promises an unmatched gastronomic adventure. Indulge in many delectable plant-based offerings that cater to every palate, transcending dietary boundaries.
Step into a realm where culinary innovation meets metal-inspired ambiance, creating an unforgettable dining haven. From robust feasts to a symphony of flavors, Onion Maiden has curated a menu that resonates with ardent carnivores and plant-based enthusiasts. The restaurant's immersive setting pays homage to the world of metal. Thus appealing to the sensibilities of both vegans and metal enthusiasts.
Whether seeking a hearty epicurean experience or craving immersion into an atmosphere pulsating with creativity, it stands as the definitive destination. Join us in a celebration of culinary artistry and rebellious spirit, all harmonized within the heart of Pittsburgh.
When did it Start?
Onion Maiden, nestled in Pittsburgh, has swiftly captured diners' hearts since its inception. Despite its seemingly timeless presence, the restaurant actually unveiled its delights in November 2016, courtesy of the visionary trio: Diana "Dingo" Ngo, Elyse Hoffman, and Brooks Criswell.
Right from its inception, Onion Maiden has been dedicated to serving top-tier, plant-based dishes that intertwine exquisite flavor with artistic presentation. Be it a hearty burger or a delectable dessert, Onion Maiden guarantees a diverse culinary voyage. For those seeking an unparalleled gastronomic escapade with the family, a visit to Onion Maiden is an absolute must to uncover the source of all the excitement!
Where is it Located?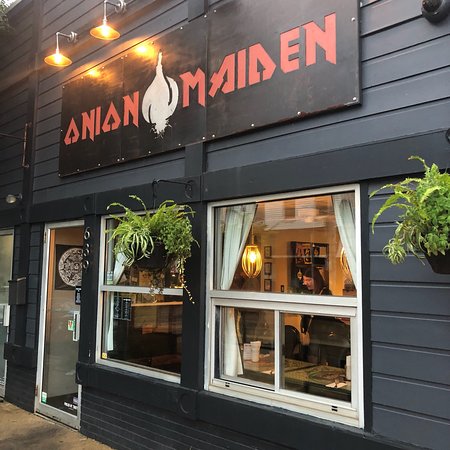 This extraordinary eatery is a haven for those who appreciate delightful vegan cuisine that promises to awaken your taste buds. Curious about its location? Prepare to be delighted as Onion Maiden calls Pittsburgh, Pennsylvania, its home. 
Nestled cozily in an unassuming corner, this charming establishment eagerly awaits your visit, inviting you to indulge in its exquisite offerings. Whether you're craving the umami-rich goodness of vegan burgers or longing for plant-based desserts, Onion Maiden stands ready to satisfy all your vegan culinary desires and provide great service on-site.
What Kind of Food Do They Serve?
Indulge in a one-of-a-kind culinary adventure at Onion Maiden, where your taste buds are destined to be captivated. Delighting even the most discerning palates, this extraordinary dining establishment offers an array of inventive and delectable plant-based dishes perfect for brunch. From their renowned seitan wings to the mouthwatering vegan cheesesteak, Onion Maiden's menu is a true delight.
Guided by a commitment to excellence, the restaurant takes pride in using premium ingredients and prioritizes sourcing from local farms whenever feasible. Whether you're an avid vegetarian, a dedicated vegan, or simply seeking an exceptional gastronomic experience, Onion Maiden beckons. It's a culinary haven where flavors and innovation harmonize seamlessly.
Do They Accept Payments from Credit Cards?
For those who relish the delectable vegan offerings of Onion Maiden, payment considerations might be crossing your mind. Here's some exciting information: Onion Maiden readily welcomes credit card payments! The hassle of dealing with cash or a separate visit to the ATM becomes a thing of the past. Just produce your credit card and savor the effortless transaction process. Coupled with their tantalizing plant-based creations and vibrant, rock-infused ambiance, your dining affair will be etched into your memory.
Conclusion
In summary, Onion Maiden transcends the concept of a mere restaurant, evolving into a delectable harmony of vegan delights, all orchestrated to the pulsating cadence of heavy metal music. Seamlessly merging plant-based gastronomy with a resounding rock 'n' roll ambiance, this establishment is an essential pilgrimage for vegans, metal enthusiasts, and those intrigued by innovative cuisine in Pittsburgh. 
Whether you're a culinary explorer venturing into new taste territories or an individual in search of an extraordinary dining escapade, Onion Maiden eagerly awaits to host you. To uncover more captivating epicurean journeys, we extend an invitation to immerse yourself in the realm of Orderific blogs. Embark on an expedition through culinary landscapes that stretch far beyond the confines of your plate.
FAQs
Q. What is the top-rated dish at Onion Maiden?
Ans. The top-rated dish is their famous seitan wings, which have received rave reviews for their flavorful and crisp texture.
Q. Are there any more branches of Onion Maiden?
Ans. Currently, it has only one establishment in Pittsburgh and does not have any other branches.
Q. What is the best-selling dish of Onion Maiden?
Ans. The best-selling dish is a close tie between their renowned seitan wings and the mouthwatering vegan cheesesteak.
Q. Why is Onion Maiden so popular?
Ans. It is popular due to its unique fusion of vegan cuisine with a heavy metal ambiance.