Introduction
In the bustling world of the restaurant business, the key to drawing customers in and keeping them coming back for more lies in the heart of your online menus. Whether it's the succulent flavor of your dishes or the variety of options available for those with dietary restrictions (dairy, eggs, or tree nuts), there's an art to creating appealing custom menus for your beloved customers. Thankfully, you don't need to be a tech whiz or an assistant secretary to whip up an engaging online menu. With the right menu maker and a selection of ready-to-use templates, you can easily design a restaurant menu that showcases your mouth-watering dishes and aligns perfectly with your restaurant's ambiance.
In this guide, we'll walk you through the process of creating an online menu, from selecting the appropriate menu size to finalizing the layout of your menu template. We'll also delve into how you can optimize your menus for takeout options, offer general nutrition advice, and use social media to your advantage. So whether you're a fine dining establishment or a cozy little cookie shop selling milk and cookies, get ready to serve a feast that will have your guests asking for more.
Menus For Special Events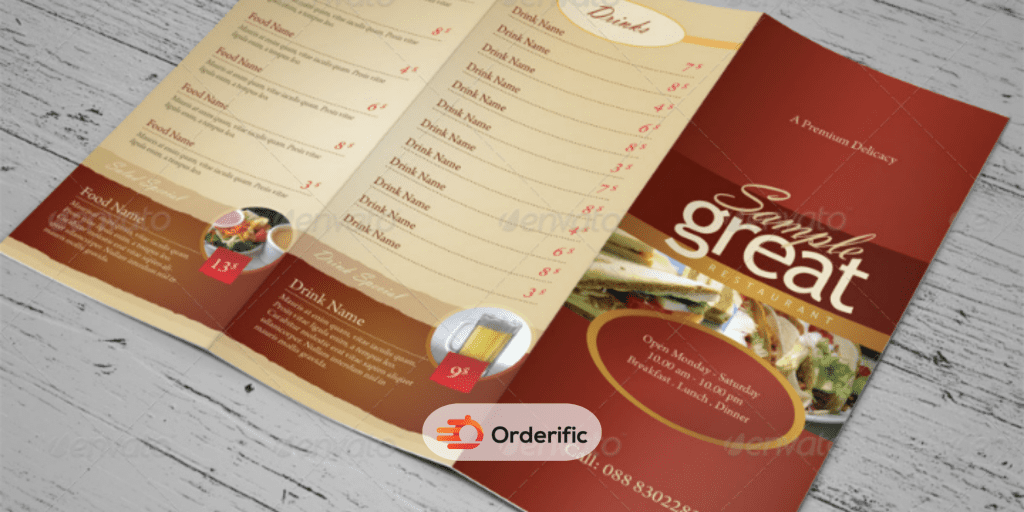 Online Menu Makers, Templates, And Apps
When planning special events, a custom menu can leave a lasting impression on your guests. It's your chance to showcase your restaurant's unique flavor profiles and cater to a variety of dietary needs, including options free from dairy, eggs, and tree nuts. A great menu maker is your secret weapon here. With a range of pre-designed templates, you can easily whip up a menu that appeals to all your guests, from the hardcore foodie to the health-conscious individual looking for general nutrition advice.
Size does matter, especially when it comes to your menu. You don't want your customers squinting at tiny font sizes or losing interest in endless pages of dishes. Carefully consider your menu size, ensuring it's user-friendly and displays your mouth-watering dishes without overwhelming your guests.
Don't forget to include popular menu items, like your signature cookies served with a glass of milk – a classic favorite amongst many customers. For those who prefer to enjoy your food at the comfort of their homes, highlight your takeout options, ensuring that your menu is optimized for people ordering from your restaurant website.
Finally, ensure your menu is not just kept within the four walls of your restaurant. Leverage social media to showcase your enticing menus, engaging customers and spreading word about your delectable offerings. Remember, a well-planned, visually appealing online menu can be as effective as a top-notch assistant secretary in keeping things in order and attracting more customers.
Customize Your Beautiful Menu
Customizing your menu is an integral part of the process. This is where your creativity shines and your restaurant's flavor comes to the forefront. Use your menu maker to tap into the vast library of templates and create a restaurant menu that stands out.
Consider incorporating customer favorites into your custom menus – perhaps a savory dish with a surprising hint of tree nuts or a sweet treat featuring your signature cookies, served with a glass of chilled milk. The menu size should be just right, making it easy for customers to navigate through the variety of dishes. Remember, your menu template should not only be visually appealing but also provide general nutrition advice where necessary.
Customers appreciate the convenience of takeout, so make sure your dishes translate well for those who prefer to savor your menu items at home. Highlight these options visibly on your restaurant website. Using social media platforms can be just as effective as deploying an assistant secretary to get the word out about your menu. Always remember to accommodate those with allergies, offering alternatives to dairy, eggs, and peanuts.
In conclusion, creating a captivating online menu is a blend of art and strategy, taking into account customer preferences, dietary restrictions, and the unique flavor of your restaurant. With a well-designed menu, you'll be sure to keep your guests coming back for more.
Conclusion
A well-crafted online menu is the heart and soul of your restaurant, a reflection of your culinary creativity, and an essential tool for enticing customers. Furthermore, By utilizing a menu maker with a diverse range of templates, you can bring your delicious creations to life, catering to varying dietary needs and preferences. Remember, your menu is more than just a list of dishes; it's a showcase of your restaurant's unique identity. Hence, It's about making your food as appealing on the screen as it is on the plate. So, whether you run a fine-dining establishment or a quaint cookie shop, make your mark with a well-designed online menu, tailored for both dine-in and takeout experiences.
Are you ready to elevate your guests' dining experience? Get started with a demo at Orderific, your one-stop solution for easy-to-use, customizable menu templates. So, Book your demo today, and get ready to revolutionize the way your customers perceive your restaurant.
FAQs
How can an online menu contribute to a restaurant's overall digital presence and customer engagement?
An online menu enhances a restaurant's digital presence by showcasing their offerings and appealing to a wider audience, thus increasing customer engagement.
What strategies should restaurants employ to create visually appealing and user-friendly online menus for websites and mobile apps?
Restaurants should utilize high-quality images, clear fonts, intuitive navigation, and responsive design for optimal user experience.
Are there any best practices for updating and maintaining online menus to reflect real-time changes in pricing and availability?
Yes, restaurants should regularly update menus for price changes and item availability, use real-time integration with inventory systems if possible.
How can online menus be optimized for search engines to attract more online orders and reservations?
Online menus can be optimized for search engines by using relevant keywords, meta descriptions, and maintaining up-to-date, accurate information.