In today's bustling world, the gentle hum of a food truck signals convenience and culinary exploration. Instantly, your senses are enveloped in the sizzling symphony of the grill, the tantalizing aroma of fresh fare, and the vibrant visuals of street cuisine. Through the prism of online ordering, these experiences are seamlessly translated into digital. Software solutions for food trucks transform this process, enhancing the customer experience and satisfaction. They streamline pickup and delivery, making curbside service swift and effortless. Imagine grabbing your favorite street food, hot and ready, without the wait. Retailers are joining this revolution, reaping benefits and optimizing their operations. This digital transformation keeps customers coming back while driving remarkable growth. Pull up a seat; let's explore how food truck software is revolutionizing the online ordering experience.
What Is Flybuy?
Flybuy is an innovative platform, a bridge between the digital and physical realms of food ordering. It's like having a virtual waiter in your pocket, effortlessly facilitating orders with just a few taps. The aroma of your favorite street food wafts through your imagination as you browse menus and make selections. With a swift click, you initiate curbside pickup or home delivery.
The magic unfolds as your order is prepared. Behind the scenes, Flybuy's technology ensures your meal is cooked, packaged, and ready for pickup or delivery at the perfect time. You can practically taste the savory delicacies as your anticipation builds.
Flybuy is more than just a food ordering platform—it's a comprehensive solution that redefines the customer experience. By perfecting online ordering and pickup processes, it serves up a feast of convenience, satisfaction, and culinary delight. In the end, Flybuy isn't just about getting your food—it's about savoring every moment of the journey.
The Importance Of Order Pickup Optimization
Imagine this: it's a brisk Saturday afternoon, and your stomach is rumbling. You pull out your phone, tap into your favorite food truck's online ordering system, and with a few quick clicks, your meal is on its way. This seamless experience, executed perfectly, is the product of meticulous order pickup optimization.
Efficient and well-optimized pickup procedures form the heart of a successful online ordering setup. They are the crucial link between online orders and satisfied customers. Let's explore the significance of pickup optimization:
Customer Convenience: With optimized pickup, customers no longer endure long queues or wait times. The food is hot and ready when they arrive, translating into a delightful, stress-free experience.
Operational Efficiency: Streamlined pickup processes eliminate chaos and confusion. They enable retailers to fulfill orders promptly and efficiently, maximizing productivity.
Increased Satisfaction: Quick and easy pickups significantly enhance the customer experience, fostering satisfaction and loyalty. It's the secret sauce to earning repeat business.
Optimal Resource Utilization: Efficient pickup processes ensure better resource allocation and waste reduction. It's a win-win for customers and retailers, paving the way for sustainable growth.
In the hustle and bustle of our fast-paced lives, the charm of a quick, effortless pickup is undeniable. It's more than just about getting your food – the journey, the experience, and the satisfaction of knowing your favorite meal is just a few taps away. It's the magic of technology, the convenience of online ordering, and the simplicity of a well-optimized pickup. After all, it's not just a meal we're after – it's a moment, a memory, a taste of comfort and convenience in an otherwise hectic day.
How Flybuy Pickup Builds With Mapbox
Flybuy's integration with Mapbox resembles a symphony, hitting all the right notes for an unforgettable customer experience. Imagine this: you've just placed an order for your favorite meal. With each passing moment, your anticipation grows. Mapbox, a vital component of this orchestra, comes into play here.
This powerful tool provides:
Real-time location updates.
Bridging the gap between you.
Your order.
The pickup location.
As you start your journey, Mapbox guides you, turn by turn, ensuring a seamless connection. Meanwhile, it notifies the food truck of your estimated arrival. As you pull up, the warm aroma of your meal greets you even before the food truck comes into view.
Like clockwork, your order is ready, handed over with a smile—perfect timing. This integration not only elevates the customer experience but also streamlines operations for retailers. It's a win-win situation, all thanks to the harmonious ballet of Flybuy and Mapbox. It's not just about delivering a meal—it's about orchestrating a memorable experience, one that resonates with every customer.
The Role of Retailers in Enhancing Online Order Experience
Retailers play a pivotal role in the online ordering symphony, orchestrating a seamless dance between customer needs and technological solutions. They are the conductors, turning the raw script of online order into an unforgettable performance of taste and timeliness. As the curtain lifts:
Focusing on User Interface: Retailers ensure their online platforms are intuitive and user-friendly. As customers navigate these digital menus, an inviting layout and simplified ordering process turn the routine task of online ordering into an enjoyable experience.
Prompt Customer Support: When queries or issues arise, retailers quickly offer support. Their prompt and empathetic customer service not only solves problems but also builds trust and rapport with customers.
Optimized Fulfillment Process: Behind the scenes, retailers fine-tune the order fulfillment process. This meticulous choreography ensures that orders are prepared, packaged, and ready for pickup or delivery at the appointed time.
Effective Utilization of Technology: Retailers leverage software solutions like Flybuy to streamline operations. These digital tools enhance the pickup and delivery service, ensuring customers' meals are hot and ready when they arrive.
Quality Assurance: Retailers prioritize quality, ensuring that every meal prepared meets the highest standards. It's this commitment to excellence that transforms a simple meal into a culinary delight.
Feedback Loop: Retailers actively seek feedback, using it as a compass to guide improvements. Thus, every customer interaction becomes a step towards an even better online ordering experience.
By stepping into these roles, retailers don't just offer a meal; they curate an experience. They transform the act of eating into a memorable event.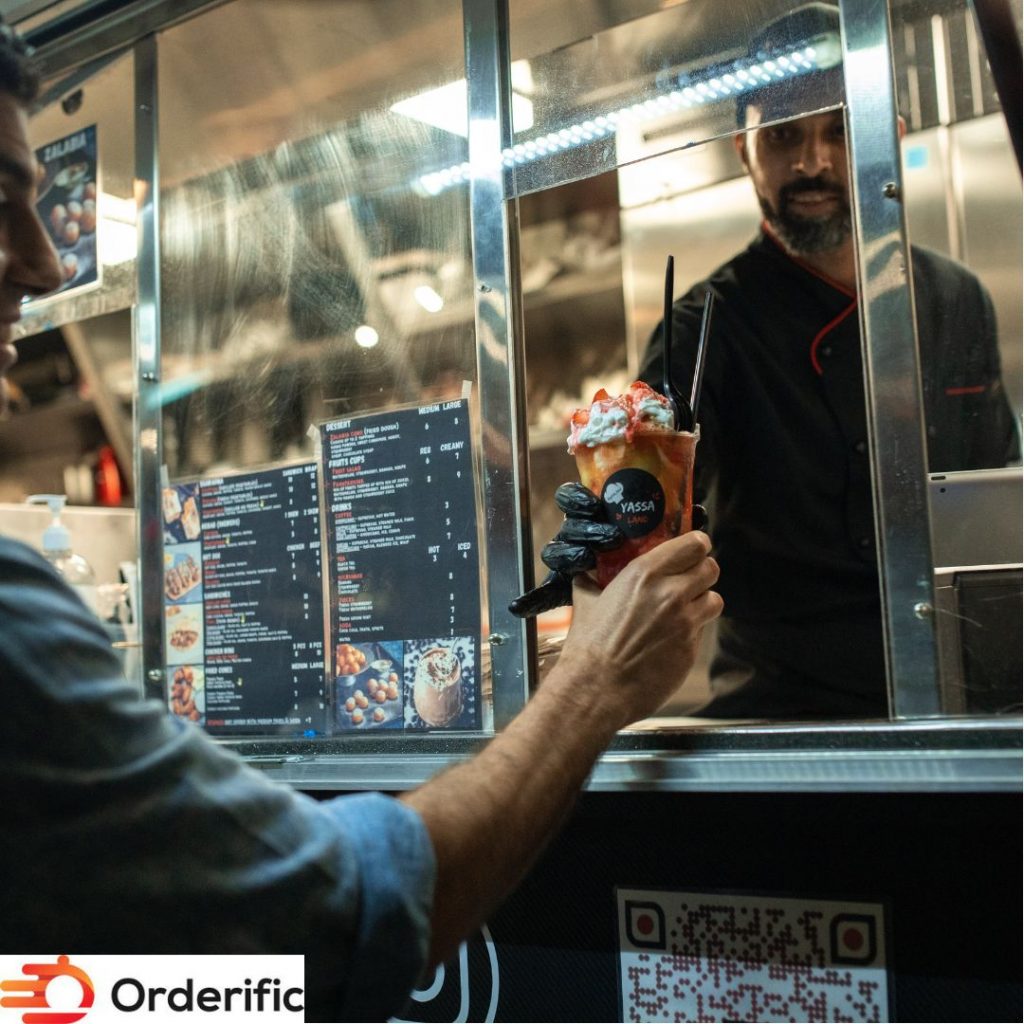 The Future of Food Truck Software in Online Ordering
Looking into the future, we see food truck software catapulting the online ordering experience to new heights. Envision this: a world where ordering your favorite street cuisine is as easy as sending a text message. The technology is intuitive, merging seamlessly into our daily routines.
Every tap on your screen brings you closer to that mouth-watering street taco or that irresistible crepe. Hungry yet? Wait, there's more. The software isn't just about placing an order; it's about transforming the customer journey into an immersive experience. And yes, it's all designed with you, the customer, at the heart.
Imagine your smartphone vibrating gently, notifying you of your order's progress. You can almost smell the tantalizing aroma of fresh ingredients sizzling on the grill. Retailers, armed with this futuristic software, are ready to serve you better. They've optimized their operations, ensuring your order is hot and ready when you arrive.
As you pull up for pickup, you're greeted with a warm smile and your favorite meal. No fuss, no waiting. It's just pure culinary delight. But the software still needs to be done. It encourages you to provide feedback, giving you a voice in this digital revolution.
In essence, the future of food truck software in online ordering paints a picture of a world of convenience, satisfaction, and remarkable customer experiences. It signals the onset of a new era, one that marries technology with the timeless appeal of street food. So, get ready to buckle up and savor the ride!
Delivering Exceptional Customer Satisfaction with Flybuy and Mapbox
The partnership between Flybuy and Mapbox is akin to a masterful dance choreographed for customer satisfaction. Let's take a spin on this dance floor, shall we? First, we step into the realm of online ordering. Your fingertips glide over your phone's screen, curating your desired meal. Easy, intuitive.
Suddenly, your olfactory senses are stirred. You can almost smell the tantalizing aroma of your food truck favorites, even before they're prepared. That's the magic of anticipation, my friend. But wait, there's more.
Behind the scenes, your order is set in motion. This is where Flybuy and Mapbox take center stage. Their perfectly timed duet ensures your meal is cooked, packaged, and ready just as you arrive. Impeccable timing, do you agree?
Now, savor the joy of biting into your meal. It's hot, fresh, and right on time, thanks to the seamless integration of Flybuy and Mapbox. The harmonious dance of technology and service perfection is a sight to behold.
Ultimately, it's not just about selling food; it's about creating unforgettable experiences. It's about ensuring every customer is a satisfied customer. After all, isn't that what a dance is all about? The joy, the rhythm, the satisfaction of a performance well-executed. That's the Flybuy and Mapbox promise.
Conclusion
Navigating the future of online ordering, Orderific stands as a beacon of innovation, expertly merging technology with the timeless appeal of street food. Enhanced by Flybuy and Mapbox, Orderific catapults the customer experience to new heights, transforming each order and pickup into an immersive feast of convenience, satisfaction, and culinary delight. Picture this: you order, and your favorite meal is prepared, packaged, and ready just as you arrive. There is no waiting, just pure, personalized service. With Orderific, the essence of a seamless online ordering experience is captured, enhancing not only operational efficiency for retailers but also delivering memorable, tailored customer experiences. To fully comprehend the transformative power of Orderific, schedule a FREE DEMO today.
FAQs
How does online ordering impact the overall customer experience?
Online ordering boosts customer experience by providing convenience, reducing wait times, and offering personalized, efficient service.
What strategies can businesses implement to improve the pickup process for customers?
Businesses can enhance pickup processes by implementing efficient order tracking, ensuring prompt preparation, and offering real-time updates.
Can you provide examples of businesses that have excelled in customer experience through online ordering?
Chipotle and Domino's Pizza are notable examples of businesses that have excelled in online ordering customer experience.
How does integrating technology like Flybuy and Mapbox enhance the customer experience?
Integration enhances customer experience through real-time updates, efficient pickups, and personalized, prompt service.