Did you know opening a restaurant is one of the fast-growing business ideas in town? The reasons are not far-fetched, especially because the industry ranks high among the thriving industries in the United States today.
The National Restaurant Association reports that over 1 million restaurant businesses are in the US, and about 10% of the entire US labor force are restaurant workers. So, it's not a surprise that the industry's sales exceeded $863 billion in 2019. And at the start of 2020, it rose to roughly $899 billion. However, COVID's hit led to a plummet in revenue surge.
Today, the restaurant business continues to thrive. After all, a restaurant is a proactive place with a lot of creative ideas. Apart from the food and drinks, the core of the business, many innovative ideas come into play to give customers the best experience they could ever think of.
But even though opening a restaurant comes with massive profits, you might also need to consider the fierce competition in the industry. You have to get ready every step so as not to fall among the 60% of restaurants that fail within the first year. This article provides a step-by-step guide on opening a restaurant. It shows you just how to navigate the dicey industry survival and enjoy a successful story. Ready? Read.
Steps to Opening a Restaurant
Pick a niche
Nothing makes a restaurant business thrive more than being definite. You have to create a unique identity for yourself among the crowd.
This will, in turn, drive traffic into your food room. Why? Because people can expect from you a special experience different from what they've always had. And crafting this kind of experience comes with a wholesome approach, from the brand identity design to understanding target audience specifics.
Picking a niche makes arriving at definiteness easy. With the various dish options in your community, you cannot afford to dabble in everything. So, you can choose wisely based on the different types, such as fast-food restaurants, family dining, and premium dining restaurants.
Preferably, pick the one that intrigues your target market and drill into that. For instance, if your local community fancies pizza, consider making the best pizza in the neighborhood. Look to giving them the best taste ever. And not only that, but also look to giving the people an exciting eat-in and take-out packaging.
You can try the old-granny way of selling via a food truck at this early stage. This will help you test some of your ideas and get a customer base before you go all out.
2. Create a business plan for your restaurant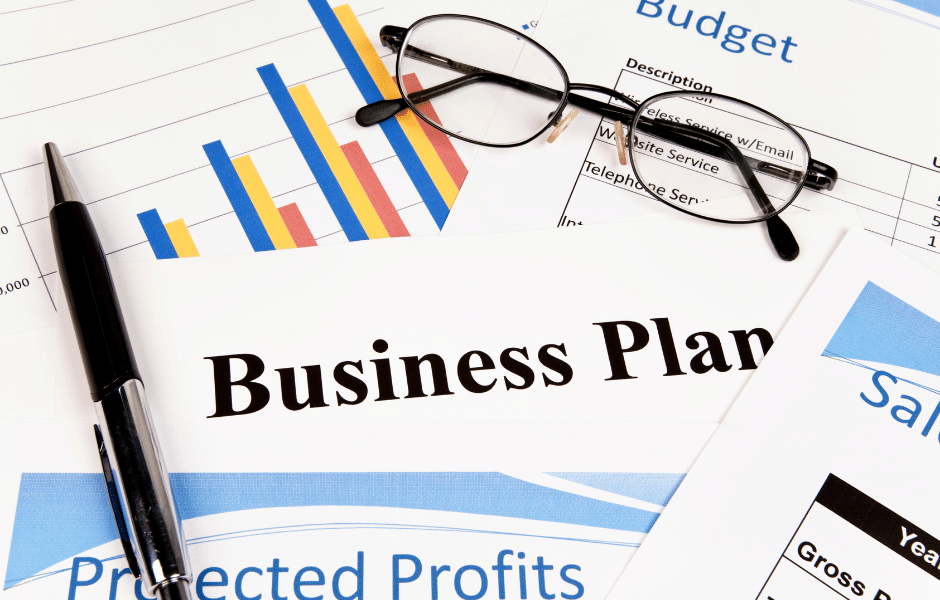 This is undoubtedly important for the success of your business. And the reasons are simple. First, it is a major factor your business will impress investors enough to invest in it. Second, it gives you a mental picture of your business and where you are heading. It is simply your blueprint for success in the industry. Think of it like a food recipe that guides you on how to make a dish from start to finish.
A business plan ideally starts with the day your restaurant's door is flung open to welcome customers. It covers the steps required for the business to thrive in the industry several years down the line. It also assesses your current environment and target market, as well as the possible obstacles you may face as you operate. Check out the essential things to note in your plan:
Company's Executive Summary: This category includes your business name as well as the vision of the restaurant. There is more. If you have a mission statement that guides the restaurant's day-to-day operations, here is also where you add that. This category captures a general overview of the business and why it exists.
Your Company's Description: Naturally, your business model should reflect here. And it will also contain staffing, the restaurant's location, the business size, and the proposed turnovers.
Industry Analyses: Here is where you highlight your niche and how you plan on standing out in the industry. Hence, it contains a specified target market, location analysis, as well as competitive analyses.
Marketing Strategy: Based on the market research you've made, you get to explain in this section the type of marketing you will engage in getting the customers accustomed to the brand.
Financial Analysis: This includes your investment plans, turnover predictions, and the likely profit and loss analysis. You can also include a business break-even analysis and the projected cash flow.
2. Research funding options for your restaurant
So, you have picked a niche for yourself and have crafted an attractive business model. The next stage is to get money to run the business itself. No matter how beautiful your restaurant concepts are, they'll remain wishes if there is no cash to execute. And unfortunately, many businesses have failed because of this.
There will always be ventures to use money as a restaurant business owner. It could be the cost to opening a new restaurant branch or purchasing fresh gadgets. But whatever you do, ensure that you keep money flowing in and out of business, especially reaching different profit margin goals at least the first year. This will keep you in business.
You could ramp up cash as a start-up restaurant owner in different ways. It could be via franchising or partnering. It could also be by going completely solo in the entrepreneurial journey with the help of investors. If you are looking at other financial options, you could explore the different loans available for restaurant business owners. Some of these loans include:
Restaurant Equipment and Kitchen Technology Loans
One of the most expensive aspects of starting a restaurant or even running a restaurant is procuring the equipment. But you can secure a good loan from your bank or provider to buy essential restaurant or kitchen equipment.
At the stage of your business where the expenses are more than the income, a working capital loan helps to take care of operating costs. So, you can plan for a specified period it will run for, say 6 or 12 months of operating cost until you break even.
If you are open to them, you can also consider small business association loans, lines of credit, and equity
3. Choose a restaurant location
Deciding the right location when opening a restaurant is another vital component in keeping your business alive. But then, getting it right requires an appreciable level of preparation and research. You will need to examine the people's preference in your target market. Will they like your location enough to always patronize you? Also, study your competitors and how big you want the restaurant to be.
Basically, if you are looking to pick a restaurant for your business, here are some essential things to consider:
Customers: Customers are the life wire of your business. Hence, you must ask yourself what the community you are in is like and what the people prefer. Making a one-on-one inquiry is not too big a price for long-term business success here.
Transportation: Customers might need to travel to your restaurant, so you must factor that into the location. Is the location close to the train or bus station? If so, you don't need to worry much about the parking sites. But if not, you might have to make space for parking around your restaurant. And it should be free to use. Remember that it is also a way to give your customers a great experience at your restaurant.
The Restaurant Set Up: How should your restaurant appear to attract customers in the local community? How many tables and chairs can the location accommodate? Is there enough space to set up the different utensils, furniture, and wares? All these questions and more are pertinent here.
Location History: What kind of business last used this location? Does this location have a specific history that the people have tagged? The reputation of the location, whether good or bad, will affect your brand significantly.
Competition: If no competitor in your industry is setting up a shop in that area, that could be a negative sign. But then, it can be a newly discovered opportunity too. It all boils down to whether or not you feel there is good business in the location. Nothing beats doing your market research
4. Apply for restaurant licenses and permits
You will need to acquire the necessary documents and apply for restaurant licenses and permits before you start operations. The application cost and process for these licenses differ with states or locations. And you should know that while some licenses are general, such as business licenses, others are based on your restaurant's niche, e.g., liquor license.
It is advisable to start these application processes very early in the business to avoid hitches. You can submit applications for licenses and permits such as Employee Identification Number, Certificate of Occupancy, Sign Permit, Food Service License, etc.
Notable among these permits are the Health Department Permits. These permits are to approve your restaurant as having passed the operational safety and edible safety requirements.
Also, remember to obtain restaurant insurance alongside the permits. They will protect your business long-term. Here are some you should consider — general insurance, life insurance, liquor liability, fire insurance, food contamination, or poisoning insurance.
5. Register your business
In case you have a business name in mind, file your "doing business as" (DBA) name with your state's agency. It will help you to avoid another business taking on that name before you start a full-blown business operation. Once you have sorted this out, the next stage is to seek the counsel of a business attorney to know which kind of business type to go for. There is sole proprietorship, partnership and corporation (C-corporation and S-corporation), and limited liability company.
Sole Proprietorship: If you are operating a pop-up restaurant, this is an excellent option. It involves being the sole owner of the restaurant. And this means that you will be responsible for any assets and liabilities that come with it.
Partnership: This is where two or more partners own the business. This partnership could be a joint venture, limited partnership, or general partnership. If you opt for this, make sure you go into it with a signed contract detailing each person's roles and liabilities.
Corporation: This could be C-corporation or S-corporation. Setting up your restaurant as a corporation means it would have a board of directors and officers. And the implication is that the tax filings and paperwork are a bit more complex. Also, note that most attorneys will advise this option.
6. Invest in the right tools and technology for your restaurant
Orderific's Restaurant Technology Report notes that 95% of restaurateurs think technology makes business more efficient. Thus, you will need to see beyond taking down customers' orders with a pen and notepad. COVID is a testament that a restaurant that fails to leverage technology will soon be out of business.
Hence, a restaurant that is just starting should look into investing in the following:
A virtual restaurant with a point-of-sale system.
Kitchen display screens
Report tracking and analytics for the restaurants
A cloud-based inventory management program
Cloud-based payroll solution software
A loyalty rewards system
Contactless payment and POS System
7. Create an amazing restaurant menu and beverage program
The menu selection is one of a restaurant's selling points. Therefore, you must carefully select all items on the list. Otherwise, customer retention will prove difficult. You cannot do it alone. With your head chef and chief mixologist/bar administrator, carefully curate the items to be on the menu list that will give the people a wonderful experience, both food and drinks.
With Orderific Digital Menu you can put eye catching images or videos so your clients can see what they order directly from their phones. This is a new way of menus instead of the traditional ones that only display the items. With digital menus you can do so much more, they allow order and pay features, tailored digital marketing through your clientele data , decrease labour cots etc
This stage is where price comparison comes in. To set the right price for each item, you must have researched what similar items cost in other restaurants. However, this will largely depend on the add-ons on these dishes to determine how to peg the price. By the way, these extras are a way of making your menu stand out. In creating the menu, you will ask yourself how you could make your dishes more special. How can you make your cocktails taste better than other competitors' drinks? What 'special sauce' can you add? What new recipe will you try out?
Interestingly, many think that setting a restaurant menu is a simple job. However, quite honestly, it could be an arduous task to set that perfect menu. And that goes right from meal choice and its selling price to design and menu item placement.
8. Hire the right staff
You may get all the tips mentioned above right. But if you hire the wrong staff, it is all a matter of time before all you have sweated to build comes down, crumbling. Why? Because your staff members are your restaurant's primary brand ambassadors. What they say/represent about the brand is what your customers believe. And it matters what people think about your business. A team of competent and excellent staff will give customers a great dining room experience.
First, ensure that your restaurant is a great place to work to attract and retain the right talents to work for you. Then, in your search for a chef, waiters, bar attendants, etc., consider family and friends who can recommend folks to help build a strong and beautiful culture in your restaurant.
9. Create a marketing plan
Finally, it is time to get the news about your restaurant out there. You have worked for this moment. And it has finally come. This is the stage where you aggressively engage with your target audience. And how do you do this? By creating a marketing plan. This plan details your roadmap to draw customers to your restaurant business.
You can go via social media marketing, email marketing campaigns, radio channels, television, digital pop-up ads, and even print. All channels are welcome when opening a restaurant. There is no one-size-fits-all approach to this. It all depends on the best platform through which you can reach out to people and get the most consistent feedback.
Conclusion
Basically, your business ship is about to sail. All that is left at this point is the opening of your restaurant. This is a testament to the fact that your efforts were worth it and that you have employed the tips provided in this piece. Now, whether soft or grand opening, whatever works for you is fine. Just make sure you do this; have fun while at it!
FAQs
How much money should you have to open a small restaurant?
The amount of money needed to open a small restaurant can vary widely, but a rough estimate could range from $50,000 to $500,000 or more, depending on location, size, and concept.
How much is a food license in NY?
The cost of a food license in New York can vary based on the type and size of the establishment. It's advisable to contact the local health department for specific pricing information.
What items do you need to run a restaurant?
To run a restaurant, you'll need essential items like kitchen equipment, permits and licenses, ingredients, a location, staff, and a well-thought-out business plan.
How profitable is running a restaurant?
The profitability of running a restaurant varies significantly and depends on factors such as location, concept, efficiency, and competition.
How do restaurants make enough money?
Restaurants make money through a combination of factors, including sales, cost management, menu pricing, efficient operations, and marketing efforts to attract and retain customers.