The vibrant, bustling world of food trucks captures our hearts and stomachs. From the tantalizing aromas of grilling burgers wafting through the air to the visual feast of colorful trucks, there's an irresistible charm in this mobile business. But beneath the sizzling excitement lies a unique set of operational challenges. Managing inventory, weather uncertainties, parking issues, and field service are just a few hurdles. And, of course, the ever-present need for digital transformation. Yes, this culinary adventure on wheels is sometimes more breezy than it appears. But fear not! In the spirit of enterprise mobility, we are here to explore these challenges and offer practical solutions. Let's drive through the journey of a food truck operator and discover how they can turn challenges into succulent success stories. Buckle up; it's going to be a delicious ride!
What is Food Truck Operations?
Just imagine stumbling upon a vibrant food truck festival. The air is thick with the tantalizing aromas of sizzling burgers, fresh tacos, and gourmet cupcakes baked on the spot. Vibrant food trucks, each painted with dazzling artwork, line the streets like pop-up restaurants on wheels. This is food truck operations at its most enticing.
But there's more than meets the eye. Behind the culinary spectacle, there is a labyrinth of logistics, planning, and business savvy that keeps these mobile kitchens rolling. They grapple with inventory management, ensuring that sufficient stock is on hand to meet customer expectations without wastage. Field service technicians work diligently, maintaining kitchen equipment to ensure the show continues.
Squaring off against weather uncertainties, food truck operators adapt on the fly, constantly tweaking menus and adjusting schedules. Also, they're jockeying for prime parking spots, adding a dash of strategy to the mix. Then there's the digital aspect—embracing mobile app development for online orders, leveraging social media for marketing, and enhancing the user experience.
However, these operational challenges don't dampen the spirit of these mobile entrepreneurs. They use the power of digital transformation and enterprise mobility to turn these trials into triumphs. With the right mix of mobile solutions and business processes, they keep the wheels of their business turning, delivering delicious food and customer satisfaction from one location to the next.
Indeed, the life of a food truck operator is a unique blend of culinary artistry and operational efficiency. It's a flavorful journey, peppered with challenges but seasoned with solutions and a hefty dose of resilience.
Operational Challenges Aspiring Food Truck Owners Need To Overcome
An aspiring food truck owner's journey is akin to preparing a complex dish from an eclectic recipe. The ingredients? A blend of enterprise mobility, operational efficiency, and culinary artistry. The cooking instructions? Well, they are more complex than one might hope. Let's delve into some of the key operational challenges these mobile culinary entrepreneurs face and examine the recipe for overcoming them.
Finding the Perfect Parking Spot for Your Food Truck
Picture this: a bustling cityscape filled with the hustle and bustle of urban life. Food trucks are a familiar sight in this lively tableau. However, finding the perfect parking spot— that's a unique operational challenge in itself. The location often determines the course of the mobile business for the day. And so, the seemingly simple act of parking becomes a strategic game.
Food truck operators must think on their feet, constantly adjusting plans based on variables like foot traffic, local ordinances, and even the weather. Prime parking spots are coveted real estate in the urban jungle, each a potential goldmine for the enterprising food truck owner.
Gaining that competitive advantage involves balancing city regulations and timing it right to snag the spot. Mobile app development steps here, offering innovative solutions to help these field workers. Some apps provide real-time information on available spots, significantly reducing search times and enhancing operational efficiency.
The quest for the perfect parking spot is a daily enterprise mobility challenge. Yet, with the right mix of strategy, digital solutions, and a dash of luck, food truck owners navigate this obstacle. This daily dance of logistics is yet another ingredient in the tantalizing recipe of food truck operations. It is a challenging endeavor, indeed, but one that adds to the dynamic life of a food truck operator, ensuring every day brings a fresh, exciting serving of success.
Managing Equipment & Maintenance
Like a well-oiled machine, a food truck's success hinges on its equipment. Imagine a day in the life of a food truck operator. The smell of fresh doughnuts frying, the sizzle of hamburgers on the grill, and the whir of the espresso machine brewing the perfect cup of coffee. These sounds are music to their ears, signs of a business in full swing. But what happens when the melody goes off-key?
Suddenly, the fryer refuses to heat, or the coffee machine splutters to a halt. It's like a symphony interrupted. These equipment failures can turn a thriving business day into a logistical nightmare. Therefore, managing equipment and ensuring regular maintenance is paramount.
Field service technicians become heroes in these situations, swooping to repair faulty appliances. With an optimized field service management system, these tech wizards can promptly address issues, reducing downtime. Meanwhile, mobile applications offer a lifeline, enabling operators to schedule regular maintenance checks, manage work orders, and monitor equipment performance.
Moreover, adopting a proactive approach to maintenance can significantly enhance operational efficiency. It's much like taking regular health check-ups to prevent severe illnesses. Indeed, the key to overcoming this challenge lies in the blend of an efficient field service team, the use of mobile technology, and a proactive mindset.
Ultimately, a well-maintained food truck keeps the culinary symphony playing, delighting customers with its tempting offerings. This is the sweet taste of operational success in the mobile business world.
Feeding Seasonal Appetites
Seasonal menu changes are as much a delight as they are a challenge. They cater to changing customer expectations but also demand careful inventory management. Too much stock can lead to wastage, and too little can lead to lost sales. A practical solution combines a mobile app for tracking inventory, a robust supply chain, and keen business acumen. Knowing what to serve and when to serve it is an art mastered by successful food truck operators who've conquered this operational challenge.
In the world of food truck operations, challenges are opportunities in disguise. With the right mobile solutions, strategic thinking, and a sprinkling of digital transformation, these operational challenges can be turned into success stories. After all, every hurdle overcome is a step closer to the sweet (or savory) taste of success in this vibrant mobile business.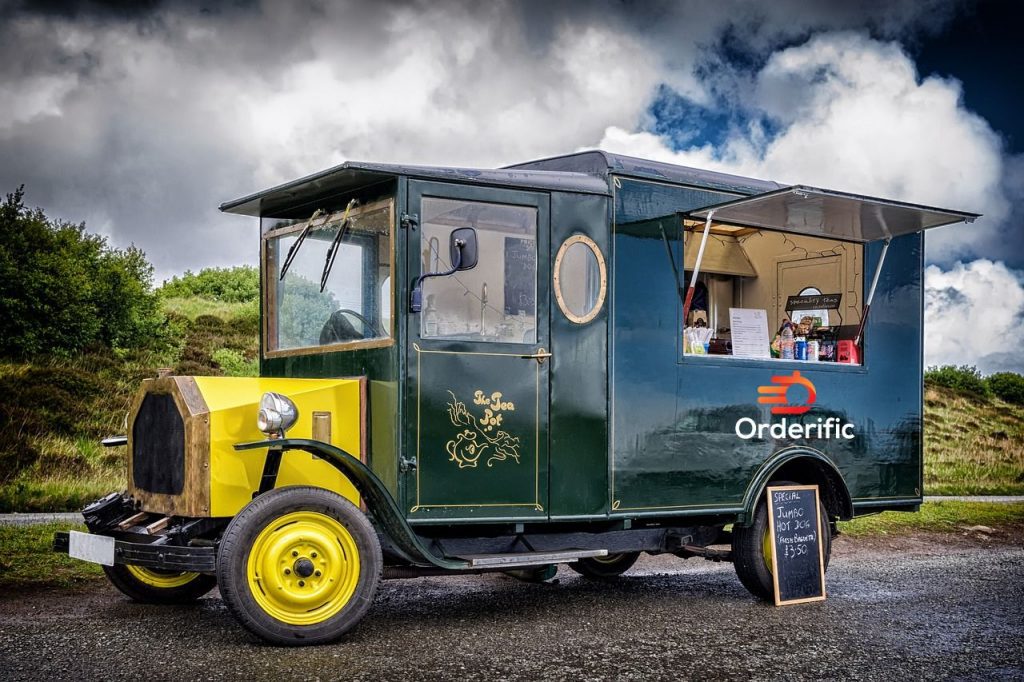 Tackling Food Truck Challenges Like a Pro
Masterfully navigating customer expectations is a culinary dance for a food truck operator. Each day brings a new rhythm, a fresh beat to which they must adapt. Customers are the heart of this mobile business; their tastes are ever-changing, and their satisfaction is paramount.
Imagine the first taste of a piping hot taco, the crunch of fresh vegetables mixing with perfectly seasoned meat. The symphony of flavors is a direct result of careful attention to customer preferences. But meeting customer expectations isn't just about the food. It's also about the customer experience.
Customer service smoothly intertwines with culinary artistry in this dance. A cheerful greeting, quick service, and a genuine thank you can turn a meal into an experience. An experience that lures customers back again and again.
In the whirlwind of operations management, mobile solutions are the food truck owner's lifeline. Mobile apps can track customer feedback in real time, providing invaluable data for improving service. They can also enhance the user experience with easy ordering and prompt customer support.
Digital transformation is not just a buzzword here. It's a tool, a key ingredient in this recipe for success in the mobile business world. It transforms customer feedback into actionable insights, shaping the menu, service, and overall operations.
In the end, meeting customer expectations is like preparing a gourmet meal. It blends quality ingredients, careful preparation, and a dash of love. And when executed well, it results in a culinary experience that delights the senses and warms the heart.
Besides Operational: Other Challenges in the Food Truck Business
Beyond the operational realm, food trucks face an array of other challenges. Each day is a new journey, a road filled with twists, turns, and unexpected bumps. Amidst the lively chaos of food orders and customer interactions, these mobile businesses face many hidden tests.
Navigating Regulatory Red Tape: The colorful world of food trucks is entwined with a web of regulations. From health codes to city permits, it's a complex dance with authorities.
Weather Woes: Rain or shine, food trucks must operate. Yet, adverse weather can dampen customer turnout, adding a dash of unpredictability to the mix.
Budget Balancing: Operating within tight budgets is a constant challenge. Unexpected expenses, be it equipment repair or a sudden price hike in ingredients, can tip the scales.
Employee Retention: The fast-paced, high-pressure environment can lead to high employee turnover. Keeping morale high and maintaining a stable team is a challenging task.
Intense Competition: The food truck industry is a simmering pot of competition. Offering unique culinary experiences to stand out is a relentless test.
Digital Presence: In today's digital era, maintaining an active online presence is crucial. But finding the time and resources for effective social media marketing takes a lot of work.
In the face of these challenges, food truck operators emerge as culinary warriors. The sizzling world of food trucks is more than mobile kitchens on wheels. It's a fierce battlefield where resilience, creativity, and adaptability reign supreme.
Each challenge faced adds a unique flavor to their journey, enhancing the savory taste of success. Through every hurdle, operators prove that the food truck business, much like their delectable dishes, results from the perfect blend of passion, perseverance, and undeniable grit.
Conclusion
In conclusion, food truck operators artfully navigate a gastronomic course with operational challenges. They employ innovative mobile solutions, transforming their mobile business into a ballet of efficiency and creativity. Their journey, much like the tantalizing dishes they serve, is a testament to resilience, adaptability, and a knack for finding solutions amidst adversity. Each overcome hurdle adds a unique flavor to their success story, a savory taste to their entrepreneurial journey. Orderific is a trusted partner in this journey, streamlining operations and enhancing customer experience. For food truck operators looking to tackle operational challenges and drive their business to new heights, Orderific offers a lifeline. For more information on how Orderific can help your food truck business, schedule a FREE DEMO today.
FAQs
What are several operational obstacles to the food truck business?
Operational obstacles include finding optimal locations, managing equipment, seasonal menu changes, and meeting fluctuating customer expectations.
What is unique about food truck operations?
Food truck operations are unique due to their mobility, need for strategic parking locations, and dynamic customer interaction.
What are the 3 operational disadvantages of a food truck business?
Three operational disadvantages are limited space, unpredictable weather, and continual location-dependent customer acquisition.
What are five reasons that food trucks' operational fail?
Five reasons for operational failure in food trucks are equipment breakdown, poor location choice, uncontrolled inventory, ineffective marketing, and high employee turnover.