Embark on a culinary journey with the classic Panzanella Salad, a true epitome of Tuscan cuisine. Unfold the enchanting saga of flavors, where ripe, juicy tomatoes intertwine with hand-torn, crusty bread. Each bite, cradling the freshness of summer, will transport you to sun-kissed Italian vineyards. Savor the crunch of bread cubes, toasted to perfection, complemented by the punchy kick of red onion. Fresh basil leaves add an aromatic whisper, while a generous drizzle of extra virgin olive oil binds the salad together. This salad is a symphony of simplicity and taste mixed with a splash of red wine vinegar. Experience the perfect balance of textures, from the softness of heirloom tomatoes to the robustness of sourdough bread. Welcome to the delightful world of Panzanella Salad, a delicious dance of ingredients under the Tuscan sun.
Dry Bread Versus Stale Bread: Which is Better in Panzanella Salad?
When crafting the perfect Panzanella Salad, a pivotal question arises: dry or stale bread? Let's venture into this enticing debate. Dry bread, often toasted golden, imparts a delightful crunch to the salad. It stands its ground, resisting the onslaught of tomato juice, and yet, it graciously absorbs just enough to add flavor.
On the contrary, stale bread—its exterior hardened over time—possesses an inherent ability to soak up the tangy essence of vinegar and the rich juice of ripe tomatoes. Its transformation into a piece of bread laden with flavor while retaining a certain chewiness is magical.
Both the bread types have their distinct charm. It's a personal preference, like choosing between heirloom and cherry tomatoes. The final choice is yours.
However, stale bread wins if your palate leans toward a softer texture. But if you crave a bit of crunch in each bite, then toasted, dry bread is your answer.
Ultimately, the heart of a Panzanella Salad lies in its balance. The symphony of juicy tomatoes, punchy red onions, and warm olive oil, all bound together by the comforting embrace of bread. The bread adds a unique note to this Italian melody, whether dry or stale.
So, what will it be for your next Panzanella Salad? Dry bread or stale bread? Each brings its melody to this Tuscan song, creating a flavor harmony that dances on your tongue.
Salting the Tomatoes Intensifies the Flavor of Panzanella
Salting tomatoes, a simple yet transformative step, deeply enhances the flavor profile of a Panzanella Salad. Imagine the humble tomato. Its glossy skin is taut and complete, a capsule of untapped potential. A sprinkle of salt is all it takes. Suddenly, the tomato awakens, its flavors amplified.
A beautiful process begins as the salt crystals land gently on the tomato. The crystals burrow into the ripe flesh, drawn in by the tomato's inherent moisture. This is osmosis in action. The tomato's juices start to seep out, creating a concentrated pool of flavor. These juices will later blend harmoniously with the olive oil, vinegar, and infused bread.
Now picture a slice of juicy, salted tomato nestled against crunchy, toasted bread. Each bite is an explosion of flavors. The sweetness of the ripe tomato, the tangy hint of vinegar, the earthy notes of olive oil, and the comforting warmth of the bread. All tied together by the gentle undercurrent of salt. A melody that sings of the Tuscan sun and the simple pleasures of life.
This isn't merely a salad. It's a dance of elements, a celebration of nature's bounty. It's the essence of Italian cuisine captured in a single dish. The Panzanella Salad – is made not only with fresh ingredients but also with love and tradition.
So, the next time you make a Panzanella Salad, remember to salt your tomatoes. It's a small step that makes a difference, turning a good salad into an unforgettable one. It's your chance to craft a salad that doesn't just satisfy hunger but also delights the senses.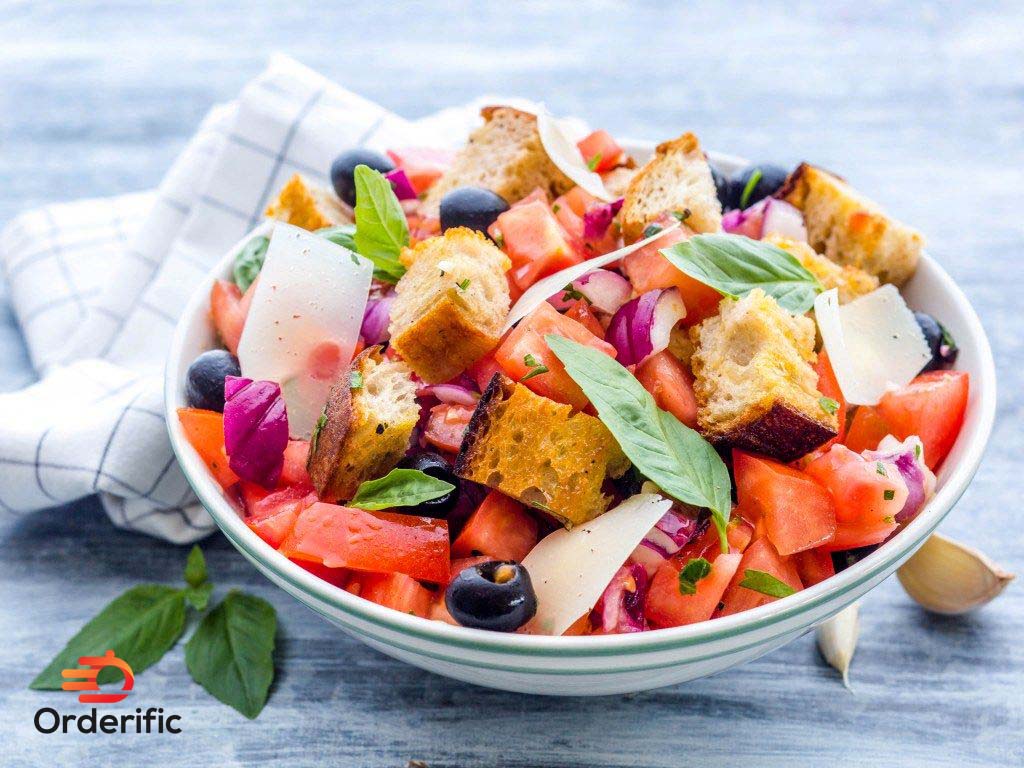 Addressing a Dressing: Making the Vinaigrette for Panzanella
Creating the vinaigrette for Panzanella transforms the kitchen into a symphony of fragrances. The air fills with the tangy aroma of vinegar, mingling with the earthy scent of extra virgin olive oil. This sensation, captivating the senses, lays the foundation for the Panzanella adventure.
To make the dressing, follow these simple steps:
Start with a base of red wine vinegar. Its vibrant acidity pairs perfectly with the juicy tomatoes, teasing their sweetness.
Next, whisk in high-quality extra virgin olive oil. Its rich, fruity flavor adds depth and complexity to the vinaigrette.
Add in finely chopped fresh basil for an aromatic touch. Its pungent notes offset the heaviness of olive oil, bringing a refreshing lift.
A little sprinkle of salt and pepper is all it takes to balance the flavors perfectly. These humble seasonings work their magic subtly, enhancing without overpowering.
As these ingredients blend, something remarkable happens. The dressing morphs from a mix of distinct elements into a harmonious blend. Each component, from the tangy vinegar to the robust olive oil, contributes its unique character, creating an explosion of flavor.
The Panzanella dressing isn't just a component of the salad. It's the heart and soul of the dish. The thread weaves the various ingredients together, creating a vibrant tapestry of taste. From the crunchy bread cubes absorbing the dressing's essence to the ripe tomato slices bathed in flavor, each element bears the imprint of this delectable vinaigrette.
Crafting this dressing is a joy. It's a sensory journey that transports you to the sun-soaked Tuscan countryside, where the Panzanella Salad has its roots. So, go ahead and create your vinaigrette. Embrace the delightful dance of flavors. After all, every great salad deserves a memorable dressing.
Conclusion
The journey through our Classic Panzanella Salad recipe ends here. Yet, the delightful dance of flavors, from ripe tomatoes to crusty bread, continues to swirl in your mind. This vibrant Panzanella Salad, a beautiful medley of fresh ingredients, is more than a dish—it's a sensory experience. It evokes images of sun-drenched Tuscan landscapes and teases the palate with its sweet-and-tangy symphony. Now, it's your turn to re-create this Italian melody in your kitchen. Remember, whether you prefer stale bread or dry, the balance of flavors makes this salad a masterpiece. And one more thing, for a seamless cooking experience, trust Orderific. From automating tasks to customizing customer experiences, Orderific makes life easier for restaurant owners and customers. For more information on Orderific, schedule a FREE DEMO today. Happy cooking!
FAQs
What are the main components of a classic Panzanella salad?
The main components of a Panzanella salad are ripe tomatoes, crusty bread, fresh basil, red onions, and a vinaigrette dressing.
How does the combination of bread and fresh ingredients create a unique texture?
The mix of crusty bread with fresh ingredients offers a delightful contrast, balancing crunchiness with the juiciness of ripe tomatoes.
What dressing is commonly used for Panzanella salad?
The commonly used dressing for Panzanella salad is a vinaigrette made of red wine vinegar and extra virgin olive oil.
What variations of Panzanella salad incorporate seasonal ingredients?
Seasonal variations of Panzanella salad often incorporate fresh summer peaches, autumnal squash, or crisp spring asparagus.