Welcome, y'all, to the ultimate guide to Party Fowl, your go-to spot for Tennesse's signature dish—hot chicken with 5 different locations and one in Florida. This ain't just your regular chicken joint; this is where the heat meets the beat, where Southern fried gets a spicy twist, and where your taste buds embark on a flavor roller coaster like no other "Party Fowl Nashville".
At Party Fowl, they're not just about fiery fowl. They're also home to Nashville's and Tennessee's infamous boozy slushies. That's right! You can cool down from their hot chicken with a frosty, flavor-packed slushie that's not just for the kids. So get ready to spice up your life and chill out in the heart of Music City. We're here to show you how.
The History of Hot Chicken in Nashville
Specializing in the culinary delight of Nashville Hot Chicken, locally crafted beers, Boozy Slushies, and an exceptional Brunch menu, Party Fowl invites patrons to savor a truly unique dining experience across all six of our vibrant locations. Under the culinary guidance of Executive Chef Bart Pickens, their menu boasts an array of tantalizing hot chicken dishes, ranging from the mild Southern Fried to the blazing "Poultrygeist," along with imaginative reinterpretations of beloved classics. At Party Fowl, you can also relish local draft beers and indulge in our original Boozy Slushies.
Founded by proprietors Austin Smith and Nick Jacobson, their restaurant was born from the vision of uniting the finest elements of Nashville within a single establishment—melding exquisite cuisine, exceptional libations, and an unforgettable atmosphere. Situated in the heart of Downtown Nashville, Donelson, Cool Springs, Murfreesboro, Chattanooga, and most recently, Destin, FL, Party Fowl is always within reach, beckoning you to join the celebration.
Party Fowl's Signature Hot Chicken Dishes
At Party Fowl, every hot chicken dish is a culinary masterpiece, blending tradition with innovation. One surefire crowd-pleaser is the "Nashville Hot," an ode to the city's classic recipe—crispy fried chicken drenched in a fiery cayenne-based sauce, served atop slices of white bread to soak up the heat. If you're a heat seeker with a sweet tooth, the Pepper Jelly Glazed Tenders are a perfect harmony of spicy and sweet. So, each tender is glazed in a homemade pepper jelly that adds a satisfying kick and pairs perfectly with the creaminess of the ranch dip.
For those looking for a crunch in their munch, the "Chicken B&B" is a must-try, featuring a buttermilk battered chicken breast served on a bed of bourbon-glazed beignets. Feeling adventurous? Dare to tackle the "Poultrygeist," a dish that brings the heat to a whole new level. Coated in Ghost Pepper-infused oil, it's sure to test even the most seasoned spice veterans.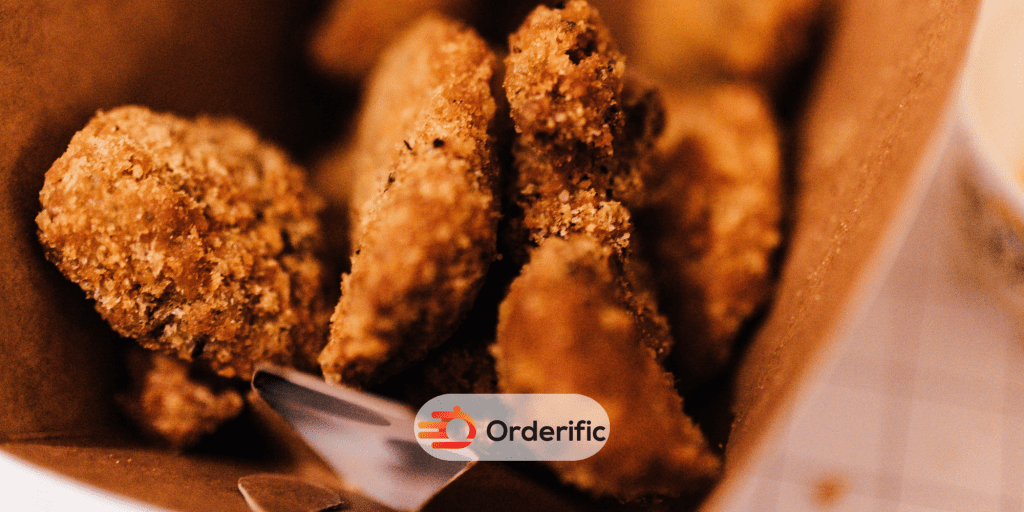 How to Pair Boozy Slushies with Your Meal
As the saying goes, "Spice up your life and chill out" at Party Fowl. And what better way to cool down from the heat of hot chicken than with one of their famous boozy slushies? But how do you know which slushie to pair with your meal? Well, we've got some tips for you.
If you're going for a mild hot chicken dish, like the Southern Fried, opt for a fruity slushie like the Cherry Limeade or Peach Bellini. So, these flavors will complement the savory and crispy chicken without overpowering it. For a medium heat option, try the Mango Habanero Slushie—sweet and spicy in perfect harmony.
Party Fowl's Brunch and Happy Hour Specials
Party Fowl is not just for dinner; their brunch and happy hour specials are also worth a visit. Stop by for their "Nashville Hot" Bloody Mary served with a chicken tender, deviled egg, and pickles and topped off with Party Fowl's signature hot chicken spice blend—a meal in itself! For those who love something sweet for breakfast, try the Hot Chicken and Waffles, with crispy chicken tenders sandwiched between two fluffy waffles and drizzled with maple syrup. And of course, don't forget to pair it with a boozy slushie or one of their brunch cocktails.
During happy hour (Mon-Thurs 3 PM-7 PM), you can enjoy discounted drinks and appetizers, like their famous Pimento Cheese Dip or Hot Chicken Nachos. And, their Weekend Brunch times are Friday, Saturday. & Sunday til 2 PM. Plus, you can't go wrong with a half-priced boozy slushie to cool down from the hot chicken.
Private Event and Catering Options at Party Fowl
Looking to host a special event or party? Party Fowl Nashville offers private event spaces across its locations, perfect for anything from intimate gatherings to large group celebrations. Each location boasts unique aesthetics and a lively atmosphere, ensuring your guests have an unforgettable experience. They offer a range of event packages, customizable to your needs, with tempting food and drink options that go beyond their famous hot chicken.
What's more, Party Fowl also offers extensive catering services, bringing the heat straight to your event! Whether it's for a corporate event, a festive family gathering, or a casual get-together, their catering menu features all of their signature dishes, including hot chicken, boozy slushies, and other Southern delicacies. They ensure every detail is taken care of, so you can sit back, relax, and enjoy your event while they handle the rest.
Conclusion
Party Fowl Nashville is more than just a hot chicken joint—it's a celebration of Nashville's vibrant culture, spirited flavors, and southern charm. Whether you're a local or a visitor wanting to experience authentic Nashville hot chicken, or you're looking to unwind with a refreshing boozy slushie, this is the place to be. From their extensive menu to their lively atmosphere and top-notch service, it's no wonder why Party Fowl has become a go-to spot for food lovers in and around Nashville.
So, next time you find yourself in Music City, don't forget to stop by Party Fowl. Savor the heat of their hot chicken, chill out with their boozy slushies, and enjoy the southern hospitality that they're known for. Party Fowl is not only a restaurant—it's an experience, a celebration, and most importantly, a party for your taste buds. So, we hope this guide has given you a glimpse of what to expect and we can't wait for you to join the party!
Click here for more flavorful and informative advice with Orderific. To start experiencing the great benefits Orderific can bring to your business, click here now. Try Orderific!
FAQs
What is Party Fowl known for?
Party Fowl is renowned for its signature hot chicken dishes and boozy slushies. They also offer an exceptional brunch menu, making it a go-to spot for all-day dining.
What is hot chicken and how spicy?
Hot chicken is a Nashville specialty dish that is fried and coated with a spicy cayenne-based sauce. The level of spiciness can vary, but it typically ranges from mild to extremely hot.
What are the boozy slushie flavors?
Party Fowl offers a variety of boozy slushie flavors, including Cherry Limeade, Peach Bellini, Mango Habanero, and more.
Does Party Fowl offer catering services?
Of course, Party Fowl offers extensive catering services for events of all sizes, featuring their signature hot chicken dishes and boozy slushies.
Does Party Fowl offer vegetarian options?
Yes, Party Fowl caters to vegetarians as well. They have a variety of vegetarian dishes on their menu.