Pomodoro sauce is an essential component of Italian cuisine. Not only is it the base for some of Italy's most beloved dishes, but it also allows chefs to express their creativity and individual tastes. 
This article will provide readers with an in-depth exploration of the history, composition, and uses of Pomodoro sauce. We'll discuss how to make it from scratch, as well as explore different variations that can be created to delight diners at your next meal. 
But what exactly is it? How do you make it? And how can you incorporate this classic Italian ingredient into your cooking? In this article, we'll answer all of these questions and more.
What is Pomodoro Sauce?
At the most basic level, Pomodoro sauce is a tomato-based sauce. However, there's much more to it than just that. It typically includes garlic, onions, capers, and oregano as well as other herbs and spices depending on the recipe. You can think this sauce as the best tomato sauce and the best pasta sauce or a delicious marinara sauce.
This sauce also includes olive oil, which adds richness to the flavor and helps to bring out the other ingredients. Pomodoro is usually served over pasta, but it can be used in many other dishes as well, such as pizza and eggplant parmesan.
History of Pomodoro Sauce
The origins of Pomodoro sauce are debatable. Some claim that it was created by Italian immigrants in the early 20th century, while others argue that it has roots in ancient Roman recipes. No matter the exact source, it has been a staple of Italian cuisine for centuries.
It's believed that the name "Pomodoro" comes from the Italian word for tomato. This makes sense, as tomato is by far the most important ingredient in this versatile sauce.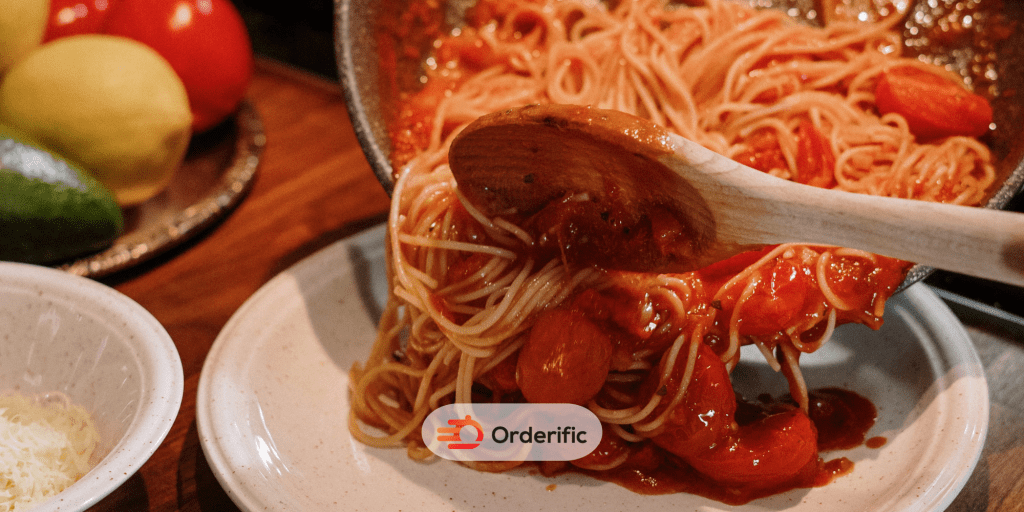 Using Pomodoro Sauce in Italian Cooking
It is incredibly versatile and can be used in a variety of Italian dishes. For instance, it can be used as a topping for pizza or served over pasta with meatballs. It's also great in lasagna and eggplant parmesan.
You can even use it as a base for other sauces, such as puttanesca or arrabbiata. This way, you can create interesting flavor combinations and add a unique twist to classic Italian recipes.
1. Classic Italian Dishes That Use Pomodoro Sauce
Spaghetti Pomodoro: A traditional dish where spaghetti noodles are tossed in a simple Pomodoro sauce and topped with grated Parmesan cheese.
Eggplant Parmesan: A classic Italian dish that combines fried eggplant slices, pomodoro sauce, and melted mozzarella cheese.
Lasagna: A layered dish with alternating layers of pasta, pomodoro sauce, and cheese.
Pizza: The classic Italian pizza is often topped with a layer of Pomodoro sauce for added flavor.
2. Pairing Pomodoro Sauce with Different Types of Pasta
It pairs especially well with certain types of pasta, such as penne or linguine. You can also experiment with different shapes to achieve a variety of textures and flavors. For instance, pomodoro is often served over ziti for added creaminess, while it's also delicious with spaghetti noodles for a more classic Italian flavor.
3. Incorporating Pomodoro Sauce into Meat and Seafood Dishes
Pomodoro sauce isn't just for pasta dishes. It can also be incorporated into a variety of meat and seafood dishes. For example, it's great as a topping for grilled chicken or fish, and you can even use it to create flavorful sauce for pork chops, Italian sausage or steaks.
Making Pomodoro Sauce at Home
Making it at home is surprisingly easy—all you need are a few simple ingredients and some basic kitchen equipment. Here's what you'll need:
Extra virgin olive oil
Yellow onion
Minced garlic
Chopped tomato (canned or fresh)
Fresh basil leaves
Salt and pepper
Optional ingredient such as capers, olives, or red pepper flakes
Step-by-Step Instructions for Making Pomodoro Sauce
Heat the olive oil in a saucepan over medium heat.
Add the onion, garlic, and fresh basil leaves to the pan and cook until the vegetables become fragrant about 5 minutes.
Add the chopped tomatoes to the pan and season with salt and pepper to taste.
Simmer for 15-20 minutes until the sauce thickens.
Add optional ingredients such as capers, olives, or red pepper flakes and simmer for an additional 5 minutes.
Taste and adjust seasonings if desired.
Serve over your favorite pasta or use it in other dishes as desired.
Tips and Tricks for Achieving the Perfect Texture and Consistency
Making pomodoro sauce is a simple process, but there are still some important tips and tricks to keep in mind for achieving the perfect texture and consistency.
Use low heat when simmering the sauce so that it doesn't scorch or burn.
Taste your sauce throughout the cooking process and adjust seasonings if needed.
If the sauce gets too thick, add a small amount of water or stock to thin it out.
Add herbs and spices such as basil, oregano, and thyme for more flavor.
For a smoother texture, you can use an immersion blender to puree the sauce.
Storing and Freezing Pomodoro Sauce for Later Use
It can easily be stored and frozen for later use. To store, let the sauce cool completely and then transfer it to an airtight container. It will be kept in the refrigerator for up to 5 days.
To freeze, let the sauce cool completely before transferring it to a zip-top freezer bag or container. Label with the date and freeze for up to 3 months. To thaw, transfer the sauce to the refrigerator overnight or defrost it in a microwave.
Pomodoro Sauce in Regional Italian Cuisine
Pomodoro sauce is a classic Italian ingredient, but it's also used in a variety of regional dishes. Around Puglia region of Italy, it is typically served with orecchiette pasta. In Sicily, it's often used to top bruschetta or as part of a tomato and eggplant caponata dish.
In the Veneto region, Pomodoro sauce is often used as a base for Bolognese sauce or as a topping for polenta. And in Tuscany, it's used to make a traditional seafood stew called cacciucco.
Health Benefits and Nutritional Information of Pomodoro Sauce
It is a healthy and flavorful addition to any dish. It's high in vitamins A and C, as well as fiber. Additionally, the olive oil in the sauce provides a good source of monounsaturated fats which can help lower cholesterol levels.
Furthermore, tomato contains lycopene, an antioxidant that has been linked to reducing the risk of certain types of cancers. Because Pomodoro sauce contains many of these beneficial ingredient, it can be an excellent addition to a healthy diet.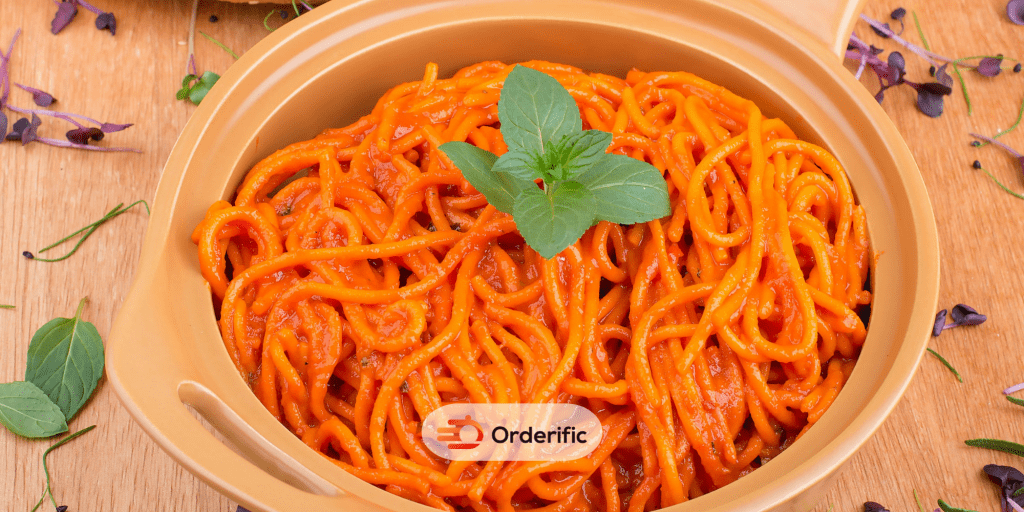 Conclusion
Pomodoro sauce is an essential component of Italian cooking and adds flavor and complexity to many dishes. It's easy to make at home with just a few simple ingredients, and is also incredibly versatile—it can be used as a topping, a base for other sauces, or even incorporated into classic pasta dish like lasagna and eggplant parmesan.
It's also packed with vitamins, minerals, and antioxidants that provide health benefits. So the next time you're in the mood for some Italian comfort food, look no further than Pomodoro sauce!
Delicious content and more here! Are you ready to boost your vision and your business with Orderific? Try Orderific now!
FAQs
What does the term "Pomodoro" mean, and how did the sauce get its name?
The word "Pomodoro" is Italian for tomato, so the sauce gets its name from its primary ingredient.
Is Pomodoro sauce a traditional Italian sauce, or is it a modern invention?
The exact origin of it is debatable, but it's believed to have been created by Italian immigrants in the early 20th century.
What are the key characteristics of Pomodoro sauce, such as its flavor, texture, and aroma?
It has a rich, tomato-based flavor with hints of garlic, basil leaves, and other herbs and spices.
Can Pomodoro sauce be made with fresh or canned tomatoes, or is one type preferred over the other?
Both fresh and canned tomatoes can be used to make it.
Are there any specific types of herbs or spices that are typically used in Pomodoro sauce, such as basil or oregano?
Yes, most of them include herbs such as basil, oregano, and thyme.
How long does it typically take to make Pomodoro sauce from scratch, and is it a time-consuming process?
It usually only takes about 20-30 minutes to make it from scratch, and the process is relatively straightforward.