Introduction
A practical Point of Sale (POS) system is your secret weapon in the bustling world of juice bars. It's not just about processing payments swiftly – a top-tier POS system also delivers essential features like inventory management, online ordering, and customer support. Whether you're a small business owner, managing multiple locations, or operating a popular smoothie bar, you'll find a POS system invaluable. It streamlines everything from managing card reader transactions to updating your juice bar inventory, thus enhancing your customer service. Modern POS systems, like Shopify POS or Lightspeed Retail POS, even extend to mobile POS capabilities, adding a layer of convenience for both business owners and customers. So, dig in as we decode the best POS systems, helping you boost efficiency and pour in profits for your juice bar business.
Why Do Juice Bars Need A POS System?
The significance of a robust POS system for juice bars cannot be understated. Such systems go beyond the basic function of payment processing, extending into realms of comprehensive inventory management, facilitating online ordering, and providing stellar customer support. The best POS systems, like Lightspeed Retail POS or Shopify POS, are designed to meet the unique needs of small businesses. They are endowed with rich features and modern POS systems even offer mobile POS capabilities.
One of the key features of these systems is their capacity to manage inventory seamlessly. For juice bars, this is a critical requirement. It helps keep track of ingredients and supplies, ensuring freshness and availability. Features like these, combined with mobile POS compatibility, make the POS system an integral part of any successful juice bar.
Moreover, the best POS systems intuitively integrate with card readers, enhancing payment processing speed and customer experience. They also support contactless payments using services like Google Pay, enhancing convenience for customers. A POS system proves to be a powerful tool for managing customer loyalty programs, providing insights to business owners for crafting rewarding customer experiences.
Choosing The Right POS System For Your Juice Bar
Selecting an ideal POS system for your juice bar is pivotal to your business success. The best POS system for your needs will offer a harmonious blend of features tailored for a juice bar or small business. Key features, including inventory management, mobile POS capabilities, and customer support, are essential considerations when choosing POS software.
When it comes to the best POS system, Shopify POS and Lightspeed Retail POS rank highly. They offer an array of features, such as seamless payment processing, supporting credit cards, and contactless payments like Google Pay. The POS software of these modern POS systems simplifies the management of diverse juice bar inventory, from fresh fruit to smoothie ingredients, ensuring customer satisfaction through consistent availability.
Moreover, mobile POS systems like Shopify POS extend your sales system beyond traditional POS systems. They allow you to manage your business effectively from anywhere, be it a coffee shop or multiple juice bar locations. This convenience empowers small businesses to focus more on providing excellent customer service and less on the technicalities of payment and inventory.
Features And Functions Of Juice Bar POS Systems
POS systems for juice bars come packed with a variety of features and functions designed to streamline your operations and boost customer satisfaction. Here are some of the key components and benefits:
Inventory Management: Advanced inventory management tools allow for real-time tracking of stock levels, ensuring timely replenishment of supplies and consistent availability of ingredients.
Online Ordering: POS systems like Lightspeed Retail POS and Shopify POS offer online ordering capabilities, making it easy for customers to place orders from the comfort of their homes or on the go.
Mobile POS: The mobile POS feature allows you to conduct business from anywhere. You can process orders, manage inventory, and provide customer support directly from your mobile device.
Customer Support: Top-tier POS systems offer excellent customer support, helping you resolve any technical issues swiftly and keep your operations running smoothly.
Seamless Payments: POS systems integrate with various payment methods, from credit cards to contactless services like Google Pay, enhancing convenience for your customers.
Customer Loyalty Programs: POS systems can aid in creating and managing customer loyalty programs, providing valuable insights to help you craft rewarding customer experiences.
Multi-location Management: For juice bars with multiple locations, a POS system can make it easy to manage inventory and payments across all outlets, ensuring consistent service quality.
These features work together to create a robust and efficient system, helping juice bars optimize their day-to-day operations and elevate customer satisfaction.
Setting Up And Installing Your POS System
Setting up your juice bar POS system can be a straightforward process, depending on the complexity of your operations and the features of your chosen system. Firstly, you need to install the POS software on your devices. Whether you're using a traditional setup with cash drawers and receipt printers or a mobile POS system, it's crucial to ensure compatibility with your devices.
Next, integrate your payment processing methods. This step involves setting up card readers and enabling online payments. Your POS system should support various forms of payments, including credit cards and contactless services like Google Pay.
Additionally, input your inventory into the system. This task can be time-consuming, especially if you have a diverse menu of juices and smoothies. However, it's a critical step in ensuring effective inventory management.
Lastly, train your staff to use the POS system. Even the most intuitive POS systems may require some familiarization. Ensure your team knows how to process payments, manage online orders, and handle customer support queries. Remember, a well-trained team can make the most out of your POS system, enhancing operational efficiency and customer satisfaction.
Staff Training And POS System Integration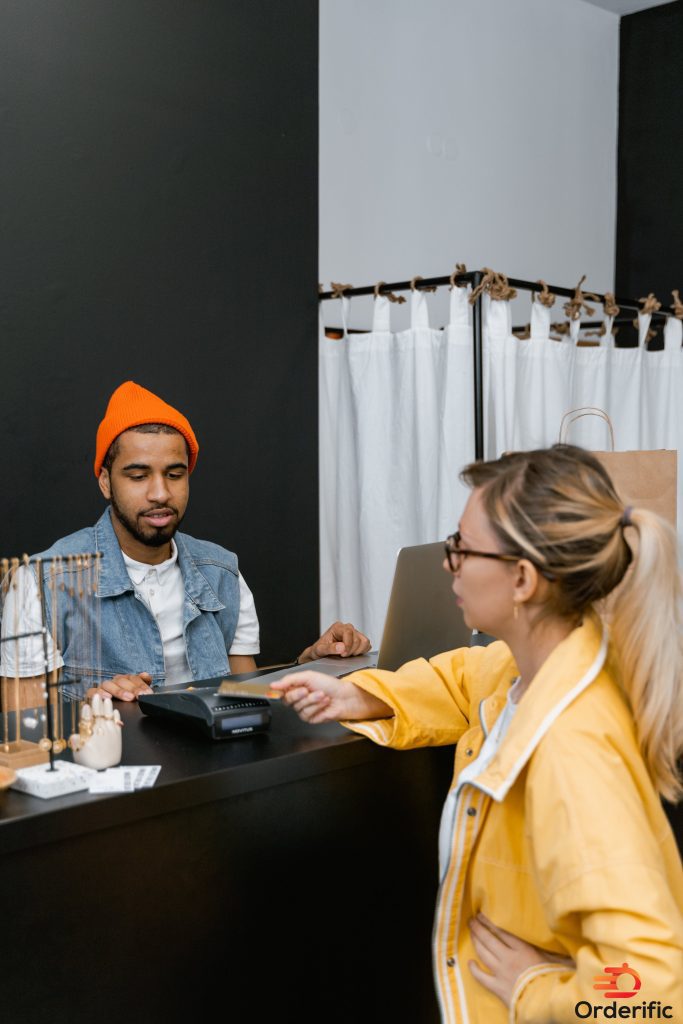 Training your staff and integrating a POS system into your juice bar's operations are critical steps. Your workforce will need to understand how to efficiently handle the software. This includes everything from transaction processing to managing online orders and addressing customer support inquiries. Remember, the ROI on your POS is directly proportional to how effectively your team can use it.
Now, when it comes to integration, your chosen POS should be flexible enough to adapt to your business model. Ensure that it aligns with your existing workflows, be it inventory management, order processing, or customer relations. The ease of integration will largely depend on your business's specific needs and the system's features.
In conclusion, a well-integrated POS, coupled with a trained staff, can significantly enhance your juice bar's operations. It can increase efficiency, improve the overall customer experience, and ultimately, drive your business's success.
Benefits Of Juice Bar POS system
Business Insights And Analysis
POS systems for juice bars offer invaluable business insights and analysis. By tracking sales, customer preferences, and inventory levels, these systems provide data-driven insights that can guide your business decisions. From identifying your best-selling juices to anticipating stock needs, POS equips you with the information you need to enhance operational efficiency, improve customer satisfaction, and ultimately, boost profits.
Express Tablet Billing
Express tablet billing is another notable advantage of juice bar POS. These mobile POS features facilitate efficient order-taking and fast, secure payment processing directly from a tablet device. This mobility not only speeds up the transaction process but also enhances customer service, as it enables staff to assist and bill customers anywhere within the juice bar, reducing waiting times and improving the overall customer experience.
Customer Relationship Management
POS systems for juice bars significantly empower customer relationship management. By tracking customer behavior and preferences, these systems enable you to personalize your offerings and promotions, enhancing customer loyalty and satisfaction. Furthermore, features like customer support and loyalty programs facilitated by the system can help create a memorable customer experience, fostering long-term relationships and repeat visits.
Manage Online Orders
Managing online orders effectively is a significant advantage of using a POS in a juice bar setting. It allows for seamless processing and fulfillment of online orders, making it convenient for customers to enjoy your fresh juices from the comfort of their homes. This feature not only extends your service reach but also fosters customer satisfaction and business growth.
Customized Orders
Customized orders are a unique facet of juice bars, and modern systems readily facilitate this need. They allow customers to tailor their orders according to their tastes and dietary preferences, contributing to a personalized customer experience. With a POS, tracking and preparing these tailored orders becomes a breeze, ensuring customer satisfaction and encouraging repeat business.
Design Combo Packs
Designing combo packs is an exceptional feature provided by POS systems for juice bars. It allows business owners to bundle together popular or complementary items, fostering increased sales and customer satisfaction. The POS makes it effortless to create, manage, and track these combo packs, providing unique opportunities for promotional campaigns and enhancing the overall customer experience.
Inventory And Wastage Management
Effective inventory and wastage management is another crucial benefit of POS systems for juice bars. The advanced features of modern POS systems provide real-time tracking of inventory, ensuring that you are always stocked up on your essential ingredients. This accuracy in inventory management helps in preventing wastage due to overstocking or spoilage. In addition, it streamlines the process of ordering supplies and maintaining optimal inventory levels, crucial for operational efficiency. The POS system can alert you when supplies are running low, allowing timely restocking and ensuring the consistent availability of your popular juices and smoothies. Moreover, by analyzing sales data, the system can help in predicting future inventory needs, enabling you to manage your supply chain proactively and reduce wastage. Ultimately, such effective inventory and wastage management contributes to cost savings and increased profits for your business.
Express KOT
Express Kitchen Order Ticket (KOT) is a noteworthy feature of modern POS systems for juice bars. It allows orders to be instantly relayed from the service counter to the kitchen, ensuring accurate preparations and swift service. This feature eliminates the need for physical order tickets, thus reducing the risk of errors, miscommunications, or lost orders. The digital nature of Express KOT also provides the advantage of real-time updates, allowing staff to keep track of the order status and manage their time effectively. Furthermore, it improves customer experiences by reducing waiting times and ensuring that every order is prepared to the exact specifications. With Express KOT, juice bars can enhance operational efficiency, minimize errors, and increase customer satisfaction, contributing to sustained business growth.
Conclusion
In summary, a well-integrated POS system is an incredible asset for any juice bar. Its multitude of features, ranging from advanced inventory management, online ordering capabilities, and mobile POS, to customer support and loyalty programs, can truly revolutionize your operations. Implementing a system not only streamlines your day-to-day activities but also provides valuable insights to help shape your business decisions. Furthermore, with efficient online order handling and the capacity to facilitate customized orders and combo packs, POS enhances your service, thus driving customer satisfaction and generating repeat business. The benefits of inventory and wastage management, coupled with Express KOT and tablet billing, also contribute significantly to operational efficiency. Ultimately, integrating a POS into your juice bar's operations is an investment that can tremendously boost your business's success.
Now, if this has sparked your interest and you're considering upgrading your juice bar operations with a POS system, Orderific is here to guide you. We invite you to book a demo with us today and explore how our POS solutions can empower your juice bar business.
FAQs
How is a POS system better than cash registers?
A POS system offers more advanced features like inventory management, online ordering, and advanced analytics, which are not available with cash registers.
What is the best POS system for businesses in the USA?
There are several great options, but Lightspeed Retail POS and Shopify POS are highly recommended for businesses in the USA.
How to connect an Android POS app with a cash register?
You can connect an Android POS app with a cash register using a compatible interface or adapter.
How does a POS system activate gift cards?
A POS system can activate gift cards through a dedicated feature that allows you to load and redeem value.