Juice bars offer a refreshing oasis of health and vitality in the post-pandemic world. Imagine walking into an inviting space filled with the vibrant aroma of freshly squeezed fruits and vegetables. The friendly chatter of customers fills the air, creating a lively atmosphere. Behind the counter, smiling employees blend a colorful array of smoothies, their hands expertly navigating the terrain of blenders and juicers. Each glass served is not just a drink but a ray of hope in the post-COVID-19 world – a testament to the resilience of the human spirit. This is more than just a venue for quenching thirst. It's a sanctuary where community, health, and recovery intertwine, symbolizing a brighter, healthier post-pandemic future. Welcome to the new era of juice bars, where every sip is a step towards wellness.
Health and Wellness Emphasis in Post-Pandemic Offerings
In the wake of the global pandemic, juice bars have embraced a renewed emphasis on health and wellness. Walking into these rejuvenated spaces, you're greeted by the tantalizing aroma of fresh fruits and vegetables. They're promptly transformed into vibrant, nutrient-packed juices and smoothies. 
Underneath the hum of the blenders, you can feel the palpable sense of camaraderie. Smiling customers exchange lively conversations, from workers seeking a post-shift boost to health-conscious individuals. It's a community forged by shared recovery and a dedication to wellness.
Each juice served represents a commitment to public health. Ingredients are meticulously chosen to boost immunity and mental health. Think turmeric for its anti-inflammatory properties or blueberries for their brain-boosting antioxidants. In this post-pandemic world, health comes in a variety of delicious flavors.
Meanwhile, juice bar owners and employees are essential to this wellness narrative. Their attentive customer service and intimate knowledge of their products reflect a deep-rooted passion for promoting healthier lifestyles. From the gym owner dropping by for a protein-rich smoothie to the student seeking an energizing fruit juice, every customer leaves with a drink tailored to their needs.
In this post-pandemic landscape, juice bars embody a potent blend of health, community, and recovery. They're more than just venues for delicious refreshments. They're hubs for promoting global health and resilience in a world recovering from Covid-19. It's a testament to the indomitable human spirit, one fresh juice at a time.
Technology Integration for Seamless Customer Experience
Technology has become a crucial ally for juice bars in the new normal. Stepping inside, you're greeted by an environment where technology and tradition coexist harmoniously. Here, the nostalgic hum of classic juicers blends with the contemporary beep of sophisticated POS systems. A simple order transforms into an engaging, personalized experience thanks to the smart use of juice bar management software.
Transitioning from the cashier to the customer display, you experience a seamless flow of information. You watch as your order is swiftly processed, traveling from the sales system to the kitchen display system. Meanwhile, the inventory management system works in the background, ensuring your favorite smoothie is always available.
The digital integration extends beyond the juice bar, enhancing the customer experience on multiple fronts. From the convenience of online ordering to the delight of gaining loyalty program points on your juice bar app, technology amplifies accessibility and customer satisfaction. Even niche features like gift cards are a mere click away.
Simultaneously, juice bar owners enjoy comprehensive control and smooth operations. Technology has streamlined every aspect of running a successful juice bar, from managing multiple locations to processing credit card payments and handling payroll. Even inventory management, a once daunting task, is now simplified with smart systems.
In the post-pandemic era, technology-infused juice bars are more than a trend. They are a testament to resilience, innovation, and the relentless pursuit of customer service excellence. Through a blend of fresh juices and cutting-edge technology, they are redefining the juice bar experience, one sip at a time.
Sustainability Practices in Modern Juice Bar Operations
Indeed, the post-pandemic juice bar scene reflects a broader commitment to sustainability. Entering such a space, one is immediately struck by an environment that exudes mindful living. Behind the counter, employees engage in practices that reduce waste and promote recycling. Meanwhile, patrons savor their fresh, cold-pressed juices, knowing every sip supports sustainable development goals.
The aroma of fresh ingredients fills the air, showcasing the juice bars' dedication to sourcing locally. This supports small businesses and reduces the carbon footprint associated with transportation. In this juice bar, the delightful fruit smoothies don't just taste good; they do good for the local economy and the planet.
Meticulously chosen for their health benefits, ingredients reflect sustainable sourcing practices. Organic produce and ethically sourced items are a mainstay, attesting to the juice bar's commitment to the public and the earth's health. Even the packaging in these juice bars mirrors this commitment, with biodegradable straws and containers becoming the norm.
In this post-pandemic world, these juice bars signify more than just recovery. They are a testament to a collective shift towards sustainability, acknowledging our role in preserving the earth for future generations. The juice bar of the post-pandemic era is not just a beacon of health and wellness. It symbolizes our commitment to sustainable living, one delicious, responsibly sourced juice at a time.
Digital Marketing Strategies for Post-Pandemic Juice Bars
Stepping into the post-pandemic era, juice bars are leveraging the power of digital marketing to reach their customers. The shift towards online platforms has opened a cornucopia of innovative strategies. These methods are revolutionizing how juice bars engage with their audience and promote health and wellness in the digital space.
Social Media Engagement: Juice bars are now just a click away, thanks to the rise of social media. Platforms like Instagram and Facebook have become digital storefronts, showcasing vibrant photos of fresh juices, highlighting health benefits, and hosting live juicing sessions.
Search Engine Optimization (SEO): Smart use of keywords related to health, wellness, and the post-pandemic world has made these juice bars more visible in online searches. SEO strategies are helping juice bars reach a wider audience needing a refreshing, health-boosting treat.
Leveraging Influencer Partnerships: Collaborating with health influencers has become a mainstay for juice bars, driving customer engagement and expanding their reach. A single post from a famous fitness influencer can bring an influx of customers curious to try the recommended smoothie or juice.
Leveraging Local SEO: Juice bars are optimizing their online presence for local searches, making it easy for customers to find them. Whether it's a student in San Francisco craving a post-workout smoothie or a New York worker seeking a healthy midday refresher, local SEO ensures they find their nearest juice bar.
Email Marketing: Regular newsletters update customers on the latest juice bar offerings, send personalized health tips, and maintain a sense of community in the post-pandemic era.
In this digital age, juice bars are more than just physical spaces. They are vibrant online communities promoting health, recovery, and society in the post-pandemic world.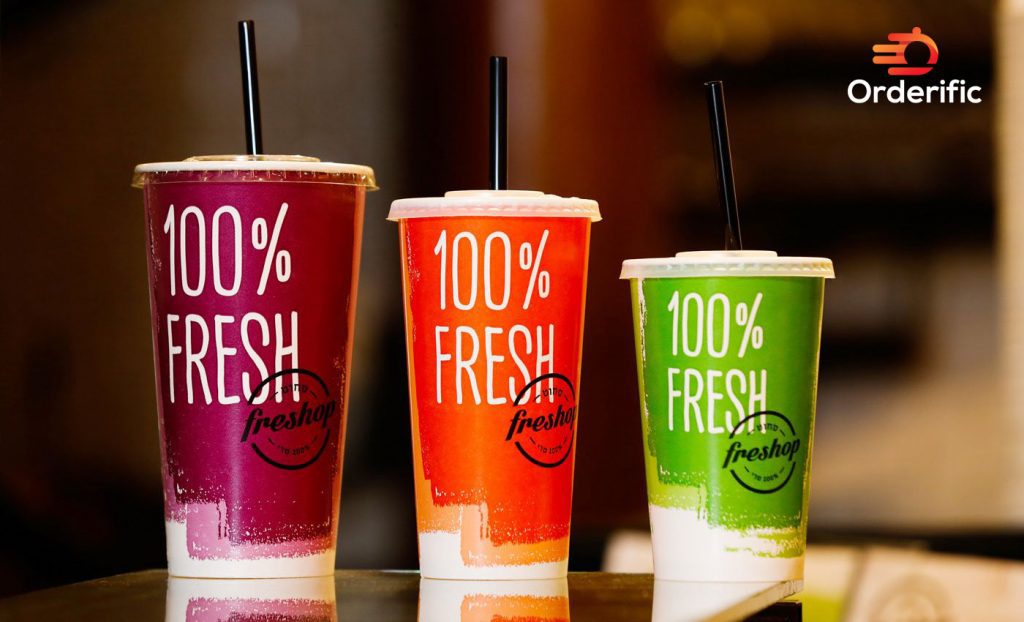 Changing Consumer Preferences: Trends and Insights
In the post-pandemic era, consumer preferences have undergone a remarkable transformation. Stepping into a modern juice bar, you'll notice this shift firsthand. A renewed emphasis on health and wellness has catapulted fresh juices and smoothies to the forefront of consumer choices.
The clientele is diverse, from the young gym enthusiast seeking a protein-rich drink to the working professional craving an immunity-boosting smoothie. Yet, they all share a common trait: an unwavering commitment to health and vitality. This trend transcends geographical boundaries, from bustling San Francisco to vibrant South Korea.
The fresh juice, once a refreshing indulgence, symbolizes one's lifestyle and values. Every menu item reflects a conscious choice toward a healthier lifestyle, from fruit smoothies brimming with antioxidants to green juices packed with nutrients.
Simultaneously, there's a palpable shift towards sustainable consumption. Patrons increasingly gravitate towards juice bars that champion local ingredients and operate with eco-friendly practices. The juice bar experience extends beyond the drink, embracing wider values such as community support and environmental stewardship.
In essence, the juice bar of the post-pandemic world has become more than just a venue for a quick refreshment. It reflects changing societal values, is a hub for promoting wellness, and is a beacon of sustainable practices. As you sip your freshly made juice, you're participating in a global movement of health-conscious, responsible consumers and shaping the future of the juice bar industry.
Future Outlook: Juice Bars in a Post-Pandemic World
As we set our sights on the future, the landscape of juice bars shimmers with promise and potential. The post-pandemic world has catalyzed innovation, breathing new life into this vibrant industry. Envisage stepped into a modern juice bar, the air humming with energy and anticipation.
The aroma of ripe, freshly squeezed fruits mingles with the soothing murmur of conversations. Subtle yet poignant reminders of our shared journey towards healing. Every smoothie crafted, every juice served, tells a story of resilience, a testament to our collective recovery. Here, each sip is a taste sensation and a symbol of a brighter, healthier future.
Behind the counter, employees craft nutrient-rich drinks with precision and care. Their hands, brimming with expertise, mirror the industry's unwavering commitment to promoting wellness. Simultaneously, technology hums in the background, enhancing the customer experience and ensuring seamless operations. Notably, the rise of digital marketing strategies and SEO optimization has broadened the reach of these healthful havens.
The future of juice bars in the post-pandemic world is not just about quenching thirst. It's about fostering community, promoting health, and championing sustainability. It's about creating an experience that leaves a lasting imprint that goes beyond the taste buds and nourishes the soul. As we look ahead, the juice bar becomes more than a venue – it symbolizes our adaptability and resilience. Welcome to the future of juice bars, where every sip is a step towards wellness and recovery.
Conclusion
As we enter the post-pandemic era, juice bars present a revitalized wellness world. Orderific enhances your juice bar experience by embracing this revolution with a perfect blend of technology and tradition. Picture sipping a nutrient-packed smoothie, knowing your choice promotes wellness and sustainability. Feel the thrill of supporting local farmers through your favorite fruity treat. Relish the convenience of hassle-free ordering and personalized customer experiences, all powered by Orderific. This is more than a refreshing break; it's a conscious step towards a healthier, sustainable world. With Orderific, your juice bar visit transforms into an engaging, seamless journey. Interested to explore more? Schedule a FREE DEMO with Orderific today and start your journey towards a better user experience in the post-pandemic world.
FAQs
How have juice bars adapted to the post-pandemic landscape?
Juice bars have adapted by integrating technology, implementing sustainability practices, and changing their marketing strategies to meet evolving customer preferences.
How are bars contributing to sustainability in the post-pandemic world?
Juice bars contribute to sustainability by sourcing locally, reducing waste, and using eco-friendly packaging and practices.
Have digital platforms influenced the operation of beverage bars in the post-pandemic era?
Digital platforms have revolutionized juice bars, enhancing customer interaction, driving sales, and improving operational efficiency in the post-pandemic era.
How are restaurants contributing to sustainability in the post-pandemic world?
Restaurants promote sustainability post-pandemic by sourcing locally, minimizing waste, adopting energy-efficient practices, and using eco-friendly packaging.