Picture this: An elegant dining space adorned with artful decor, a delightful melody of live music filling the air… Oh, and the aroma of delectable dishes wafting from the kitchen. Welcome to Print Works Bistro, a culinary gem nestled in the heart of Greensboro, North Carolina.
Welcome to a culinary oasis that captures the hearts of food enthusiasts and those with discerning palates. Prepare to embark on a gastronomic journey through the captivating world of Print Works Bistro. We will delve into its rich history, tantalizing menu, remarkable dining experience, and so much more.
This article promises to awaken your taste buds and create an insatiable desire for the exquisite flavors that await you. Get ready to indulge in a truly remarkable culinary adventure.
The Story Behind Print Works Bistro
Every great culinary destination has a unique tale to tell, and Print Works Bistro is no exception. Situated adjacent to the Proximity Hotel, this exquisite restaurant boasts a rich history that intertwines with Greensboro's vibrant culture. Once a bustling print factory that breathed life into the pages of newspapers and magazines, the building holds Print Works Bistro we know today.
The restaurant's name pays homage to its historical roots. It honors the printing press that once stood where diners now savor mouthwatering dishes. The blend of history and modern sophistication creates a charming and contemporary ambiance, making Print Works Bistro a genuinely exceptional dining destination.
The Menu
Prepare to be enchanted by a menu that celebrates the art of culinary craftsmanship. Led by a team of passionate chefs, the kitchen at Print Works Bistro takes pride in crafting dishes that showcase the finest local and seasonal ingredients.
Each dish is thoughtfully curated, embodying the essence of classic French bistro cuisine with a contemporary twist.
Indulge in various delectable culinary creations on our menu, featuring succulent salmon paired with a flavorful tomato compote and perfectly grilled turkey topped with Swiss cheese and cucumber mayo. They also offer a delightful selection of plant-based dishes, ensuring a lovely dining experience for vegetarian and vegan diners.
The Dining Experience – Elegant Ambiance and Exceptional Service
Experience a captivating dining journey at Print Works Bistro, where memorable moments are created beyond the delightful cuisine. Upon entering, you'll be welcomed by an ambiance that beautifully blends elegance and warmth.
Discover tastefully decorated interiors adorned with art and carefully curated decor, forging an inviting atmosphere that beckons you to unwind and indulge in every moment.
As a testament to the commitment, Print Works Bistro takes pride in delivering unparalleled service, guaranteeing an exceptional experience for every guest. The attentive and knowledgeable staff cater to your needs, from recommending the perfect wine pairing to ensuring that each dish is served with finesse.
As you dine, the soothing melodies of live music, often featuring classic tunes from the Great American Songbook, add a melodic touch to the dining experience.
The restaurant also features a piano in the O. Henry Social lobby, where talented musicians set the perfect tone for an evening of indulgence.
Print Works Bistro's Unique Coffee Offerings
As you step into Print Works Bistro, the enchanting aroma of freshly brewed coffee embraces you, promising a delightful coffee experience like no other. This coffee stand takes pride in offering a range of specialty coffee beverages crafted to perfection.
From classic drip coffee to velvety espresso-based drinks, every coffee lover's cravings are met with utmost care and attention to detail.
The Craft of Espresso
For those seeking a rich and robust coffee experience, Print Works Bistro's espresso-based drinks are a true delight. Using high-quality beans and a state-of-the-art espresso machine, the skilled baristas skillfully pull espresso shots, creating a foundation for an array of delightful drinks.
Whether you're craving a velvety cappuccino, a smooth latte, or a bold macchiato, Print Works Bistro's espresso craft will impress.
The Elegance of Drip Coffee
Suppose you prefer a more straightforward yet equally satisfying coffee option. In that case, Print Works Bistro's drip coffee is the way to go. The drip coffee is brewed to perfection using freshly ground coffee beans, delivering a smooth and flavorsome cup of joe that will brighten your day.
Indulging in Artful Lattes
Beyond the standard coffee offerings, Print Works Bistro elevates the coffee experience with artful latte creations. Served in charming coffee mugs, these lattes feature delightful patterns and designs from steamed milk, showcasing the baristas' artistic talents.
Sip on a beautiful latte as you savor the picturesque designs before indulging in the rich flavors beneath.
Customizing Your Coffee Beverage
Print Works Bistro's coffee experience is more comprehensive than a fixed menu. Guests are encouraged to customize their coffee beverages to suit their preferences. Whether you prefer your latte with an extra shot of espresso, a touch of your favorite syrup, or a particular milk alternative, the skilled baristas are more than happy to cater to your coffee desires.
Pairing Your Coffee with Delicious Treats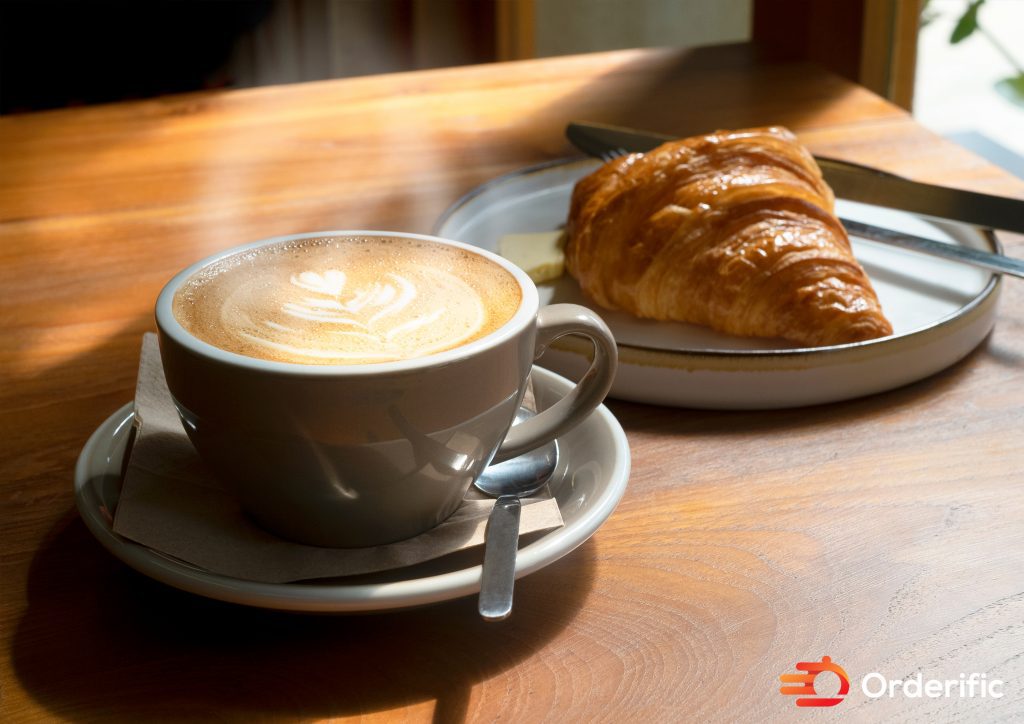 No coffee experience is complete without a delectable treat to complement the flavors. Print Works Bistro offers a delightful selection of cookies, pastries, and seasonal treats that pair harmoniously with their coffee offerings.
From classic chocolate chip cookies to flaky croissants, every treat is made with love and care, elevating your coffee experience to a new level of satisfaction.
Embracing the Community Spirit
Print Works Bistro's charm extends beyond its coffee and culinary offerings. As a part of the Quaintance-Weaver family of restaurants, it embraces a community-driven approach, supporting local businesses, musicians, and artists.
The bistro's commitment to sourcing ingredients locally ensures fresh and high-quality dishes and contributes to the local economy.
Additionally, Print Works Bistro frequently hosts live music events featuring talented musicians and creating a vibrant and welcoming atmosphere.
Indulge in the rich aroma of your coffee while being serenaded by live music, creating a delightful and unforgettable ambiance for your enjoyment.
Conclusion
Print Works Bistro exemplifies the harmonious fusion of gastronomic craftsmanship, a vibrant sense of community, and memorable coffee encounters. From its charming ambiance to its delectable dishes and artisanal coffee, every aspect of the bistro exudes excellence.
If you long for a serene coffee break or a culinary escapade that surpasses all expectations, allow the bistro to fulfill your every dining aspiration.
Should your travels bring you to Greensboro, North Carolina, seize the opportunity to explore Print Works Bistro. Prepare to be enthralled by an array of delightful gastronomic encounters as you embark on a remarkable culinary journey that promises to leave an indelible mark on your palate and warm your heart.
In case you want more content like this, visit Orderific right now!
FAQs
What type of cuisine does Print Works Bistro offer?
It offers a delightful blend of timeless European French bistro cuisine infused with modern culinary flair.
Are reservations required to dine at Print Works Bistro?
Although they happily accommodate walk-ins, they highly suggest making a reservation to ensure you secure your spot and bypass any potential wait times.
Does Print Works Bistro offer vegetarian or vegan options?
Absolutely! It prides itself on accommodating a diverse array of dietary preferences.