In the bustling aisles of your neighborhood supermarket, you're immersed in a sea of colors, shapes, and promises. Each product competes for your attention, their labels serving as silent but powerful salespeople. But what ensures these labels play fair, providing accurate and safe information? Welcome to the intriguing world of regulatory compliance and product labeling. From the crisp freshness of green vegetables to the comforting warmth of baked goods, every item has its story told through labels. These tags charm consumers and adhere to stringent safety standards, ensuring what's inside the package matches the narrative outside. So, let's embark on this journey to unravel the complex yet fascinating labyrinth of product labeling and regulatory compliance in supermarkets. Trust us, it's more riveting than you think!
The Fast Way to Get Feedback on Packaging
Step into the vibrant world of product packaging. Here, colors dazzle, shapes intrigue, and messages persuade. Each package is a silent yet eloquent ambassador of its product. Imagine holding a box of your favorite cereal. It's not just a box. The glossy finish, the vibrant colors, the enticing illustration of golden wheat – an experience, a promise of a delightful breakfast.
Now, consider a bottle of olive oil. The rich green of the glass, the rustic charm of the label, the delicate aroma seeping through the cap – you're transported to a sun-drenched Mediterranean grove. However, this sensory journey could be more incidental. It's meticulously planned, tested, and perfected.
Enter the world of packaging feedback. It's a crucial cog in regulatory compliance and product labeling. A space where consumer protection, product safety, and labeling regulations intertwine. Here, tastemakers and trendsetters share their insights on everything from color schemes to labeling requirements.
Feedback on packaging isn't just about aesthetics. It ensures the product meets food safety standards, adheres to labeling requirements, and respects regulatory compliance. It's about striking a balance between consumer appeal and consumer protection.
So, whether it's a box of cereal whispering promises of a warm, cozy morning or a bottle of olive oil taking you on a journey to the heart of the Mediterranean, remember – it's not just packaging. It's a tale of regulatory compliance, product safety, and the art of persuasion.
What Is Label Compliance, and Who Sets the Rules?
Label compliance is the unsung hero of the supermarket, the invisible hand guiding the ethics and integrity of product labeling. It is a comprehensive framework set by authoritative bodies such as the Consumer Product Safety Commission and the Food and Drug Administration. These organizations form the backbone of consumer protection, ensuring every product meets the highest safety standards. 
Now, imagine a bustling supermarket. Each aisle is filled with promise, and every product is a story waiting to unfold. But who polices these stories? Who ensures the truth of these products' narratives, as communicated through their labels? The answer lies in label compliance.
Label compliance is a tapestry woven with threads of regulatory requirements. It maintains a balance, ensuring product safety while offering consumers the complete, accurate information they need. This intricate process starts from the inception of a product to its arrival on supermarket shelves and beyond.
This often-unseen process operates silently, yet its impact is profound. It protects consumers, ensuring they are privy to the nutritional facts, the ingredients, and the origin of their chosen products. It is an essential cog in the wheel of regulatory requirements, ensuring product labeling abides by safety standards.
Remember the invisible shield of label compliance the next time you pick up a product off the supermarket shelf. It's not just a label but a promise of transparency, a commitment to safety standards. Each label is a testament to the harmonious dance between product labeling and regulatory compliance. So, let's celebrate the unsung hero of the supermarket: label compliance.
Nine Things to Look Out for to Keep Your Packaging and Labeling Compliant
Just as a trusted guide would pave your way through a dense forest, this segment will illuminate the path to labeling compliance. Let's stroll down the supermarket lanes, where each shelf whispers stories of diligence, commitment, and transparency. Here are the nine things to remember to ensure packaging and labeling compliance:
Regulatory Requirements: Just as a compass guides a ship, regulatory requirements navigate the journey of product labeling. Be sure to consult them regularly.
Product Identity: Remember to underestimate the power of a name. It's the first hint of a product's story. Make sure it's accurate and comprehensive.
Nutrition Facts: This is the heart of the product. It's a testament to its value and contribution to health. Display it prominently.
Ingredient List: A product is a symphony of ingredients. Each one has a role. List them out, and let the consumers be the judge.
Food Allergen Labeling: Be mindful of allergies. A clear, concise allergen label can save lives and ensure consumer protection.
Net Weight: Honesty is always the best policy. Reflect the net weight accurately and maintain trust.
Country of Origin: Location, location, location. It matters. Disclose it, especially for meat, fish, and certain fruits and vegetables.
Labeling Requirements Compliance: Sounds tedious. But it's crucial. Double-check and ensure all labeling requirements have been met.
Use of Symbols and Certifications (e.g., CE Mark): Symbols are a universal language. Incorporate them wisely and meet global standards.
Remember, every time a product finds its way to a shopping cart, it promises truth, a commitment to safety, and the essence of regulatory compliance.
Why Compliant Labeling Is Essential to Ensure Consumer Safety
Compliant labeling isn't just a regulatory hurdle to leap over; it's a lifeline, a beacon of trust in the bustling world of consumer products. Picture yourself navigating the labyrinth of supermarket aisles. Each product, like a conch, whispers stories into your ears. But how can you trust these tales?
Firstly, think of compliant labeling as the supermarket's lie detector test. It ensures that the crunchy cereal is heart-healthy and that the tangy ketchup doesn't contain hidden allergens. Every label is a contract, a pact of honesty between the product and you, the consumer.
Secondly, remember that these labels are not just there to adorn the packaging. They are the guardians of food safety, the vanguards of consumer protection. They safeguard your right to know what's fueling your body and what's nourishing your loved ones.
Next, think about the children. For them, each visit to the supermarket is an adventure, a chance to discover new tastes and textures. Compliant labeling helps maintain the wonder while ensuring the journey is safe. It's like a trusty safety harness on a thrilling roller coaster ride.
Lastly, compliant labeling allows us to make informed choices about our consumption. It helps us understand the journey of the food from farm to fork, making us participants, not just consumers. It's a declaration that respect for the consumer is a cornerstone of the product's ethos.
So, the next time you're in the supermarket, know that every compliant label is an ally. A silent guardian ensuring your safety and satisfaction while also serving as a testament to the supermarket's commitment to regulatory compliance and product safety.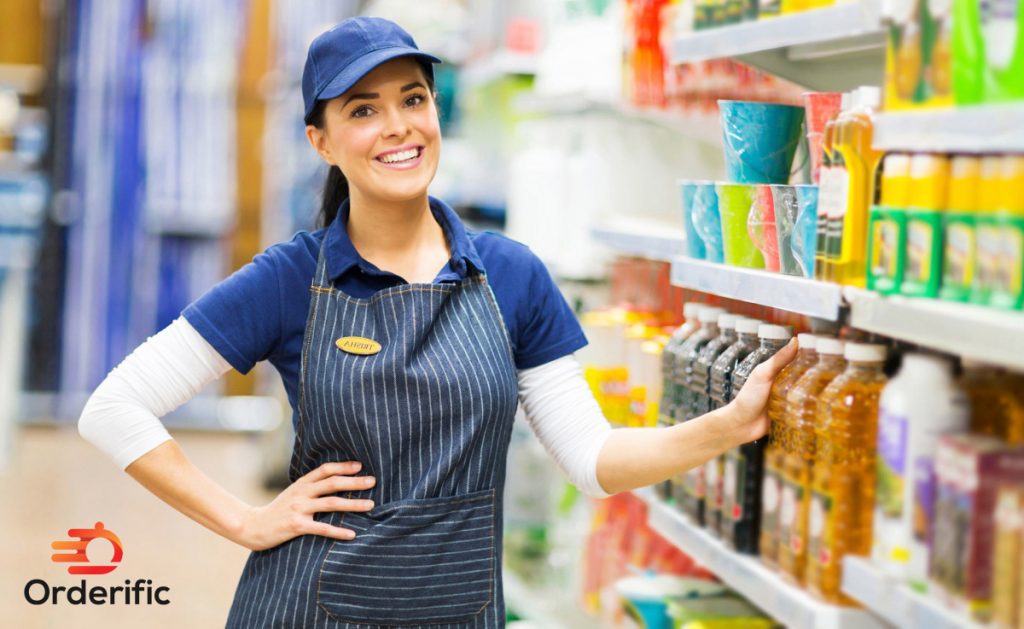 How to Make Sure Your Label Designs Are Always Compliant
In the world of product labeling, beauty is more than skin deep. A pleasing label design catches the eye, but what ensnares consumers' trust is its adherence to regulatory compliance. This section will provide a roadmap for ensuring your label designs meet compliance standards. From understanding the nuances of labeling regulations to tweaking design elements in line with safety standards, we'll guide you in making attractive but also reliable and compliant labels. So, let's delve into creating label designs that are both eye-catching and trustworthy.
Bring Content Creators, and Stakeholders Together in One Place
Before setting sail on the voyage of design, gather all the essential elements. These include the label content, the creative visionaries, and the decision-makers, all huddled together in one collaborative space. This harmonious blend ensures every voice is heard and every idea considered.
Notice how the ambiance changes. Suddenly, you're in a melting pot of pulsating creativity and rigorous accuracy. You're not just creating a label; you're crafting a narrative. So, allow the content to sing its song, let the creators sketch the melody, and let the stakeholders set the rhythm.
In this symphony, each note complements the other. The content, rich with necessary details like nutrition facts and allergen warnings, provides the foundation. With their aesthetic acumen, the creators weave these facts into a visually appealing tapestry. With their deep understanding of regulatory compliance and consumer protection, the stakeholders ensure the design aligns with safety standards.
Experience the satisfaction that comes from watching a product label take shape. It's akin to watching a story unfold, word by word, pixel by pixel. Remember, in this space, every element is crucial. Each ingredient listed, each CE mark incorporated, and each color chosen contribute to the grand narrative.
The narrative of a product that respects the rules values transparency and celebrates the consumer's right to know. So, let's embark on this journey of creation, where design meets compliance, and beauty intertwines with truth.
Collect Visual Feedback on Your Labels and Packaging
Once you've created your labels, it's time to set them under the spotlight. Collecting visual feedback is a vital step in the process. It's like watching your creation through someone else's eyes, feeling what they feel, thinking what they think.
Start by choosing a diverse group of reviewers. After all, variety is the spice of life. This phase embraces different perspectives, fosters open dialogue, and seeks constructive criticism.
Imagine the reviewers holding your product, their eyes scanning the label. Every color, every word, every symbol – they all tell a tale. It's a silent conversation between your product and the consumer, a dance of perception and interpretation.
As the reviewers take in each detail, they form impressions, opinions, and questions. It's these nuggets of insight that you're after. They shine a light on areas of improvement, helping you tweak your design for better compliance, appeal, and clarity.
Inviting visual feedback is like opening a window to fresh ideas and perspectives. It's fresh air, invigorating the creative process and ensuring your labels are compliant and engaging.
Remember, every review is a step closer to perfection. Each piece of feedback, positive or negative, is a priceless contribution. It's an opportunity for growth, a catalyst for innovation.
So, let's step into the shoes of our consumers. Let's see our labels from their viewpoint, understand their needs, and craft resonating designs. After all, achieving regulatory compliance and captivating appeal is an art; we're all artists here.
Make Sure The Right Version Goes to Print
Ensuring the correct version goes to print is the climactic finale in product labeling. Imagine it as the breathtaking sunset after a day filled with discovery, where every hue perfectly reflects your journey's highs and lows.
You begin by reviewing all the versions meticulously. Here, you're an explorer, uncovering treasures in each design's heart. Each color choice, word placement, and visual element reveal a puzzle.
Next, you consult the magical compass of regulatory compliance. It guides you, highlighting the paths that lead to the realm of safety standards. It's a journey, indeed, filled with anticipation and discovery.
Suddenly, you're at the crossroads. The paths of consumer appeal and regulatory compliance intersect here. Take a moment, breathe in the freshness of transparency, and step forward.
With a beating heart, you make the final selection. It's a moment frozen in time, etched in the annals of your product's journey.
Suddenly, there's a flurry of activity. The selected design makes its way to the printers, its essence pulsating with every pixel.
You stand there, witnessing the birth of a masterpiece. It's a surreal moment where creativity, compliance, and commitment blend into a harmonious symphony.
As the final product emerges, you feel a rush of pride. You've done it. You've crafted a label that meets regulatory compliance and tells a captivating tale.
Like that, the sun sets on your journey, leaving behind a trail of memories and a tall masterpiece that abides by safety standards and resonates with consumers. So, let's toast to the unsung heroes of product labeling, the guardians of regulatory compliance, and the storytellers of captivating narratives.
Conclusion
Navigating supermarkets' regulatory compliance and product labeling maze can seem daunting, perhaps even overwhelming. Yet, as we've discovered, it's an adventure brimming with dedication, transparency, and safety stories. Each product label serves as a silent guardian, offering assurances of adherence to safety standards. These labels whisper trust, commitment, and respect, resonating with consumers. They embody the intricate dance between captivating design and regulatory compliance. Much like Orderific, they strive to make life easier and safer, enhancing customer experience while staying committed to the rules. For further insight into improving your restaurant operations through automation, schedule a FREE DEMO with Orderific today. By prioritizing regulatory compliance and product labeling, we're not just filling shopping carts but building bridges of trust.
FAQs
How do businesses ensure regulatory compliance when introducing new products to the market?
Businesses ensure regulatory compliance by closely following local and international guidelines, conducting rigorous testing, and maintaining transparent documentation.
Explain the role of accurate and informative product labeling in meeting safety standards and consumer expectations.
Accurate product labeling ensures consumer safety, meets regulatory standards, and fosters informed purchasing decisions based on transparency.
What are the consequences of failing to adhere to safety standards and regulatory compliance in specific industries?
Non-compliance can lead to severe penalties, loss of consumer trust, damage to brand reputation, or product recalls.
How can a company stay up-to-date with evolving regulations and adapt its product labeling accordingly?
Companies can stay updated by actively monitoring regulatory bodies' publications, attending industry workshops, and consulting with legal experts.