Delve into the smoky aroma of Pure Grit BBQ, a haven for all barbecue enthusiasts. The place buzzes with a unique culinary symphony, where wood smoke meets succulent meats. Each dish tells a story, whether the slow-cooked brisket or the tantalizing baked beans. Amid the enticing meaty offerings, Pure Grit's vegan barbecue surprises with its flavor depth. Imagine biting into charred broccoli salad dusted with almond parmesan or savoring the innovative shiitake bacon. A nod to the ingenious Chef Emily Hersh, the plant-based dishes leave no room for monotony. Even the sides, like the crispy waffle fries, hold their own. The ambiance, the aroma, the flavors – it's not just food, it's an experience. And the journey through this smoky, succulent bliss is just beginning. Get ready to unearth the secrets of Pure Grit BBQ's enticing menu.
The Art of Smoke: A Masterclass in Pit-Smoked Perfection
At Pure Grit BBQ, the art of smoke is not merely a culinary technique but a labor of love. Each cut of meat is carefully selected, skillfully seasoned, and slow-smoked to perfection. Amidst the embers, the brisket quietly transforms, soaking up the smoky goodness. The result? A symphony of flavors that dances on the palate, teetering between savory, smoky, and subtly sweet.
Meanwhile, the vegan barbecue offerings defy convention. Chef Emily Hersh's plant-based dishes seamlessly blend tradition and innovation. Shiitake bacon, a delightful creation, wins over even the staunchest meat lovers with its umami-rich flavor profile. Charred broccoli salad becomes a star in its own right, elevated by a dusting of almond parmesan. 
Yet, the mastery continues after the mains. Sides like waffle fries and baked beans hold their own, adding depth to the meal's flavor narrative. Each dish, whether meat-based or plant-based, exudes passion and dedication. This unwavering commitment to quality and flavor sets Pure Grit BBQ apart.
So, pull up a chair, dig into a plate of smoky, succulent goodness, and savor the journey that is Pure Grit BBQ. This, dear food lovers, is the true art of smoke.
Pure Grit BBQ's Iconic Dishes
Dive into the world of Pure Grit BBQ's iconic dishes, where each bite transports you to a smoky, succulent paradise. The menu, curated with precision and ingenuity, is a testament to the culinary prowess of the team.
Slow-Smoked Brisket: A centerpiece of the menu, the slow-smoked brisket is a showstopper. Each slice is a perfect balance of tenderness and smoky flavor. It truly redefines the art of barbecue.
Vegan BBQ Plate: The vegan barbecue plate is a pleasant surprise, challenging the norms of traditional BBQ. Shiitake bacon and charred broccoli salad, enhanced with a sprinkle of almond parmesan, set the stage for an unexpected flavor explosion.
Baked Beans: The baked beans are a heartwarming homage to classic barbecue sides. They offer a comforting blend of sweet and savory flavors that leave you yearning for more.
Waffle Fries: Piping hot and crisp, the waffle fries make for a delightful side. Each bite offers a satisfying crunch, making them the perfect accompaniment to any dish.
Kitchen Sink Cookies: A meal at Pure Grit BBQ isn't complete without a taste of their kitchen sink cookies. Bursting with various flavors, they offer the perfect sweet finale to a delectable barbecue meal.
Every dish at Pure Grit BBQ is more than just food; it's a sensory journey. The impeccable balance of flavors, visual appeal, and aroma create an unforgettable dining experience. Whether you're a meat lover or prefer plant-based dishes, there's something for everyone at this barbecue haven. Experience the magic of Pure Grit BBQ's iconic words. It's a journey worth savoring.
Exploring Regional Barbecue Styles
At Pure Grit BBQ, exploring regional barbecue styles is akin to embarking on a thrilling culinary adventure. Every region and every sauce imparts a unique twist to the classic barbecue. The Texas-style brisket marinated in a sharp, tangy sauce celebrates robust flavors. On the other hand, the Kansas City-style ribs, glazed with a rich, smoky BBQ sauce, offer a delightful blend of sweet and smoky notes.
Alternately, the vegan barbecue options are equally compelling. With creations like shiitake bacon and charred broccoli salad, Chef Emily Hersh makes a persuasive case for plant-based barbecue. And, of course, what's a barbecue without traditional sides like potato salad or baked beans? Irresistibly hearty, they provide a comforting counterpoint to the smoky mains.
The grand finale, Kitchen Sink Cookies, reminds us of the meal's lingering flavors. Ultimately, Pure Grit BBQ's regional barbecue exploration is a journey of taste and tradition, a tribute to the magic of smoke and spice. So venture forth with anticipation, savor each bite with delight, and discover your favorite barbecue style in this smoky wonderland.
Beyond the Meat: Vegetarian BBQ at Pure Grit BBQ
At Pure Grit BBQ, vegetarian fare transcends the ordinary, blurring the lines between traditional and innovative. The vegan barbecue is, undoubtedly, a revelation. Imagine the umami-packed mouthfuls of shiitake bacon, a standout amidst the meaty extravaganza. Now, picture the charred broccoli salad brought to life with a sprinkle of almond parmesan. Each bite was a delightful surprise. It's about the flavors and the crunchy, tender, crisp, and soft textures – a symphony of sensations.
Launched by Kerry Fitzmaurice, the Pure Grit Hospitality Group has curated this menu with precision. Even the sides, an often-understated component of a barbecue meal, shine here. The baked beans, beautifully balanced between sweet and savory, ooze comforting warmth. Potato salad, another classic, redefines simplicity with its creamy, refreshing flavors. And the finale? The unforgettable Kitchen Sink Cookie is a sweet, crunchy mélange that leaves you with a lingering taste of Pure Grit's culinary expertise.
This is vegan barbecue reimagined. A feast for all your senses, it's not just food; it's a culinary journey. And the best part? The vegan options are as robust and intriguing as the traditional meat offerings. After all, at Pure Grit BBQ, everyone's a part of the smoky, succulent barbecue bliss.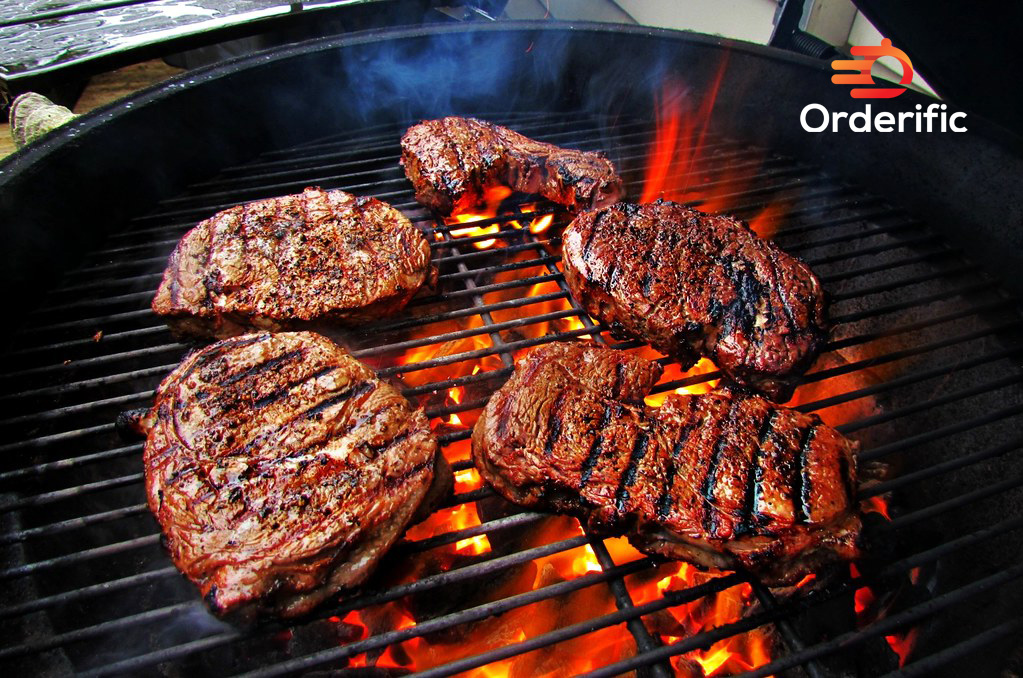 Uncovering the Behind-The-Scenes Techniques
At Pure Grit BBQ, the magic unfolds behind the scenes. Masterfully directed by the renowned Kerry Fitzmaurice, the kitchen buzzes rhythmically. Carefully chosen cuts of meat are seasoned with secret spice blends before being smoked over glowing embers. Meanwhile, vegan offerings like shiitake bacon and charred broccoli salad undergo a similar journey, albeit with a plant-based twist. Indulge in the smoky main plate, where the meat's tenderness vies with the robust flavors of BBQ sauce.
Or opt for the vegan BBQ plate, a testament to Chef Emily Hersh's culinary ingenuity. Every dish is a labor of love, a product of optimized recipes honed over time. Sides like waffle fries and baked beans round off the meal, their comforting familiarity a foil to the adventure of the smoked mains. Each spoonful of the hot stuff, each bite of the brisket, each crunch of the waffle fries – all testament to the meticulous processes in Pure Grit's bustling kitchen. A visit to Pure Grit BBQ isn't merely a meal; it's a journey into the heart of barbecue perfection.
Some Desserts to Savor After the BBQ Feast
Imagine this. The savory symphony of your BBQ feast has subsided, leaving behind a lingering smokiness. The anticipation of sweetness starts to build. Pure Grit BBQ's desserts offer the perfect sweet finale for a smoky, succulent barbecue meal. These sweet treats are not just an afterthought but a flavorful journey crafted with as much dedication and expertise as the barbecue mains.
Kitchen Sink Cookies: These are no ordinary cookies. Bursting with various flavors, they're a sweet adventure in every bite. Every mouthful tells a tale of sweet and salty harmony, from chocolate chips to pretzels.
Sweet Potato Bites: These tiny morsels pack a punch of flavor. Soft, sweet, and surprisingly light, they are the perfect palate cleanser after a hearty meal. The sprinkle of cinnamon adds a hint of warmth, enhancing the potato's natural sweetness.
Cornbread Waffles: The cornbread waffles are a delightful twist on classic waffles. Slightly sweet with a lovely corn flavor, they're crispy on the outside and fluffy within. Topped with a dollop of cream, they're a comforting end to a smoky barbecue meal.
Hot Stuff: A unique dessert, the Hot Stuff is a fiery surprise. A combination of spice and sweetness, it's a memorable way to conclude your Pure Grit BBQ experience.
Every dessert at Pure Grit BBQ is a testament to the culinary brilliance of its founder, Kerry Fitzmaurice. Each sweet morsel, whether a kitchen sink cookie or a sweet potato bite, is a careful blend of flavors designed to complement the smoky barbecue dishes. Each spoonful of hot stuff, each bite of the cornbread waffle, adds a delightful endnote to the harmony of flavors that Pure Grit BBQ presents. It's not just a meal; it's a culinary journey from smoke to sweetness.
Conclusion
In the enchanting world of Pure Grit BBQ, every bite is a journey into smoky, succulent barbecue bliss. The tantalizing symphony of flavors, the delightful crunch of waffle fries, and the sweet surprise of kitchen sink cookies all contribute to an unforgettable dining experience. It's where traditional barbecue meets innovative plant-based delights, creating an inclusive, flavor-packed menu. Immerse yourself in the culinary fantasies crafted by Kerry Fitzmaurice and her team as they redefine the norms of barbecue. Whether you're a meat lover or a vegan, Pure Grit BBQ welcomes you to a deliciously smoky escapade. If you wish to streamline this enthralling dining experience and magnify the benefits for your restaurant, consider Orderific. Enhance revenue, decrease operational costs, and offer a superior customer experience. To taste the magic of technology, schedule a FREE DEMO of Orderific today.
FAQs
Does Pure Grit BBQ accept credit cards or have any payment preferences?
Yes, Pure Grit BBQ accepts all major credit cards and supports contactless payment methods for your convenience.
Does Pure Grit BBQ have any outdoor seating options?
Pure Grit BBQ offers outdoor seating, allowing patrons to dine amidst the refreshing breezes.
Does Pure Grit BBQ offer any gluten-free menu items?
Indeed, Pure Grit BBQ features several gluten-free options, ensuring everyone can indulge in their flavorful offerings.
Can I book a table or make a reservation at Pure Grit BBQ?
Yes, you can book a table at Pure Grit BBQ. It's recommended to make a reservation, especially during weekends.