Introduction
Welcome to the future of the restaurant industry! As a restaurant owner, you're likely always seeking ways to enhance your customers' dining experience. One such innovation is the use of QR code menus. Instead of traditional paper menus, customers can scan QR codes, taking them to a digital menu on their devices. This offers a contactless menu option and allows easy updates to menu items without the need for reprinting physical menus. A QR code generator can create these codes for you, and with online ordering enabled, your guests can conveniently pick their favorite dishes from their smartphones. This QR code restaurant phenomenon goes beyond the menu, too. From social media integration to QR code ordering, this technology revolutionizes dining. Get ready to explore the incredible potential of QR codes for your restaurant!
What Is A Restaurant QR Code?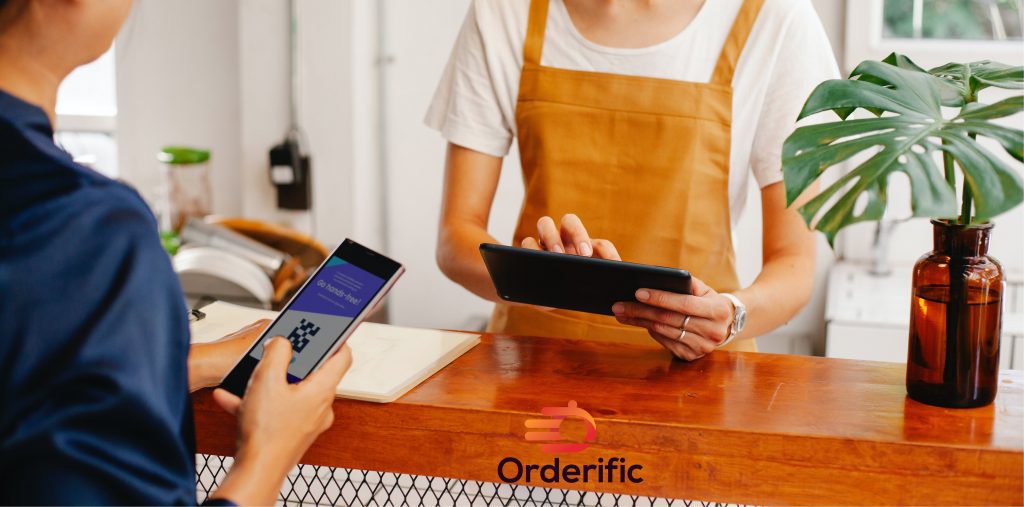 A restaurant QR code is a barcode that customers can scan using smartphones. When scanned, this small, square code redirects the user to a digital platform such as a menu, website, or payment portal. The "QR" in QR code stands for "Quick Response", indicating the swift, seamless access to information it provides. With their ease of use and versatile applications, QR codes are becoming an increasingly popular tool in the restaurant industry. Whether it's to view the day's specials, place an order, or even pay the bill, QR codes enhance the dining experience for customers everywhere. They offer convenience, efficiency, and a tech-forward approach that modern diners appreciate.
QR Code Menus Reduce Waste, Offer Real-Time Updates
One of the primary advantages of QR code menus is their environmental sustainability. As restaurants use digital menus, it significantly reduces the amount of paper waste. You are offering your guests a more hygienic option in a post-pandemic world and simultaneously contributing to environmental conservation efforts. This eco-friendly practice can also enhance your brand's image among environmentally-conscious customers.
Beyond reducing waste, QR codes offer the flexibility of real-time updates. Traditional printed menus can be limited, requiring a reprint each time you want to change a dish, a price, or feature a seasonal special. With QR codes, however, the menu can be updated in real time, directly reflecting changes in your kitchen. This would make your restaurant more responsive to seasonal ingredients, dietary trends, or even customer reviews. The potential for swift adaptability offered by QR codes can significantly enhance the customer experience, keeping the menu fresh, exciting, and up-to-date.
Benefits Of QR Code Menus
Benefits Of Using QR Code Menus In A Restaurant:
Enhanced dining experience for customers by streamlining ordering and payment process.
Touchless solution that is hygienic and efficient.
Convenient scanning of QR code from the table to view menu, place orders, and make payments.
Quicker table turnover times and optimized dining experience for guests.
Simplification Of Operations For Restaurant Owners And Staff:
Cost-effective and flexible solution to menu changes.
Time and resource-saving by eliminating the need for printing and distributing new menus.
Collection of customer data for improving services and enhancing satisfaction.
Portrayal of brand as modern and innovative by incorporating QR codes.
Attraction of tech-savvy customer base and differentiation in the competitive food industry.
Revolutionizing restaurant operations with a more efficient, modern, and customer-centric approach to dining experience.
QR Codes For Restaurants Are Much More Than Online Menus
While QR codes began as a simple replacement for traditional menus, they are proving to be much more than that. They've become a versatile tool that can enhance multiple aspects of the guest experience. For instance, QR codes can be used to enable mobile payments, making the transaction process swift and seamless. No need to wait for the waiter to bring the bill, then take your card, and return with the receipt. The customer can simply scan the QR code, review the bill, and make the payment right from their table, saving time and enhancing convenience.
Additionally, QR codes can be utilized for promotional purposes. Restaurants can integrate QR codes with social media, enabling customers to share their dining experience, check in, or leave a review, thus amplifying the restaurant's online presence. Also, by using QR codes for loyalty programs, restaurants can encourage repeat visits and build a loyal customer base.
Finally, QR codes can provide valuable insights on customer behavior. Restaurant owners can track what menu items are most popular, how often a customer visits, or how they interact with the menu. This data can be leveraged to tailor offerings, improve customer service, and optimize restaurant operations, thus making QR codes a powerful tool for improving overall business performance.
Restaurant QR Codes Help Usher In A New Steps Of Service
In the traditional dining experience, servers have always played a crucial role. From presenting the menu to taking orders, serving dishes, and processing payments, they are at the forefront of customer service. However, with the advent of QR codes, a new era of service is emerging in the restaurant industry.
QR codes aren't merely replacing paper menus; they're transforming the entire dining experience. When guests scan a QR code, they can place their orders directly from their smartphones. This reduces the pressure on your serving staff and minimizes the possibilities of miscommunication or errors in order-taking. Servers can then focus on other aspects of service, such as ensuring food quality and maintaining a clean and enjoyable dining environment.
Moreover, with QR codes facilitating payments, the often time-consuming process of billing and collection is significantly simplified. Customers can view their bill and process payments instantly, resulting in quicker table turnovers and a smoother dining experience.
By introducing QR codes, you're not replacing your servers; rather, you're empowering them with a tool that allows them to provide better service. Thus, QR codes are not only benefiting your customers but your staff as well, ushering in a new and improved approach to service in your restaurant.
Create Your Own QR Codes For Your Restaurant Menu
Creating your own QR codes for your restaurant menu is a straightforward process. There are numerous online QR code generators that offer simple, user-friendly interfaces for creating custom QR codes. Choose a QR code generator that suits your needs, and follow these steps:
Select the QR Code Type: Choose 'Website' or 'URL' as you're linking your digital menu.
Enter URL of Your Digital Menu: Paste the web address of your online menu into the generator.
Customize Your QR Code: Add your restaurant's logo, choose colors that match your brand, or select a unique shape to make your QR code distinctive.
Generate and Download: Click on the 'Create QR Code' or equivalent button and then download the generated QR code image.
Print and Display: Print the QR code and strategically place it on your tables, at the entrance or anywhere else easily visible to your guests.
Remember, the effectiveness of your QR code menu heavily relies on how well it is incorporated into your guest's experience. Make sure your QR codes are easily visible and accessible to your guests. Also, ensure your staff is trained to guide your customers on how to use the QR code.
Embrace the power of technology to enhance your customer experience, increase efficiency, and stay ahead in the competitive restaurant industry. Start creating your QR codes today!
Conclusion
In an era where technology is ingrained in every aspect of our lives, the restaurant industry must keep up. Implementing QR codes in your restaurant not only streamlines the dining experience but also boosts efficiency and adaptability. From contactless menus to quick payments, social media integration to valuable customer data, QR codes unlock countless opportunities. Embracing this digital revolution meets the needs of tech-savvy diners and future-proofs our businesses in the competitive restaurant industry. Remember, the goal is to enhance customer experience and satisfaction.
Ready to revolutionize your restaurant with QR codes? Visit Orderific to book a demo and explore how we can help you effortlessly integrate this exciting technology into your operations. Innovation is just a click away!
FAQs
How does a QR Code Restaurant system work, and what benefits does it offer to both customers and restaurant owners?
A QR Code Restaurant system allows customers to scan a code for access to a digital menu, place orders, or make payments, providing a streamlined, tech-forward dining experience.
What security measures are in place to protect customer data when using a QR Code Restaurant for ordering and payment?
Restaurants utilizing QR codes employ advanced data encryption and secure payment platforms to ensure customer data protection.
Can you share examples of successful QR Code Restaurant implementations and their impact on customer engagement and sales?
QR Code Restaurant implementations have been successful in numerous establishments, boosting customer engagement and increasing sales by optimizing operational efficiency.
How does a QR Code Restaurant integrate with a restaurant's existing POS system and menu management?
A QR Code Restaurant system can integrate seamlessly with existing POS systems and menu management through API connections, streamlining the ordering and payment process.