From the classic Jack & Coke to modern options like craft cocktails and mocktails. Rail drinks are some of the most versatile types of mixed spirits you can get. Whether you're in a dive bar or trendy nightclub, there's always an array of these affordable beverages perfect for any occasion. But what makes rail drinks so special? In this post, we'll look at everything about them. From their origins and production methods to popular recipes and serving suggestions! Get ready for a wild ride as we explore the world of Rail Drinks!
What are Rail Drinks and Why Are They Popular
Indulging in a well-crafted cocktail amidst the ambiance of a bar or restaurant is a pleasure that many relish. In this context, the term "rail drink" often finds its way into conversations. A rail drink, essentially, refers to a cocktail concocted using the establishment's house or well liquor. Typically the most affordable spirit on offer. Despite being fashioned from comparatively lower-quality ingredients, rail drinks remain popular for many reasons.
Affordable Elegance: One compelling aspect of rail drinks is their affordability. Thus making them an attractive choice for patrons seeking a flavorful libation without straining their budget. The economic appeal aligns well with the desire for a gratifying drink without financial extravagance.
Timeless Simplicity: The allure of rail drinks is further rooted in the nostalgia of classic, unpretentious cocktails made from the essentials. The straightforward blend of ingredients and flavors resonates with those who appreciate the unadorned pleasures of a well-made drink, highlighting the beauty in simplicity.
Universal Accessibility: While not necessarily the most opulent options on the menu, rail drinks bridge the gap between accessible and enjoyable. Their consistent availability across a range of venues ensures that patrons can confidently order a familiar and satisfying beverage, regardless of the establishment.
In the world of mixology, where intricate combinations and exotic ingredients often take center stage, the enduring appeal of rail drinks stands as a testament to the allure of affordability, simplicity, and universality.
History of Rail Drinks and How They Have Evolved Over Time
The history of rail drinks unveils an intriguing journey through the evolution of cocktail culture, reflecting shifts in taste preferences, societal dynamics, and economic considerations. Originating as a pragmatic solution to balance cost and quality, rail drinks have metamorphosed over time into a nuanced emblem of tradition, innovation, and adaptability.
Pragmatic Origins: Rail drinks trace their roots back to a time when establishments sought an economical way to offer cocktails without compromising profitability. In the mid-20th century, bars introduced "well drinks," crafted using the house's most economical liquors. This practice allowed patrons to enjoy cocktails without exorbitant prices, an approach that resonated with a post-war society seeking both indulgence and affordability.
Classic Allure: Over the decades, the enduring charm of rail drinks grew as they became synonymous with classic cocktails. The straightforward combination of basic ingredients garnered a loyal following who appreciated the unadulterated flavors and the appeal of a no-frills experience. This resurgence of interest in simpler, time-tested cocktails bolstered the reputation of rail drinks as the embodiment of cocktail tradition.
Modern Adaptations: Rail drinks transformed as the cocktail renaissance took hold in the late 20th and early 21st centuries. Fueled by creativity and a resurgence of interest in mixology, Bartenders began to reimagine these classics. Rail drinks found new life while preserving their fundamental essence by incorporating fresh, high-quality ingredients and innovative techniques. This modern reinterpretation breathed vitality into rail drinks, appealing to a new generation seeking authenticity and innovation.
In essence, the history of rail drinks narrates a tale of pragmatism evolving into a celebration of tradition and creativity. From their humble beginnings as economic choices, rail drinks have emerged as a bridge between the past and present, embodying the harmonious blend of familiarity and reinvention.
A Guide to Rail Drinks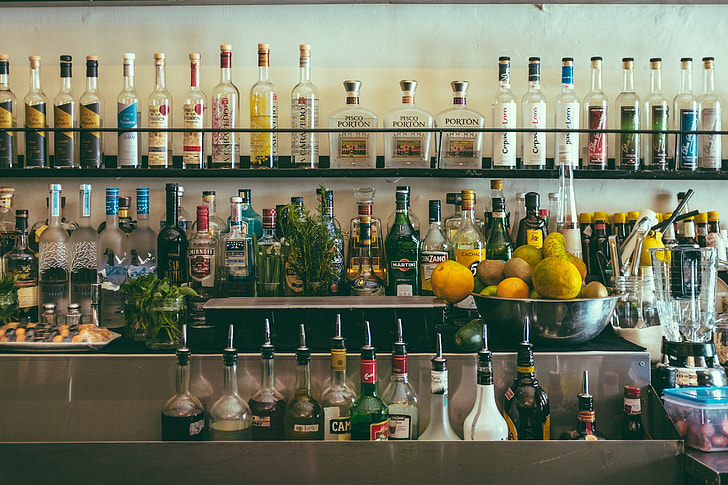 A ubiquitous presence in bars across the nation, rail drinks might seem unfamiliar to newcomers in the realm of libations. In essence, rail drinks encompass cocktails crafted from the establishment's house liquor selection. At most bars, you'll find a designated "well" or "rail" where these bottles of spirits are neatly arranged. The term "rail" harks back to bygone eras when bartenders perched their bottles on a rail just above the bar counter.
The charm of rail drinks lies in their affordability; they usually bear a friendlier price tag compared to other cocktail options, making them a prime choice for those conscious of their budget. Among the most favored rail concoctions are the classic gin and tonic, the ever-popular rum and coke, and the refreshing vodka cranberry. When you next find yourself in a bar's convivial ambiance, seize the chance to savor a rail drink—it might become your new go-to choice!
The most popular rail drinks
Rail drinks, with their approachable simplicity and wallet-friendly appeal, have secured a place of prominence in the repertoire of bar-goers. Here are some of the most favored rail drinks that have consistently garnered popularity:
Gin and Tonic: A timeless classic that marries the botanical notes of gin with the refreshing effervescence of tonic water. This concoction is garnished with a slice of lime or a wedge of lemon, adding a zesty twist to the harmonious blend.
Rum and Coke: A beloved combination that combines the richness of rum with the sweetness of cola. The mingling of these flavors results in a well-balanced drink that's both comforting and satisfying.
Vodka Cranberry: This vibrant and tangy drink pairs vodka's neutral character with cranberry juice's vibrant tartness. The result is a colorful cocktail that's both invigorating and enjoyable.
Whiskey Sour: A classic cocktail that balances the warmth of whiskey with the zing of citrus. A sour mix or fresh lemon juice is added to create a harmonious contrast of flavors, often complemented by a maraschino cherry or orange slice.
Rum Punch: A delightful fusion of rum, fruit juices, and perhaps a hint of grenadine or other sweeteners. The combination of various juices lends this drink a tropical flair, making it a delightful choice for those seeking a more complex flavor profile.
Screwdriver: A simple yet refreshing concoction that mixes vodka and orange juice. The blend of these two ingredients creates a bright and cheerful cocktail, perfect for brunch or casual occasions.
Whiskey Ginger: A dynamic duo that brings together the warmth of whiskey with the spiciness of ginger ale. The resulting drink is both invigorating and smooth, with a hint of effervescence.
How to Make a Rail Drink?
Making a rail drink is a straightforward process that combines basic ingredients to create a simple yet satisfying cocktail. Here's a general guide on how to make a classic rail drink:
Ingredients
1 ½ oz (45 ml) of the house liquor (e.g., vodka, rum, gin, whiskey, tequila)
4-6 oz (120-180 ml) of mixer (e.g., soda, tonic water, fruit juice, cola)
Ice cubes
Garnish (e.g., citrus slice, cherry)
Instruction
Choose Your Liquor: Decide on the type of rail drink you want based on the available house liquors. Common choices include vodka, rum, gin, whiskey, and tequila.
Select a Mixer: Choose a mixer that complements the chosen liquor. For example, if you're using vodka, you could pair it with soda water or fruit juice. If it's whiskey, ginger ale or cola could be great options.
Prepare Glass: Take a highball or glass appropriate for the drink you're making. Fill the glass with ice cubes, leaving enough space for the liquor and mixer.
Pour the Liquor: Measure 1 ½ oz (45 ml) of the selected house liquor using a jigger or measuring device. Pour the liquor into the glass over the ice.
Add the Mixer: Pour 4-6 oz (120-180 ml) of your chosen mixer over the liquor in the glass. The quantity can be adjusted based on your taste preferences and the desired strength of the drink.
Stir: Gently stir the contents of the glass with a cocktail stirrer or a long spoon. This helps mix the liquor and mixer evenly.
Garnish: If desired, add a garnish to enhance the drink's presentation and flavor. Common garnishes include citrus slices, cherries, or even a sprig of mint.
Your rail drink is now ready to be enjoyed! Serve it as is or with a straw if you prefer.
How to Order a Rail Drink?
Embarking on the journey of ordering a rail drink need not evoke trepidation—it's an uncomplicated process, despite any initial uncertainties. The art of securing one at a bar is refreshingly simple. A rail drink, a regular fixture in the bar scene, denotes a fundamental cocktail assembled using the most cost-effective or "well" liquor. Easing any hesitations, the steps to place an order are straightforward:
Expression of Desire: Politely articulate the specific drink you desire, be it a vodka tonic, rum and coke, or any other classic combination that piques your interest.
Inclusion of House Liquor: Emphasize your preference for the drink to be fashioned with the house or well-liquor. This informs the bartender to employ the economical yet foundational spirits for your concoction.
Sublime Simplicity: Absorb the reassuring reality that the process centers around this single directive. You're requesting a time-honored favorite, ensuring the process is swift and congenial.
It's worth noting that the cost of a rail drink can fluctuate based on geographical location and the type of liquor involved. Keeping this in mind, when you find yourself craving a tasteful and budget-friendly cocktail, the solution is delightfully succinct—opt for a rail drink. In navigating this straightforward choice, you embrace both the ease of ordering and the satisfaction of a pocket-friendly indulgence.
Conclusion
Rail drinks have a special place in the bar and restaurant culture. They are great for people who want to get just a bit more taste and flavor out of their cocktail and can be enjoyed by all patrons who'd like to upgrade from the basic one-dimensional cocktails. These are delicious, versatile, and easy to make. From the most involved craft cocktails to simple two-ingredient drinks, bars have been using rail drinks as foundational beverages for decades now. With quick access to a wide variety of mixers at any bar or restaurant, it's easy to create unique drinks that will please any patron.
Whether you're making a complex libation or just trying something new on your night out, rail drinks offer plenty of options for getting creative. Making your own mixed drink is definitely possible with some common mixers found at any store, so don't be afraid to customize them however you like. Enjoy your next alcoholic beverage more when you use rail dose, and make sure you read more Orderific blogs for daily informative content!
FAQs
Q. What are rail drinks made of?
Ans. Rail drinks are typically made of a house liquor (like vodka, gin, rum, tequila, or whiskey) and a mixer such as soda, tonic water, or fruit juice.
Q. Are they cheaper than other drinks?
Ans. They are generally cheaper than other drinks because they use the establishment's most economical liquors.
Q. Can I customize my rail drink?
Ans. Most establishments will allow you to customize your rail drink within the scope of their available house liquors and mixers.
Q. Do bars offer a rail drink menu?
Ans. While not all bars offer a specific rail drink menu, you can usually order by specifying the house alcohol and mixer you prefer.
Q. Is there a limit on choices?
Ans. The choices are typically limited to the house liquors and mixers the bar has on hand, but this can still offer a wide range of potential combinations.