Amid the bustling culinary scene, a dish as humble as ramen has managed to carve a niche, enchanting food lovers across the globe. The allure of that piping hot bowl, with its intricate layers of flavors, is irresistible. And at the epicenter of this ramen revolution stands Ramen Star. 
A gastronomic haven, it seamlessly weaves tradition with innovation. Each serving is a testament to its commitment to quality, authenticity, and the sheer joy of a perfectly balanced meal. For those who've had the pleasure, Ramen Star isn't just a restaurant; it's a journey of delectable discovery.
The History of Ramen Star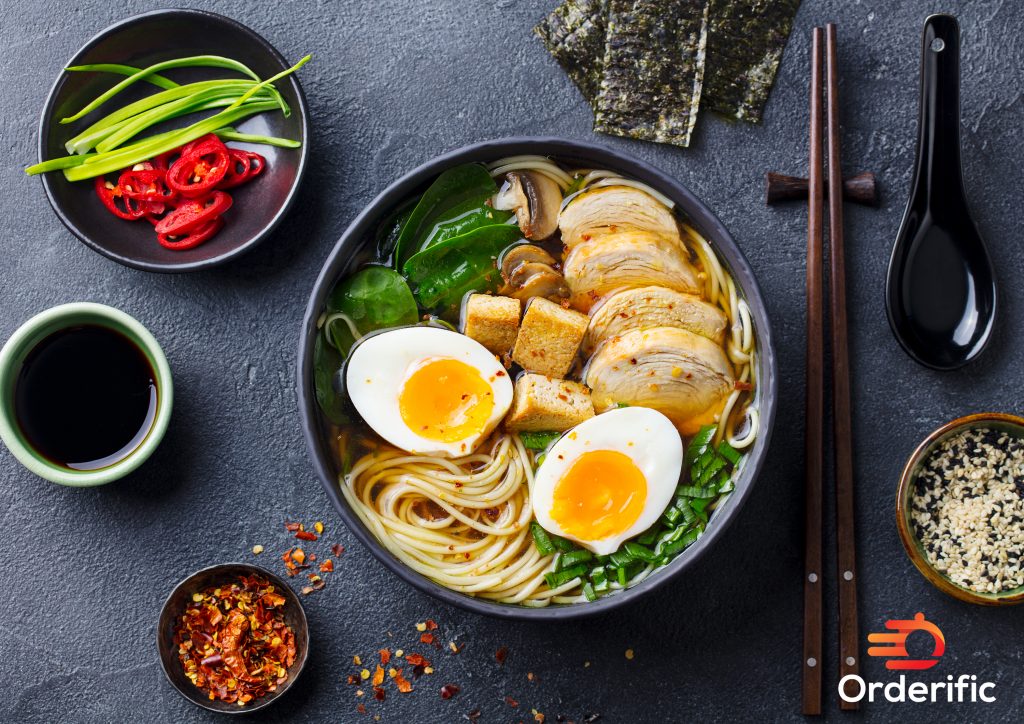 The inception of Ramen Star wasn't accidental; it was the realization of a dream, steeped in tradition yet eager to break the mold. As tales of its tantalizing flavors began to spread, it wasn't long before lines formed outside its doors, each patron eager for a taste of this newfound sensation.
The brainchild of passionate chefs and restaurateurs, they combined age-old recipes handed down through generations with fresh, innovative ingredients. This harmony of the old and new gave Ramen Star its distinctive charm. As years passed, its reputation grew not just as a place to eat, but as a destination for those seeking a genuine ramen experience. 
The blend of rich broths, perfectly al dente noodles, and expertly curated toppings captured hearts, making Ramen Star synonymous with culinary excellence in the realm of Japanese noodle soups.
The Menu of Ramen Star
Signature Ramen Dishes of Ramen Star
Chicken Ramen: This bowl celebrates the gentle flavors of chicken, merging the robustness of chicken broth with juicy chicken chunks. The inclusion of fresh green onion adds a zesty edge, with a finishing touch of sesame seeds offering a delightful crunch.
Pork Belly Ramen: For those who crave something heartier, this dish is a gastronomic masterpiece. The pork belly, braised to perfection, is paired with the subtle sweetness of mirin and the saltiness of soy sauce, creating an unparalleled depth of flavor.
Ninja Ramen: Not for the faint-hearted, this dish is an adventure in itself. Infused with secret spices and a dash of chili oil, it's perfect for those who desire a blend of traditional ramen with a hint of audacity.
Appetizers and Sides of Ramen Star
Bok Choy and Kimchi Salad: This Asian-inspired salad is a fusion of textures and tastes. The crunchy bok choy provides a fresh counterpoint to the fermented, spicy notes of the kimchi, making it an ideal palate cleanser.
Garlic and Ginger Wings: Marinated in a concoction of garlic, ginger, and other Asian spices, these wings are crispy on the outside and tender on the inside. A burst of flavors with every bite, they promise an unforgettable culinary experience.
Beverages and Desserts of Ramen Star
Homemade Iced Tea: Brewed with passion, this isn't your regular iced tea. It's an orchestration of select teas, blended with aromatic herbs and fruits, presenting a refreshing juxtaposition to the rich flavors of ramen.
Ginger-infused Pudding: Ending your meal on a sweet note, this pudding marries the pungent warmth of ginger with the creamy smoothness of a traditional dessert. It symbolizes Ramen Star's ethos: honoring tradition while embracing innovation.
The Atmosphere of Ramen Star
From the moment you walk into Ramen Star, you're greeted with an atmosphere that envelops you in its embrace. True to its roots, the decor captures the essence of a traditional Japanese ramen shop – where every element tells a story. Warm, glowing lanterns cast a gentle light, their flickering flames reminiscent of age-old eateries in distant Japanese alleyways.
The extensive use of wood, from the flooring to the furniture, infuses a rustic charm, adding a layer of authenticity to the setting. Wall murals and art pieces subtly showcase Japanese culture, further deepening the immersive experience.
But it doesn't stop there. Amidst this traditional setting, contemporary elements seamlessly blend in. Modern art pieces, innovative seating arrangements, and ambient music introduce a chic vibe to the mix. The gentle buzz of conversation, punctuated by occasional laughter and the clinking of bowls, creates a soundscape that's both comforting and lively.
All in all, Ramen Star manages to bridge the gap between the nostalgic lanes of Tokyo and the bustling energy of a modern-day restaurant, ensuring every visitor gets a taste of both worlds.
The Philosophy of Ramen Star
Ramen Star operates with a deep-seated respect for the rich traditions of Japanese cuisine. Its philosophy is anchored in the idea that the soul of a dish lies in its authentic origins. This doesn't mean they shy away from innovation; on the contrary, they harness the magic of tradition while introducing nuances that resonate with contemporary tastes.
The passionate team behind Ramen Star understands that ramen isn't just a dish; it's a tale of culture, history, and artistry. Therefore, each bowl they serve is an ode to age-old recipes handed down from one generation to the next. However, they also recognize the evolving palates of their diverse customer base and interweave innovative touches, ensuring a delightful fusion of old and new.
At the heart of Ramen Star's philosophy is the experience of the diner. They envision a setting where every guest, while savoring their meal, feels the warmth of Japanese hospitality. The team strives to make each visitor's experience exceptional, ensuring they walk away not just with a full stomach but a heart full of memories. For Ramen Star, every customer is more than just a diner; they are the star of their culinary story.
Visiting Ramen Star
Every corner of the restaurant is thoughtfully designed, reflecting a perfect blend of tradition and modernity. For those unsure about what to order, the well-informed staff are always at hand, ready to offer suggestions tailored to your taste buds. They're trained not just in serving, but also in understanding the rich history and technique behind every dish, ensuring you appreciate the depth of flavors in each bite.
And as you savor the delicacies, there's always a chance you might spot the visionary behind Ramen Star – Jeff Osaka. Renowned in the culinary world, he's the driving force behind the restaurant's success. Seeing him might just be the cherry on top of an already delightful visit, as he often mingles with diners, sharing stories of his passion and journey in the world of ramen.
Conclusion
Stepping into Ramen Star is akin to embarking on an epicurean adventure. From the vibrant traditions of Japanese culinary arts to the contemporary twists that tease the modern palate, the restaurant offers more than just a meal. It weaves a tale of heritage, craftsmanship, and passion.
Each noodle slurped represents years of mastery, and every bowl encapsulates a universe of flavors, honed over time. As you leave, having savored each bite, it becomes clear that Ramen Star isn't merely a dining spot; it's a living tapestry of culinary tales, where each dish has its own legacy to share.
In case you want more content like this, visit Orderific right now!
FAQs
How can I make a reservation at Ramen Star?
Booking your spot is easy! Visit their official website or give them a call. They're always ready to welcome another ramen enthusiast.
What is the atmosphere like at Ramen Star?
Imagine a blend of traditional Japan and contemporary elegance. That's Ramen Star for you. Warm, inviting, and absolutely delightful.
Does Ramen Star offer takeout or delivery?
Yes, they do! Whether you want to enjoy their dishes in the comfort of your home or pick it up, they've got you covered.
What are some of the awards that Ramen Star has won?
Ramen Star has been recognized by numerous food tours and even got a nod from Michelin Star. Their dedication to quality and flavor is truly award-winning.
Does Ramen Star offer private events or space rental?
Absolutely! Whether it's a birthday, anniversary, or corporate event, Ramen Star ensures it's memorable.
How can I provide feedback or contact Ramen Star?
They value customer feedback. You can drop them an email, leave feedback on their website, or even give them a call. They're always eager to hear from their patrons.