Welcome to the home of taste transcendence – Ray's Pizza. This iconic location is a haven for pizza lovers seeking the true essence of New York-style pizza. With each bite, you unravel layers of flavors; the crispy crust, tangy tomato sauce, and melty cheese make a symphony on the palate. As you pull a slice from the pie, the cheese stretches, creating a sight that's a feast for the eyes. The aroma fills the air, a compelling combination of fresh dough, simmering sauce, and baking cheese. Amidst the hustle of daily life, the welcoming ambiance of Ray's offers a comforting retreat. Make your reservation or place an order to start your sublime culinary journey. Remember, at Ray's Pizza, you're not just eating a meal; you're embracing an authentic New York experience. Let's explore their menu, operation hours, and more.
The Story of Ray's Pizza
In the vibrant heart of Manhattan, Ray's Pizza has been a beacon of authentic Italian cuisine for over half a century. This family-owned pizzeria, with its four strategically placed locations, has woven itself into the fabric of New York life. The tempting array of dishes is a testament to their commitment to rich Italian flavors. Their menu boasts a delightful fusion of pizzas, pasta, salads, and hero sandwiches, each meticulously crafted to delight the senses.
Every dish at Ray's is a tribute to the art of cooking, prepared fresh to order using only the finest ingredients. The dedication to ensuring the ultimate food experience is palpable. Among their culinary masterpieces, the succulent lasagna, the robust meatball hero, the refreshing Greek salad, and the iconic "Ray's Famous Special" Pizza Pie stand out. Each bite you take promises a flavorful journey that echoes the heart and soul of Italy.
Whether you opt for delivery, carry-out, or dining in, every interaction with Ray's Pizza is designed to impress. A simple click can bring the essence of Italy to your doorstep, or reserve a cozy table at one of their lovely locations. As you dig into your meal, you'll understand why Ray's has become synonymous with taste, tradition, and the joy of eating. So why wait? Start or change your daily routine with an order from Ray's Pizza today. Because at Ray's, every meal is a celebration of taste, and every dining experience is a cherished memory.
Exploring the Delights: Ray's Pizza Menu
Ray's Pizza Menu is more than just a selection of dishes; it's a flavorful journey that tantalizes the senses and warms the heart. Each item on the menu is a testament to tradition, taste, and tireless dedication to culinary brilliance. As you peruse the menu, your anticipation heightens, and the wait for the mouthwatering meal to arrive becomes a delightful part of the experience.
The Classic Margherita: A timeless masterpiece. Taste the simplicity yet perfection of tangy tomatoes, fresh basil, and melt-in-your-mouth mozzarella on a crispy, thin crust.
Ray's Special Pizza: An extravagant feast. Experience a blend of fresh vegetables, savory meats, and decadent cheese atop their signature crust. It's a commitment to change the way you perceive Pizza.
Crispy Chicken Salad: A refreshing alteration. Diced crispy chicken, fresh lettuce, ripe tomatoes, crunchy onions, and crispy bacon tossed in a zesty dressing. A healthy option that doesn't compromise on taste.
French Fries: A universal favorite. Thinly sliced potatoes, fried to a golden crisp and lightly salted. Perfect for those who prefer the classics.
Asian Fusion Pizza: A Taste of the East. Succulent chicken, vibrant veggies, and an Asian-inspired sauce on a perfectly baked crust. It's a daring, delicious twist.
Every visit to Ray's is an invitation to embark on a culinary adventure. You may arrive with a specific order in mind, or you may allow the day's specials to sway your decision. Either way, the team at Ray's is ready to serve a memorable meal. Make your reservation, place your order, and start counting down the hours until you can indulge in the taste sensation that is Ray's Pizza.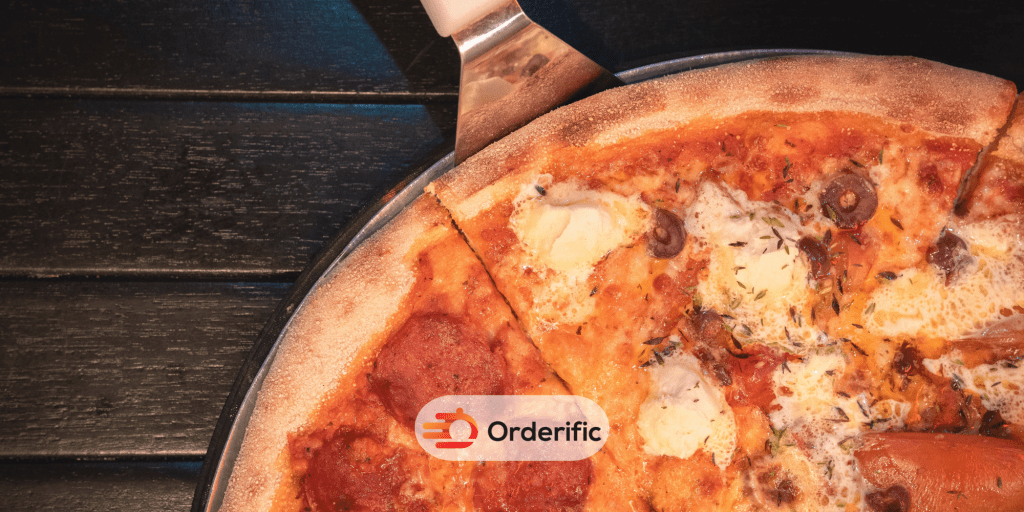 How to Order: Seamless Pizza Experience at Ray's
Ordering from Ray's Pizza is more than a simple task; it's an exhilarating journey that begins with a click or a call. Navigate to their user-friendly website, and the aroma of baking dough wafts through your screen. Visualize the comprehensive menu, and your taste buds start to tingle.
As your eyes scan the various offerings, take a moment to savor the anticipation. From the classic Margherita to the adventurous Asian Fusion, each Pizza promises a unique gastronomic experience. Taste the change with every new order you place, making each meal a fresh revelation.
Making a selection is challenging, but it is delightful. Click on your desired dish, and it's added to your cart. The process is seamless, and the interface is intuitive. It's as if you are handpicking ingredients for your dream meal. Your chosen feast is now a step closer.
Take a second to review your cart. A glance at the order details, and you're set. Input your address, choose your preferred method of payment, and voila! Your order has been placed. You can practically hear the sizzle as the chef starts preparing your meal.
Count the hours until your meal arrives, the anticipation adding excitement to the wait. The doorbell rings, and a friendly delivery person hands over a box that's a passport to mouthwatering deliciousness. As you open the box, the aroma fills your senses; the sight captivates your eyes and the taste? Simply divine.
Remember, at Ray's Pizza, every order is a trip down taste lane. Embark on this journey today and experience the magic of flawless service and delectable meals. A world of taste awaits at your doorstep. Order now, and relish the seamless pizza experience that is Ray's.
Ensuring Your Comfort: Accessibility and Privacy at Ray's Pizza
At Ray's Pizza, your comfort is a top priority, extending beyond the dining experience. With a strong commitment to accessibility, Ray's creates a warm, welcoming environment for all. Whether it's the user-friendly website with features for the visually impaired or the wheelchair-accessible locations, inclusivity is at the heart of their operations.
Privacy is another cornerstone of the Ray's Pizza experience. In an age where personal data is often compromised, Ray's goes the extra mile to ensure your information is safeguarded. Stringent privacy terms and conditions are in place, giving you peace of mind with every order placed.
Furthermore, Ray's respects your online privacy as diligently as it safeguards your experience at their physical locations. The use of cookies, for instance, is limited and transparent. In this way, Ray manages to marry traditional values with modern measures, creating an experience that caters to today's discerning diners.
In essence, dining at Ray's isn't just about a meal; it's about an experience that respects, appreciates, and ensures your comfort. At Ray's Pizza, your foodie journey is free of worry, letting you savor the tastes and treasure the memories.
Conclusion
In conclusion, a visit to Ray's Pizza is not merely about meals; it's a sensory adventure, a love letter to authentic Italian cuisine. Each slice of their Pizza is a ticket to taste heaven, each order a seamless transition towards gastronomic satisfaction. Amidst life's hustle, Ray's offers an oasis of rich flavors, the convenience of online ordering, and the promise of sublime experiences. Embrace the change, savor the tradition, and let Ray's sprinkle a dash of culinary magic into your daily routine. As you cherish these food memories, remember there's always room for more. So, why wait? With Orderific's streamlined processes and customer-centric approach, the true taste of Ray's Pizza awaits you at your doorstep. For more information on Orderific, schedule a FREE DEMO today. Experience the magic of New York Style Pizza: Ray's Pizza, and make every meal memorable.
FAQs
Where is Ray's Pizza located?
Ray's Pizza has branches in the Upper West Side, Midtown West, and Times Square in New York.
What are Ray's Pizza opening hours?
Ray's Pizza operates from 11:00 AM to 11:00 PM on weekdays and extends to midnight on weekends.
Does Ray's Pizza offer delivery?
Yes, Ray's Pizza offers delivery services. You can place your order through their user-friendly website.
Does Ray's Pizza have vegetarian options?
Yes, Ray's Pizza offers a variety of vegetarian options, including the Veggie Lover's Pizza and various salads.
Can I order gluten-free Pizza at Ray's Pizza?
Yes, Ray's Pizza offers gluten-free options for those with dietary restrictions.