In the fast-paced, ever-evolving world of culinary arts, the term 'dining' encompasses far more than just the food on your plate. It's about the complete sensory experience – the fusion of flavors, the presentation, and importantly, the ambiance that the restaurant design creates. The way a restaurant is designed can tell you a lot about its philosophy, making interior design as integral to a diner's experience as the menu.
From the moment you step through the door, each element of the interior design – the lighting, the seating arrangement, the color palette, even the type of cutlery used, contributes to the overall dining experience. A well-designed restaurant not only captures the essence of the cuisine but also embodies the personality of the chef or owner. The most memorable dining experiences are those where the restaurant design harmoniously aligns with the culinary offerings, creating a unified narrative that leaves a lasting impression.
21 Restaurant Interior Design Ideas for Creative Inspiration
Get ready to immerse yourself in a world of unique, inspiring, and truly stunning restaurant interior designs. From chic minimalist spaces to ornate, traditional dining rooms, we've curated a list of 21 diverse design ideas. Each concept captures a distinctive culinary narrative, aiming to enhance your dining experience and leave a lasting impression. Let these creative inspirations spark your imagination as you begin your restaurant design journey.
1. Give Guests a Warm Welcome
The key to a great restaurant design is creating an inviting atmosphere that makes guests feel welcome. This can be achieved with thoughtful decor such as plants, flowers, or a grand entranceway. Consider incorporating elements of the local culture in your design for an authentic touch.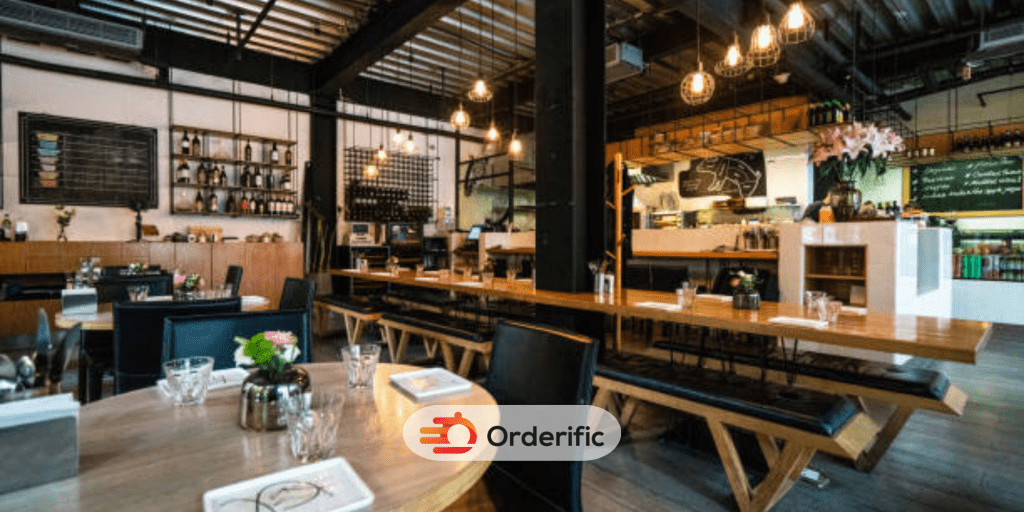 2. Choose a Theme
To create a cohesive restaurant design, decide on a theme. Whether it's industrial chic, Mediterranean-inspired, or luxe modern decor, this helps to determine the overall style and color palette of the space. For example, if you're creating an Italian trattoria-style eatery then you may wish to incorporate natural touches such as terrazzo stone floors.
3. Infuse the Space with Greenery
Nothing says hospitality quite like a lush, green space. Introducing plants and flowers to your restaurant design will not only add texture and life to the decor but also enhance the air quality, ensuring a healthier dining experience for guests.
4. Create an Accent Wall
A stunning accent wall can be a great way to add visual interest to your restaurant design. Consider investing in an eye-catching mural, an art installation, or even a statement wallpaper. Not only does this create a unique aesthetic, but it also serves as the perfect backdrop for Instagrammable moments!
5. Nod to Your Location
Incorporating local elements into your restaurant design is a great way to pay tribute to the area's history and culture. An antique map of the region, vintage signs, or decor from local artisans are all creative ways to celebrate the region.
6. Emphasize Communal Dining
Open seating encourages a sense of camaraderie among guests. Instead of traditional tables set for two, opt for larger communal tables that can accommodate several diners. This not only helps to maximize the number of customers in a small space but also allows them to get comfortable and interact with each other.
7. Hang Modern Light Fixtures
Lighting plays a huge role in the overall ambiance of a restaurant. Make sure you opt for fixtures that not only provide adequate lighting but also add to the decor. Choose modern, statement-making fittings such as geometric pendant lights or industrial-style lamps.
8. Highlight the Kitchen
A great way to add interest and energy to the restaurant design is by incorporating an open kitchen concept. Not only does this create a unique sense of drama, but it also allows guests to see their food being prepared firsthand.
9. Feature Local Art
Incorporating artwork from local artists into your restaurant design is a great way to support the community and add visual interest. Whether it's a colorful mural, an eclectic photo wall, or intricate sculptures, art can be used to bring life and personality to even the most minimal of spaces.
10. Try Typography
Typography is a great way to illustrate the personality and vision of your restaurant. Bold, graphic letters can be used to share information such as menu items or even an inspirational quote. This helps to ensure that any message you're trying to communicate is delivered in a fun and creative way.
11. Have Fun with Chalk
Chalkboard walls are a great way to add a unique touch to your restaurant design. Use them to share the day's specials, special events, or even inspirational quotes – the possibilities are endless! Not only do they look great but they are also incredibly versatile and can easily be wiped off and updated.
12. Incorporate Mirrors
A great way to make small spaces look larger and brighter is by introducing mirrors into the design. Not only do mirrors reflect light, creating a more airy atmosphere, but they also create the illusion of extra space – perfect for smaller restaurants!
13. Go for a Minimalist Vibe
If you're aiming for a chic, modern restaurant design then minimalism is the way to go. Stick with clean lines and neutral colors such as black, white, and wood. To add warmth to the space, incorporate natural materials such as leather or wicker furniture and textured elements like macrame wall hangings.
14. Pay Homage to the Classics
If you're aiming for a traditional or timeless restaurant design, then it's important to remember the classics. Incorporate elements such as vintage furniture, ornate chandeliers, and art deco-inspired decor to create an elegant atmosphere.
15. Go Beyond Standard Seating
When it comes to seating, think outside the box. Whether you opt for plush armchairs or modular banquettes, make sure that you choose furniture that is comfortable and inviting. Also, consider unconventional seating spots such as hammocks or swings – these not only look great but also give guests a different perspective of the space.
16. Make Your Bar a Focal Point
The bar is often the centerpiece of a restaurant, so it's important to make sure that yours stands out. Change up the standard seating with unique stools or add a modern twist with brass accents and statement lighting fixtures. This helps to create an inviting atmosphere where guests can relax and socialize.
17. Draw All Eyes to Your Ceiling
Your ceiling is an often-overlooked element of restaurant design, but it can be just as important and impactful as any other element. Whether you opt for a dramatic mural or intricate tilework, make sure that the decor draws all eyes upwards.
18. Install a Funky Floor
The floor is another opportunity to add personality and flair to your restaurant design. Whether you opt for a marble mosaic, checkered tiles, or even a statement rug – the possibilities are endless!
19. Curate Your Tablescape
The perfect tablescape can make an ordinary dining experience extraordinary. From the placemats to the napkins, every element should be carefully curated to create a unique atmosphere and enhance your guests' experience. Remember to introduce elements of your brand identity into the design such as logos or color schemes.
20. Spruce Up Your Patio
If you have an outdoor patio, make sure it is just as inviting and beautiful as the interior of your restaurant. Incorporate plants and flowers for a lush green oasis or add touches such as string lights to give the space a cozy feel.
21. Keep the Space Open
Open spaces help to create a sense of openness and allow guests to move freely throughout the restaurant. If possible, try to remove any unnecessary walls or dividers that will break up the flow of energy in the space.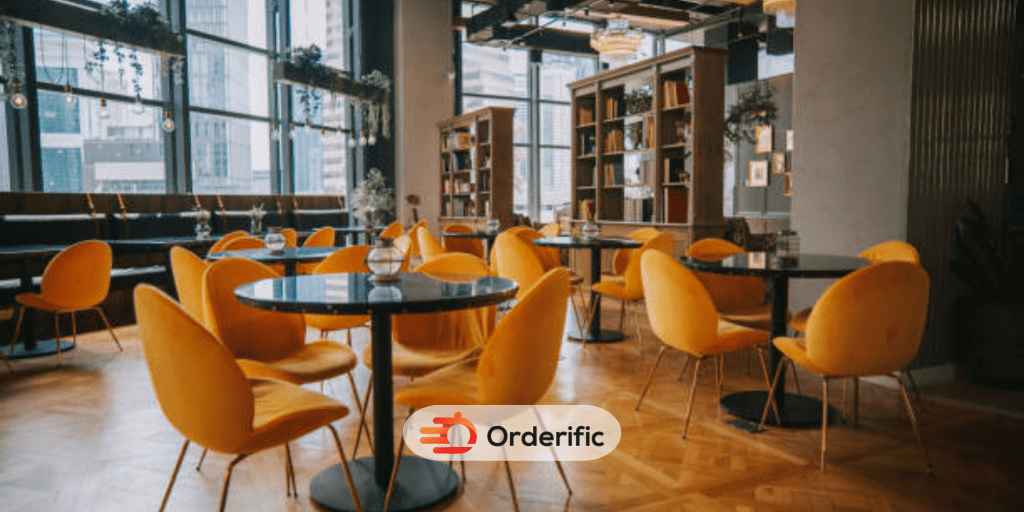 Design Tips for Your Restaurant Interior
Creating an engaging restaurant design doesn't need to be daunting; in fact, it can be a fun and rewarding process. Begin by clearly defining your brand – this includes your restaurant's style, the type of cuisine offered, and the intended ambiance. Once you've established this, focus on choosing a complementary color scheme, appropriate lighting, and furniture that enhances the overall dining experience.
Remember, every detail matters and contributes to the overall impression of the dining space. From the upholstery on the chairs to the artwork on the walls, every element should reflect the brand's identity and contribute to a harmonious aesthetic. However, functionality should not be overlooked; the space should be designed in a way that facilitates smooth operation for the staff. In conclusion, a well-designed restaurant interior is a blend of aesthetics, functionality, and brand identity.
Carefully Plan Your Layout
The restaurant layout is an essential part of the design process and should be considered carefully. To begin, measure the space accurately, create a floor plan, and make sure to include areas for seating, the bar area, restrooms, and storage. Consider how each element flows into the next and ensure that there is ample room for guests to move around comfortably.
Pay Attention to Lighting
Lighting plays a huge role in creating an inviting atmosphere. Depending on the design style and intended mood of your restaurant, choose visually appealing lighting fixtures and provide adequate brightness. If possible, incorporate natural light to add warmth to the space.
Use the Right Colors for Your Venue Type
Color is a powerful tool when it comes to restaurant design. Certain colors evoke certain emotions or convey different messages, so consider carefully the type of mood you want to create before selecting your palette. For example, warm tones such as yellows and oranges are often used in restaurants that focus on fun and vibrant dining experiences.
Consider Sound
Sound is a crucial yet often overlooked aspect of restaurant design. The acoustics of a space can greatly influence a diner's experience, creating a peaceful ambiance or a vibrant, lively atmosphere. Consider incorporating sound-absorbing materials in your design such as fabric wall panels or ceiling tiles to minimize noise levels. Carefully curated background music can also help to create a desirable ambiance, complementing the restaurant's theme and enhancing the overall dining experience. Remember, a well-balanced acoustic environment is as important as the visual elements in creating an enjoyable dining experience.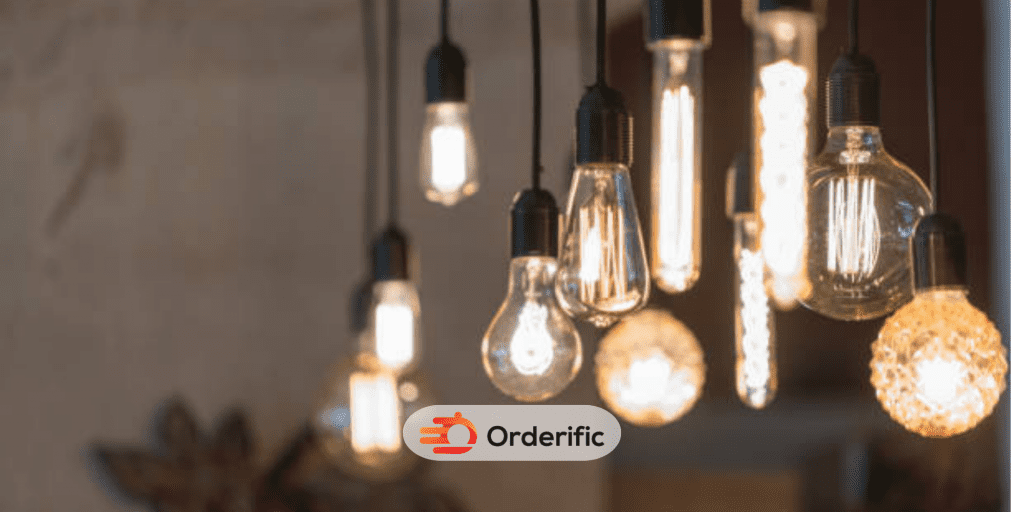 Conclusion
In conclusion, creating a striking and memorable restaurant design involves much more than just aesthetics. It's an intricate blend of careful planning, thoughtful consideration of the customer experience, and a clear understanding of your brand's identity. Each component, from the choice of color palette to the type of furniture and lighting, plays a crucial role in forming an environment that not only appeals to the senses but also enhances the overall dining experience.
Remember, the ultimate goal is to create a space that tells the story of your restaurant, resonates with your target audience, and leaves a lasting impression. As trends evolve and customers seek unique dining experiences, innovative and thoughtful design will continue to be a vital aspect of successful restaurant operations. Don't be afraid to experiment with different design elements to create a distinctive space that truly reflects your restaurant's character and vision.
Find more informative content with Orderific here. For the many ways Orderific can improve your business, start trying it out here. It's Orderific time now!
FAQs
What factors should be considered in restaurant design?
When designing a restaurant, it is important to consider several factors like the type of cuisine being served, the intended atmosphere and brand identity, and more.
How can I create a cohesive theme in my restaurant's interior design?
Choose a harmonious color palette, choose lighting fixtures that match the intended atmosphere, and incorporate elements of your brand identity such as logos or color schemes.
What role does lighting play in restaurant design?
Lighting plays a crucial role in an inviting atmosphere. Consider the type of mood you want to create and choose visually appealing fixtures and provide adequate brightness.
Are there specific design trends that are popular in the restaurant industry?
Yes, some popular trends in restaurant design include accent walls, open seating, modern light fixtures, artwork from local artists, and typography.
How can restaurant design impact the overall dining experience for customers?
From the color scheme to the furniture, every element should be carefully chosen to create an environment that is comfortable and inviting.