Creating the perfect restaurant layout is a blend of art and science. It's all about balancing aesthetics, functionality, and space to create an unforgettable dining ambiance that not only satisfies the palate but also delights the eyes. This is a feat that requires careful planning, creativity, and an understanding of the dynamics of the dining experience.
The seating arrangement, the distance between tables, and the placement of the bar, kitchen, and restrooms – all contribute to how your customers interpret your restaurant. A well-thought-out design can elevate the dining experience, inviting customers to relax, enjoy their meals, and most importantly, return for more.
The Importance of Restaurant Layout: Impact on Customers
The layout of your restaurant directly influences your customers' dining experience and can play a significant role in their overall impression of your establishment. A well-planned layout provides an inviting atmosphere, ensures the smooth movement of both customers and staff and contributes to operational efficiency. It can also help in managing noise levels. For instance, strategically placing tables and booths can reduce noise and create a sense of privacy for diners, thereby enhancing their comfort levels.
Meanwhile, overcrowding and poor placement of tables, bars, or restrooms can lead to customer discomfort and frustration. It may even discourage guests from returning. It is crucial to understand that a great layout is not just about maximizing seating. It's about creating a harmonious space where customers can enjoy their food and feel at ease. The design should reflect the restaurant's personality, ensuring that it resonates with the expectations of the patrons, contributing to a memorable dining experience.
Planning the Layout: Factors to Consider
When planning your restaurant layout, the first factor to consider is the flow of traffic. This refers to the way your customers and staff will move through the space. You'll want to have a clear path from the entrance to the tables, from the tables to the restrooms, and the kitchen to the tables for your staff. The right flow will minimize collisions and confusion, making the dining experience more pleasant for everyone. It's also important to keep accessibility in mind to ensure your restaurant is welcoming to all guests.
The second factor to consider is your restaurant's theme and brand. The layout and décor should reflect your brand identity and the type of dining experience you want to offer. For example, a fast-food restaurant will have a different layout than a fine dining establishment. The goal is to create a cohesive environment that immerses your customers in the dining experience you're trying to create.
Front-of-House Design: Welcoming Guests with Style
The front-of-house is the first point of interaction between your restaurant and customers. It sets the mood, sparks the senses, and provides an immediate sense of your restaurant's style and character. The design should be inviting and comfortable, with a thoughtful layout of seating, lighting, and decor all playing essential roles in creating the overall ambiance. The reception or waiting area, the bar, the dining area, and the restrooms all fall under the front-of-house.
The design of the dining area is particularly crucial as it's where your customers will spend most of their time. The seating arrangement should be spacious enough to provide comfort and privacy, yet efficiently arranged to accommodate as many guests as appropriate. Consider using different types of seating like booths, bar stools, or patio seating to add variety and cater to different customer preferences.
The Flow of Space: Ensuring Smooth Customer Movement
The flow of space in your restaurant is integral to creating a seamless dining experience. From the moment customers walk in the door, their journey through your establishment should be smooth and natural. The layout should guide them effortlessly from the entrance to the seating area, then to the restrooms or bar, and finally to the exit. This intuitive pathing not only makes your guests' experience more comfortable but also contributes to the operational efficiency of your establishment by reducing congestion, minimizing customer-staff collisions, and ensuring quick and efficient service.
However, achieving this fluid movement isn't just about open spaces or wide pathways. It's also about understanding the subtle cues that guide people's movements. For instance, using lighting, artwork, or unique architectural features can draw customers toward certain areas, while the strategic placement of furnishings can subtly direct traffic.
Balancing Aesthetics and Functionality in Restaurant Design
When designing the layout of your restaurant, it's essential to strike a balance between aesthetics and functionality. While creating a visually appealing space is crucial for customer satisfaction, it should not come at the expense of practicality. For example, using beautiful but uncomfortable chairs may add to the ambiance, but if your guests can't sit comfortably for an entire meal, they're unlikely to return. Similarly, a beautiful but inefficient kitchen layout can lead to long wait times and poor service.
The key is to find creative solutions that combine both aspects. For instance, using comfortable seating that also adds to the overall aesthetic of the space or incorporating functional and attractive storage solutions in the kitchen. Finding this balance will ensure your restaurant not only looks great but also runs smoothly.
Creating Ambiance: Lighting, Colors, and Decor
Lighting, colors, and decor all contribute to the overall ambiance of a restaurant. They can influence customers' moods, perceptions of taste, and even their length of stay. The right combination creates an atmosphere that enhances the dining experience and aligns with your brand identity.
When it comes to lighting, consider using a mix of natural light during the day and ambient lighting in the evenings. This will create a warm and welcoming environment that is not too harsh on the eyes. Colors can also play a significant role in setting the mood.
The decor should also reflect your brand identity and theme, adding to the overall ambiance. Consider incorporating unique elements such as art, plants, or interesting design features to add character and spark conversation among guests.
Maximizing Seating Capacity: Efficient Use of Space
While creating an inviting and comfortable space for customers is crucial, it's also essential to maximize the seating capacity of your restaurant. After all, more guests mean more revenue. However, this doesn't mean cramming in as many tables and chairs as possible. Efficient use of space is key.
Consider using different types of seating arrangements that can accommodate varying group sizes. For example, a booth can seat four people comfortably, while a table with chairs can accommodate larger groups. You can also utilize outdoor seating to expand your capacity during peak seasons.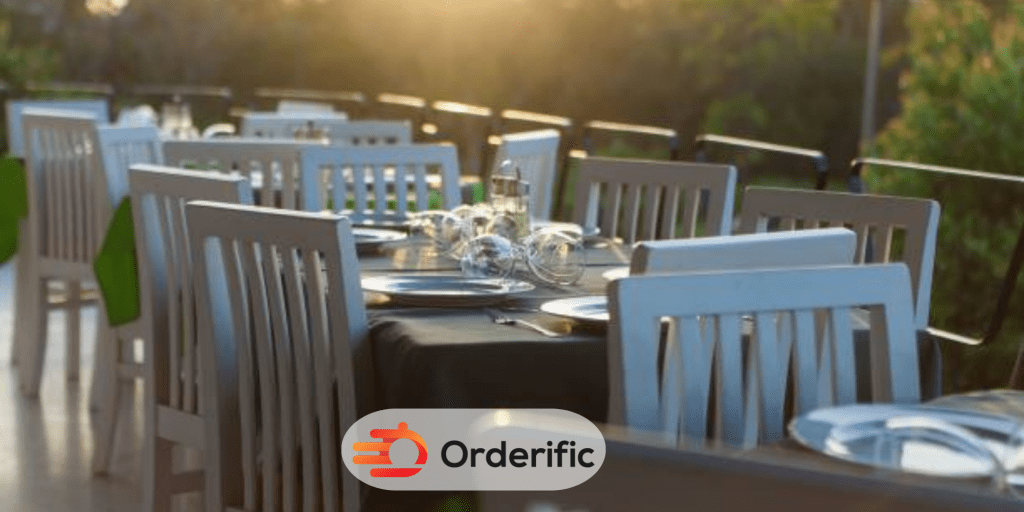 Conclusion
Designing the perfect restaurant layout is a balance of form and function. It's about creating an inviting atmosphere that reflects your brand identity and enhances the dining experience for your customers. By carefully considering factors such as traffic flow, ambiance, and the efficient use of space, you can create a memorable dining experience that keeps your customers coming back for more. So go ahead, unleash your creativity, and design a restaurant layout that leaves a lasting impression on every guest who walks through your doors.
You can find more insightful and informative content with Orderific here. For the countless benefits Orderific can bring to your business, start trying it out here. Today is Orderific time!
FAQs
Why is restaurant layout design important?
Restaurant layout design is crucial because it directly impacts customers' dining experience and their overall impression of your establishment.
What factors should I consider when planning the layout?
You should consider the flow of traffic, your restaurant's theme and brand, front-of-house design, space flow, and balancing aesthetics with functionality.
How can the front-of-house design impact customer perception?
It is the first point of interaction between your restaurant and customers. It sets the mood, sparks the senses, and provides an immediate sense of your restaurant's style and character.
What is the significance of a well-planned customer flow?
A well-planned customer flow ensures that customers can move through the restaurant efficiently and comfortably, without any confusion or collisions.
How can a restaurant balance aesthetics and functionality?
A restaurant can balance aesthetics and functionality by finding creative solutions that combine both aspects.