Winter can often be a challenging time for restaurants, with the drop in temperature leading to a decline in foot traffic. However, this season opens up a myriad of opportunities to offer exciting promotions that can not only boost sales but also enhance customer loyalty. From hearty comfort foods to winter-themed cocktails and restaurant promotions, there are countless ways to entice patrons through your doors.
In this article, we will explore ten innovative restaurant promotion ideas specifically tailored for the winter season. These strategies aim to create a warm and inviting dining experience for your patrons, encouraging them to brave the cold and enjoy the unique offerings your restaurant has in store for them this winter.
10 Winter Restaurant Promotion Ideas to Kick-Start Your Profitability During the Colder Months
In the following section, we will delve into specific strategies that are bound to warm your guests' hearts and palates. From creating a buzz around your comfort food menu to hosting interactive cooking events, we present to you ten winter-themed restaurant promotions. These ideas are not only aimed at increasing your profits during the chilly months but also at establishing a deeper connection with your guests. Let's dive in and explore these exciting promotion ideas.
1. Tap into Winter Food Trends
Winter is synonymous with comfort food and indulgent treats. Take advantage of this trend by introducing seasonal menu items that are unique to your restaurant. For instance, you could offer a hearty winter soup flight or a hot chocolate bar with different toppings and flavors. This not only adds to the cozy ambiance but also entices guests to try something new.
2. Promote Your Catering Business
The holiday season is a busy time for catering services, with many people hosting parties and events. Take advantage of this by promoting your catering business through special deals and discounts. Offer packages that include winter-themed dishes and drinks to entice potential customers.
3. Promote a National Food Holiday
Did you know that there is a national food holiday for every day of the year? Take advantage of this by promoting a specific dish or cuisine on its designated day. For example, February 9th is National Pizza Day – offer special deals and discounts on your signature pizzas to attract pizza lovers.
4. Promote Your Delivery & Takeout Business on Social Media
With colder temperatures, many people prefer to stay in the comfort of their own homes. This presents a great opportunity to promote your delivery and takeout services on social media platforms. Offer exclusive discounts or free delivery for orders placed through social media channels.
5. Offer Customers the Option to Order Online Directly From You
Many third-party delivery platforms charge high commission fees, which can significantly impact your profits. By offering the option for customers to order directly from you, you not only save on these fees but also establish a direct connection with your guests. This creates an opportunity for future promotions and loyalty programs.
6. Promote a Special Delivery Cocktail
With many people hosting holiday parties at home, offering a special delivery cocktail kit can be a hit. Include all the necessary ingredients and instructions for guests to recreate your signature winter-themed cocktails in the comfort of their own homes.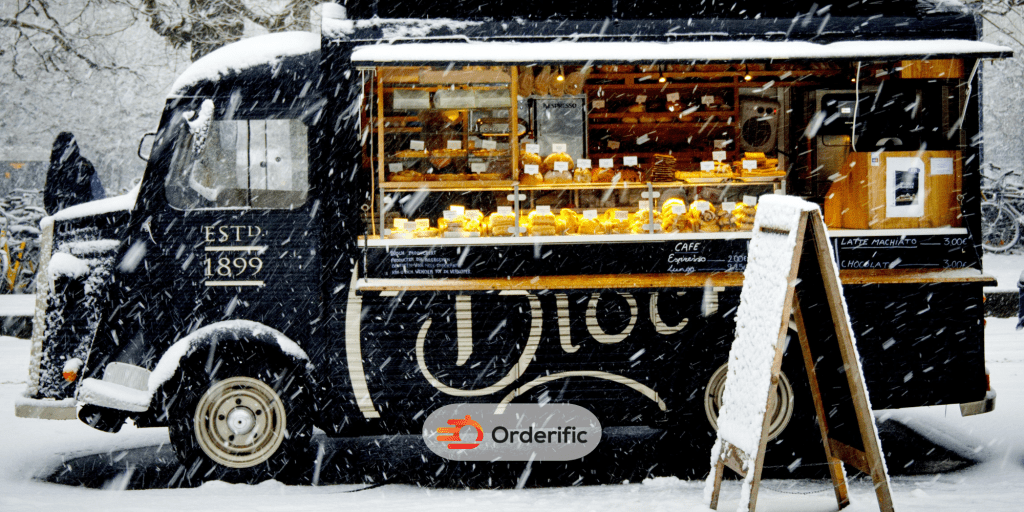 7. Create a Seasonal Menu
Creating a seasonal menu is an effective way of drawing guests into your restaurant during the winter months. Consider featuring dishes that incorporate seasonal ingredients, such as root vegetables, hearty grains, and winter fruits. Spice things up by introducing warm spices like cinnamon, nutmeg, and cloves that echo the flavors of the season. Keep your guests intrigued by changing the menu periodically throughout the season. This keeps your offerings fresh and dynamic, encouraging repeat visits from customers eager to try your latest culinary creations.
8. Be an Example of How to Give Back
The holiday season is a time for giving, and this presents an opportunity for your restaurant to get involved in charitable initiatives. Partner with a local charity or organization and offer special promotions where a portion of the proceeds goes towards their cause. Not only does this showcase your restaurant's values, but it also encourages guests to support your business knowing that they are also contributing to a good cause.
9. Reward Your Fan Base with Loyalty Promotions
Reward your loyal customers by offering exclusive promotions only available to them. This not only shows your appreciation but also encourages repeat visits and customer loyalty. Create a loyalty program that offers perks such as free items, discounts, or VIP access to special events.
10. Offer Gift Cards
Gift cards are a popular holiday gift, and offering them at your restaurant can increase sales during the winter season. Consider bundling a gift card with a special holiday package, such as a dining experience for two or a cooking class. This not only promotes your business but also creates an opportunity for future visits from new customers.
Conclusion
In conclusion, winter can be an exciting time for your restaurant, filled with opportunities for innovation and growth. By utilizing seasonal trends and catering to your guests' preferences for comfort and convenience, you can transform the colder months into a profitable period for your business. Remember, successful promotions are those that not only attract customers but also foster a connection, making them feel valued and eager to return.
Whether it's by offering a new winter-themed menu, promoting your delivery and takeout services, or involving your restaurant in charitable causes, these efforts help establish your restaurant as a dynamic and caring part of your community. So, don't let the winter chill deter you. Embrace the season, get creative with your promotions, and see your restaurant flourish.
Click here for more insightful and informative advice with Orderific. To start experiencing the great benefits Orderific can bring to your business, click here now. Try Orderific!
FAQs
What types of promotions are commonly offered by restaurants?
There are various types of promotions that restaurants commonly offer, such as discounts, limited-time offers, special menus, loyalty programs, and catering packages.
Are there any specific days or times when restaurants often have promotions?
Yes, restaurants often have promotions during slower periods, such as weekdays or off-peak hours. They may also offer promotions during special occasions or holidays.
How can I stay updated on the latest restaurant promotions in my area?
You can follow your favorite restaurants on social media, subscribe to their email newsletters, or check local restaurant guides and websites for promotions.
Are there any restrictions or conditions associated with restaurant promotions?
Yes, some promotions may have restrictions or conditions, such as a minimum purchase requirement or limited availability.
Can restaurant promotions be combined with other discounts or offers?
It depends on the restaurant's policies. It is best to check with the restaurant beforehand to avoid any confusion or disappointment.