A restaurant receipt is essential for businesses today, especially since the customer experience doesn't end with a purchase but begins with it. Most customers take their receipts home to tuck away in a record book or folder for later reference. Those little slips of paper are often seen as an extension of the company itself and serve as a further reminder of either a good or bad time spent in that particular restaurant establishment. That's why the design of an effective restaurant receipt is so essential! 
A well-designed receipt conveys professionalism, and creativity and can even encourage customers to return for more delicious food! In today's blog post, we will discuss how to design your custom-made restaurant receipts – from fonts & colors, logo placement, and other vital elements- together, we'll learn what makes up a great-looking receipt.
Understand the Basics of a Restaurant Receipt
Although often overlooked, a restaurant receipt is essential for patrons and the establishment. Beyond its apparent role of outlining ordered items, prices, taxes, and the final bill, a receipt also holds additional valuable insights. These can include the server's identity, table number, and the exact date and time of the transaction.
Recognizing these key elements empowers customers to identify errors or inconsistencies, while restaurant managers leverage this information to monitor sales, manage inventory, and understand customer preferences. So, the next time you dine out, pay attention to your receipt – there's more to it than meets the eye.
How to Fill out a Restaurant Receipt?
Filling out a restaurant receipt accurately is essential for maintaining a smooth transaction process and ensuring clear communication between the establishment and its customers. Here are the key steps to effectively complete a restaurant receipt:
Itemize Ordered Items: List all the dishes, beverages, and additional items ordered by the customer. Include the name, quantity, and individual price of each item.
Calculate Subtotal: Add up the prices of the ordered items to calculate the subtotal before any taxes or discounts are applied.
Apply Taxes and Discounts: If applicable, apply taxes, such as sales or value-added tax, to the subtotal. Also, factor in any discounts, promotions, or coupons to which the customer is entitled.
Compute Total Amount: Sum up the subtotal and any adjusted tax and discount amounts to arrive at the final total the customer needs to pay.
Additional Details: Include relevant information like the date and time of the transaction, the server's name or identification, and the table number. This ensures clarity for both customers and staff and aids in record-keeping.
By following these steps diligently, restaurant staff can create accurate and comprehensive receipts that enhance the overall dining experience and foster transparency between the establishment and its patrons.
Creating your Receipt Template
Designing a personalized receipt template offers a range of benefits for businesses, helping establish a professional image and enhancing customer experience. By crafting a template tailored to your brand's identity and specific needs, you can effectively communicate essential transaction details while reinforcing your business's unique style. Here are several vital points to consider when creating your receipt template:
Branding Consistency: Incorporate your company's logo, colors, and fonts into the receipt template. Consistent branding fosters a sense of familiarity and professionalism for customers.
Essential Information: Include details such as the transaction date, time, and a unique receipt number. Ensure that customer and business information, including contact details, are prominently displayed.
Itemized Breakdown: List each purchased item or service along with its corresponding price. An organized breakdown helps customers understand their expenses. It makes it easier for them to verify the accuracy of the receipt.
Taxes and Discounts: Transparently show any applied taxes, discounts, or promotional offers. This builds trust and helps customers grasp the final amount they are paying.
Payment Information: Specify the payment method used, whether cash, credit card, mobile payment, or other options. If applicable, include a space for a signature to acknowledge the transaction.
Contact Information: Provide contact details for customer inquiries or support. This reinforces customer satisfaction and lets them know you're accessible if they have concerns.
Terms and Conditions: If your business has specific terms of service or return policies, consider including a concise summary on the receipt. This clarifies expectations for both parties.
Designing your receipt template goes beyond functional purposes; it's an opportunity to showcase your brand's identity and commitment to customer satisfaction. With attention to detail and a focus on clarity, your personalized receipt template can significantly enhance the transaction experience for your patrons.
The Importance of Restaurant Receipts
Restaurant receipts hold a considerable significance beyond their apparent role as mere transaction records. These unassuming pieces of paper play a pivotal role for both customers and establishments, serving as vital tools for various purposes. Here's a breakdown of the importance of restaurant receipts: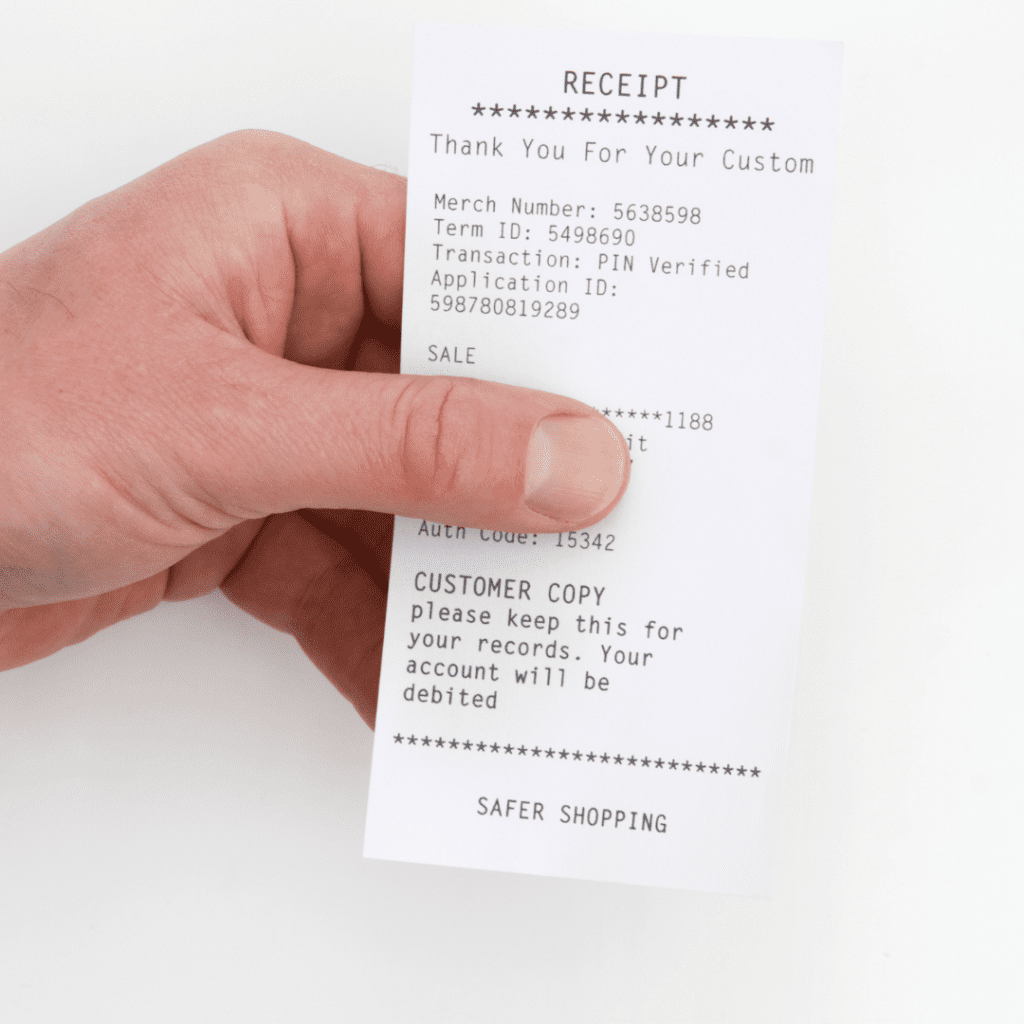 Transaction Documentation: At its core, a restaurant receipt provides a comprehensive transaction record. It outlines the ordered items, their corresponding prices, applied taxes, discounts, or gratuities. It ultimately calculates the total cost of the meal. This documentation ensures accuracy and transparency in the financial exchange between the customer and the restaurant.
Verification and Discrepancy Detection: Receipts allow customers to verify the accuracy of their order and the bill. By comparing the receipt to their experience, customers can quickly spot errors, missing items, or overcharges. This empowers them to address any discrepancies with the restaurant staff, ensuring fair and precise billing.
Legal and Financial Accountability: For restaurants, receipts are essential for legal and financial accountability. They are evidence of transactions for tax purposes, audits, and financial reporting. Receipts also provide a means to address any disputes that may arise between the establishment and customers regarding the services offered and the charges incurred.
Customer Feedback and Service Improvement: Receipts often include the server's name, table number, and transaction timestamp. This information is valuable for tracking customer interactions, allowing establishments to gather feedback and evaluate service quality. Positive experiences can be acknowledged, while issues can be addressed promptly, contributing to ongoing service improvement.
Data Analysis and Business Insights: Collecting and analyzing receipt data can yield valuable insights for restaurant managers. Establishments can make informed decisions about menu offerings, pricing strategies, and inventory management by tracking sales patterns, popular menu items, peak dining times, and customer preferences.
The Benefits of Designing Your Own Restaurant Receipt
Crafting a custom restaurant receipt offers numerous advantages beyond the traditional transactional function. Creating a receipt tailored to your establishment's unique identity and needs can enhance customer engagement, reinforce branding, and streamline operational processes. Here are the key benefits of designing your own restaurant receipt:
Brand Identity: A personalized receipt becomes an extension of your brand. Incorporating your logo, color scheme, and font choices ensures a consistent brand image that reinforces your restaurant's identity and makes a lasting impression on customers.
Professionalism: A thoughtfully designed receipt adds a touch of professionalism to the dining experience. It reflects attention to detail and signals that your establishment cares about every aspect of the customer journey.
Enhanced Customer Experience: An aesthetically pleasing and well-organized receipt creates a positive customer experience. It clarifies the order, pricing, and payment, reducing confusion and enhancing customer satisfaction.
Clear Communication: Custom receipts enable you to present information clearly and logically. Organized itemized lists, categorization of charges, and easy-to-read fonts contribute to transparency in billing, preventing misunderstandings.
Legal Compliance: Designing your receipt allows you to ensure that it includes all the necessary legal information required for your region, such as tax identification numbers, regulatory disclaimers, and contact information.
Designing your own restaurant receipt goes beyond the practicalities of recording transactions. It presents an opportunity to engage customers, build brand loyalty, and streamline operations. By leveraging the benefits of a personalized receipt, you create a more cohesive and satisfying dining experience that resonates with your patrons.
How to Avoid Mistakes when Filling out a Restaurant Receipt
Filling out a restaurant receipt accurately ensures a smooth transaction and avoids misunderstandings. Here are some steps you can take to avoid mistakes when filling out a restaurant receipt:
Double-Check Order Details: Before entering any information on the receipt, carefully review the order details with the customer. Ensure you accurately note each item, including any specific customization or special requests.
Verify Prices: Check the menu or price list to ensure you enter the correct prices for each item. Any discrepancies in pricing can lead to customer dissatisfaction.
Apply Discounts and Promotions Correctly: If there are any discounts, promotions, or coupons being applied to the order, make sure you use them accurately. Calculate the final discounted amount correctly.
Calculate Totals Carefully: Double-check your math when calculating subtotals, taxes, and the final total. Minor calculation errors can result in incorrect billing.
Verify Payment Information: If you're entering payment information manually, such as credit card numbers, make sure you input the numbers correctly. Mistyped digits can lead to payment processing issues.
Check Dates and Times: Ensure that the date and time of the transaction are accurate. This is particularly important for businesses that operate during different shifts or hours.
Confirm Customer Information: If the receipt includes customer information such as a name or contact details, verify that you've written them down accurately. This is especially important for pickup or delivery orders.
Conclusion
In conclusion, a restaurant receipt is much more than a simple paper confirming a financial transaction. It serves as an essential communication tool, a record for financial accountability, a source of valuable business insights, and a reflection of a restaurant's brand identity. Crafting a well-designed and accurate receipt requires attention to detail, from listing ordered items to applying discounts and taxes to including additional information like the server's name and transaction time. By avoiding common mistakes and tailoring your receipt template to your brand's needs, you can significantly enhance the dining experience for your patrons.
Suppose you found this information helpful and want to learn more about optimizing restaurant operations. In that case, we invite you to explore more articles on our Orderific blog. There, you'll find a wealth of insights specifically tailored to the needs of restaurant owners and managers.
FAQs
Q. What info does the receipt show?
Ans. A restaurant receipt displays detailed information about your order, including item names, their prices, any applied taxes or discounts, the total amount, payment method, and transaction time.
Q. Can I get a digital receipt?
Ans. Many restaurants offer digital receipts, which can be emailed to you or accessed through a mobile app or online account.
Q. Is it mandatory to tip?
Ans. While tipping is usually discretionary, it is often seen as a customary practice for exemplary service in many cultures.
Q. How long does it take to keep receipts?
Ans. It's generally recommended to keep receipts for at least one year for personal records and businesses, and up to seven years for tax purposes.
Q. Can I request itemized receipts?
Ans. Yes, you can and should request itemized receipts to clearly record what you ordered and how much each item cost.