Picture yourself stepping into a restaurant, where instead of being welcomed by a human server, a robot waiter stands before you. Unbelievable, right? Welcome to the era of 'Restaurant Robots' – a time when automation has spread beyond manufacturing lines to revolutionize the hospitality industry.
Now, you might wonder, what's all the fuss about? Let's dive in and unveil this captivating world.
Robots in The Restaurant Industry: Why It Makes Sense
Picture this, you're a restaurant owner plagued with staffing shortage issues and the latest news on minimum wage hikes isn't making things any easier. Picture a solution that is affordable, dependable, and sets you apart from the rest. You got it, we're referring to the groundbreaking restaurant robot revolution.
Companies such as Bear Robotics and Pudu Robotics have developed robot servers to enhance the efficiency and reduce labor costs of restaurants. Have you ever considered the idea of a robot, possibly even programmed to sing 'Happy Birthday' to your customers? An endearing sight to behold indeed.
Incorporating robots into the restaurant industry makes perfect sense for several reasons. This decision is driven by the rapid advancements in technology and evolving consumer expectations. Here are some key reasons why integrating robots in the restaurant industry is not only logical but also inevitable:
Consistency and Quality Control:
Robots can produce consistently high-quality output, ensuring each dish is prepared exactly the same way every time. This can greatly improve food quality and service consistency, leading to better customer satisfaction.
Efficiency and Speed:
Robots can work faster than humans and do not get tired or need breaks. This can significantly reduce waiting times, thereby improving customer experience. Additionally, robots can operate 24/7, potentially leading to higher operational efficiency and productivity.
Cost Reduction:
Even though robots may have a high upfront cost, they can result in substantial savings in labor expenses over time. Unlike humans, robots do not need salaries, benefits, or sick leave, and they are capable of operating for extended hours.
Moreover, robots can potentially reduce waste by ensuring precision in tasks such as portioning and ingredient usage.
Solving Labor Shortage Issues:
The restaurant industry often faces labor shortages and high turnover rates. Robots can fill in these gaps, ensuring that the restaurant can operate smoothly even in the face of staffing challenges.
Health and Safety:
In the era of COVID-19 and beyond, robots can help minimize human contact, reducing the risk of transmission of diseases. They can also perform tasks in environments that might be dangerous for humans, such as dealing with high heat or sharp objects.
Innovation and Differentiation:
The incorporation of robots can captivate customers who are fascinated by the novelty of a high-tech dining experience. This can provide a restaurant with a distinctive selling point, setting it apart from competitors.
Data Collection and Personalization:
Robots integrated with AI can collect and analyze customer data to personalize the dining experience. They can remember customer preferences, make recommendations based on past orders, and offer a highly personalized service.
Although the advantages are considerable, it is crucial to weigh the challenges linked to implementing robots in the restaurant sector. These encompass the initial investment cost, potential job displacement, and the requirement for technical expertise to oversee and upkeep the robotic systems.
Moreover, some customers may prefer human interaction over robotic service. Therefore, a balanced approach that combines the best aspects of both human and robotic service could be the most successful strategy in the long run.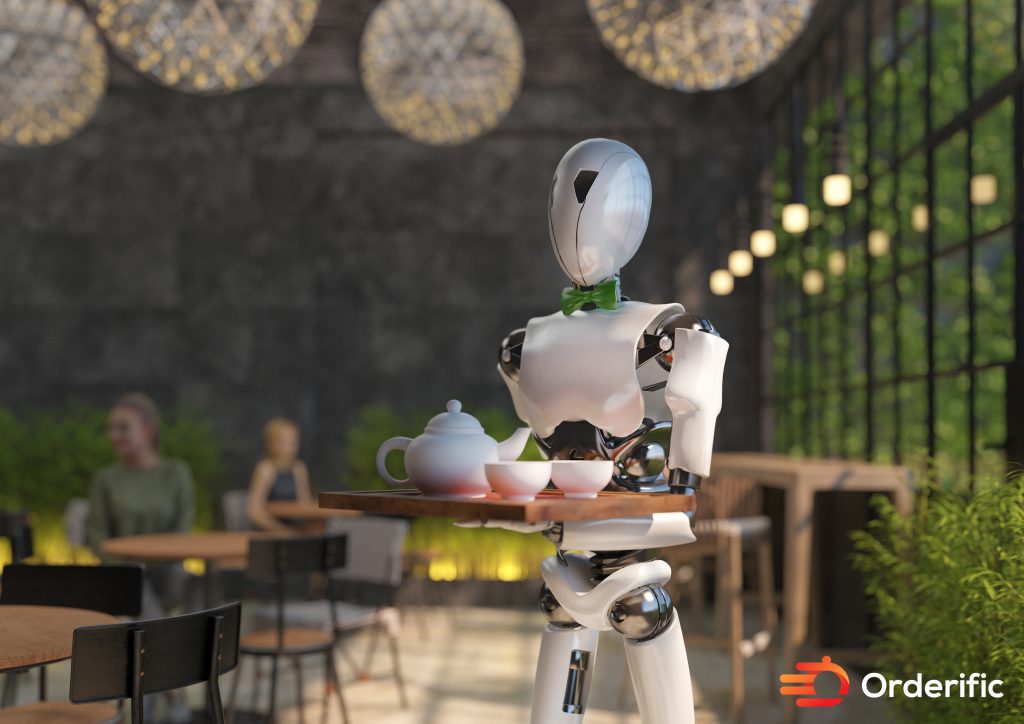 How Much Labor Cost Can Restaurant Robotics Save?
Quantifying the exact labor cost savings from implementing robotics in a restaurant can be complex due to the variety of factors involved, such as the specific tasks the robots are handling, the cost of human labor in the restaurant's location, and the initial investment in the robotic technology.
However, it is possible to outline a rough estimation.
The Costs
First, consider that in the United States, labor costs in the restaurant industry typically account for approximately 30-35% of total revenue. These costs include not just wages, but also benefits, payroll taxes, and costs associated with turnover like recruitment and training.
Assume a robot could replace the tasks of a full-time employee who works 40 hours a week. If the restaurant is open every day, this employee works about 2,000 hours a year. With the average wage in the U.S. restaurant industry around $14 per hour, this single employee would cost about $30,000 annually just in wages.
Add on an estimated 25-30% for additional labor costs (benefits, payroll taxes, etc.), and the total is approximately $37,500 – $39,000.
A service robot, depending on its sophistication and tasks, might cost anywhere from $20,000 to $100,000 or more. If we take a robot at the lower end, say $30,000, plus ongoing maintenance costs which might be around 5-10% of the purchase price per year, the first-year cost would be around $31,500 – $33,000.
Comparison
In this scenario, the upfront cost of the robot is comparable to that of a human employee for the first year. However, the subsequent years witness a substantial drop in robot maintenance costs to around $1,500 – $3,000, in stark contrast to the hefty $37,500 – $39,000 annual labor cost of a human.
Consequently, the accumulated savings over several years can be significant. Nevertheless, it is crucial to acknowledge the potential impact of customer responses to the presence of robots on revenue, as well as the inherent value of human capabilities that robots cannot currently replicate, such as providing personalized customer service.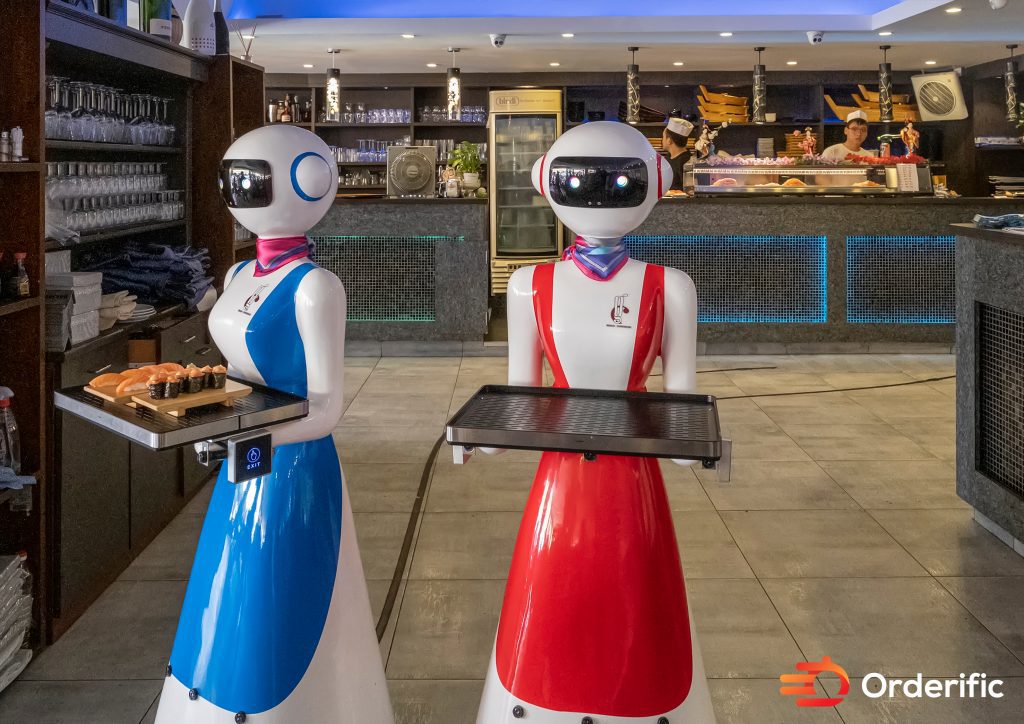 Robots Working in Restaurants: What Are They Doing?
Robots are steadily gaining popularity and versatility within the restaurant industry. Let's explore their diverse roles across different sectors of this thriving field:
Robots for Food Preparation:
Nowadays, robots have advanced to the point where they can handle various food preparation tasks effortlessly. Take, for instance, pizza-making robots that adroitly spread sauce, add delectable toppings, and expertly place the pie in the oven.
Additionally, there are robots capable of assembling mouthwatering burgers, skillfully chopping vegetables, crafting delightful salads, and even cooking entire dishes from the ground up. Some sushi restaurants use robots to roll sushi at a consistent quality and high speed.
Robots for Food Delivery:
Many restaurants now employ robots for food delivery. These robots are designed to autonomously navigate around the restaurant, avoiding obstacles and ensuring accurate food delivery. This not only saves time for human staff but also minimizes the disruption to customers and reduces potential errors in food delivery.
Robots for Curbside Delivery:
Robots are also being used for curbside delivery, a service that has seen a significant increase in demand due to the COVID-19 pandemic. Customers can order food from their phones, and robots deliver the food to the customer's car when they arrive. This minimizes human contact and improves the efficiency of the process.
Robots for Drink Service:
In some bars and restaurants, robots are being used to mix and serve drinks. These robots can be programmed with a wide range of drink recipes and can mix drinks with precision and consistency. Some robots can even interact with customers, take orders, and serve drinks directly to customers.
With the constant technological advancements, it is highly probable that robots will play an increasingly larger role in the restaurant industry. Yet, we must not forget that human interaction remains an integral part of the dining experience for numerous customers.
Hence, the most thriving restaurants will be those that strike a harmonious balance between capitalizing on the advantages of robots while preserving the human touch.
Challenges of Restaurant Robotics and Automation in The Food Industry
While robotics and automation bring numerous advantages to the food industry, they also present several challenges:
High Initial Investment:
Implementing automation in a restaurant can require significant upfront capital. The cost of purchasing and installing robots, as well as the necessary training and infrastructure changes, can be prohibitive, especially for smaller businesses.
Maintenance and Updates:
Like any technology, robots require regular maintenance and occasional repairs, which can add to their cost. They also need software updates to stay efficient and relevant. This can require ongoing technical expertise, which comes at an additional cost.
Adaptability and Versatility:
While robots excel at repetitive tasks, they struggle with tasks that require adaptability or judgment. For instance, if a customer wants a dish modified in a way the robot is not programmed to accommodate, a human worker would need to step in.
Customer Reception:
While certain individuals might be intrigued by the novelty of robotic service, others may appreciate the personal touch that accompanies human interaction. Striking a balance between automation and human engagement is vital to ensure a positive customer experience.
Job Displacement:
Automation and robotics can lead to job displacement, impacting the livelihood of restaurant workers. The ethical and societal implications of this need to be managed carefully, and potential solutions such as reskilling and upskilling programs should be considered.
Regulatory Compliance:
Restaurants must ensure that their utilization of robots adheres to all applicable health and safety regulations, which can be a demanding endeavor. Moreover, with the increasing adoption of robots, additional regulations may arise, presenting further obstacles and considerations.
Dependence on Technology:
Over-reliance on automation can make restaurants vulnerable to technical issues or cyber attacks. Having backup systems in place and ensuring robust cybersecurity measures are important.
In order to overcome these challenges, restaurants will need to adopt a strategic and considered approach, possibly integrating automation gradually and ensuring they have the right skills and resources in place to manage their use of robotics effectively.
Is This Robot My Friend?
While restaurant robots offer consistent and efficient service, it's important to keep in mind that they are ultimately machines programmed for specific tasks. They lack emotions, consciousness, and the ability to establish genuine social connections. Therefore, while a restaurant robot may behave in a friendly manner, like greeting you upon arrival or expressing gratitude when you leave, these are pre-programmed responses.
Nonetheless, as artificial intelligence technology advances, robots are becoming more sophisticated in their interactions. Some robots can recall previous orders or preferences, creating a more personalized and friendly experience. They may even engage in basic conversation and respond to certain verbal cues, giving the illusion of social interaction.
However, it is important to remember that despite enhancing the dining experience through efficiency, novelty, and simulated social interaction, robots are incapable of forming genuine friendships with humans.
Robots Are Hard to Integrate… Or Are They?
Integrating robots into a restaurant's operations can pose challenges, but it doesn't have to be a deal-breaker. Let's take a closer look at why.
Technology Advancements:
Robots are rapidly advancing in technology, making them simpler to integrate into various businesses, including restaurants. These modern robots are highly capable, versatile, and user-friendly, surpassing all expectations.
Improving Cost Efficiency:
While the initial costs of restaurant robots can be high, they have been decreasing as technology improves and becomes more widespread. Moreover, the potential labor cost savings and operational efficiency gains can offset these initial costs over time.
Vendor Support:
Many robotics companies offer extensive support to help restaurants integrate robots into their operations. This can include training staff, providing maintenance and updates, and even customizing the robot's functions to suit the specific needs of the restaurant.
Software Integration:
Modern-day robots can seamlessly integrate with a restaurant's existing software systems, including order management and point of sale systems. This simplifies the incorporation of robots into the restaurant's operations without the need for a complete system overhaul.
Consumer Acceptance:
With the increasing presence of robots in our daily lives, the acceptance of these technological wonders in restaurants is on the rise. This helps facilitate a smoother and more successful transition.
That said, successful integration of robots in restaurants also depends on careful planning and implementation. This includes considering factors such as the impact on staff, the need for ongoing maintenance and updates, ensuring compliance with health and safety regulations, and finding the right balance between automation and human service to provide the best customer experience.
Human Supervision & Maintenance
Despite the advanced capabilities of restaurant robots, human supervision and maintenance remain crucial elements in the successful operation of these machines. Here's why:
Quality Control:
Humans play a critical role in overseeing the quality of the work done by robots. They ensure that food prepared by robots meets the required standards and make adjustments as needed.
Unexpected Situations:
Robots are excellent at handling programmed tasks, but they may struggle with unexpected situations that require flexibility and judgement. Humans are necessary to intervene and handle these unexpected scenarios.
Customer Interaction:
While robots can handle many aspects of service, human interaction remains an important part of the dining experience. Humans can provide the personal touch, warmth, and spontaneity that robots cannot.
Maintenance and Repairs:
Like any machine, robots require regular maintenance to ensure they continue to operate effectively. They may also require repairs if they break down. Humans are needed to perform these tasks or oversee them if they're outsourced to a third party.
Software Updates:
Robots require regular software updates to add new features, improve existing ones, or fix bugs. These updates must be managed by humans.
Training:
Employees must undergo training to collaborate with robots effectively. This entails acquiring knowledge on operating robots, resolving minor issues, and cultivating teamwork in a diverse environment that includes both humans and robots.
Ethics and Compliance:
It is crucial for humans to ensure that the utilization of robots aligns with applicable laws and regulations. Additionally, ethical considerations regarding privacy and job displacement must be taken into account.
In essence, robots can automate various tasks within a restaurant setting; however, they do not eradicate the necessity for human involvement. Instead, they modify the nature of human work, redirecting attention towards tasks that require judgment, empathy, and problem-solving skills.
Conclusion
The world is undergoing a rapid evolution, and the restaurant industry is right there with it. With robotics and automation becoming increasingly prevalent, it is evident that the future of the food service industry lies in wholeheartedly embracing this transformative shift. Adapting to technology is key to surviving in the 21st-century hospitality sector. Whether in New York or Shanghai, robots are transforming the way we dine.
In case you want more content like this, visit Orderific right now!
FAQs
Do you think service by robots in restaurants will catch on?
Considering the benefits and the rapid advancements in robotics, it's only a matter of time before robot waiters become common in restaurants worldwide.
What do you think about having a robot for a waiter?
A robot waiter would definitely add a unique touch to the dining experience. Besides, it would ensure efficient and accurate service.
Can robots replace waiters?
Robots can assist waiters by taking over repetitive tasks, but the human touch in hospitality service is irreplaceable. Robots and humans can work hand in hand to create a better dining experience.