Introduction
Welcome to our comprehensive guide on restaurant signs! In the highly competitive restaurant industry, your sign isn't just about marking your location, it's about enticing customers, inviting them in, and hinting at the experience they can expect inside. From bold channel letters adorning the building's exterior to subtle window graphics that catch the wandering eye, every aspect of your signage contributes to your brand's image and its ability to attract potential customers.
Whether it's a vibrant neon sign that screams fun or a classy custom restaurant sign that exudes elegance, your signage plays a pivotal role in making your restaurant stand out in the bustling streets of places like New York. Inside, lobby signs, office signs, and menu boards continue to guide and inform, while banners, including vinyl banners, advertise daily specials and upcoming events. Everything, including letters, signage, and even gift cards, forms a cohesive, unique identity that sets your restaurant apart. So, let's explore the world of signs and find the perfect ones for your establishment!
Menu Signs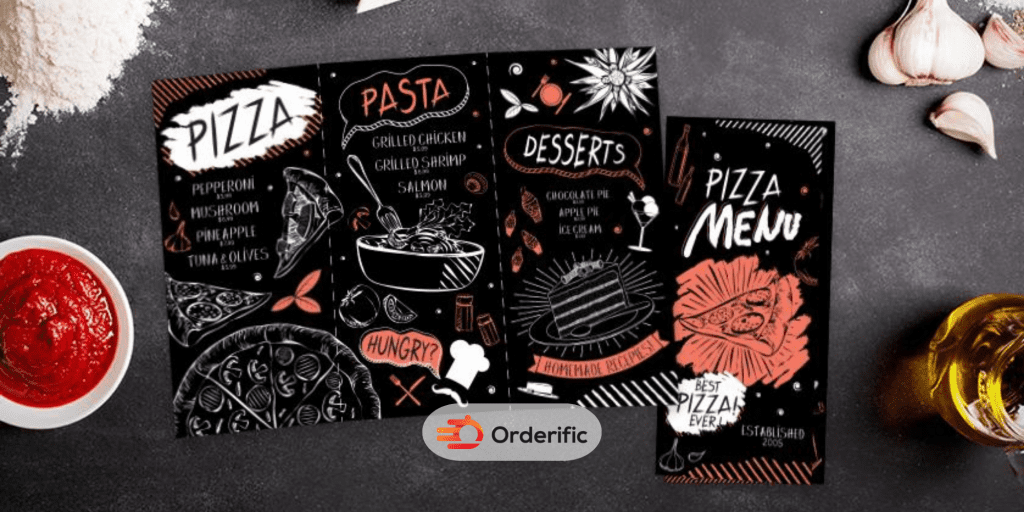 Menu Boards
They are an essential part of your restaurant signage, functioning as a silent salesman on your behalf. These boards not only list your offerings but also set the tone for your customer's dining experience. A well-designed menu board can influence customer decisions, promote dishes, and increase the average ticket size.
Traditional static menu boards can add a touch of nostalgia, or you may opt for digital menu boards, which offer the flexibility to update content easily and frequently, showcasing daily specials or rotating items. The fonts, colors, and layout of your menu board should echo the aesthetic of your restaurant and be easy to read. Remember to highlight popular or high-margin items in visually prominent places on the board.
Digital Menu Boards
A digital menu board is an innovative and dynamic approach to displaying your restaurant's offerings. With the ability to update instantly, these menu boards provide flexibility to showcase daily specials, promote new items, or even run time-specific menus. For restaurants focusing on a tech-savvy audience, a digital menu board can be an excellent way to engage. Moreover, it's an environmentally friendly option, reducing the need for printed menus and banners.
Menu Stands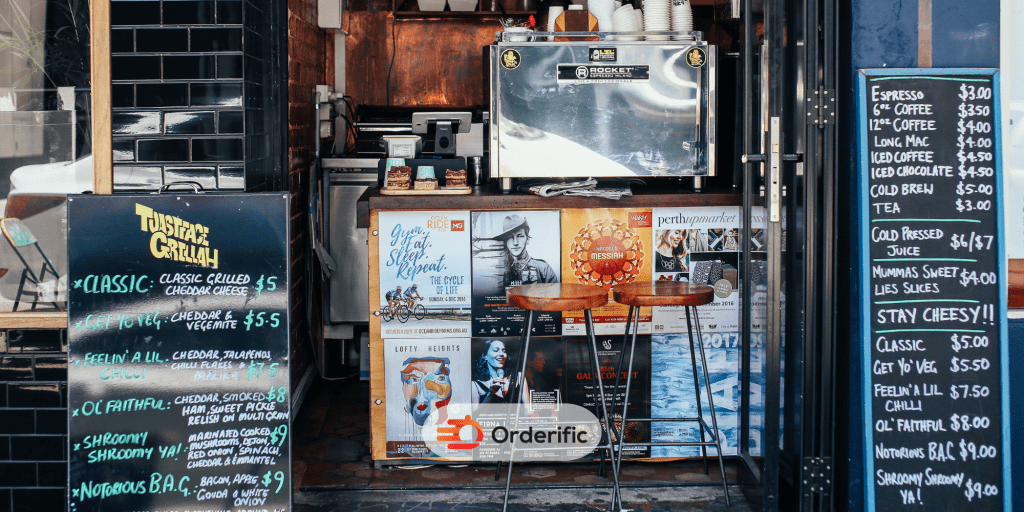 Embracing the charm of a traditional look, chalkboard menu signs offer a cozy and personal touch. Frequently seen in coffee shops, bakeries, and bistro-style restaurants, these signs add a rustic appeal to your décor. The easy-to-update format of a chalkboard sign is perfect for restaurants with rotating daily specials or seasonal offerings. This cost-effective restaurant signage option enables creativity and flexibility while enhancing your restaurant's ambiance.
Remember, no matter what type of menu sign you choose, ensure that it cohesively aligns with your brand image, is legible, and showcases your culinary delights effectively.
Restaurant Advertising Signs
Bulletin Boards
Bulletin boards serve as an effective advertising platform within your restaurant. This engaging form of restaurant signage can be utilized to display a myriad of information, from upcoming events and special promotions to showcasing customer testimonials and press clippings. Offering a platform for interaction, these boards can encourage customer participation and foster a community spirit. For example, a cork bulletin board can be used for customers to pin their photos or leave notes, creating a personalized and inclusive atmosphere within your restaurant. Whether you choose a classic corkboard or a sleek magnetic metal board, make sure it aligns with your restaurant aesthetic and is placed in a high-traffic area to ensure maximum visibility. Remember, the key to an effective bulletin board is to keep it neat, organized, and updated regularly to maintain customer interest and engagement.
Concession Signs
Concession signs play a vital role in guiding your patrons through the delightful culinary journey you have to offer. Primarily used in fast-food outlets, food trucks, or outdoor food festivals, these signs are designed to be bold, colorful, and highly visible to attract customers from a distance. They highlight your most enticing food and beverage options and can significantly enhance impulse sales. Utilize eye-catching graphics and large, easy-to-read fonts to ensure your menu items can be seen and desired from afar. Whether they're simple banners or illuminated signs, concession signs can go a long way in boosting your sales and creating a dynamic and fun food ordering experience for your customers. It's an investment that can pay dividends in increased customer traffic and sales. Remember, the aim is to have signage that stands out, is clear and concise, and represents your brand's personality effectively.
Neon Restaurant Signs And LED Restaurant Signs
Nothing says "open for business" quite like the brilliant glow of neon restaurant signs. These retro-inspired signs are not only visually compelling, but they also add a touch of nostalgia and fun to your restaurant's facade. Used creatively, they can effectively convey your restaurant's unique brand personality, making it an instant hit among the night crowd. The advantage of neon signs is their high visibility, even in daylight, which can draw more attention to your restaurant.
On the other hand, LED restaurant signs offer a modern and energy-efficient alternative to traditional neon signs. These signs are bright, easy to read, and come in a variety of colors and sizes. They are perfect for restaurants aiming for a sleek, contemporary look. LED signs are also known for their durability and low maintenance, making them an economical choice in the long run.
A-Frame Sign Boards
A-Frame sign boards, also known as sandwich boards, are a versatile and portable signage option perfectly suited for restaurants. They are excellent for advertising daily specials, directing foot traffic, or simply adding a personal touch to your storefront. Made of various materials like wood, metal, or plastic, these signs can be used in all weather conditions. Many come with a chalkboard or whiteboard surface for easy updating. Position them on sidewalks or entrances to catch the eye of passersby. A clever, humorous, or interesting message can even turn your sign into a social media sensation! Whatever you choose to display, ensure it aligns with your brand voice and is clear and legible from a distance. In a sea of restaurant signs, an A-Frame sign board can be a simple, cost-effective solution to help your restaurant stand out.
Restaurant Sign Design
Visibility
Visibility is crucial for effective restaurant signage. Signs must be easily visible from a distance and at different angles, with legible and bold letters on a contrasting background. Good lighting ensures visibility even at night. Place signs in high-traffic areas, free from obstructions, to maximize their impact on attracting customers and driving sales.
Text
Ensure your restaurant signs are clear, concise, and compelling. Avoid overcrowding with excessive information. Instead, deliver your message simply and directly. Use a readable font with enough contrast for maximum visibility. Infuse your brand's voice to showcase your restaurant's personality. Incorporate effective call-to-action phrases to entice customers. Remember, your signage creates a lasting impression, so make it inviting, informative, and uniquely you.
Color Composition
Color is crucial in restaurant signage design. It's not just about choosing colors that look good together, but also aligning with your brand identity and evoking the desired emotional response. For example, red stimulates appetite and creates urgency, while green conveys freshness and health. Warm colors create a cozy atmosphere, while cool tones exude sophistication. Ensure high contrast for readability and consider cultural significance. Strategic use of color communicates your brand's personality and attracts your target audience effectively.
Brand Identity
Maintaining a consistent brand identity across all your restaurant signage is crucial in establishing a recognizable and memorable presence. Your signs should reflect your brand's ethos, personality, and style. Everything, from the choice of font and color to the tone of voice in the text, should align with your brand image. For instance, if your restaurant champions a rustic and homely vibe, a hand-written chalkboard sign might suit your brand more than a high-tech digital display. Similarly, if you operate an upscale, fine-dining restaurant, a sophisticated, minimalist sign with a polished finish might be more appropriate.
The key is to create a cohesive visual experience for your customers, making your brand instantly recognizable whether they're seeing your signage, your menu, or your social media posts. By ensuring consistency in your restaurant signs, you not only enhance your brand recognition but also build trust and reliability in the eyes of your customers. Create a sign that does more than just direct people to your door, create a sign that tells your story.
Conclusion
In the bustling and ever-evolving culinary landscape, standing out can be a challenge. However, thoughtful and impactful restaurant signage can go a long way in drawing attention to your establishment, conveying your unique brand identity, and enticing customers to step in and enjoy your offerings. From traditional menu boards to digital displays, from nostalgic neon signs to contemporary LED alternatives, from cozy chalkboard signs to vibrant concession banners – each sign plays a vital role in communicating your brand's story and the delightful culinary journey you offer.
Your signage is more than just information; it's an invitation, a statement, and a reflection of the delectable experience waiting inside your restaurant. Let your signs do the talking! If you want to explore impactful signage for your restaurant, look no further. Visit Orderific today and book a demo to see how we can help transform your restaurant signage and boost your brand visibility efficiently and effectively.
FAQs
Why is a restaurant sign important for business?
A restaurant sign attracts customers and enhances brand visibility.
What types of restaurant signs are available?
There are several types of restaurant signs such as menu boards, neon signs, LED signs, and A-frame sign boards.
How can a restaurant sign be customized to reflect the brand?
Through consistent design elements, color schemes, and text that represent the brand's personality and values.
Are there any regulations or permits needed for installing a restaurant sign?
Yes, there can be local regulations or permits needed for sign installation.
Can a restaurant sign be illuminated or have special effects?
Yes, signs can incorporate illumination or special effects for increased visibility.