Navigating the challenges of running a prosperous restaurant entails overcoming various hurdles. However, integrating appropriate technological and hardware solutions can significantly streamline operations, enhancing efficiency. In essence, restaurant technology serves a dual purpose: enhancing customer service quality while concurrently curbing expenditures. Both thus pivotal facets for a thriving business. 
Ranging from streamlined online ordering systems to cutting-edge POS software, the market offers a plethora of options tailored to the hospitality industry. The task then becomes selecting the optimal tech or hardware to align with your specific requirements. This blog post will spotlight nine paramount categories of restaurant technology and hardware. This will empower you to meticulously assess and determine the most suitable choices for your establishment's unique needs.
Introduction
In the modern, fast-paced landscape, technology integration has seamlessly woven into every sector, particularly the restaurant industry. The infusion of restaurant technology holds the power to significantly enhance overall operations, leading to heightened efficiency and profitability. Ranging from streamlined online ordering systems to dynamic digital menu boards, technology has sparked a profound evolution in how patrons engage with dining establishments.
The expediency and seamlessness that technology brings are welcomed by customers. Simultaneously also enabling restaurants to optimize resources and curtail wait times. The adoption of restaurant technology has transcended from a mere luxury to an absolute necessity. Thus essential for any dining establishment striving to retain competitiveness in today's dynamic market. By strategically implementing apt technology, restaurants can elegantly streamline their functions, deliver superlative service, and ultimately nurture business expansion.
1. Touchscreen Point of Sale Terminals
Technology integration has become paramount for streamlining operations and enhancing customer experiences in today's rapidly evolving restaurant landscape. Among these technological advancements, Touchscreen Point of Sale (POS) terminals have emerged as a cornerstone of innovation. These terminals facilitate smoother order processing and contribute significantly to overall efficiency and customer satisfaction. Let's delve into the key reasons why Touchscreen POS terminals hold immense importance for restaurants: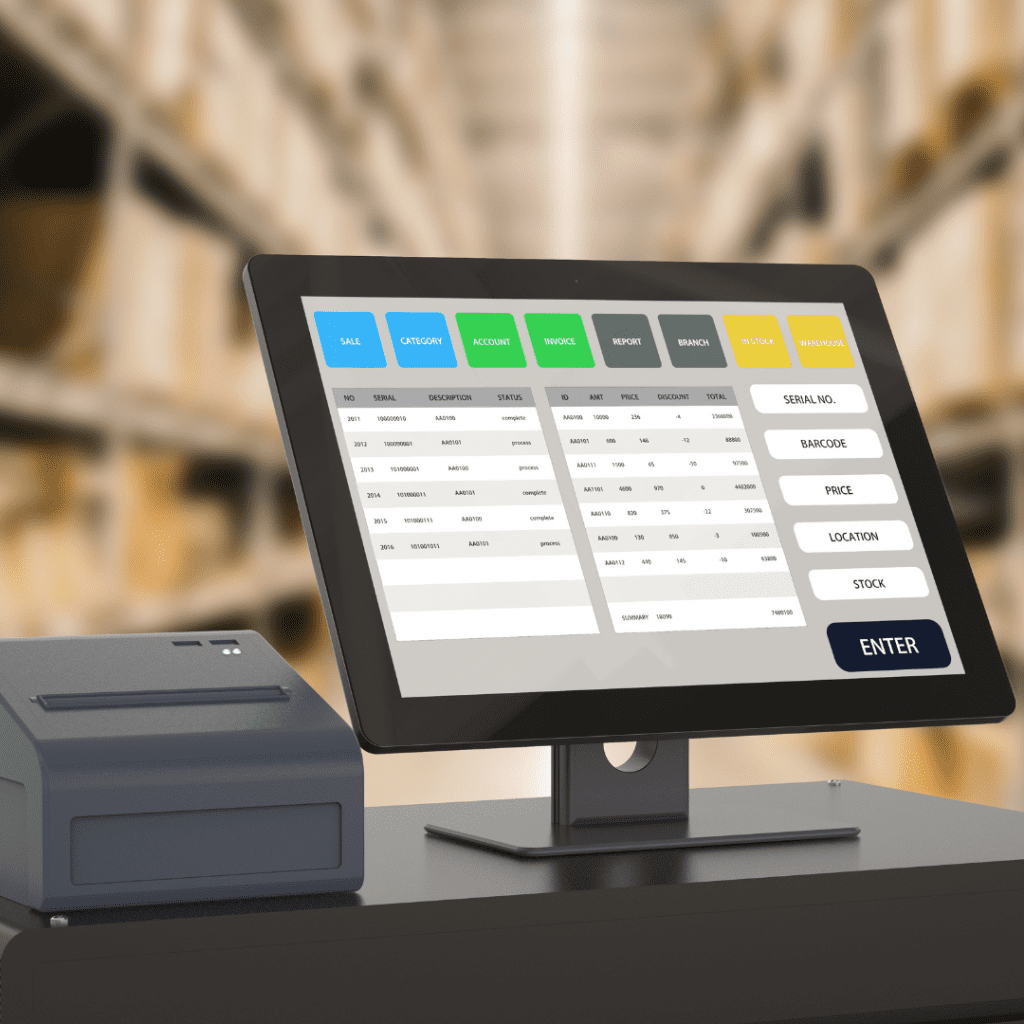 Efficiency and Accuracy: Touchscreen POS terminals expedite order-taking by allowing servers to input customer requests directly into the system. This minimizes the risk of manual errors and miscommunications. Thus resulting in more accurate orders and a smoother dining experience for patrons.
Enhanced Order Customization: With intuitive touchscreen interfaces, servers can easily customize orders based on customer preferences, allergies, or dietary restrictions. This level of personalization meets individual needs and showcases a restaurant's commitment to catering to its clientele.
Real-time Communication: These terminals establish seamless communication between the front-of-house and kitchen staff. Orders are instantly relayed to the kitchen, reducing waiting times and ensuring that food preparation aligns precisely with customer demand. This synchronized process ultimately leads to higher table turnover rates and increased customer satisfaction.
In the dynamic realm of modern dining, Touchscreen POS terminals have proven to be more than just a tool for processing orders—they are an integral component of a restaurant's quest for operational excellence and customer delight.
2. Order and Pay at the Table
In the dynamic realm of restaurant services, the "Order and Pay at the Table" feature has emerged as a pivotal innovation, reshaping the dining experience. This technology streamlines operations and empowers patrons with convenience and control. Let's explore three key features that underline the significance of the "Order and Pay at the Table" concept:
Seamless Ordering Experience: With the "Order and Pay at the Table" feature, diners can browse restaurant menu, customize their selections, and place orders directly from their smartphones. This eliminates the need for manual menu handling, accelerates order placement, and accommodates individual preferences seamlessly.
Enhanced Customer Empowerment: By enabling patrons to order and pay at their own pace, this feature puts customers in control of their dining experience. They can split bills, make adjustments, and pay digitally, reducing wait times and ensuring a hassle-free transaction process.
Operational Efficiency: The technology optimizes restaurant workflows by reducing the workload on restaurant staff. Instead of managing multiple trips to the table, waitstaff can focus on delivering exceptional service and addressing specific customer needs. This streamlines operations, leading to quicker table turnovers and increased revenue potential.
In a landscape where convenience, personalization, and efficiency are paramount, the "Order and Pay at the Table" feature emerges as a pivotal tool that modernizes dining establishments and enhances customer engagement and satisfaction in a tech trends driven dining era.
3. Handheld Point of Sale Systems
In the restaurant industry, technology integration continues redefining operational paradigms. Handheld Point of Sale (POS) systems have emerged as a pivotal innovation, significantly enhancing the efficiency and customer-centricity of food service establishments. These portable devices are catalysts for streamlined processes and elevated dining experiences. Here are three key features underscoring the importance of handheld POS systems for restaurants: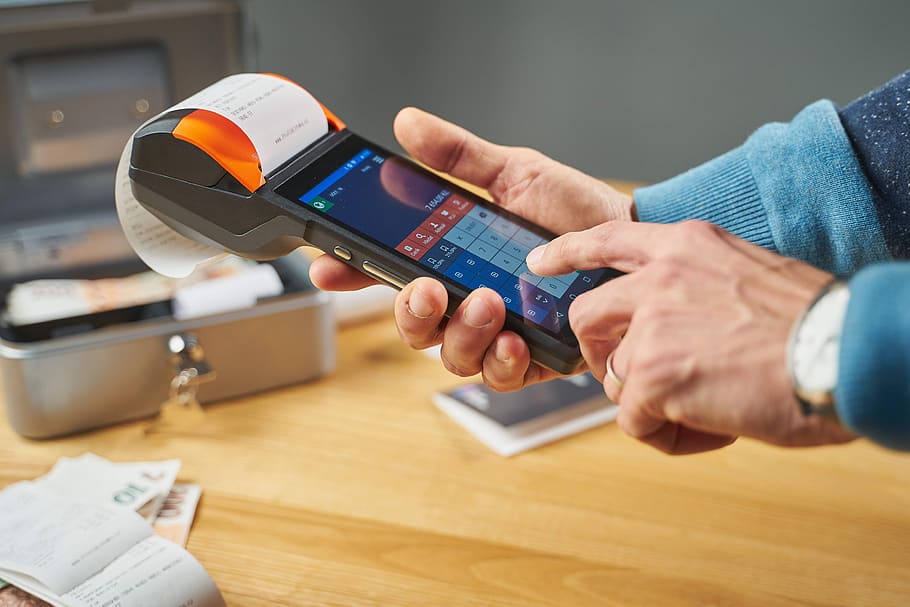 Tableside Ordering and Payment: Handheld POS systems empower servers to take orders directly at the table, expediting the entire dining process. This reduces wait times and enhances order accuracy and customization, resulting in a more satisfying dining experience for patrons.
Seamless Order Communication: With instant connectivity to the kitchen and bar, handheld POS devices enable real-time transmission of orders. This minimizes delays, improves order accuracy, and fosters collaboration between front-of-house and back-of-house staff, ultimately leading to heightened operational efficiency.
Upselling and Customization: Handheld POS systems equip servers with detailed menu information and recommendations, facilitating upselling and cross-selling opportunities. Additionally, patrons can easily customize their orders, accommodating dietary preferences or restrictions, which enhances customer satisfaction and loyalty.
In a landscape where agility and customer-centricity are paramount, handheld POS systems emerge as a pivotal asset, redefining how restaurants deliver exceptional dining experiences.
4. Contactless Payments
In today's rapidly changing dining landscape, the significance of contactless payments in the restaurant industry has surged to the forefront. With an emphasis on hygiene and convenience, contactless payment methods have emerged as a pivotal solution. Here are three key features highlighting the importance of contactless payments for restaurants:
Enhanced Safety and Hygiene: Contactless payment methods, such as mobile wallets and NFC-enabled cards, drastically reduce the need for physical contact between customers and payment terminals. This translates to improved hygiene and safety measures, aligning seamlessly with the post-pandemic world's health-conscious dining preferences.
Streamlined Customer Experience: Contactless payments expedite the payment process, allowing customers to settle their bills swiftly without the hassle of handling cash or waiting for card swipes. This enhances customer satisfaction and accelerates table turnover, leading to higher customer throughput during busy hours.
Adaptation to Changing Consumer Behaviors: Modern patrons are increasingly accustomed to digital transactions and mobile-centric lifestyles. By adopting contactless payment options, restaurants cater to evolving customer preferences, making the dining experience more convenient and aligned with today's digital age.
5. Self-Order Kiosks
In a dynamic culinary landscape, restaurants are continuously exploring innovative avenues to enhance customer experiences and operational efficiency. Among these advancements, Self-Order Kiosks have emerged as a pivotal tool, revolutionizing the way patrons engage with dining establishments. These interactive kiosks offer a myriad of benefits that cater to the evolving preferences of today's tech-savvy clientele. Here are three key features highlighting the significance of Self-Order Kiosks: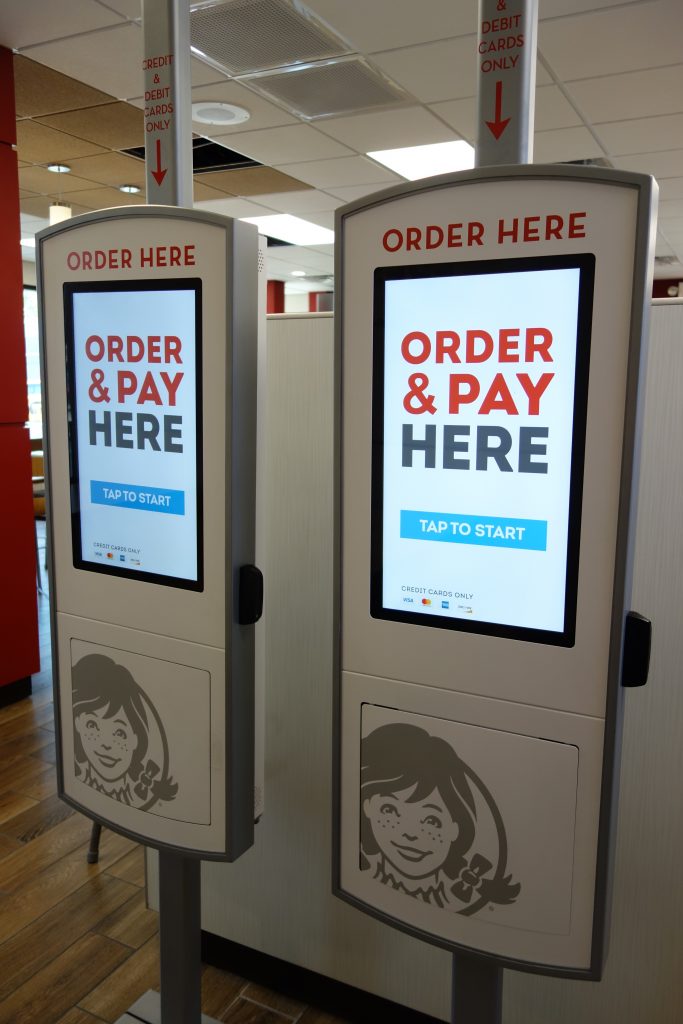 Streamlined Ordering Process: Self-Order Kiosks empower customers to browse menus, customize their orders, and make selections at their own pace. This reduces waiting times and minimizes order inaccuracies, resulting in a more efficient and satisfying dining experience.
Enhanced Personalization: Through intuitive interfaces, Self-Order Kiosks enable patrons to tailor their orders based on dietary preferences, allergies, and portion sizes. This level of customization fosters a deeper connection between guests and the restaurant, increasing customer loyalty.
Upselling and Menu Exploration: Self-Order Kiosks intelligently suggest additional items or combos based on the customer's selections, leading to increased upselling opportunities. Furthermore, these kiosks can showcase vibrant images and detailed descriptions, encouraging patrons to explore a wider range of menu offerings.
As the hospitality industry continues to embrace technological advancements, Self-Order Kiosks stand out as a versatile tool that not only elevates the dining journey but also empowers restaurants to optimize their operations and cultivate lasting customer relationships.
6. Kitchen Display Screens
Kitchen Display Screens (KDS) have emerged as a pivotal new technology, redefining the efficiency and precision of food preparation. These screens provide a digital interface for seamless communication between the front-of-house and kitchen staff, driving a new era of culinary excellence. Let's explore the significance of KDS with these three key features:
Real-time Order Updates: Kitchen Display Screens eliminate the need for paper tickets, ensuring that orders from the front-of-house are relayed directly to the kitchen in real-time. This instant communication minimizes errors, enhances order accuracy, and expedites menu item preparation.
Order Prioritization and Timing: A kitchen display system allows kitchen staff to prioritize orders based on factors such as preparation time and table seating, enabling synchronized meal preparation and reducing bottlenecks during peak hours. This feature optimizes the overall dining experience and helps maintain consistent service standards.
Efficient Communication: KDS fosters effective communication among kitchen team members. They can use the system to request ingredients, indicate when dishes are ready for pickup, and coordinate complex orders collaboratively. This streamlined communication process enhances teamwork and reduces chaos in a high-paced kitchen environment.
7. Printers
In the bustling world of restaurants, where efficiency and accuracy are paramount, printers' role extends beyond traditional paperwork. Printers have become a vital component in streamlining operations and enhancing customer experiences. Let's delve into the key aspects that underline the importance of printers in the restaurant industry:
Order Accuracy and Speed: Printers play a pivotal role in ensuring that orders are accurately communicated between servers and kitchen staff. With the ability to generate detailed order tickets, printers help prevent miscommunication and errors, resulting in quicker and more accurate preparation of dishes.
Kitchen Workflow Optimization: Printers facilitate a well-organized kitchen workflow by categorizing orders and clearly presenting the required items and modifications. This ensures that chefs can efficiently prioritize and prepare orders, leading to a smoother culinary process and reduced waiting times for patrons.
Ticket Customization and Guest Preferences: Modern printers enable customization of order tickets, allowing restaurants to incorporate specific guest preferences, dietary requirements, and special requests. This attention to detail enhances the dining experience and demonstrates a commitment to meeting individual needs.
8. Cash Drawer
The significance of streamlined financial operations cannot be overstated. A pivotal component in achieving this efficiency is the cash drawer—a fundamental asset that plays a crucial role in maintaining secure and organized monetary transactions. Here's why the cash drawer holds paramount importance in restaurant settings, underscored by three key features: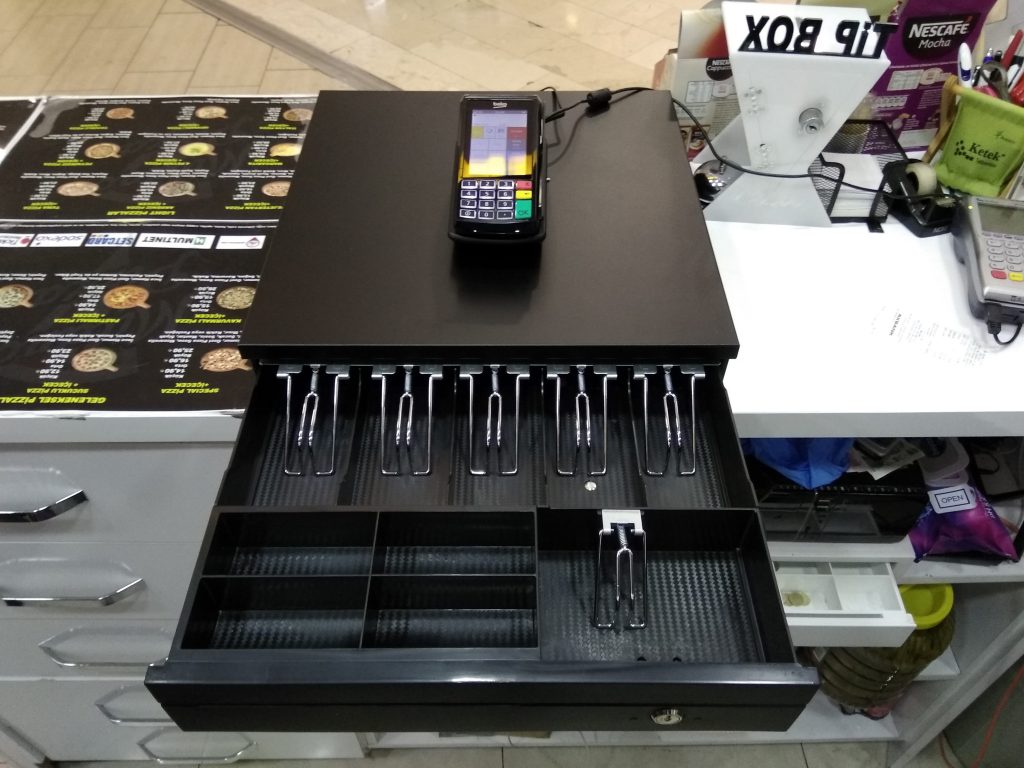 Secure Transaction Management: The cash drawer is a secure repository for cash transactions, safeguarding customer payments and staff earnings. With robust locking mechanisms, it ensures that financial assets remain protected throughout the operational hours, minimizing the risk of theft or unauthorized access.
Accurate Accounting: The cash drawer facilitates meticulous accounting by providing dedicated compartments for different denominations and coins. This arrangement promotes accurate balance calculations during shift changes and end-of-day reconciliations, contributing to precise financial record-keeping and transparent cash flow management.
Efficient Customer Service: Seamless and quick transactions are essential for a positive customer experience. A well-organized cash drawer enables staff to swiftly process payments, minimizing wait times and enhancing customer satisfaction. This efficiency is particularly critical during peak hours when timely service is paramount.
In essence, the cash drawer stands as a cornerstone of financial integrity and operational efficiency in the restaurant industry, ensuring secure transactions, accurate accounting, and expedient customer service.
9. Integrated Online Ordering Solutions
In today's dynamic restaurant business landscape, the integration of online ordering solutions has emerged as a pivotal factor in driving success. As customer preferences evolve towards convenience and digital interactions, restaurants are recognizing the significance of seamlessly incorporating online ordering for food delivery into their operations. Here are three key features highlighting the importance of integrated online ordering solutions:
Enhanced Customer Convenience: Integrated online ordering allows customers to place orders from the comfort of their devices. This convenience extends beyond in-person visits, enabling patrons to browse menus, customize orders, and schedule pickups or deliveries according to their preferences.
Streamlined Operations: By integrating online ordering directly into a restaurant's point-of-sale system, operations become more streamlined. Orders seamlessly flow into the kitchen, reducing the chances of miscommunication and order errors. This integration also helps in managing inventory effectively, ensuring that items are available and ready to fulfill incoming online orders.
Expanded Reach and Insights: Online ordering solutions allow restaurants to reach a broader audience beyond their physical location. This expanded reach can result in increased sales and exposure. Additionally, integrated systems provide valuable insights into customer behaviors and preferences, enabling restaurants to tailor offerings and marketing strategies accordingly. This data-driven approach fosters stronger customer relationships and drives loyalty.
Incorporating integrated online ordering solutions meets the demands of today's tech-savvy customers and empowers restaurants to operate efficiently and strategically in an increasingly digital landscape.
Restaurant Technology and Hardware Built for Restaurants
The landscape of the restaurant industry has undergone a significant transformation, driven by the strategic integration of technology to elevate both operational efficiency and the overall guest experience.
Purpose-built technological solutions and hardware tailored for restaurants, including mobile Point of Sale (POS) systems and kitchen display systems, have empowered restaurant owners and operators to optimize workflows and elevate customer service standards. These specialized tools foster seamless real-time communication between the front and back of the house, culminating in swifter service and impeccable order accuracy.
Beyond enhancing operational aspects, restaurant technology and hardware play a pivotal role in furnishing actionable insights derived from data, such as identifying top-performing menu items and pinpointing peak ordering periods. This data-driven approach empowers proprietors with informed perspectives to refine business strategies and augment overall performance.
In essence, the judicious selection and integration of appropriate technology trends and hardware stand as pivotal determinants in steering the trajectory of a triumphant dining establishment.
Conclusion
It is clear that restaurant technology has come on leaps and bounds in recent years. From touchscreen point-of-sale terminals to kitchen display screens, there are many ways restaurants can upgrade their business to create a seamless experience for customers. Restaurant technology and hardware designed specifically for restaurants is an efficient way to help meet the needs of diners and push sales growth. By employing restaurant technology, businesses can create an enhanced dining experience that benefits customers and improves operational efficiency.
Overall, we can conclude that restaurant tech provides important tools which enable businesses to provide better customer service and stand out from the competition. To learn more about how restaurant technologies revolutionized the hospitality industry, read more Orderific blogs.
FAQs
Q. What is a POS system?
Ans. A Point of Sale (POS) system is a combination of software and hardware that allows businesses to conduct and manage sales transactions.
Q. Is online ordering available?
Ans. Yes, online ordering is often available and integrated into a restaurant's POS system for seamless restaurant operations.
Q. How secure are payment gateways?
Ans. Payment gateways are highly secure, featuring encryption and other security measures to protect financial information.
Q. Can I integrate with other apps?
Ans. Yes, integration with various apps, such as accounting and inventory management apps, is possible depending on your POS system.
Q. What's the cost of implementation?
Ans. The cost of implementation varies depending on the specific system and features selected; for detailed pricing, consulting with the system provider is recommended.