Looking for an affordable yet unforgettable wedding venue? Consider a restaurant wedding reception. There's something inherently personal and intimate about celebrating your big day in a familiar setting. Imagine walking down an aisle lined with polished tables and crystal glassware amidst the inviting aroma of exquisite cuisine. Your family and friends, comfortably seated, eagerly anticipate cutting the cake in the private dining room. The warm lighting adds a golden hue to the evening, making every moment magical. The city's best restaurants, from San Francisco's iconic establishments to Las Vegas's upscale eateries, are ready to turn your wedding reception into a culinary delight. So, let's embark on this journey together, savoring the flavor of love and happiness that a restaurant wedding venue brings.
Restaurant Wedding Venues Pros and Cons
Imagine the scene: your wedding reception is held in an elegant restaurant. Delicate aromas waft from the kitchen, tantalizing the senses and setting the stage for an unforgettable experience. But what are the advantages and drawbacks of such a choice? Let's take a gastronomic journey to find out.
Pros:
Intimate Atmosphere: Restaurant wedding receptions often exude a cozy and intimate ambiance, perfect for a heartfelt celebration of love.
Exquisite Cuisine: You're guaranteed culinary excellence with a restaurant wedding venue. Your guests will savor every bite, turning a meal into a cherished memory.
Cost-effective: Booking a restaurant cuts costs by combining venue and catering. An affordable option, it also eliminates the need for external caterers.
Simplified Logistics: Having the ceremony and reception in one place simplifies logistics. There is no need for transportation between venues, saving time and reducing stress.
Cons:
Space Constraints: Depending on the restaurant's size, there might be restrictions on guest numbers. Ensure the venue can accommodate your guest list comfortably.
Limited Customization: Restaurants come with their decor and theme, which could limit your personalization options.
Booking Availability: Popular restaurants get booked quickly, especially during peak wedding season. Early booking is advisable to secure your desired venue.
A restaurant wedding reception has its fair share of pros and cons. But careful planning can create an intimate, memorable, and flavorful experience for your big day.
Avoid Room Rental Fees and Required Minimum Pricing
Often considered an additional expense, room rental fees can be a drawback of a restaurant wedding reception. However, you can say goodbye to these charges with the right strategy. Imagine indulging in a sumptuous feast, surrounded by loved ones, knowing you've dodged the hefty room rental fees.
Isn't that a relief and a cause for extra celebration? Now, let's talk about minimum pricing. Many venues impose a minimum spend on food and drink. While this may seem daunting, there's a silver lining. You could negotiate a lower minimum spend by carefully selecting a date outside of peak wedding season or a weekday.
This way, you not only bring down the overall costs but also get the freedom to splurge more on what truly matters to you – be it exotic cuisine, a grand cake, or exclusive wines. Turning dreams into reality while budgeting smartly can make your restaurant wedding venue experience unforgettable.
Save Money on Vendors and Decor
Choosing a restaurant wedding reception can be a smart financial move, especially regarding vendors and decor. Restaurants are already beautifully adorned, eliminating the need for lavish decorations. The ambiance, filled with the enticing aroma of freshly prepared meals, naturally captivates your guests.
Imagine the twinkle in their eyes, reflecting off the elegant glassware and polished cutlery. Furthermore, restaurants usually have a sound system and lighting, decreasing the need for external vendors. As for floral arrangements, consider using the restaurant's centerpieces or creating minimalist bouquets that complement the existing decor.
The money saved on decor can be redirected towards ensuring guests enjoy an exquisite dining experience. Thus, a restaurant wedding reception saves you money, time, and energy, allowing you to focus on celebrating your special day.
How Many People Can You Invite?
The question of 'How many people can you invite?' often hangs in the air when planning a restaurant wedding reception. It's a delicate balancing act. You're caught between the desire to share this special occasion with everyone you hold dear and physical space restrictions. Each restaurant is unique, with its charm and capacity.
Whether it's an intimate ceremony in a cozy private dining room or a grand celebration in a spacious upscale restaurant, the venue's size dictates the guest list. However, rest assured that whether your party is large or small, a restaurant wedding venue envelopes every guest in an atmosphere of warmth and inclusivity.
Celebrating your big day amidst the clinking of cutlery and the soft murmur of friendly conversations becomes a cherished memory. The answer? It's about finding the perfect fit between your dream guest list and the ideal restaurant wedding reception venue.
Are Restaurant Weddings Cheaper?
Undoubtedly, affordability ranks high on the list of considerations for any wedding plan. Naturally, the question arises, "Are restaurant weddings cheaper?" The answer is often a delightful "Yes." Imagine saving significantly on venue hire. Then, picture the joy of eliminating the added expense of external caterers, thanks to the in-house culinary expertise.
The restaurant's existing decor and ambiance save you further on extravagant decorations. Plus, lower minimum spending can be negotiated for off-peak bookings. The monetary savings don't stop there. With built-in sound systems and lighting, the need for additional vendors dwindles. To top it all, consider the cost-effectiveness of a cozy, intimate ceremony in a private dining room.
Truly, a restaurant wedding reception offers a blend of affordability, elegance, and memorable experiences. So, delight in your big day, knowing it's not just an occasion of love but also a savvy financial move.
How Much Does it Cost to Rent a Restaurant For a Wedding?
The cost of renting a restaurant for your wedding varies widely. Picture yourself securing a small, intimate venue, a quaint eatery tucked away in the city's heart. Here, the cost could start from a modest sum of $500. On the other hand, imagine booking a grand, upscale restaurant where chandeliers twinkle overhead, and the scent of gourmet cuisine fills the air.
In such luxurious settings, expenses could soar up to $15,000 or even more. The final budget depends on various factors. These include the restaurant's location, popularity, and the time of your booking. It's also influenced by the minimum spend on food and drinks stipulated by the restaurant.
Yet, despite these costs, remember this: a restaurant wedding reception promises a world of savings. From reducing decor expenses to eliminating catering costs, it offers a blend of elegance and affordability. Your dream wedding needn't break the bank. Instead, it can be a testament to smart planning and wise choices.
How Much Should You Spend On a Restaurant Wedding Venue?
Setting a budget is key when planning your restaurant's wedding reception. As you embark on this journey, remember that the spending decision is intensely personal. It's your day and your budget. You might dream of a cozy, intimate ceremony in a quaint neighborhood bistro. Here, spending as little as $1,000 can create an unforgettable experience.
Alternatively, you might envision a lavish celebration in an upscale city restaurant. Such grandeur could warrant an expenditure of up to $20,000. The restaurant's unique allure, the enticing menu, even the time of year – all these factors affect the final cost.
But amidst this whirlwind of numbers, keep sight of the real joy. It's not about the money spent but the memories created. With thoughtful planning and wise choices, your restaurant wedding venue can offer a blend of affordability and elegance. So, get ready to raise your glasses, savor the moment, and celebrate love your way.
Sample Wedding Budget for 25 Guests
Imagine celebrating your love surrounded by 25 of your dearest ones in an intimate restaurant wedding reception. Picture the scene: softly lit surroundings, the clatter of silverware setting a rhythmic backdrop, and laughter echoing off the walls. As your guests arrive, they're greeted with the enticing aroma of gourmet cuisine, whetting their appetites for the feast ahead.
Consider the cost – surprisingly affordable, yet offering an unforgettable experience. The venue rental, perhaps $500 or $1,000, is bundled with the price of exquisite dishes and fine wines. Decor costs? Minimal. After all, the restaurant's existing ambiance exudes charm and warmth, requiring little embellishment.
As for entertainment, a local musician might serenade your guests, adding a touch of magic to the atmosphere. Then comes the grand finale: a delicious wedding cake, the sweetest ending to your special day. Each aspect is thoughtfully planned, adding to a budget that respects your wallet yet leaves no stone unturned in crafting a memorable experience. Indeed, a restaurant wedding reception for 25 guests is a delightful blend of intimacy, elegance, and affordability.
Perfect Styles For Receptions at Restaurants
The magic of a restaurant wedding reception lies in its versatility. It's a canvas waiting to be painted with your unique style. Embellishing the venue with your personal touch creates a vibe that mirrors your love story.
Consider these inspiring styles for your restaurant wedding reception:
Elegant Fine Dining: Picture an upscale restaurant, the epitome of sophistication. Crystal glassware glimmers under delicate chandeliers. Each table, adorned with plush linens and elegant centerpieces, is a feast for the eyes.
Quaint and Rustic: Envision a charming country restaurant oozing rustic charm. Handcrafted wooden tables adorned with simple wildflower arrangements create an inviting ambiance.
Urban Chic: Think of a modern urban eatery amidst the city's bustle. Exposed brick walls and industrial lighting offer a unique backdrop for a chic celebration.
Cozy Bistro: Imagine an intimate bistro with its cozy corners and ambient lighting. The aroma of freshly brewed coffee fills the air, creating a warm, welcoming atmosphere.
Beachfront Bliss: A seaside restaurant sets the stage for a relaxed beachfront reception. With the sound of crashing waves as your symphony, it's a tranquil escape from the city frenzy.
Each style carries its unique charm. A restaurant wedding reception lets you infuse your style into a stunning venue. Remember, it's not just about the visual appeal. It's about the emotions stirred, the memories ignited, and the stories that unfold. Let your restaurant wedding reception reflect your love, a celebration of your journey, and a memorable start to your happily ever after.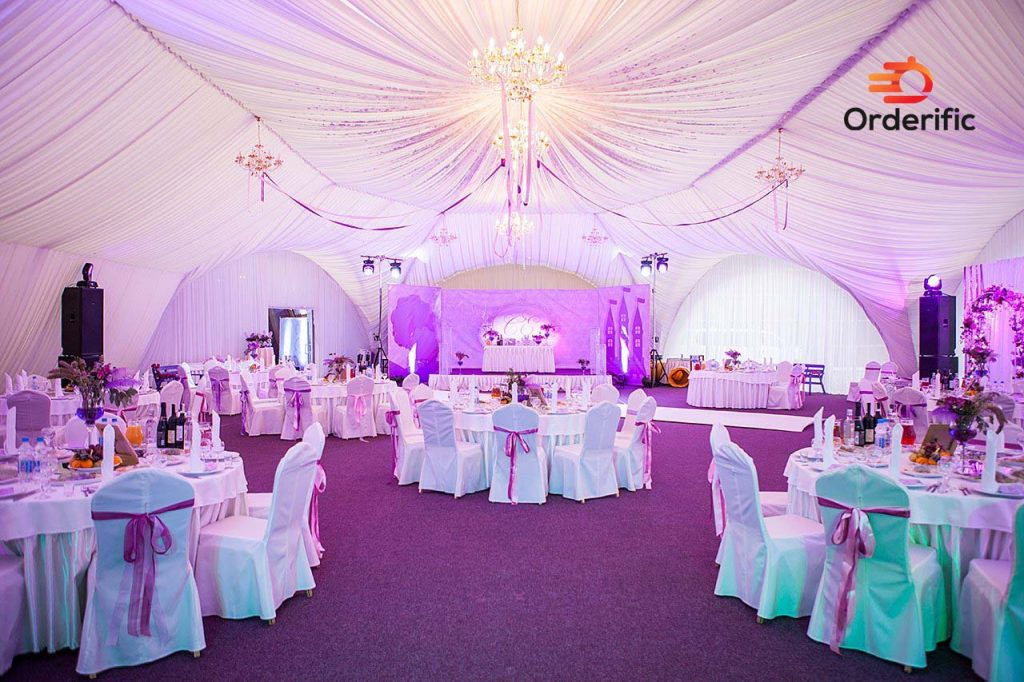 Cocktail Wedding Reception: Ideas for a Cocktail Menu and Wedding Timeline
Picture the scene: A soft, mellow dusk settles as the city comes to life. The air is filled with the clinking of glasses, the hum of excited chatter, and the smell of delicious canapés being served. This is the stage set for a cocktail wedding reception, a beautiful blend of elegance and charm, offering the perfect setting to celebrate your union.
Vibrant Selection of Cocktails: As the event's centerpiece, the cocktail menu sparkles with various flavors. The assortment caters to every palate, from a classic martini's sharp tang to a raspberry mojito's sweet allure.
Scrumptious Canapés: Paired exquisitely with the cocktail selection, the canapés offer a gastronomic delight. Mini sliders, shrimp skewers, and gourmet cheese bites dance on the tongue, providing a symphony of taste sensations.
Elegant Decor: The venue is adorned with twinkling fairy lights and delicate floral arrangements, creating an intimate, romantic ambiance. The decor adds to the charm of the evening, pulling everything together harmoniously.
Wedding Timeline: The evening flows seamlessly thanks to a carefully crafted timeline. The ceremony, cocktail hour, dinner, and dancing are flawlessly orchestrated, ensuring a smooth, enjoyable experience.
Personal Touches: Personal touches are subtly infused throughout the event, from the bride and groom's favorite cocktails to the unique wedding favors. These elements add an authentic, human touch to the celebration, creating a memorable, personalized experience.
With warmth and elegance, this cocktail wedding reception forms a unique backdrop to an unforgettable wedding celebration. So, as you clink glasses under the starlit sky, take a moment to savor the magical experience – a cocktail of love, laughter, and lasting memories.
Cake and Punch Wedding Reception: For Weddings on a Budget
A cake and-punch wedding reception is a delightful nod to tradition, laced with charming simplicity. Imagine the atmosphere, buzzing with the warm laughter of loved ones. As you enter the room, your eyes meet a beautifully laid spread.
At the heart of the table stands an artfully crafted wedding cake, its sweet aroma teasing your senses. Flanking the cake, crystal punch bowls shimmer with refreshing beverages, their colors reflecting the joyous mood. The simplicity of this modest feast belies the deep emotions it stirs.
Each bite of the moist, fluffy cake, each sip of the crisp punch, celebrates love on a budget. But make no mistake; this pared-down reception doesn't skimp on the wedding bliss. The emphasis shifts from extravagant spreads to meaningful conversations, from opulent decor to heartfelt emotions.
This affordable yet elegant experience allows you to celebrate your special day without the burden of financial strain. A cake and punch wedding reception is a testament to the adage that less is more. So, embark on this joyous journey, knowing that richness doesn't necessarily come with a hefty price tag. It's in the love shared, the memories created, and the promise of a beautiful future together.
Conclusion
A restaurant wedding reception makes your special day an exquisite blend of romance, elegance, and affordability. Picture the delightful clinking of cutlery, delectable cuisine, and an atmosphere steeped in warmth and charm. Savour the intimacy of celebrating amidst familiar surroundings, the convenience of in-house catering, and the joy of a budget-friendly venue. Just like Orderific is revolutionizing the restaurant industry, make a smart, savvy decision for your wedding. It's not just about decreased costs but enhanced experiences and unforgettable memories. Opting for a restaurant reception is akin to choosing Orderific – a choice that brings increased value, control, and a better user experience. For more about Orderific's transformative impact, schedule a FREE DEMO today.
FAQs
What unique advantages does hosting a wedding reception at a restaurant offer compared to traditional venues?
Restaurants offer built-in ambiance, in-house catering, cost-effectiveness, and an intimate setting for memorable wedding receptions.
How do restaurant wedding receptions allow couples to personalize their special day?
Restaurant receptions allow couples to infuse their unique style and preferred cuisine into their wedding celebration.
What factors should couples consider when choosing a restaurant for their wedding reception?
Couples should consider the restaurant's ambiance, capacity, menu, location, and the flexibility to personalize the venue to their taste.
How do restaurants typically handle catering, seating arrangements, and ambiance for wedding events?
Restaurants typically offer in-house catering, flexible seating arrangements, and have an existing ambiance suitable for memorable events.