The allure of a restaurant with a patio design cannot be overstated, particularly in bustling locales such as West Hollywood, Culver City, and Santa Monica. As the appeal of al fresco dining surges, establishments are pushing the envelope, crafting inventive setups to draw in diners. More than just a trend, these patios become serene havens, allowing guests to revel in a refreshing ambiance. 
This doesn't just enhance the dining experience; it also offers an opportunity to accommodate more guests, driving revenue. The quest for the perfect outdoor setting is on, and in this guide, we delve into ten imaginative strategies poised to elevate any patio to a lucrative focal point.
10 Ideas To Make A Profitable Patio Space
In bustling dining hubs like Santa Monica, West Hollywood, and Culver City, the charm of a restaurant often lies beyond its indoor aesthetics. A patio can set the tone for a delightful al fresco dining experience. As patrons increasingly seek outdoor settings that combine comfort with a visual feast, establishments need to fine-tune their outdoor spaces.
1. Upgrade Your Waiting Area
The gateway to any memorable dining journey is often the waiting area. This space, even before the main dining room, can subtly introduce guests to the essence of what awaits them. By seamlessly blending elements of luxury, hominess, or quaint nostalgia, depending on your restaurant's theme, the waiting area can start weaving the narrative. The seating choices can range from modern minimalist designs to plush velvety chairs or rustic wooden benches, each echoing the core aesthetics of your establishment.
For a modern twist, interactive touch-screen menus can be integrated, allowing guests a sneak peek into the culinary wonders they're about to indulge in. Meanwhile, a mini live kitchen can add a sensory treat, letting them savor the aromas and sights of meals in creation. To elevate the ambiance, ambient tunes or sporadic live acts can be a magnet, holding guests' attention and setting the mood.
Additionally, introducing a petite refreshment counter with a selection of drinks and bite-sized delights can turn the often monotonous wait into an enjoyable preamble to the main event.
2. Let Nature In!
Whisk your patrons away from the urban hustle and bustle by infusing natural elements into your patio. A blooming vertical garden or lush green walls can breathe life into the space, making patrons feel enveloped by nature even in the heart of the city. Integrating water features such as tranquil koi ponds or mesmerizing fountains elevates the sensory experience. For a more dramatic effect, cascading water walls can serve as both a visual and auditory focal point.
The amalgamation of the soothing sounds of flowing water and the gentle whispers of foliage swaying in the breeze creates an unparalleled ambiance. Enhance this natural setting with strategically placed ornamental plants or aromatic herbs. Maybe introduce pathways lined with pebbles, creating a tactile experience for those who venture a short walk. The ultimate aim? Transporting diners to a verdant escape, making every meal a rejuvenating retreat.
3. Use Fiberglass Planters
In the world of outdoor design, fiberglass planters have made a significant mark, and it's easy to see why. Light as a feather, these planters eliminate the cumbersome weight issues often associated with traditional pots, making them easy to maneuver and reposition. But it's not just about convenience; these planters are built tough.
They boast a remarkable resistance to the relentless effects of UV radiation, ensuring that their color remains vibrant and un-faded even under scorching sun. Plus, their sturdy nature ensures they stand up to corrosion, meaning they remain in impeccable condition even when exposed to rain, snow, or humid conditions.
Design flexibility is another feather in their cap. With the ability to be molded into an array of shapes and sizes, fiberglass planters effortlessly align with any design vision, be it modern minimalism or rustic charm. Once you've picked your perfect planter, the world is your oyster! You can opt for exotic tropical plants to create a lush haven, delve into the delicate world of bonsais for an oriental touch, or plant blooming shrubs whose flowers not only dazzle the eyes but also waft a delightful fragrance, enhancing the dining experience manifold.
4. Make Your Lighting Sparkle!
Lighting, when done right, has the power to transform any space, and a restaurant's patio is no exception. It not only illuminates the area but also sets the mood, guiding the patrons into a realm of desired emotions. Picture delicate fairy lights gracefully draped around age-old trees, casting a soft glow, reminiscent of a starlit night. LED strips, meticulously set along pathways, can lead guests, almost enchantingly, to their tables.
However, if you're looking to create a setting that's cozy and radiates warmth, nothing does it better than rustic lanterns or strategically placed fire pits. Their flickering flames dance in the night, creating shadows and an atmosphere brimming with intimacy. For establishments that aim to exude luxury, elegant pendant lights hanging overhead or even grand chandeliers can instantly elevate the ambiance, adding a touch of grandeur.
But in today's age, why limit yourself to traditional lighting? Embrace technology with smart lighting systems. These allow you to control the brightness, casting just the right amount of light as the evening progresses. Play with colors to set themes on special nights or even synchronize the lighting with soft background music. This ensures that the environment remains dynamic, adapting and setting the pace for a memorable dining experience.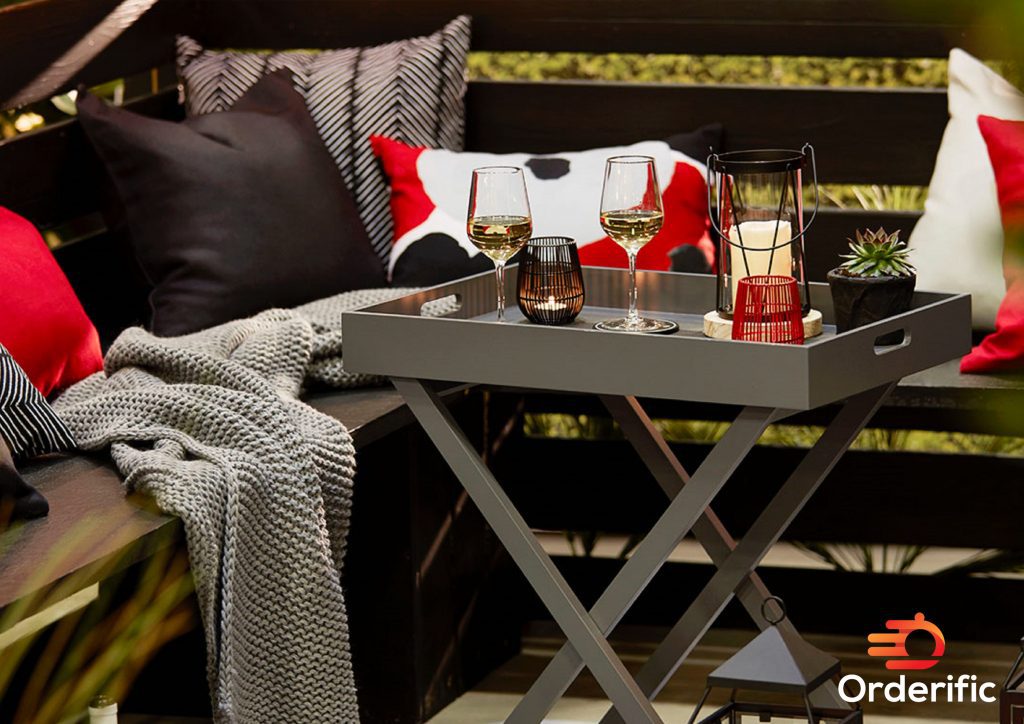 5. Make A Rooftop Patio With An Outdoor Dining Space
Elevate the dining experience, both figuratively and literally, with a rooftop patio. This exclusive space presents an unparalleled panoramic view, often capturing the heartbeat of a city or the tranquillity of nature. To enhance the versatility of the area, consider installing a transparent or retractable roof. On sunlit days, diners can bask in the golden warmth, and during the night, they can dine under a canopy of stars. And when the weather turns unpredictable, the retractable roof ensures the space remains functional and cozy.
Imagine the charm and allure of stargazing while enjoying a gourmet meal. By placing telescopes on your rooftop, patrons can delve into the wonders of the cosmos, making their dining experience truly celestial. This can be a unique selling point, setting your establishment apart from the competition.
Beyond dining, a rooftop should also cater to relaxation. Integrate cozy lounging areas complete with plush seating, ambient lighting, and fire pits. These spots become sanctuaries for guests, letting them unwind, have intimate conversations, or simply bask in the ambiance. Whether it's sipping on a post-dinner cocktail or indulging in a dessert, a well-designed rooftop patio can seamlessly blend dining with leisure, promising patrons an experience that lingers long after the meal concludes.
6. Umbrellas – A Patio's Best Friend!
An outdoor patio isn't complete without the charm and functionality of umbrellas. Beyond just their fundamental role of offering shade, umbrellas have evolved to become quintessential style statements. Their adaptability makes them indispensable; whether you're aiming for a modern, chic ambiance or a laid-back boho vibe, there's an umbrella to match the mood.
Umbrellas that can be rotated or tilted offer diners the flexibility to adjust their shade as the sun moves across the sky, ensuring consistent comfort. Those that are retractable can instantly transform the space, allowing for open skies or shaded protection as desired. And as we grow more conscious of the harmful effects of UV rays, investing in umbrellas that offer UV protection becomes imperative. They shield diners from direct sun, making outdoor dining a pleasant experience even during peak afternoon hours.
But their charm isn't restricted to daytime. For nighttime dining, consider umbrellas equipped with in-built lighting systems. Alternatively, drape them with fairy lights or hang lanterns to add a warm, whimsical touch. This ambient lighting not only elevates the aesthetics but also crafts an intimate and cozy setting.
7. Prepare For Inclement Weather
Starting from the top, retractable roofs or awnings can be lifesavers. While they let in the glorious sunshine on a bright day, they can quickly provide cover when the clouds roll in, ensuring diners remain dry during sudden rain showers. These retractable systems, designed to blend seamlessly with the overall aesthetic, ensure that the beauty of open-air dining is never too far away.
But it's not just about the rain. Wind can turn an enjoyable dining experience into a messy affair, with napkins and lightweight items being blown away. Strategically placed wind barriers, such as glass panels or plant walls, can break the force of the wind, creating calm pockets of space for diners.
Efficient drainage systems play a pivotal role, especially post-rain, ensuring that the patio doesn't have waterlogged areas, which can be both uncomfortable and a potential safety hazard.
Temperature control is another critical aspect. For chilly evenings or unexpected cold spells, space heaters or even contemporary fire pits can radiate warmth, making the ambiance cozy and inviting. On the flip side, during hot summer days, mist fans can offer a refreshing respite by lowering the immediate temperature, making it a pleasant experience. Pushing the envelope further, some establishments are even exploring heated seating, ensuring the diners' comfort from below.
By being well-prepared for the elements, a restaurant ensures that its patio remains a favored spot for diners, come rain or shine, making every meal an occasion to remember.
8. Restaurant Patio Furniture
Starting with the core, seating needs to cater to the gamut of clientele's preferences. Memory foam cushions can be an excellent choice for benches and chairs, cradling diners in unmatched comfort. The beauty of adjustable seating is its flexibility; diners can modify their sitting position based on personal comfort, ensuring a relaxed dining experience.
For those seeking a touch of leisure combined with their meal, swing chairs suspended from sturdy beams can be an exciting addition. And for patrons who prefer an informal, vacation-esque vibe, hammocks stretched out in a cozy corner of the patio can be both an attraction and a relaxation spot.
The choice of material for the furniture is paramount. While aesthetics play a significant role, functionality can't be ignored. Weather-resistant materials, whether it's teak, metal, or synthetic wicker, ensure longevity and reduce maintenance costs. The ease of cleaning is also crucial, especially in an outdoor setting prone to spills and stains. You wouldn't want a diner's experience to be marred by the sight of a stained cushion from the previous patron.
Lastly, the design and style of the furniture should be a reflection of the restaurant's theme and brand image. A chic restaurant in Beverly Hills might opt for sleek, minimalist designs, while a laid-back eatery in Santa Monica might lean towards boho styles with colorful patterns and designs. A classic establishment in Downtown LA would likely gravitate towards timeless pieces with intricate designs.
9. Deck Your Patio Out
The floor beneath one's feet on a restaurant patio serves as the unsung hero of the dining experience. While often overlooked, the right choice in flooring can significantly influence the ambiance of the space, dictating the feel of every step a diner takes.
A wooden deck, for instance, instantly instills a sense of warmth and coziness. The rustic appeal of wood grain underfoot, especially if complemented by appropriate furniture, creates an environment reminiscent of tranquil forest lodges or beachfront cafes, making it a perfect choice for establishments aiming for a nature-inspired vibe.
On the other hand, ceramic tiles, with their vast array of patterns and finishes, can exude sheer sophistication. From intricate Mediterranean mosaics to minimalist monochrome, they offer the versatility to cater to any thematic experience, from an upscale eatery in West Hollywood to a breezy seaside joint in Santa Monica.
10. Make Your Restaurant Patio Design Pop with Color!
Colors are more than just visual stimulants; they have the power to evoke feelings and memories, setting the mood for any experience. When strategically used in restaurant patios, colors can significantly influence a diner's perception and overall dining experience.
Warm colors, for instance, are known for their inviting allure. Reds, often associated with passion and intensity, can stimulate appetite, making them an excellent choice for restaurants aiming to whet their diners' appetites even before the first dish arrives. Oranges and yellows, reminiscent of sunny days and warm flames, bring in an air of coziness and warmth. They're also associated with happiness and positivity, setting a cheerful ambiance.
On the other hand, cooler colors have their unique charm. Blues, reminiscent of the vast skies and deep oceans, introduce a calming and serene atmosphere, perfect for diners seeking a relaxed al fresco dining experience. Greens, often linked to nature and tranquility, can be soothing to the eye and help create an environment that's refreshing and rejuvenating.
Conclusion
In bustling locales such as West Hollywood and Santa Monica, a restaurant with patio seating becomes more than just an extension of its interior. It's a canvas that paints a unique atmosphere, offering an immersive al fresco dining escapade. The ambiance of the patio often becomes the restaurant's soul, exuding an aura that captivates patrons.
When designed with meticulous attention to detail and an understanding of what diners seek, this outdoor space can transform into the restaurant's crowning jewel. Not merely a seating area, the patio becomes a destination in itself, beckoning diners seeking the perfect blend of culinary delight and atmospheric charm.
In case you want more content like this, visit Orderific right now!
FAQs
Does your town have fantastic restaurants?
Yes, areas like Downtown Los Angeles and West Hollywood are brimming with outstanding dining establishments.
How to enjoy outdoor dining right now?
Just head to any restaurant with an expansive outdoor patio, and you're set! The breeze, the food, the wine, it's the whole package, really.
What are outdoor patios for?
They offer an al fresco dining experience, combining good food with fresh air and often scenic views.
How can I cool an outdoor patio?
Use fans, misters, or even shade-providing plants and umbrellas to maintain a cooler environment.