Experience the sheer delight of a luxurious sit-down restaurant dining affair where delectable cuisine harmonizes with impeccable service. Whether you aim to leave a lasting impression on a romantic date or break away from the monotony of home-cooked meals, the right restaurant selection can be transformative.
Here, we present a curated collection of exceptional sit-down restaurants poised to deliver an indelible dining experience destined to linger in your memory. From exquisite five-star gastronomy to charming familial establishments, these eateries cater to a diverse array of palates.
Join us as we embark on a journey to explore these captivating establishments and unearth the perfect haven for your forthcoming culinary escapade.
Introduction
Indulging in delightful cuisine is a universal pleasure, but sometimes, a quick bite on the run falls short. This is precisely where sit-down restaurants excel. These establishments offer an immersive and unhurried ambiance, allowing patrons to truly relish their meals.
Ranging from sophisticated fine-dining establishments to laid-back family-friendly havens, sit-down restaurants cater to diverse needs. Be it commemorating a special moment or simply seeking a culinary treat, a sit-down restaurant undoubtedly fits the bill. Thus, settle in, unwind, and partake in the gastronomic wonders that eagerly await your palate.
Fine Dining Restaurants in the US
1. The French Laundry – Yountville, CA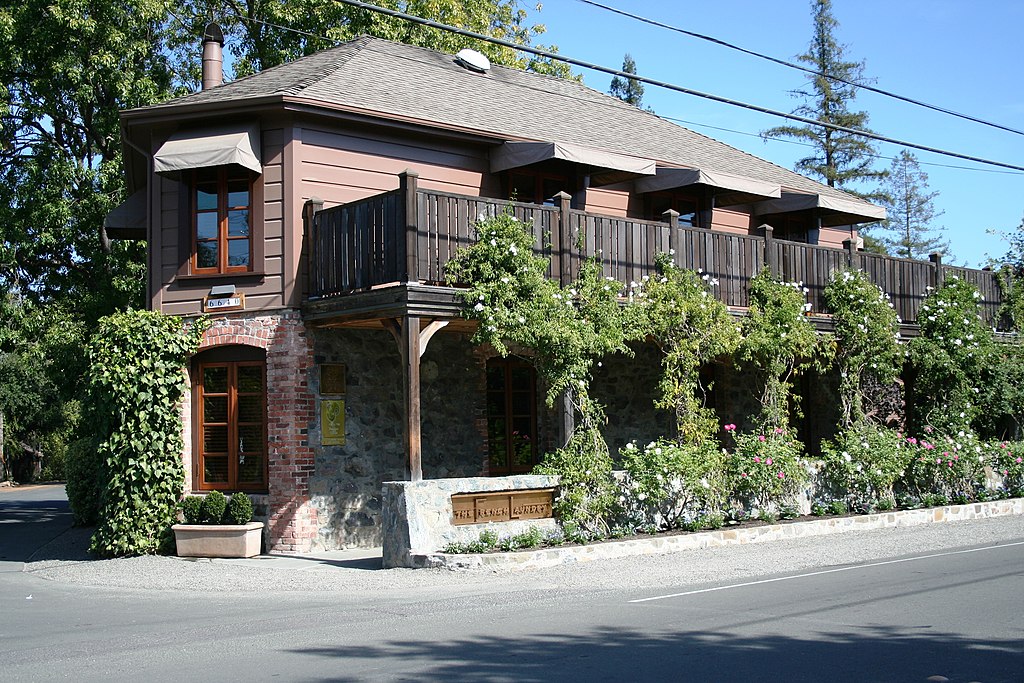 In the quaint town of Yountville, California, an enchanting gem known as The French Laundry graces the culinary landscape. Since its establishment in 1978 by the renowned chef Thomas Keller, this iconic haven has redefined the essence of fine dining. It is nestled within a converted 19th-century stone edifice. It exudes timeless elegance and intimacy, setting the stage for an extraordinary gastronomic adventure.
Celebrated for its exceptional cuisine and groundbreaking creativity, The French Laundry has become an epitome of culinary excellence. Crafted with meticulous attention, its tasting menus are a symphony of the finest seasonal ingredients. Thus inviting patrons to embark on an unforgettable culinary voyage. The restaurant's reputation is embellished by its three Michelin stars. Its unwavering presence on compilations of the world's finest dining establishments, a testament to its enduring influence in the world of culinary artistry.
2. Per Se – New York City, NY
Founded in 2004 and nestled in the heart of New York City, Per Se stands as an iconic haven for culinary enthusiasts. It constantly redefines the realm of fine dining. Under the skilled guidance of renowned chef Thomas Keller, this establishment consistently embodies the pinnacle of gastronomic excellence and refined sophistication. It is admired for its meticulous attention to detail and artful presentation. Per Se's daily-evolving menu, thoughtfully sourced, showcases the world's most exquisite seasonal ingredients.
The restaurant's commitment to delivering an unparalleled dining encounter is mirrored in its intimate ambiance and impeccable service. Its captivating vistas overlooking Central Park and Columbus Circle. Per Se has become one of the city's most coveted dining destinations, boasting an illustrious three Michelin star. A sanctuary for those with an affinity for extraordinary culinary journeys. It continues to captivate and enchant the palates of discerning food connoisseurs.
3. Alinea – Chicago, IL
Established in 2005 under the visionary guidance of renowned chef Grant Achatz, Alinea stands as an unrivaled beacon of culinary ingenuity in the dynamic city of Chicago, IL. This avant-garde culinary gem has revolutionized the traditional concept of fine dining, reshaping norms and defying expectations with audacious creativity. Alinea has garnered worldwide reverence for its pioneering gastronomic approach. It seamlessly fuses science, art, and culinary craftsmanship into an extraordinary sensory tapestry.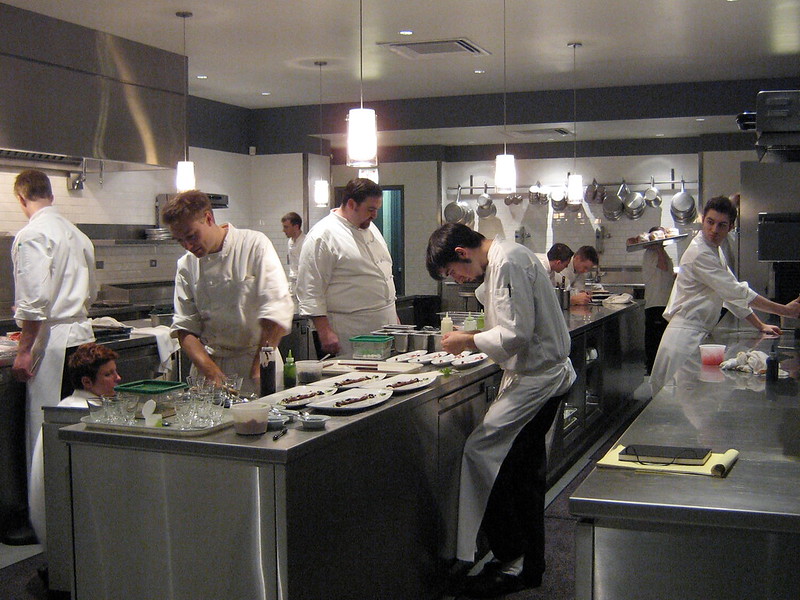 It is celebrated for its intricate and thought-provoking tasting menus. Thus each dish at Alinea is a meticulously curated masterpiece designed to astonish and captivate the palate. Through its ever-evolving culinary narratives, dramatic presentations, and unwavering commitment to pushing the boundaries of gastronomy, Alinea transcends mere dining to deliver an immersive odyssey that indelibly enriches the realm of culinary artistry.
Casual Eateries in the US
1. Shake Shack – Multiple Locations
Since its establishment in 2004, Shake Shack has rapidly ascended to an iconic stature, boasting multiple locations gracing diverse cities. What commenced as a modest hot dog cart nestled in the heart of New York City's Madison Square Park swiftly evolved into a global phenomenon. Its is acclaimed for its irresistible burgers, crinkle-cut fries, and signature frozen custard shakes.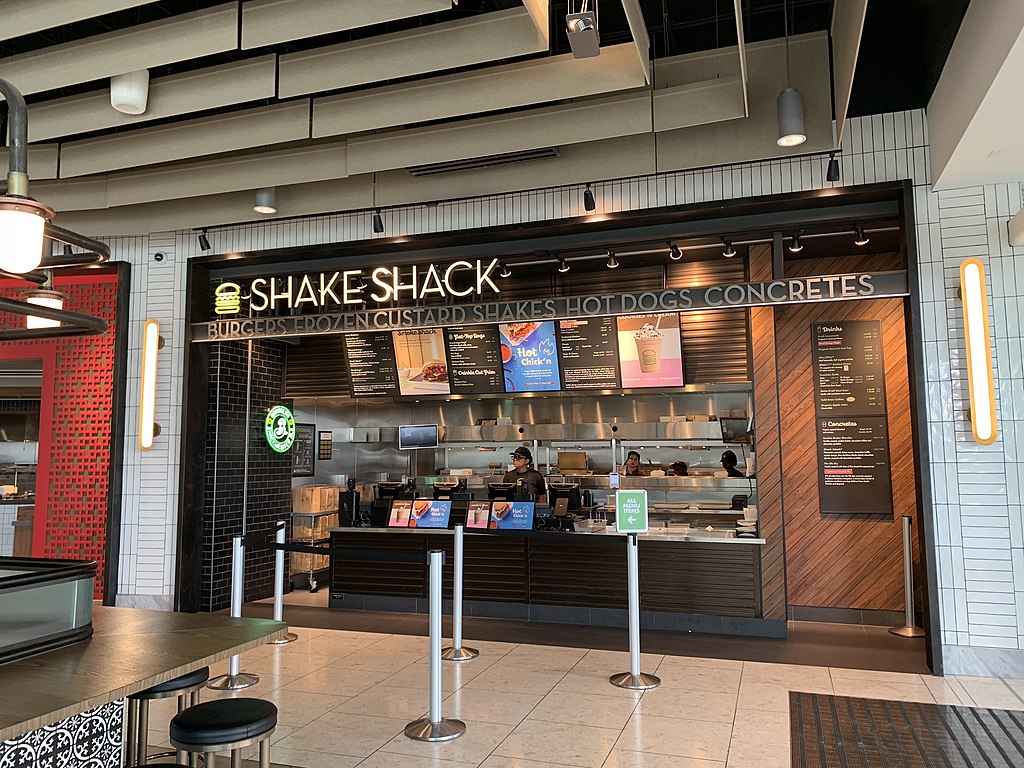 Fueled by an unwavering commitment to superior ingredients and a contemporary reinterpretation of traditional American fast food, Shake Shack has garnered a devoted following. Yet, it is not solely its palate-pleasing menu that beckons patrons. It is the welcoming ambiance and a community-centered ethos that transform every Shake Shack visit into an occasion. From its inception to its present extensive reach, Shake Shack remains the epitome of indulgence through flavors and conviviality in dining.
2. In-N-Out Burger – Multiple Locations
Established in 1948, In-N-Out Burger has achieved legendary status in the realm of fast-food dining. It is renowned for its iconic red and white ambiance and unwavering commitment to offering fresh, top-tier cuisine. Since its inception, this cherished chain has unwaveringly adhered to its concise menu. It focuses on burgers, fries, and shakes, a deliberate choice that has only heightened its appeal. What truly distinguishes In-N-Out Burger is its unwavering dedication to utilizing premium ingredients. Thus crafting each order to perfection, ensuring an unfailingly gratifying and delectable experience for its customers. With multiple locations spanning diverse regions, this culinary institution has become synonymous with impeccable taste, unwavering excellence, and an authentic enthusiasm for providing irresistibly satisfying simplicity.
3. Five Guys – Multiple Locations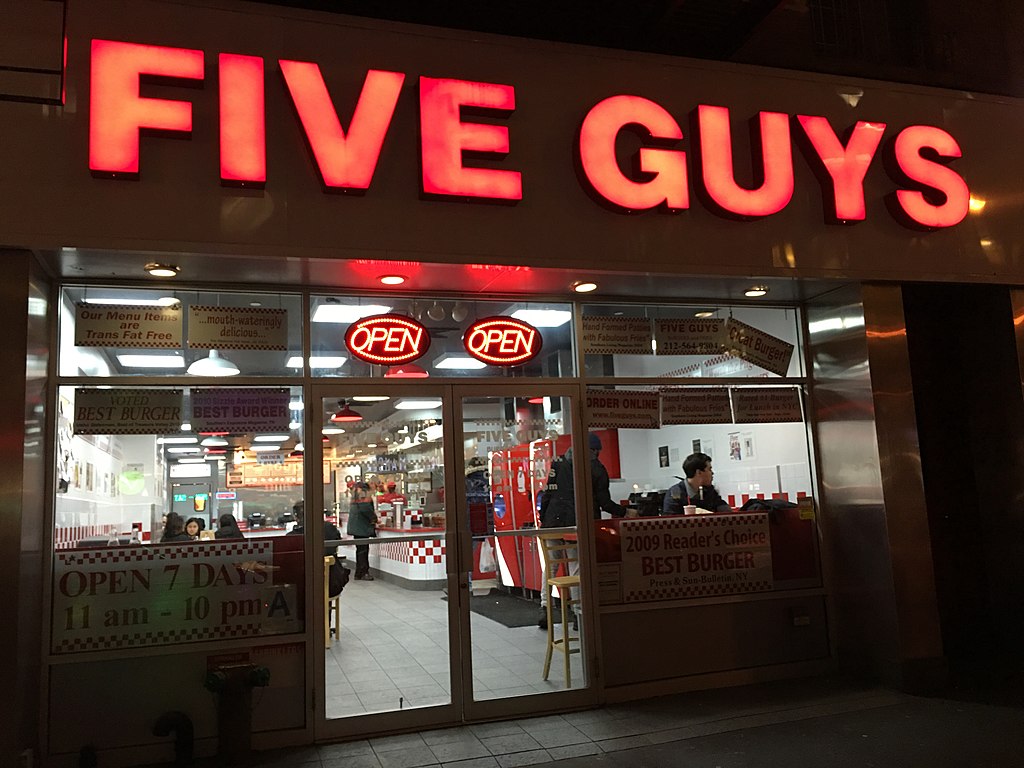 Established in 1986, Five Guys has risen to prominence as a notable player in the fast-casual dining scene. What truly distinguishes Five Guys is its unwavering commitment to crafting irresistible burgers and fries that consistently tantalize the palate. Revered for its unwavering focus on quality and simplicity, Five Guys empowers patrons to personalize their burgers with a diverse array of toppings. Thus culminating in a uniquely tailored gastronomic journey. 
Anchored in the use of premium, fresh ingredients, never-frozen beef, and peanut oil cooking, the brand has cultivated a devoted following. However, Five Guys goes beyond its delectable offerings, priding itself on cultivating a relaxed, amiable ambiance that beckons guests to relish their meals in a cozy environment. Five Guys has seamlessly expanded its footprint while remaining steadfast to its origins.
Ethnic Cuisine Restaurants in the US
1. Gjelina – Venice, CA – Mediterranean Cuisine
Gjelina, nestled in the vibrant neighborhood of Venice, California, is a renowned culinary haven celebrated for its exquisite Mediterranean cuisine. Founded in 2008 by Fran Camaj, Gjelina has since become an iconic destination for food enthusiasts. Fran's innovative approach to Mediterranean fare has earned the restaurant a distinguished reputation, drawing patrons from near and far. 
Gjelina is celebrated for its focus on locally sourced, seasonal ingredients. Thus resulting in a menu that tantalizes the senses with an array of tantalizing dishes. With its inviting ambiance and dedication to culinary excellence, Gjelina continues to captivate diners and define the essence of exceptional Mediterranean dining in the heart of Venice, California.
2. Pok Pok – Portland, OR – Thai Cuisine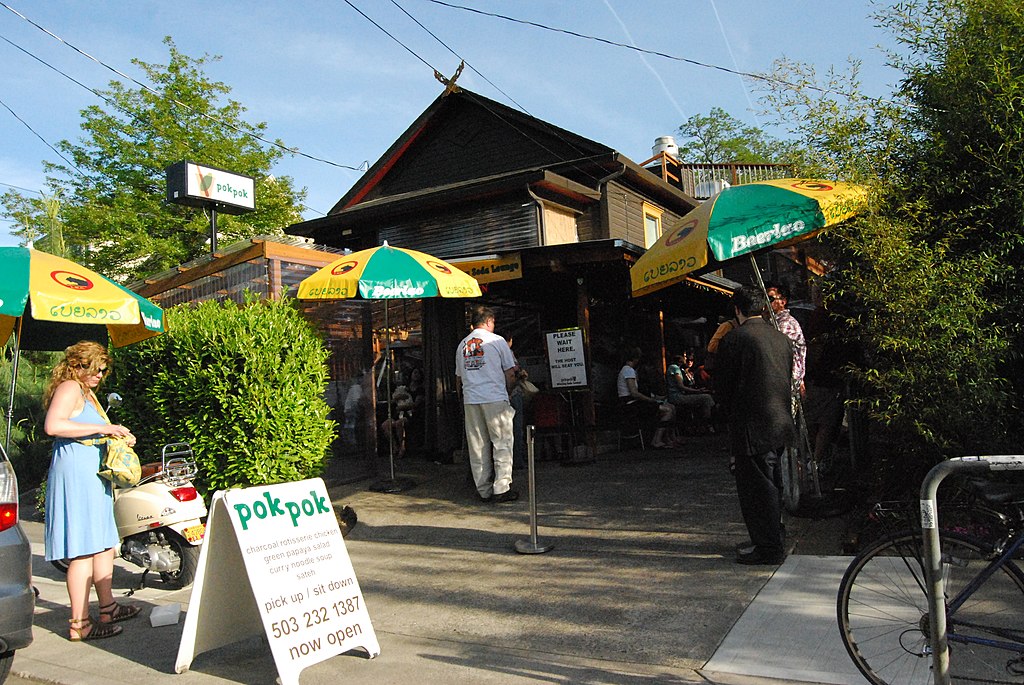 Nestled in the vibrant culinary landscape of Portland, Oregon, Pok Pok stands as a testament to the rich and authentic flavors of Thai cuisine. It was founded by Chef Andy Ricker in 2005. Pok Pok has carved its niche by offering a captivating blend of traditional Thai dishes presented with a contemporary twist. Ricker's deep appreciation for Thailand's culinary heritage led him to immerse himself in the country's kitchens and markets. Thus ensuring an unparalleled authenticity in each dish. 
Renowned for its signature dish, Ike's Vietnamese Fish Sauce Wings, Pok Pok's menu boasts a captivating array of flavorful delights. This captures the essence of regional Thai cuisine. The restaurant's commitment to using high-quality ingredients and time-honored cooking techniques transports diners to the bustling streets of Thailand. Thus making Pok Pok an indispensable gem in Portland's gastronomic tapestry.
3. Zahav – Philadelphia, PA – Israeli Cuisine
Zahav, located in the vibrant city of Philadelphia, PA, stands as a captivating embodiment of Israeli cuisine's rich and diverse flavors. This renowned culinary haven was brought to life by the visionary restaurateur Michael Solomonov in 2008. With a profound appreciation for his own Israeli heritage, Solomonov sought to share the authentic tastes of the Middle East with the world. Zahav quickly garnered acclaim for its exceptional renditions of traditional dishes, skillfully balancing innovation and respect for tradition. 
The restaurant's centerpiece, a mesmerizing wood-burning grill, imparts a distinct smokiness to an array of succulent meats and vegetables. Zahav's renowned "messiah" tasting menu offers an unforgettable journey through the intricate tapestry of Israeli fare. It entices diners with an assortment of delectable small plates and enticing spreads. It is a recipient of numerous accolades and awards. Zahav has etched its name as a beacon of Israeli gastronomy, inviting patrons to relish an unforgettable exploration of flavors. An exploration that pay homage to the diverse culinary traditions of the region.
Romantic Restaurants in the US
1. Clos Maggiore – Los Angeles, CA
Nestled within the heart of Los Angeles, Clos Maggiore stands as an irresistible gem on the city's dining landscape. Its allure lies not only in its prime location but also in the intimate embrace it offers to all who step inside. Bathed in a warm, soft glow and adorned with a rustic fireplace, this French-inspired culinary haven creates an atmosphere that effortlessly captures the essence of romance and celebration. Yet, it's not solely the enchanting ambiance that beckons; the cuisine is equally captivating. 
From delectable racks of lamb to exquisite seafood creations, the menu at Clos Maggiore unfolds a symphony of flavors that truly delights the palate. Whether seeking a place to kindle romance, mark a special moment, or simply revel in exceptional dining, Clos Maggiore masterfully weaves together exceptional cuisine, a captivating setting, and flawless service, making it a quintessential choice that promises an all-encompassing dining experience.
2. Canlis – Seattle, WA
In the vibrant heart of Seattle, Washington, Canlis stands as a revered culinary landmark, a testament to a legacy steeped in innovation and excellence. Established in 1950 by the visionary brothers Peter and Chris Canlis, this establishment swiftly ascended to embody the pinnacle of refined dining in the Pacific Northwest. Gazing over Lake Union and the urban panorama, Canlis not only offers a symphony of delectable dishes but also conjures an ambiance that is truly unparalleled. 
Celebrated for its flawless service, tasteful décor, and an unwavering dedication to pushing the frontiers of gastronomy, Canlis has rightfully earned its stature as a coveted haven for momentous celebrations and discerning palates alike. From its inception, Canlis has remained unwaveringly committed to orchestrating indelible dining encounters, seamlessly weaving tradition with contemporary culinary virtuosity, thus solidifying its position as an iconic treasure within Seattle's opulent culinary tapestry.
3. Gramercy Tavern – New York City, NY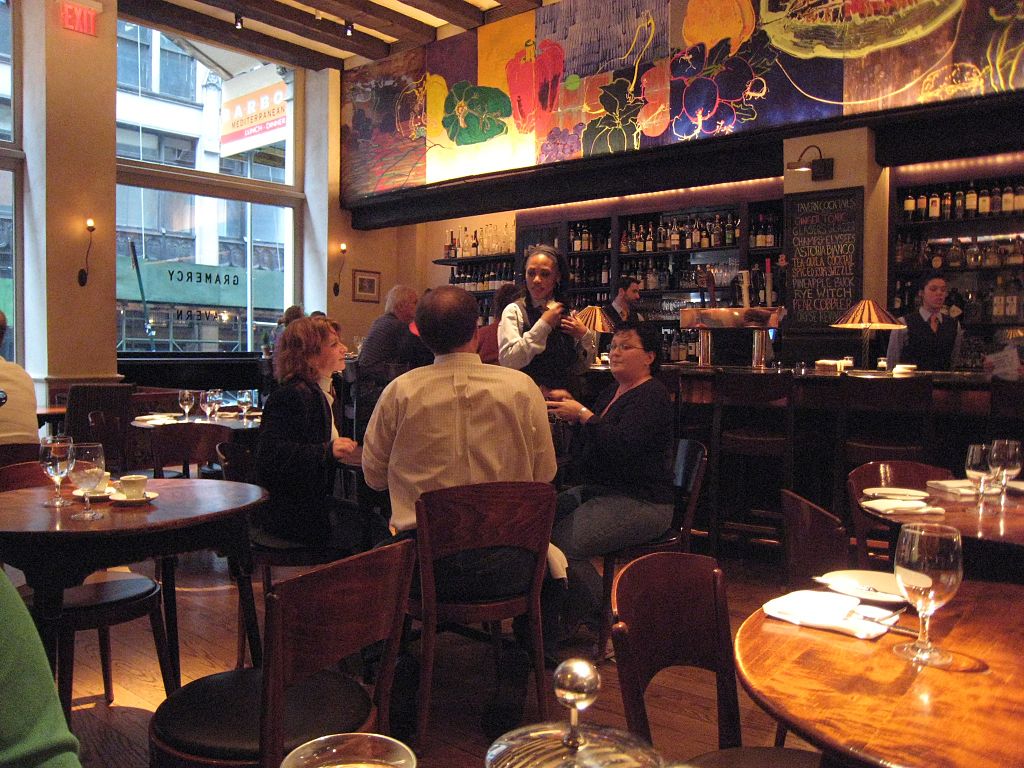 In the dynamic heart of New York City, Gramercy Tavern shines as a culinary jewel, leaving an indelible impression on the city's dining landscape. Conceived by restaurateur Danny Meyer in 1994, this iconic establishment has evolved into a treasured symbol of extraordinary dining. The tavern emanates an alluring charisma, boasting a cozy and rustic ambiance that harmoniously merges contemporary sophistication with timeless coziness. 
Revered for its unwavering commitment to utilizing seasonal, locally-sourced ingredients, Gramercy Tavern curates a menu that pays homage to an array of flavors, textures, and culinary ingenuity. Patrons are treated to a symphony of dishes that span the entire spectrum of tastes, meticulously crafted by a team of gifted chefs who have perfected the delicate art of intertwining tradition with inventiveness. From its convivial setting to the unparalleled gastronomic journey it offers, Gramercy Tavern presents a dining encounter that is as enchanting as it is enduring.
Waterfront Restaurants in the US
1. The Lobster – Santa Monica, CA
Perched in the heart of Santa Monica, California, "The Lobster" emerges as a timeless culinary gem that perfectly encapsulates the allure of its coastal locale. Founded in 1923 by the dynamic partnership of French chef Gerard Renault and Italian immigrant Mario Mancini, this historic establishment has seamlessly woven itself into Santa Monica's gastronomic tapestry for nearly a century.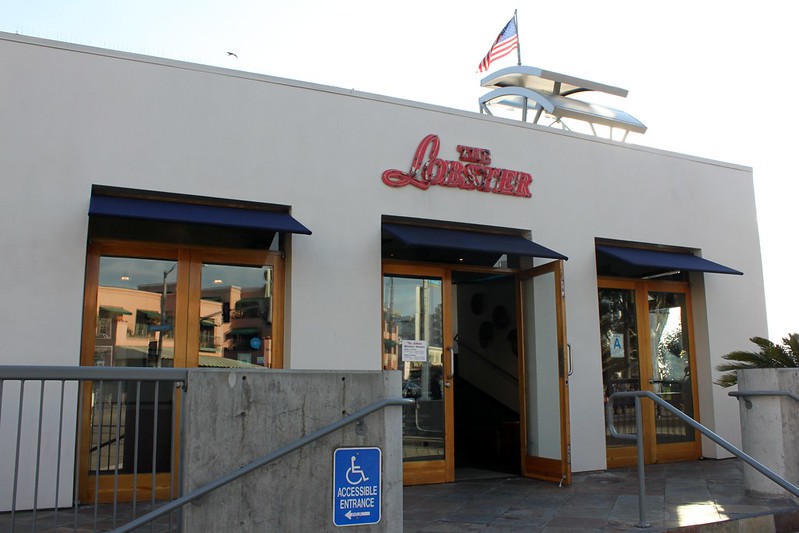 Revered for its tantalizing array of seafood creations, The Lobster has particularly earned its stripes as a preeminent destination for those seeking flawlessly fresh lobster delicacies, solidifying its status as a seafood sanctuary along the Pacific shores. With sweeping vistas of the ocean, an atmosphere of refined elegance, and an unwavering dedication to presenting the ocean's finest flavors, The Lobster stands tall as an adored haven, inviting patrons to revel in both culinary mastery and the captivating allure of Santa Monica's beachfront ambiance.
2. The Crab Shack – Tybee Island, GA
Nestled on the picturesque shores of Tybee Island, Georgia, The Crab Shack stands as a beloved culinary gem with a story as rich as its flavors. Founded in 1990 by Jack and Belinda Flanigan, this charming eatery has become a quintessential Tybee Island experience. With its rustic waterfront setting and laid-back atmosphere, The Crab Shack offers patrons an unforgettable dining journey. 
Renowned for its seafood bounty and Southern hospitality, the restaurant presents a feast for the senses, serving up a medley of delectable crab, shrimp, and other coastal delights. Diners gather at communal picnic tables, donning bibs and wielding wooden mallets to crack open crabs and savor the succulent meat within. This unique dining approach, combined with its breathtaking views and flavorsome fare, has made The Crab Shack a cherished destination for locals and visitors alike, embodying the true essence of coastal living and dining.
3. Duke's Waikiki – Honolulu, HI
Nestled in the heart of Waikiki, Duke's Restaurant serves up not only delicious cuisine but also a slice of Hawaiian culture. Named after legendary surfer Duke Kahanamoku, the restaurant pays tribute to his legacy with memorabilia and photos displayed throughout the establishment. Guests can enjoy a meal while taking in sweeping ocean views and the sound of live music from local performers. Indulge in a culinary journey at Duke's, where you'll find a delightful menu showcasing fresh seafood, succulent steak, and authentic Hawaiian specialties such as the renowned Kalua Pig. Dining at Duke's is an experience that encapsulates the true essence of Hawaii. Whether you're a local or a visitor, a visit to Duke's Waikiki is an absolute must.
Rooftop Restaurants in the US
1. The Rooftop at the Vendue – Charleston, SC
Nestled within Charleston's historic district, The Rooftop at the Vendue emerges as the ultimate haven of opulence and refinement. Capturing the essence of both yesteryears' Southern allure and contemporary sophistication, this elevated oasis offers an unparalleled vista that encompasses the city's skyline and the picturesque Charleston harbor. With an ambiance that seamlessly marries traditional charm and modern grandeur, The Rooftop at the Vendue assures an indelible soirée. 
Be it commemorating cherished moments with companions or simply basking in the splendor of breathtaking panoramas, this rooftop enclave stands as the epitome of indulgence. The libations served here are nothing short of exceptional, and the ambiance permeates an atmosphere that is nothing less than extraordinary. It's no surprise that The Rooftop at the Vendue remains a paramount destination, an irresistible magnet for both locals and globe-trotting adventurers.
2. The Roof – New York City, NY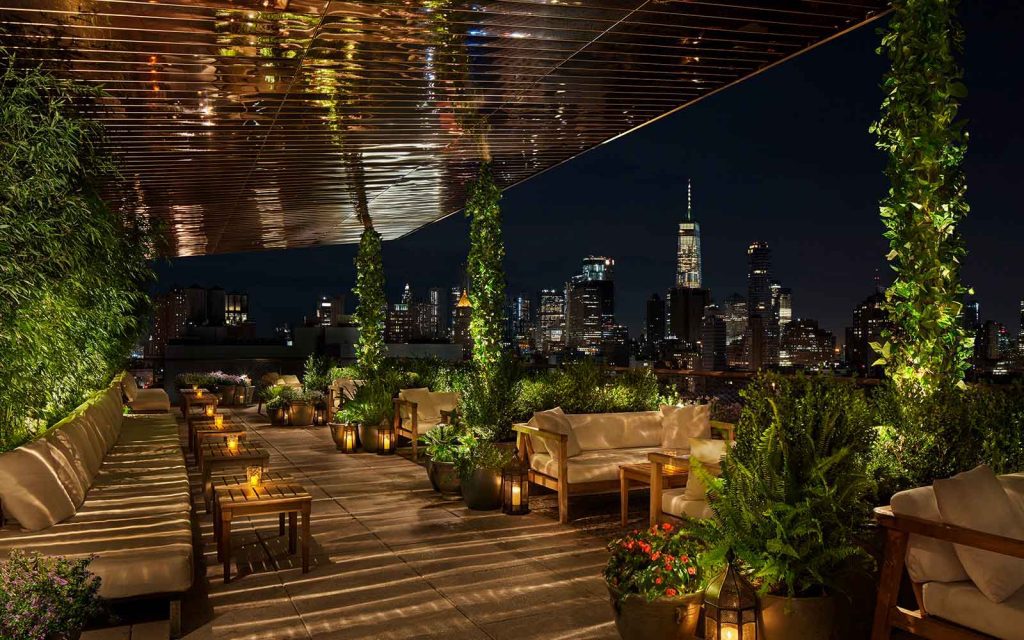 Atop a towering 30-story edifice in the heart of New York City, The Roof emerges as a mesmerizing haven, where splendid vistas intertwine seamlessly with delectable libations and delectable bites. Whether you're a city dweller yearning for respite from the urban flurry or an explorer in search of a singular escapade, The Roof stands as an essential pilgrimage. Adorned with contemporary elegance and suffused with the gentle glow of ambient illuminations, this rooftop bar exudes an air of refined allure. 
Revel in the timeless allure of a classic margarita or surrender to the allure of an innovative signature concoction, all the while immersing yourself in a 360-degree spectacle of the cityscape crowned by the majestic Empire State Building. The Roof beckons as an oasis of relaxation, an oasis where the enchantment of New York City is palpable, and every moment is an exquisite tapestry of delight.
Conclusion
Sit-down restaurants offer a variety of experiences, from luxurious fine dining to low-key, casual eateries. Whether you're looking for romantic, waterfront, or rooftop dining, there is something for everyone to enjoy in the United States. From The French Laundry in Yountville, California, to Galina in Venice, California, and Duke's Waikiki in Honolulu, Hawaii, each restaurant has its own unique character befitting its environment and cuisine. With so many options available, it can be hard to choose, so consider Orderific when planning your next sit-down restaurant experience for expert advice and up-to-date menus and reviews. Read more Orderific blogs for informative content to help make your decisions easier!
FAQs
Q. What is a sit-down restaurant?
Ans. Within a sit-down restaurant, patrons are seated and catered to by waitstaff at their respective tables, creating a more leisurely dining encounter.
Q. What makes a sit-down restaurant different from a fast-food restaurant?
Ans. Sit-down venues boast personalized table service and an expansive menu selection, whereas fast-food outlets prioritize swift, self-serve meals.
Q. What types of cuisine are typically served at sit-down restaurants?
Ans. The diverse culinary spectrum finds its place in sit-down restaurants, spanning from classic American and Italian fares to the alluring flavors of Thai and Indian cuisines, contingent upon the restaurant's culinary focus.
Q. What is the dress code at sit-down restaurants?
Ans. Attire expectations within sit-down establishments are contingent on the venue, encompassing anything from laid-back ensembles to formal dress codes.
Q. How far in advance should I make a reservation at a sit-down restaurant?
Ans. To secure a table at a sit-down restaurant, it's commonly advised to make reservations a fortnight prior, though this timeline can fluctuate based on the eatery's popularity.
Q. Are sit-down restaurants typically more expensive than casual eateries?
Ans. The enhanced quality of both cuisine and service positions sit-down restaurants at a relatively higher price point compared to more casual dining options.