In the bustling heart of San Francisco, a revolution in Point-of-Sale (POS) solutions is unfolding. Welcome to Revel Systems, your lifeline in the whirlwind world of business operations. Revel, a beacon of progress, emanates confidence and performance. Their expertise? Transforming data into meaningful information elevates your business to new heights. It's not just about ringing up sales; It is your powerhouse, easily merging service, compliance, and revenue management. With Revel, you're not just keeping up with the times but staying ahead. As the latest news breaks, you'll be at the forefront, ready to seize the day. Let's uncover the secrets of Revel Systems together, exploring why the POS solution truly meets your needs.
What Is Revel Systems?
Amidst the urban jungle of San Francisco lies the core of Revel Systems, a digital oasis in the world of Point of Sale (POS) solutions. Imagine entering a realm where simple data transforms into a rainbow of meaningful information. Here, your senses are awakened by the hum of bustling activity, the glow of screens pulsating with insightful data, and the tang of innovation in the air. 
This system is different from your regular POS solution. It's a tour-de-force that converts business processes into a symphony of efficiency. Picture your sales, service, compliance, and revenue management in a harmonious dance. Just a whisper of 'Revel Systems sets the wheels of progress in motion, turning your business ventures into a thrilling joyride.
With Revel Systems, you're not just surviving the rapid tides of business. You're surfing on them, exuding confidence and performance, ready to seize opportunities as they break. Your connection with Revel Systems isn't just transactional; it's a deep-rooted bond, a journey of growth and improvement that transcends the boundaries of traditional business norms.
Shopify, Toast, and Clover serve as stepping stones in the expansive river that is Revel Systems. Each one is a chapter in the transformative journey of data, serving your specific needs and shaping your unique business narrative.
Shopify: A powerhouse platform aiding businesses in creating their online stores.
Toast: Tailored for the restaurant industry, it streamlines operations, enhancing customer experience and operational efficiency.
Clover: A versatile POS system, Clover molds to fit any business model like a glove.
In the realm of POS Systems, every moment is a step forward, and every transaction a leap toward unparalleled growth.
Revel Systems Point-of-Sale (POS) Review
Embarking on the Revel Systems experience is like stepping into a well-oiled machine. Picture, if you will, a realm where chaos is tamed and clarity reigns. Every transaction, a vital gear, pulsates with life, driving your business toward unparalleled growth. The air is electrified with the hum of data translating into meaningful information, an intricate dance performance that leaves no room for error.
Unleashing the power of Revel Systems, you're engulfed by a comforting sense of control. Your feelings are awakened, every sound, every light, every byte of data harmonizing into a symphony of efficiency. The review of this Point-of-Sale system is not just an assessment. It's a testament to innovation, a beacon that guides you through the vast expanse of the business world.
Navigating through Revel's intuitive interface, it's evident that every feature is thoughtfully crafted. Both user-friendly and feature-rich, the system effortlessly juggles tasks. From sales to service, compliance to revenue management, Revel's prowess is remarkable. With each click, a discovery awaits. A new connection forms, transforming simple data into a story of success.
As you delve deeper into the review, it's clear. It is not just a POS solution; it's a cornerstone of your business, a catalyst for your journey of growth and progress.
Products Offered by Revel Systems
Each product is like a pearl, meticulously crafted to serve your needs. These are not just tools; they are companions in your journey towards success, turning complexity into ease with every use.
POS Software: Step into the world of Point-of-Sale software. Here, sales, service, and revenue management blend seamlessly. Transactions become smooth symphonies of efficiency as your business echoes the rhythm of progress.
Inventory Management: Revel's Inventory Management system is your guide in the labyrinth of stock control. It's a partner that walks you through every alley, ensuring you never lose sight of your inventory status.
Customer Relationship Management (CRM): This is your bridge to your customers. Experience the warmth of personalized interactions as the CRM system transforms data into deep-rooted connections.
Employee Management: Navigate the intricate maze of employee management with Revel at your side. It becomes a game of strategy and precision, where each move contributes to a harmonious work environment.
Reporting and Analytics: The Reporting and Analytics system is your beacon in the ocean of data. It illuminates your path, turning raw data into actionable insights and precisely guiding your decisions.
Payment Processing: Experience the simplicity of safe and efficient payment processing. Revel transforms the mundane task into a swift, secure dance of digits.
Online Ordering: Revel adds convenience to dining with its Online Ordering system. It's your ticket to reaching more customers and expanding your culinary presence beyond physical boundaries.
In Revel Systems, every product serves as a stepping stone to success. They are tools and catalysts, sparking growth and progress in your business narrative. POS Systems, where technology meets needs and needs to complete satisfaction.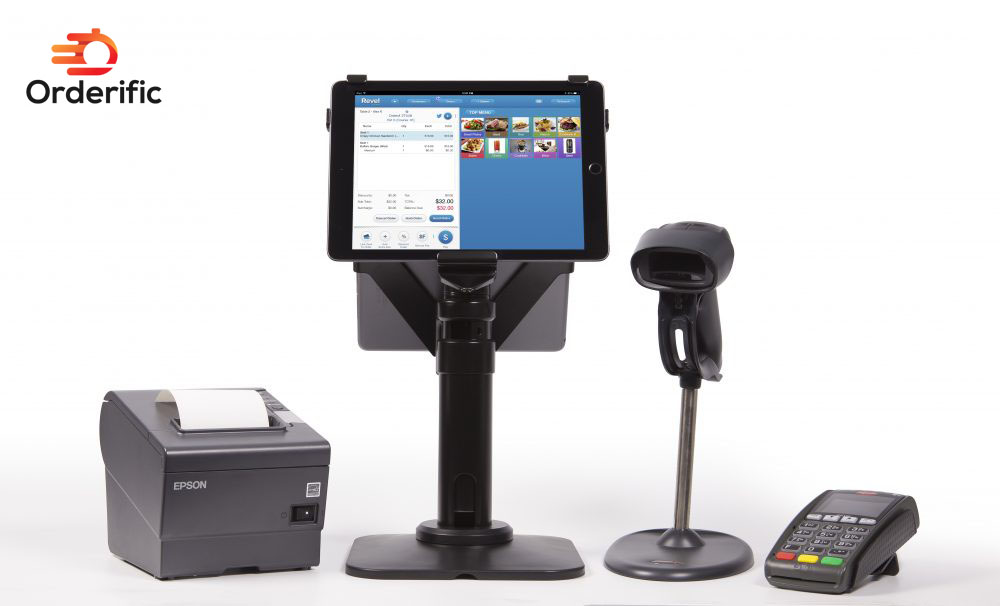 How Much Does Revel Systems Cost?
In the vibrant tapestry of Revel Systems, cost is an element that shines with transparency and value. Revel's POS and business solutions, tailored to serve restaurateurs and adaptable for retail customers, offer an immersive experience that unfolds elegantly as your business blooms. Starting at a reasonable $99 per month, the pricing is a ticket to a world where native cloud technology and innovative features like inventory, employee, and customer relationship management blend into an engaging narrative of success.
As you delve into the details, Revel's offerings unravel like a well-plotted novel. The Processing package, charged as a flat fee, encompasses EMV, Apple Pay, and an in-house dedicated support team. It is an invitation to a realm of security and convenience where all card types are accepted, and the promise of point-to-point encryption ensures your customers' data is held sacred.
They also offer implementation services starting at $674 in the spirit of personalized service. This package welcomes you with open arms, providing personalized setup and hardware installation, especially beneficial for those needing a guiding hand in the technical realm. Therefore, the cost of Revel Systems is not just an expense; it's a rewarding investment in your business narrative. To tailor this experience to your unique needs, a personalized quote awaits you with Revel's sales team.
Revel Systems vs. The Competition
Journey with us as we explore the bustling terrain of the POS marketplace, with Revel Systems taking center stage. Unlike its competitors, Revel exudes a unique charm; it's not just a tool but a partner, navigating you through the twists and turns of business management. Picture your senses ignited by its harmonious blend of innovation and user-friendliness, a stark contrast to the often impersonal touch of its competitors. Revel's meticulous attention to detail, intuitive interface, and commitment to personalized service set it apart.
Experience the rush of empowerment as you harness Revel's capabilities, seizing control of your business narrative. Feel the thrill of transformation as simple data blooms into meaningful insights, a feat rarely matched by others. Whether it's Shopify, Toast, or Clover, Revel stands tall, a beacon of excellence in a sea of ordinary. In this realm of competition, it's evident that Revel Systems is the POS solution that meets your needs.
Revel Systems vs. Lightspeed
Embark on an exploratory voyage where Revel Systems and Lightspeed cross paths. Revel Systems, emanating a revolutionary aura, stands resolute amidst the bustling POS marketplace. Lightspeed, on the other hand, hums a tantalizing tune of potential and progress. Yet, Revel Systems holds a distinct charm, painting a picture of efficiency, innovation, and personalized service. Feel your senses tingle as you uncover its user-friendly interface, starkly contrasting Lightspeed's somewhat technical terrain.
Imagine the thrill of transforming raw data into actionable insights, a feat Revel Systems accomplishes effortlessly. As you navigate the sea of POS solutions, the distinctive beacon of Revel Systems guides you, casting Lightspeed in its illuminating glow. Revel's commitment to personalizing your business narrative shines brighter with every step.
Revel Systems vs. Clover
Step into the arena where Revel Systems and Clover lock horns in a captivating showdown. Amidst the vibrant world of POS solutions, Revel Systems gleams like a beacon of innovation. On the flip side, Clover exudes an allure of versatility, humming with potential. Yet, Revel Systems strikes a resounding chord with its harmonious blend of user-friendliness and powerful features. Undeniably, exploring Revel Systems feels like unwrapping a gift, each layer revealing a delightful surprise. Contrastingly, Clover leaves you hunting for treasures amid a more complex terrain.
Like a trusted guide, Revel Systems leads you through the labyrinth of data, transforming it into actionable insights. Meanwhile, Clover's light flickers, providing a less streamlined journey. Revel Systems leaves an indelible mark on your business narrative, outshining Clover's unique charm and unrivaled efficiency.
Conclusion
For the discerning entrepreneur, Revel Systems emerges as a transformative force in Point-of-Sale solutions. It carries you on a journey of discovery, transmuting raw data into actionable insights. Revel's intuitive interface and blend of power and simplicity craft a narrative of success tailored to your unique needs. Feel a sense of empowerment as you navigate the vibrant world of POS solutions, guided by the steady beacon of Revel Systems. Revel Systems is not just a tool; it's a partner in your journey of growth and progress. Imagine enhancing the Revel experience further with Orderific, your partner in automating manual tasks and customizing customer experience. For more information on Orderific, schedule a FREE DEMO today.
FAQs
What is the Revel POS System?
It is a robust Point-of-Sale solution offering inventory management, CRM, reporting and analytics, and more.
Is Square better than Revel Systems?
While Square is a viable option, Revel Systems offers more advanced features and customizable solutions tailored to your business needs.
How competitive is Revel Systems to Square?
It outshines Square with advanced features, a user-friendly interface, and personalized solutions for diverse business needs.
What are some of the best POS systems?
Some of the best POS systems include Revel Systems, Shopify, Square, Toast, and Clover, each with unique strengths.