Experience the rustic charm of Italy with lip-smacking Rigatoni Pomodoro, a classic pasta dish that never fails to impress. Can you imagine the aroma of olive oil and garlic sizzling over medium heat? The sight of fresh tomatoes transforming into a rich, velvety sauce is captivating. Each bite of perfectly cooked Rigatoni, brimming with tangy pomodoro sauce, transports your palate to Italian culinary heaven. Sprinkling fresh basil and Parmesan cheese only enhances this delightful journey. Moreover, this dish attains a perfect balance of sweetness and tartness with the right mix of canned and San Marzano tomatoes. Bon Appétit! Embrace the essence of Italian cuisine with this simple yet satisfying pasta dish- Rigatoni Pomodoro.
What is Pomodoro Sauce?
Pomodoro sauce, a quintessential element in many Italian dishes, is a curious blend of simplicity and richness. Crafted from ripe, juicy tomatoes, it's a symphony of taste that unfolds on the tongue. The sauce starts with a sizzle as fresh garlic, minced to perfection, dances in hot olive oil. Swirls of fragrant steam rise, igniting the senses and hinting at the delights.
Next, a medley of San Marzano and canned tomatoes joins the party, simmering on medium heat. These tomatoes, each with its unique sweetness and tartness, meld into the garlic-infused oil. The result is a slow transformation into a thick, mouthwatering pasta sauce. Just the sight of it stirs a profound anticipation for the first bite.
A sprinkle of red pepper flakes adds warmth, but not too much. It's just enough heat to tickle the palate without overshadowing the tomato's sweetness. Basil is the final touch with its vibrant green hue and aromatic charm. It's torn and stirred into the sauce, infusing it with earthy subtleties.
It's magic when this pomodoro sauce wraps itself around rigatoni or penne pomodoro. The pasta becomes a medium, carrying the sauce's flavor in every ridge and curve. A generous dusting of Parmesan cheese completes the dish, its nutty undertones harmonizing with the tangy tomato.
Pomodoro sauce, in essence, is a testament to how simple ingredients can create profound flavors. It's more than just a pasta sauce; it's the heart of authentic Italian cuisine. And within it lies the promise of a meal that nourishes both the body and soul.
Here are The Ingredients
Picture it: A bustling kitchen filled with the tantalizing aromas of Italy. You're about to embark on a culinary adventure, crafting the ever-popular Rigatoni Pomodoro from scratch. The ingredients, each with its role, await on the counter.
Rigatoni Pasta: A traditional Italian staple, Rigatoni's ridged, tube-like structure is perfect for holding onto the robust pomodoro sauce. Its hearty texture contrasts beautifully with the smooth, velvety sauce.
Olive Oil: The golden elixir of the Mediterranean, olive oil provides the initial flavor base, its unique, fruity notes adding depth to the sauce.
Garlic: A humble bulb with profound impact. Garlic, minced to perfection, infuses the olive oil with its spicy, earthy aroma.
Fresh and Canned Tomatoes: The stars of the show. Fresh tomatoes bring a delightful tartness, while canned, especially San Marzano, introduce a balanced sweetness. Together, they create an exquisite harmony of flavors.
Fresh Basil: Vibrant green and aromatic, fresh basil imparts an earthy subtlety, its fragrant leaves elevating the sauce to new sensory heights.
Red Pepper Flakes: A light sprinkle adds enough warmth to tickle the palate without overwhelming the tomato's natural sweetness.
Parmesan Cheese: The final flourish. Dust generously for a nutty undertone that harmonizes with the tangy tomato.
Pasta Water: Don't let it go to waste! Starchy pasta water helps to loosen the sauce, allowing it to cling to the Rigatoni for maximum flavor absorption.
Remember, it's not just about the ingredients but how they blend to create the perfect bowl of Rigatoni Pomodoro. Get ready to immerse yourself in the culinary culture of Italy right in your kitchen!
Easy Recipe Variations
Pasta, a versatile canvas, welcomes experimentation. Enthusiastically, it embraces new flavors, creating exciting variations of the classic Rigatoni Pomodoro. Now, imagine swapping Rigatoni for penne pomodoro, its shorter, hollow form offering a delightful twist without straying far from tradition. Consider incorporating red pepper for a kick of heat, taking the taste experience up a notch. You might even go bold, enhancing the pasta sauce with fresh herbs beyond basil. Rosemary or thyme, for instance, could add an unexpected depth to the dish.
One could also play with the cheese element, leap from Parmesan to Pecorino or Asiago. The result? It has a surprisingly different flavor profile but is still undeniably Italian. Lastly, consider replacing some pasta with spiralized vegetables for lighter options. Nutritious and colorful, they impart a unique texture and freshness. Remember, creating variations is about having fun and exploring new culinary avenues. So, feel free to mix and match until you find your perfect Rigatoni Pomodoro twist. After all, cooking is an art, and the kitchen is your canvas. Paint your masterpiece!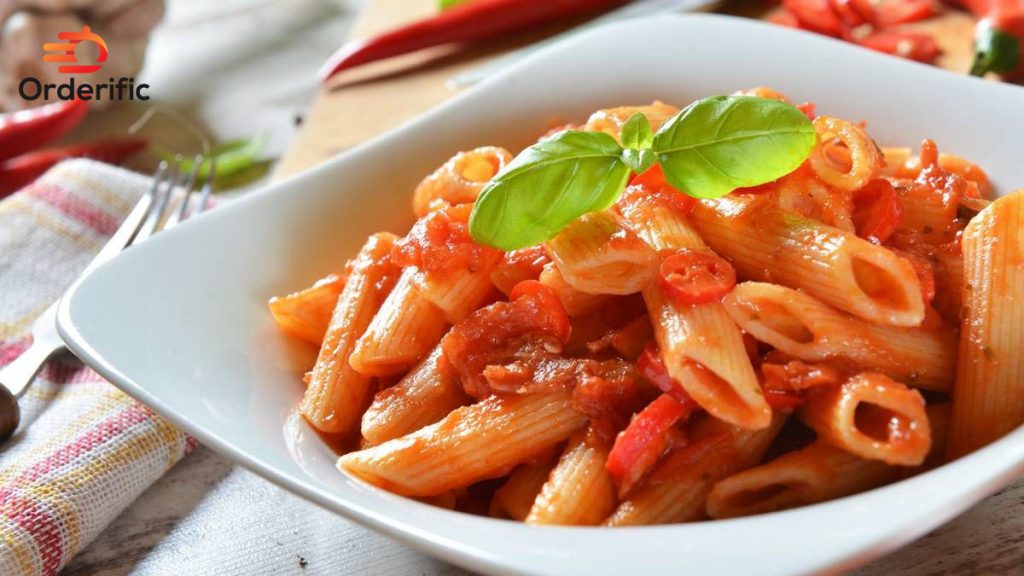 How to Make Rigatoni Pomodoro
The first step into the culinary adventure of creating Rigatoni Pomodoro begins with passion. Passion for flavors, textures, and aromas that transport you to the heart of Italy. Pursue this recipe with a spirit of creativity and joy, and the result will be a pasta dish that sings with authenticity and zest. Here's a step-by-step guide to your Italian culinary journey:
Begin with Olive Oil: Heat a generous amount of olive oil in a large pan over medium heat. The sweet, nutty aroma will fill your kitchen, a fragrant prelude to the delicious dish.
Add the Garlic: Minced garlic is the next participant in this flavor symphony. Add it to the pan, stirring until it sizzles and releases its pungent aroma.
Introduce Tomatoes: Incorporate both fresh and canned tomatoes into the mix. Seeing these vibrant red titans simmering in garlic-infused olive oil is a feast for the eyes.
Sprinkle Red Pepper Flakes: For a touch of warmth, sprinkle in some red pepper flakes. This small addition creates a delightful, tongue-tingling sensation amidst the sauce's sweetness.
Welcome the Basil: Strip fresh basil leaves from their stalks and stir them into the simmering sauce. Its unmistakable aroma adds an earthy subtlety that elevates the sauce.
Unveil the Rigatoni: Now comes the pasta. With its ridged surface, Rigatoni is the perfect carrier for the robust Pomodoro sauce, ensuring every bite is a flavor explosion.
Reserve Some Pasta Water: As the pasta cooks, reserve some pasta water. This starchy liquid is a secret weapon in Italian cuisine, enhancing the texture and taste of the sauce.
Combine Pasta and Sauce: Once the pasta is perfectly al dente, mix it into the sauce, adding the pasta water to loosen it. The pasta and sauce become one, each element complementing the other in a dance of flavors.
The Final Touch – Parmesan: Finally, top your dish with a generous sprinkle of cheese. This nutty, slightly sweet addition is the perfect finishing touch, harmonizing the flavors and adding a layer of indulgence to your Rigatoni Pomodoro.
Love Pasta? Here are more Pasta recipes
Are you a pasta aficionado, always seeking new recipes to expand your culinary horizons? The allure of pasta is universal – its versatility, comfort, and ability to carry flavors is unparalleled. The stage is now set for a culinary exploration of more pasta delights.
Penne Pomodoro: Picture Penne pasta dancing in a simmering pot of the robust Pomodoro sauce we masterfully crafted. The result? A delightful twist on our beloved rigatoni pomodoro.
Spaghetti Carbonara: Envision creamy, luscious sauce enveloping slender strands of spaghetti. The richness of egg yolk and the sharpness of parmesan cheese create an unforgettable harmony in this classic dish.
Pasta Primavera: Imagine fresh, crisp vegetables sautéed in olive oil, then tossed with your choice of pasta. This dish bursts with color and freshness, embodying the essence of spring on a plate.
Linguini with Clam Sauce: Visualize tender clams simmering in a garlic-infused broth, then served over a bed of linguini. This dish marries the sea's bounty with the land's produce, offering a taste of coastal Italy.
Fettuccine Alfredo: Picture wide fettuccine ribbons luxuriously coated in a rich, velvety Alfredo sauce. Cream, butter, and Parmesan cheese create a pure comfort food dish.
Lasagna Bolognese: Imagine layers of pasta sheets alternated with a hearty Bolognese sauce and creamy béchamel. Baked to perfection, it's a true testament to the depth and complexity of Italian cuisine.
Pasta Puttanesca: Envision a spicy, tangy tomato sauce punctuated with olives, capers, and anchovies. Tossed with your favorite pasta, it's a dish that's bold, vibrant, and utterly addicting.
Each pasta dish on this list tells a unique story, reflecting the rich tapestry of Italian culinary traditions. They invite you to explore pasta's diverse, delicious world – a journey of flavors, textures, and aromas that thrill any pasta lover. Enjoy the adventure!
Conclusion
In conclusion, creating a bowl of scrumptious Rigatoni Pomodoro in your home kitchen can be a delightful culinary journey. The process, brimming with rich flavors and alluring aromas, truly captures the essence of traditional Italian cuisine and brings the magic of Italy to your dining table. As you enjoy this classic pasta dish, remember it's not just about the mouthwatering taste but also the love and passion that go into its creation. This is the core of Orderific's mission. Streamlining manual tasks, Orderific lets you focus on cultivating these enriching culinary experiences. With our platform's seamless integration with leading POS systems and payment partners, restaurant owners can enhance their operations efficiency and customer satisfaction. For more information on Orderific, schedule a FREE DEMO today.
FAQs
What defines rigatoni pomodoro as a classic Italian pasta dish, and what key ingredients are typically used in its preparation?
Rigatoni Pomodoro is a classic due to its simple yet flavorful blend of rigatoni pasta, tomato sauce, garlic, basil, and Parmesan.
Are there regional variations of rigatoni pomodoro across Italy, and how do these variations reflect local culinary influences?
Yes, variations exist, often reflecting local ingredients. For instance, northern Italy might add cream, while the south uses chili.
Can you suggest creative ways to enhance the flavor profile of rigatoni pomodoro, such as incorporating additional herbs, cheeses, or protein options?
Try adding fresh rosemary, substituting Parmesan with Pecorino, or incorporating grilled chicken for a protein boost.
How does rigatoni pomodoro compare to other popular pasta dishes regarding taste, texture, and overall dining experience?
Rigatoni Pomodoro offers a robust, tangy flavor, hearty texture, and authentic Italian dining experience, setting it apart.