Welcome to the future of mixology, where robot bartenders reign supreme. Savor the sight of a bionic arm smoothly mixing your favorite cocktail. Picture yourself in bustling Las Vegas, or perhaps trendy Los Angeles, where these robotic talents are the talk of the town. Intrigued? As you sip your drink, meticulously crafted by a bartending robot, you soak in the novelty. The robotic bartender, a marvel of modern tech, brings precision and flair to each cocktail. Makr Shakr and Tipsy Robot lead this robotic revolution, shaking the bar industry from New York to the farthest reaches. Yet, amid the hum of gears and the clink of glass, the warmth of the human touch lingers. Will these robotic innovations replace the charm of the human bartender? Join us as we explore this captivating blend of tradition and technology.
What to Expect From Robot Bartenders
Stepping into a bar, the eyes are drawn to a spectacle at the counter. Robot bartenders command the scene, their metallic arms twisting and turning in a hypnotic dance. Tipsy Robot, a renowned name, amplifies this spectacle in the heart of Las Vegas.
Dazzling Precision: Each movement is a study in precision. Watch as the robotic arm stretches to reach a bottle, measuring the exact serving of spirits needed.
Spectacular Speed: Quicker than the human eye can follow, drinks are mixed in record time. This efficiency, the hallmark of the robotic bartender, ensures the entire room is served without delay.
Wide Variety: The drink options are virtually limitless, from a classic Martini to a complex Sidecar. Cocktail enthusiasts and occasional drinkers alike will find their choice catered to.
Consistent Quality: The robotic bartender never tires and never falters. Every drink is expertly mixed to the same standard, time after time.
Innovation and Interaction: At Makr Shakr outlets, customers can design their drinks. It's a fun twist on the usual bar experience, engaging customers in a new way.
Yet, amid the whirr of machinery, the essence of tradition remains. The human bartender's charm is partially eclipsed. Their knowledge transcends the menu, their stories adding warmth to the cold steel. For patrons in New York or Los Angeles, the bartending robot may be an exciting novelty, but the appeal of the human touch lingers. The future of the bar industry is here with party robotics. But, the silent conductor is still the human heart in this beautiful symphony of gears and spirits.
Your Customers Will Do Your Marketing for You
As an owner of a robotic bar, you'll soon find out that your customers, enchanted by the novelty and precision of your robotic bartenders, become your most passionate promoters. Step inside the scene on a bustling Friday evening. As the robotic arms move in a mesmerizing dance of mixology, the patrons — a mix of locals and tourists — watch in amazement. Their eyes, wide with delight, take in every swift, precise movement. The clinking of ice, the pouring of spirits, and the rhythmic whirring of machinery fill the air, creating a symphony of sounds that's uniquely urban and futuristic.
Pulled in by the spectacle, patrons reach out for their smartphones. They're eager to share their experience with their digital universe. Photos and videos of your robotic bartenders flood social media platforms — Instagram, Facebook, Twitter. Each post, each share, and each like becomes a testament to your bar's innovative spirit. Meanwhile, amidst the hum of machinery and the clink of glasses, the comforting presence of the human bartender serves as a sweet reminder of the traditional bar experience.
From wide-eyed tourists in Las Vegas to the cosmopolitan crowd in New York, your patrons become narrators of your bar's unique tale. Through their shared experiences and stories, your robotic bar garners attention and curiosity, and a visit becomes an experience no one wants to miss.
When to Hire or Buy a Robot Bartender
Investing in a robot bartender becomes an enticing prospect in certain circumstances. Picture a crowded bar on a busy Friday night. The demand is high; the pace is frenetic. Amidst the lively chatter and clinking glasses, the anticipation of a refreshing cocktail heightens.
Elevated Demand: When the human touch struggles to keep up with the surging demand, a robotic bartender steps in. This cool mechanical mixologist ensures the customer is satisfied.
Consistent Quality: If maintaining consistency in your cocktails becomes challenging, robot bartenders like Makr Shakr and Tipsy Robot offer a solution. Every cocktail, from a sultry Negroni to a vibrant Mojito, is perfectly crafted.
Extended Hours: A bionic bar with tireless robotic arms keeps the drinks flowing during extended operating hours. A Las Vegas or New York bar's energy remains high all night.
Unique Appeal: If your bar seeks a unique selling point to stand out in the crowded industry, a bartending robot is your answer. The futuristic element draws curious customers eager for a novel experience.
Yet the human element remains essential. The art of conversation and the personal touch are the nuances a robotic bartender cannot replicate. This fusion of technology and human warmth strikes a unique balance. The robotic arm crafting cocktails in perfect rhythm, the human bartender regaling patrons with stories – a harmony modern bars strive to achieve.
And so, the decision to hire or buy a robot bartender is not about replacing the human touch but enhancing the bar experience. The future of the bar industry lies not in choosing between tradition and technology but in their symbiosis.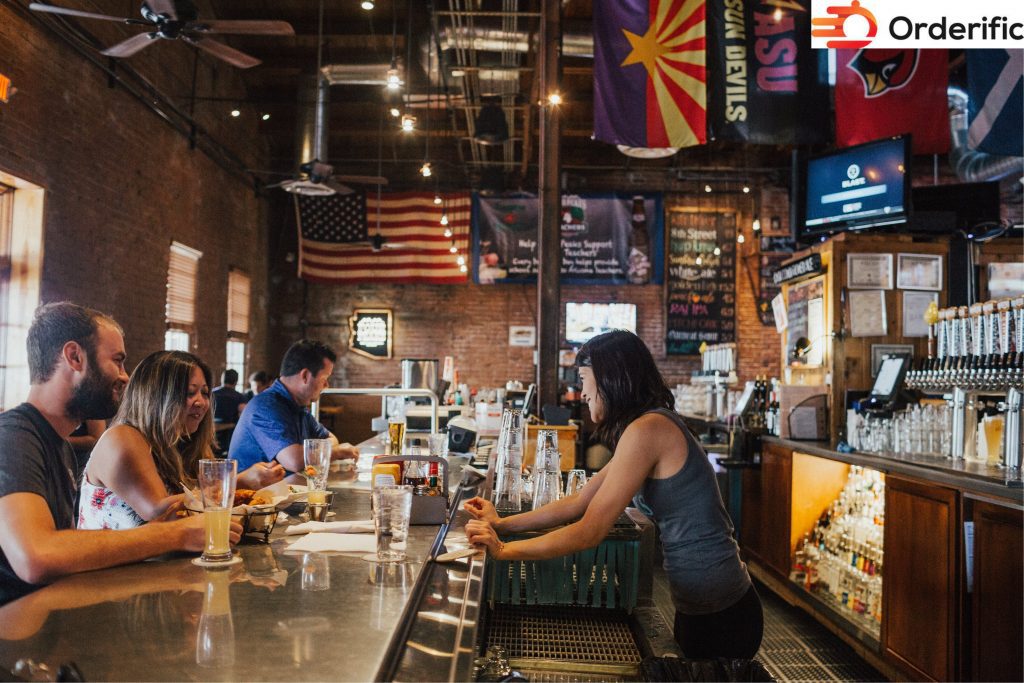 Do Your Bartender Robots Have Other Uses?
Bartender robots have more to offer than just mixing up your favorite drinks. Imagine strolling into a corporate event or a wedding reception. You're greeted by a robotic arm's sleek, rhythmic movements, skillfully crafting cocktails. The robot bartender, doubling as an entertainer, becomes an instant centerpiece, attracting the attention of all attendees. Its mesmerizing dance, from pouring spirits to shaking mixers, provides a spectacle beyond the ordinary.
Amidst the hum of conversation and the tinkling laughter, the robotic bartender's performance is a silent, captivating symphony. It serves drinks and elevates the ambiance, adding a futuristic charm to the event. Even in non-bar environments, such as product launches or tech expos, robot bartenders like Makr Shakr and Tipsy Robot become interactive displays of technical prowess. On the flip side, these droids have also found their place in residential settings.
Homeowners with a taste for technology and novelty can set up a personal bionic bar, turning their parties into memorable experiences. But no matter the setting, the human touch in maintaining these marvels, in programming them to create the perfect concoctions, remains essential. Hence, robot bartenders extend their uses beyond the bar counter, adding a splash of innovation wherever they go.
The Impact of Robot Bartenders on the Traditional Bar Industry
The traditional bar industry is witnessing a paradigm shift with the advent of robot bartenders. These mechanical marvels, with their precise pouring and consistent concoctions, are creating a stir. Intricately designed and programmed, robotic bartenders are redefining the bar experience from the streets of New York to the heart of Las Vegas.
Unparalleled Precision: The robotic arm of a bartender robot, like Makr Shakr or Tipsy Robot, moves with deft precision. It pours spirits and mixes cocktails with an accuracy that is simply astonishing. A sight that is fast becoming a crowd favorite in bars across the United States.
Efficiency Personified: Bartending robots, with their tireless mechanisms, are the epitome of efficiency. They mix, shake, and serve drinks at a pace that human bartenders often find challenging to match. It's a spectacle that leaves customers mesmerized.
Consistency and Variety: Every cocktail crafted by a robotic bartender is consistent. Whether a classic Martini or a complex Sidecar, the drink is made to the same standard every time, appealing to cocktail enthusiasts and casual drinkers alike.
Innovation and Interaction: Innovative bars like those featuring Makr Shakr or Tipsy Robot are not only about serving drinks. They're about creating an interactive, engaging, and fun experience that leaves lasting impressions on customers.
Despite these awe-inspiring capabilities, the question remains: Can the robotic revolution replace the human touch in bartending? Human bartenders offer personal interaction, an understanding of individual preferences, and the ability to strike up a warm conversation, aspects that a robotic arm can't replicate. The traditional bar industry, while welcoming robotic innovations, still values the charm and warmth of human bartenders.
The impact of robot bartenders on the traditional bar industry is transformative yet balanced. They introduce a novel, efficient, and consistent bartending approach while human bartenders continue to add the irreplaceable element of personal touch. The future of the bar industry indeed lies in this harmonious blend of technology and tradition.
Conclusion
In the dynamic world of mixology, robot bartenders weave a remarkable fusion of precision, speed, and unerring consistency. Their rhythmic dance, casting a captivating spectacle, ushers in the bar industry's exciting era of robotic innovations. Yet, amid the hum of gears and the clink of glass, the human bartender's comforting presence persists, adding a heartwarming touch to the metallic charm. Orderific's unique platform embodies this symbiosis, enhancing both the bartender's efficiency and the customer's experience. It's a novel approach where tradition meets technology, crafting an unforgettable cocktail of experiences. Schedule a FREE DEMO today to dive deeper into how Orderific is reshaping the hospitality landscape.
FAQs
How do robot bartenders work, and what benefits do they offer the hospitality industry?
Robot bartenders operate based on pre-set programming, offering benefits like efficiency, consistency, and a unique customer experience.
What challenges might businesses face when integrating robot bartenders into their operations?
Some challenges include high upfront costs, ongoing maintenance, technology compatibility, and preserving the human element in customer service.
Are robot bartenders becoming common in bars and restaurants, and if so, where?
Robot bartenders are increasingly common in tech-forward cities like Las Vegas, Tokyo, and some European capitals.
How is customer interaction affected by the presence of robot bartenders?
Robot bartenders offer a novel experience, often captivating customers with precision and efficiency while not replacing human interaction altogether.